How Texas A&M can finally put an end to all the drama
May 5, 2016

If you're a college football fan, hopefully you didn't go to bed too early Wednesday night, because if you did, you missed the single most entertaining evening of the offseason that didn't include the words "gas mask bong."
It came in Texas as the latest chapter of "As College Station Turns," where there appears to be more drama at Texas A&M.
If you missed this particular installment of the drama, it came after Tate Martell, the top-rated high school quarterback in the country, announced he had decommitted from A&M about a year after making his initial pledge to the school last summer:
In its most simplistic form, Martell's decommitment is no different than 100 others that have happened in the past year. He owed nothing to any school until he signed on the dotted line next February.  
Unfortunately, someone forgot to tell that to Texas A&M wide receivers coach Aaron Moorehead, who, shortly after Martell made his announcement, went on a Twitter rant about "loyalty."
Moorehead said the rant wasn't aimed at anyone specifically, but it seemed to be directed toward Martell, and it cost him dearly. Another Aggies' recruit, star wide receiver Mannie Netherly, decommited as well, citing the tweet:
On Thursday, Moorehead posted this apology:
This comes after a disappointing season where the Aggies finished just 3-5 in their last eight games and also lost a pair of other former five-star quarterbacks (Kyle Allen and Kyler Murray) to transfer as well.
Therefore, when the Martell news (and subsequent fallout) hit on Wednesday night, it left Texas divided: Aggies fans had another "sky is falling" moment, while those in Austin, Waco and Fort Worth had a "here we go again, grab your popcorn, this is awesome" moment.
While all the carnage around A&M makes for fun Twitter and message board fodder, here's the truth: What happened Wednesday night, and over the last six months, isn't nearly as important as what happens on the field for the Aggies going forward. If the Aggies play up to their potential in 2016, it will all be forgotten. If they don't, Kevin Sumlin may be looking for a new job. It's that simple.
Looking at the Aggies' roster, it seems as though they have the potential to make fans forget all about the last six months. No, A&M doesn't have the overall depth of Alabama or LSU or Ohio State, but it does have individual talents that make the Aggies capable of competing with anyone.
On defense, A&M has arguably the most disruptive force in all of college football in Myles Garrett, plus Daeshon Hall and Armani Watts, who could be pretty high picks in next year's draft. They should also be much improved from a fundamental standpoint in Year 2 in John Chavis' defensive scheme.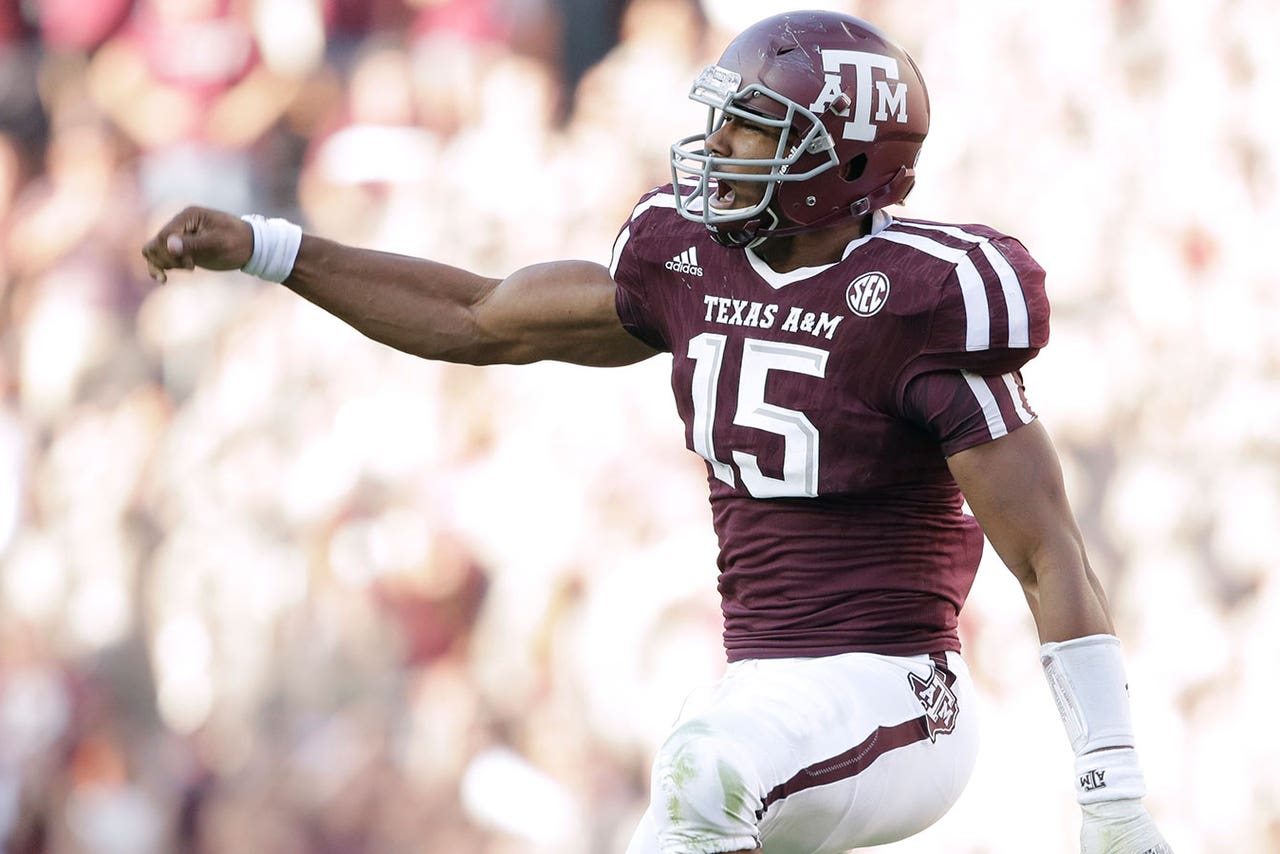 On offense, it's much the same. Christian Kirk is one of the single most explosive playmakers in the sport and is flanked by Ricky Seals-Jones and Speedy Noil (when not suspended), creating arguably the best wide receiver trio in the country. The Aggies will be young up front but should be improved with the return of offensive line whisperer Jim Turner, the guy responsible for the development of future pros like Luke Joeckel and Jake Matthews under former head coach Mike Sherman.
Most importantly, A&M appears to be as stable at quarterback as it's been at any point since the Johnny Manziel era (which seems weird to type given everything that has happened in the last few years). Trevor Knight is the established starter heading into next year. Barring something catastrophic, nothing will change that.
Add it all up, and A&M could be pretty good next season. Maybe not "14-0, SEC title and national championship contender" good, but certainly good enough to approach double-digit wins. If the Aggies can do that, not only will Sumlin keep his job, but it will create something even more important: positive momentum and stability.
Look, for all the wackiness out of College Station, fans, media and recruits care only about just happened. Remember, it was only nine months ago that Alabama lost to Ole Miss and everyone assumed their dynasty was over. It was only seven months ago that Les Miles was one quarter away from being fired at LSU. Both schools not only survived that negative press but enter 2016 as major national championship contenders.
The most interesting tweet out of College Station might actually have been one that no one talked about. It cam from Christian Kirk himself:
If Kirk isn't worried, A&M fans shouldn't be either.
In Aggieland, the future of the program will be determined by what happens on the field the next six months, not what has happened off the field in the past.   
Aaron Torres is a contributor for FOXSports.com. Follow him on Twitter @Aaron_Torres or Facebook. E-mail him at ATorres00@gmail.com.
---
---