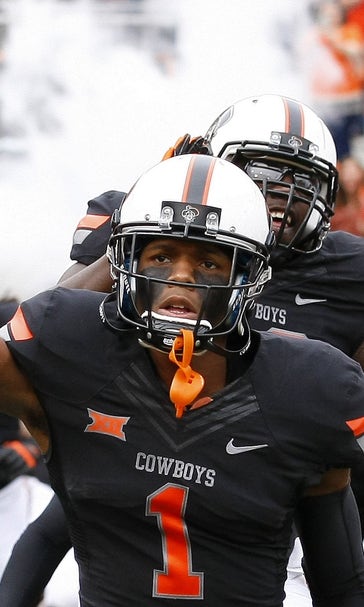 Here to stay? 6 surprising college football teams that may stick around
October 29, 2015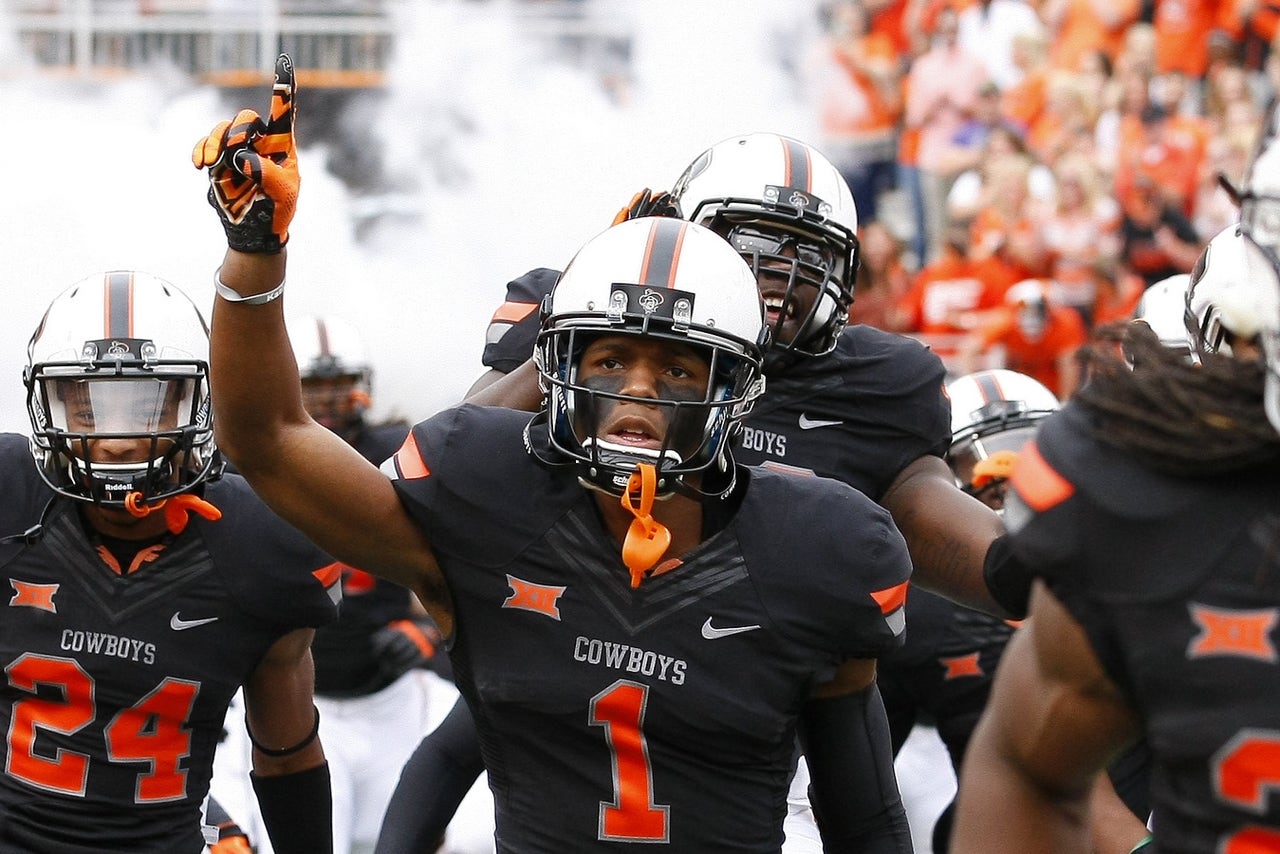 Take a look at the national polls (or our power rankings) and you will see plenty of teams that were expected to be there when the season began.
Ohio State, TCU, Baylor, Alabama and Michigan State were all expected to be top 10 teams, and there they are, as October nears its end.
But more than a half-dozen teams are in the latest AP Top 25 that were not there when the season began, so we thought, 'What better time than now to get to know more about some of those teams that have crashed the party?' 
IOWA (AP No. 10)
How did they get here?
The Hawkeyes opened the season with a nondescript 31-14 win over Illinois State before taking down in-state rival Iowa State. A last-second win over Pittsburgh gave a hint something special could be going on in Iowa City on Sept. 19. A 10-6 escape from Wisconsin did nothing to hurt that perception. Last week, the Hawkeyes crushed No. 20 Northwestern to remove any doubt they must be recognized beyond the Big Ten West.
What do they do well?
True to any good Kirk Ferentz team, the traditional stats show a team that breads its butter with the running game and strong defense. The Hawkeyes rank 10th in the nation in scoring defense and 12th in total yards, and they have been among the best teams in the country in terms of turnover margin. The advanced stats from Football Outsiders show an offense slightly above average both in terms of efficiency and explosiveness and an offense in the top 21 nationally in both of those areas.
Do they have any obvious weaknesses?
Iowa is averaging more than 200 yards passing per game, but in this day and age that is dwarfed by much of the competition (and ranks tied for 86th). The advanced numbers show that while the passing game isn't terribly consistent, it is 25th in isoPPP, which measures explosiveness. Back to the traditional stats, the red zone offense is 88th.
How's the rest of the season looking?
Pretty good. Iowa is 7-0 and should be favored in every game until the regular season is over. The matchup in the Big Ten Championship Game is another matter, but don't worry about that until December, Hawkeye fans.
OKLAHOMA STATE (AP No. 12)
How did they get here?
The Cowboys beat three low-level opponents before winning three Big 12 games in a row (Texas, Kansas State and West Virginia), including an overtime victory over the Mountaineers. They blew out Kansas 58-10 last week.
What do they do well?
OSU has one of the best passing games in the country, and they have been tough to throw the ball against. The traditional stats and the advanced numbers from Football Outsiders essentially agree on both of those points. They are also in the top 20 in the nation in turnover margin and in the top 25 in third down on offense and defense.
Do they have any obvious weaknesses?
The Cowboys have not demonstrated they can run the ball, though their run defense has been above average in terms of success rate and explosiveness according to FO, whose numbers also say OSU has not been very good on first down offensively or defensively.
How's the rest of the season looking?
Those saying Oklahoma State is unproven and this point are certainly correct, but that will change in November. After a Halloween trip to Texas Tech, the Cowboys host TCU, Baylor and Oklahoma (with a road trip to Iowa State mixed in). They might be overrated now, but they will have every chance to show who they are before December.
MEMPHIS (AP No. 16)
How did they get here?
The Tigers built momentum with a couple of blowouts followed by close wins over Bowling Green, Cincinnati and South Florida. Then they beat Mississippi soundly to grab the nation's attention two weeks ago, before avoiding a letdown last week at Tulsa.
What do they do well?
A consistent and sometimes explosive passing game engineered by quarterback Paxton Lynch is driving the Tigers' success. Only two teams in the country have scored at a higher rate on average this season.
Do they have any obvious weaknesses?
Defense has been another story for Memphis, which has particularly struggled in the secondary (127th nationally in yards per game allowed passing, 109 in efficiency). Those numbers don't look any better through the lens of Football Outsiders' advanced stats, although the Tigers are fifth nationally in third down defensive S&P+.
How's the rest of the season looking?
After an Oct. 31 visit from Tulane that should not be too scary, tough matchups with Navy, Houston and Temple are scheduled for the first three weeks of November. The games against the Cougars and Owls are on the road.
HOUSTON (AP No. 18)
How did they get here?
The Cougars first got some national attention by winning at Louisville in week two, and they have been rolling for the most part ever since with five straight wins by at least two touchdowns. A nationally televised 49-28 win over SMU helped raise the profile of first-year coach Tom Herman's team, too.
What do they do well?
Houston is both explosive and consistent on offense while leaning toward bend-but-don't break on defense, according to Football Outsiders' advanced stats. Quarterback Greg Ward Jr. drives a strong running game, but running back Kenneth Farrow has been no slouch, either. An efficient passing game has also contributed to the nation's No. 4 scoring offense (47.6 points per game). The Cougars lead the nation in turnover margin and are No. 4 in third down conversions.
Do they have any obvious weaknesses?
The pass defense has left a lot to be desired, ranking 103rd nationally in yards per game but a more-than-respectable 43rd in pass efficiency.
How's the rest of the season looking?
Like Memphis, Houston is going to have to earn the right to stay in the national rankings. The Cougars play Memphis and Navy on Nov. 14 and Nov. 27, respectively, and a visit from Cincinnati on Nov. 7 could get tricky, too.
TOLEDO (AP No. 20)
How did they get here?
The undefeated Rockets announced themselves on the national stage early, opening with a 16-12 win at Arkansas. They then beat Iowa State by a touchdown. Since then, they have rolled past generally inferior competition, including a 51-35 win at Massachusetts last week in which they erased a big first-half deficit.
What do they do well?
Belying their conference's reputation, the Rockets win with defense. They are 13th in the nation in scoring D (16.3 points per game) and are No. 2 in red zone defense. Per Football Outsiders, the defense has particularly excelled at preventing big plays while the offense has been solid through the air and on the ground.
Do they have any obvious weaknesses?
Toledo has been better at moving the ball than finishing drives, and the Rockets are one of the most penalized teams in the country.
How's the rest of the season looking?
Toledo has four games in November against four of the best teams in the MAC, beginning with a showdown with Northern Illinois and continuing with a trip to Central Michigan. After renewing the Battle of I-75 with Bowling Green, the Rockets conclude the season at home against Western Michigan.
DUKE (AP No. 22)
How did they get here?
The Blue Devils bounced back from a loss to Northwestern by beating Georgia Tech, Boston College, Army and Virginia Tech. They stopped the Hokies in four overtimes last week.
What do they do well?
Duke has one of the toughest defenses in the country, especially when it comes to passing. The Blue Devils rank in the top 10 in yards allowed and passing efficiency, and they are sixth in the country in points allowed per game (14.1). They also have benefited from great field position, per Football Outsiders' advanced stats.
Do they have any obvious weaknesses?
Traditional stats rank the Blue Devils in the 50s range nationally in passing and rushing, while they are 44th in scoring (33.4 points per game). Football Outsiders' advanced numbers indicate the running game has relied on big plays for its damage, while the passing game has not excelled when measured by success rate or explosiveness.
How's the rest of the season looking?
The Blue Devils are the only team with a loss we included on our list, and that has a lot to do with the fact that their schedule indicates they have a good chance to be playing in the ACC championship game. Like Iowa, they just have to take care of business by taking down five teams against whom they should be favored, beginning this weekend with Miami (Fla.). North Carolina and Pittsburgh likely won't be pushovers, though.
(Feeling left out, Temple fans? We've got you covered here.)
---
---