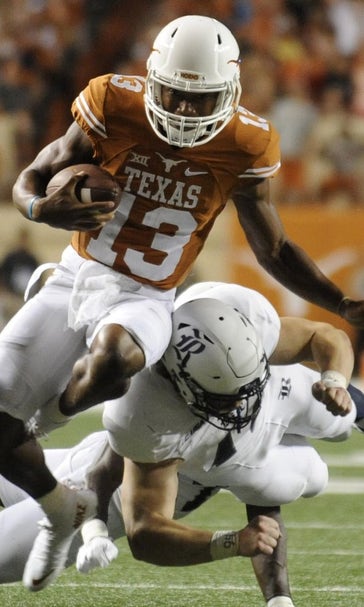 Heard doesn't care that his dual-threat has shifted to a single jet
October 28, 2015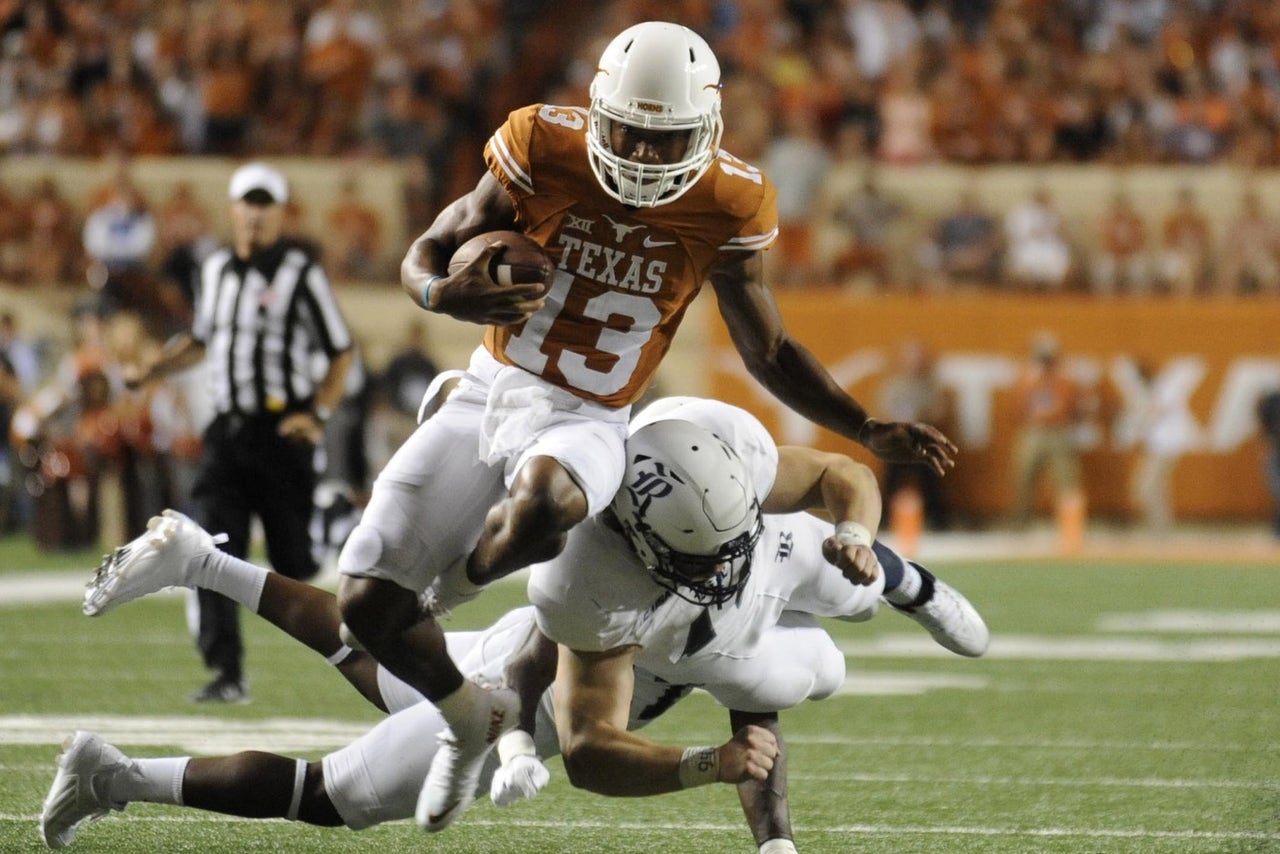 Maybe back in the 1970s, Texas quarterback Jerrod Heard's statistics would make more sense. But in this pass-happy 21st Century Big 12? It takes some explaining.
The redshirt freshman has only thrown 26 pass attempts in Texas' back-to-back wins against Oklahoma and Kansas State. That could be one quarter's output for quarterbacks at high-flying offensive outfits like Baylor, TCU and Texas Tech.
Heard has thrown for 813 passing yards on the season and he's run for 489 more. But that gap has been closing considerably. In the last three games, Heard has thrown for 200 yards and rushed for 199. 
In the OU and K-State wins, Heard ran it 36 times, 10 more than he threw it.
"Weather was a big part of this last one," Heard said Tuesday during Texas' weekly press conference about playing in a heavy rain storm last Saturday. "I got two downfield so I was happy about that, but that ball was really slippery and we didn't want to take any risks, and the run game was really effective."
That's just part of it. Texas coach Charlie Strong continues to preach physicality and running the football to control the tempo of the game. It's counter to what just about everybody in the league is doing. Even Oklahoma, which has big, powerful running back Samaje Perine, turned back to the Air Raid offense this season.
Texas is sticking to the only identity thats worked so far into coach Charlie Strong's second season, ground-and-pound with its fleet-footed quarterback who is only completing 58.8 percent of his passes. 
Amazingly, Texas has won its last two games without throwing for triple-digit yardage. The Longhorns finished with a Wing-T-like 55 passing yards against OU, and then increased to 99 against K-State.
It wouldn't seem to be a winnable formula for long in the Big 12, but Texas (3-4, 2-2 Big 12) will continue to play to its obvious strength. Iowa State on Saturday is the next defense up to try and put a halt to an offense that's produced 578 rushing yards over the last two games.
(h/t Dallas Morning News)
---