Hadley suspended for Vegas festivities
BY foxsports • September 19, 2013
Apparently all is fair in love and Holy Wars.
BYU senior linebacker Spencer Hadley has been suspended for five games, beginning with this weekend's rivalry game against Utah — better known as the "Holy War" — because he violated the school's honor code. According to The Salt Lake Tribune, the violation was partying at a Las Vegas club. But the real kicker? The tip apparently came from a Utah Utes fan.
[PHOTOS: College football's hottest cheerleaders gallery]
Reports the Tribune:
Documents obtained from the U. show that a person calling himself "Darren Lucy" and a "die hard Utah Utes fan" e-mailed the photo to Kate M. Charipar, Utah's Assistant Athletics Director for Compliance, at 2:16 p.m. Monday.

 

Charipar forwarded the photo/e-mail — which also alleged potential NCAA violations — to BYU Director of Compliance Chad Gwilliam 12 minutes later.

Tuesday morning, BYU coach Bronco Mendenhall announced that Hadley, a starting inside linebacker, had been "suspended indefinitely for a violation of team rules."

BYU spokesperson Carri Jenkins confirmed Tuesday afternoon that Hadley violated the honor code, but would be allowed to remain in school. Just as she did when BYU suspended basketball star Brandon Davies near the end of the 2010-11 season, Jenkins reiterated that specific violations of the honor code are not made public.
It's unclear when Hadley attended the club, but we assume it was in the offseason. Snitching on a college football player is low enough. The idea of hanging onto evidence that would get a rival player suspended until the week before your favorite team plays him is just filthy.
[PHOTOS: College football's hottest WAGS of 2013]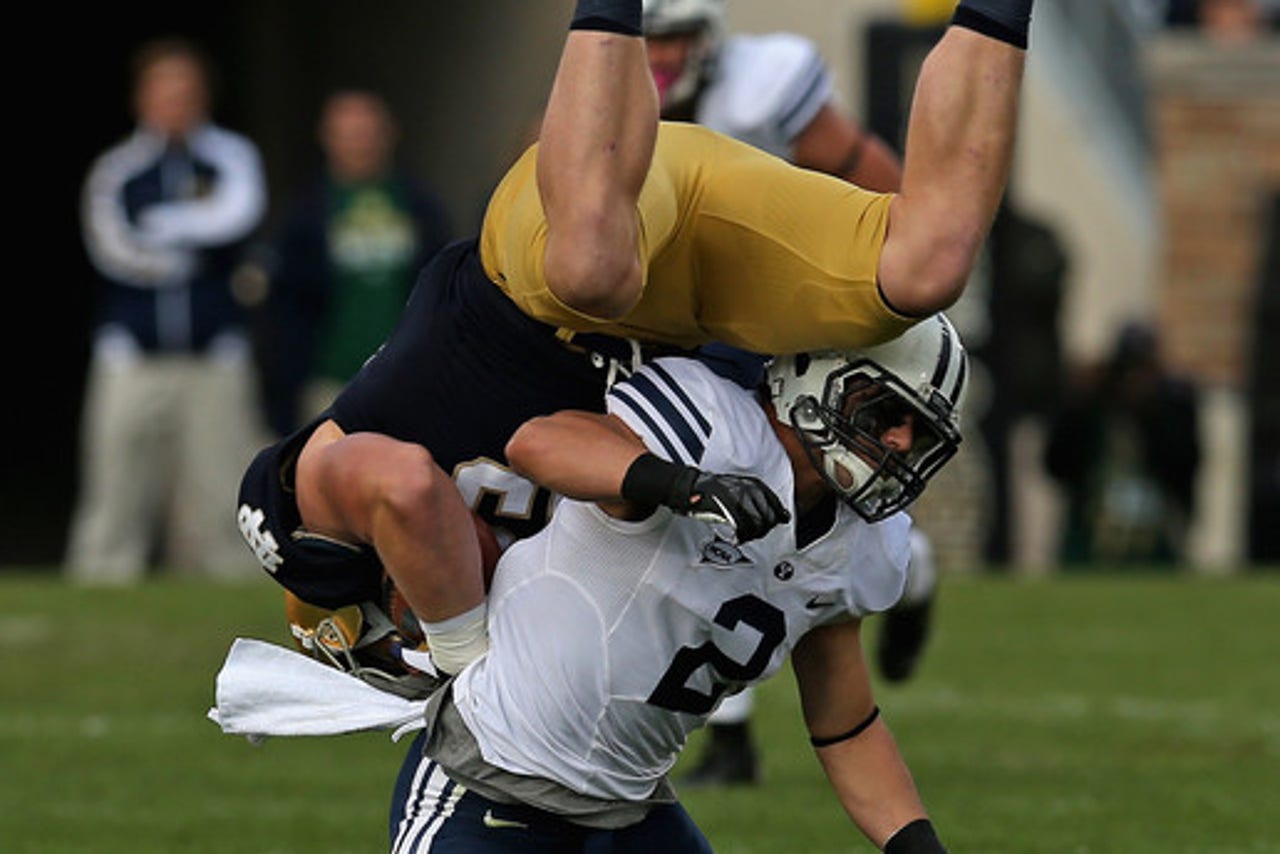 http://www1.pictures.zimbio.com/gi/Spencer+Hadley+BYU+v+Notre+Dame+rcatwuhx8qNl.jpg
Most popular on LostLettermen.com:
• GALLERY: Grading college football's new 2013 uniforms
• NFL draft's top 50 busts: Where are they now?
• VIDEOS: Top 10 biggest hits in college football history
• PHOTOS: College football Top 20 best helmets
• PHOTOS: College FB Pro Combat helmet concepts go viral
• Top 25 college football player names of 2013
• College football's funniest names ever ft. Jim Bob Cooter
• College football's Top 20 super fans in America
---