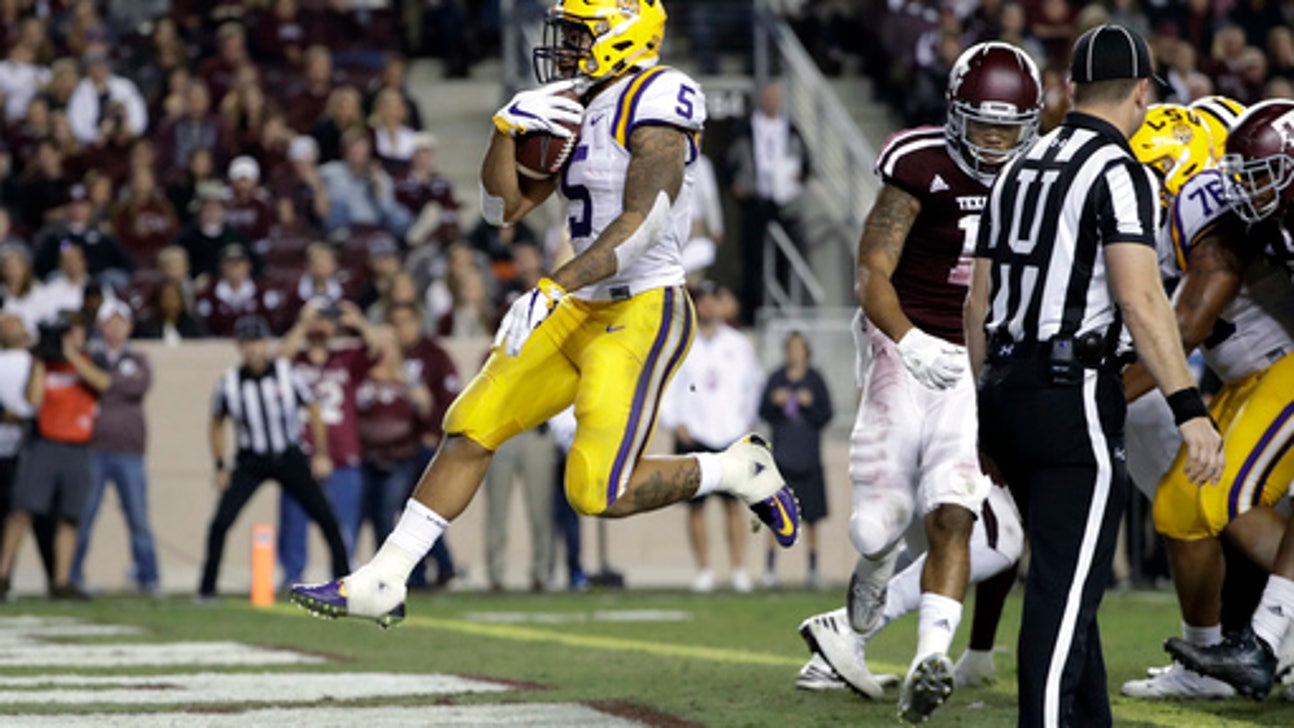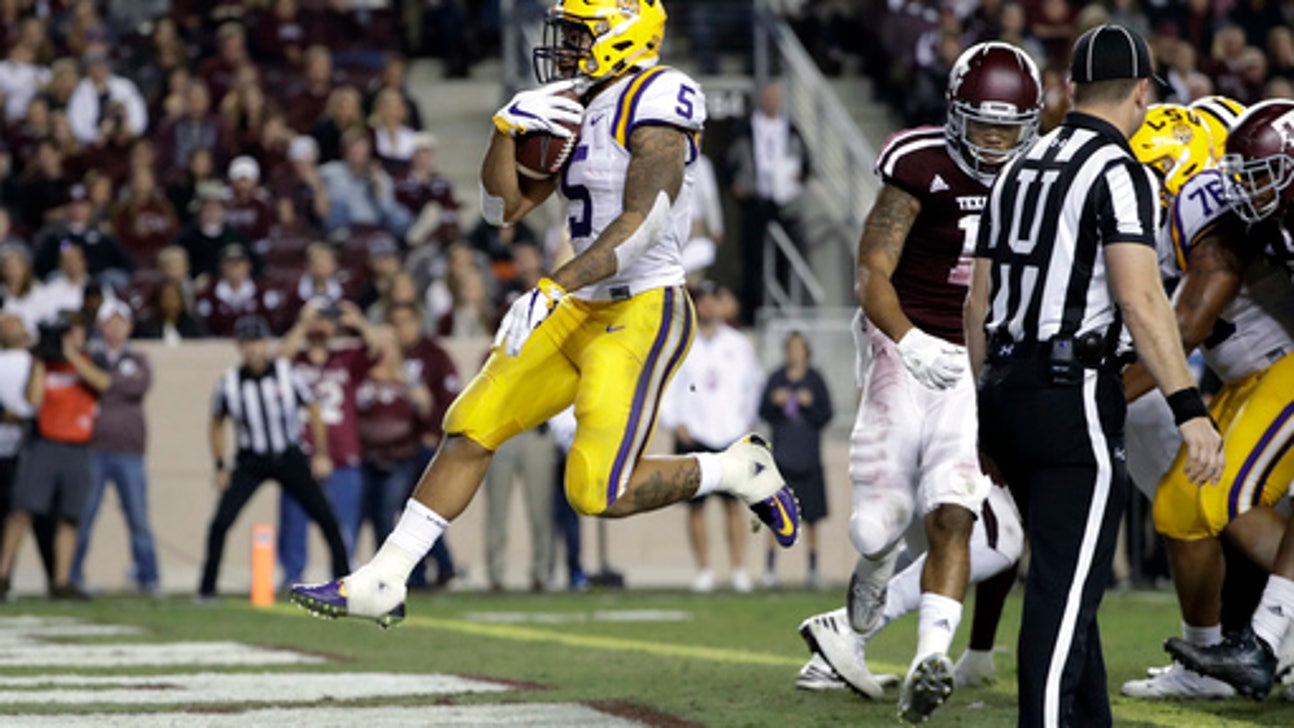 Guice runs for LSU-record 285 yards, No. 25 Tigers roll
Published
Nov. 25, 2016 1:09 a.m. ET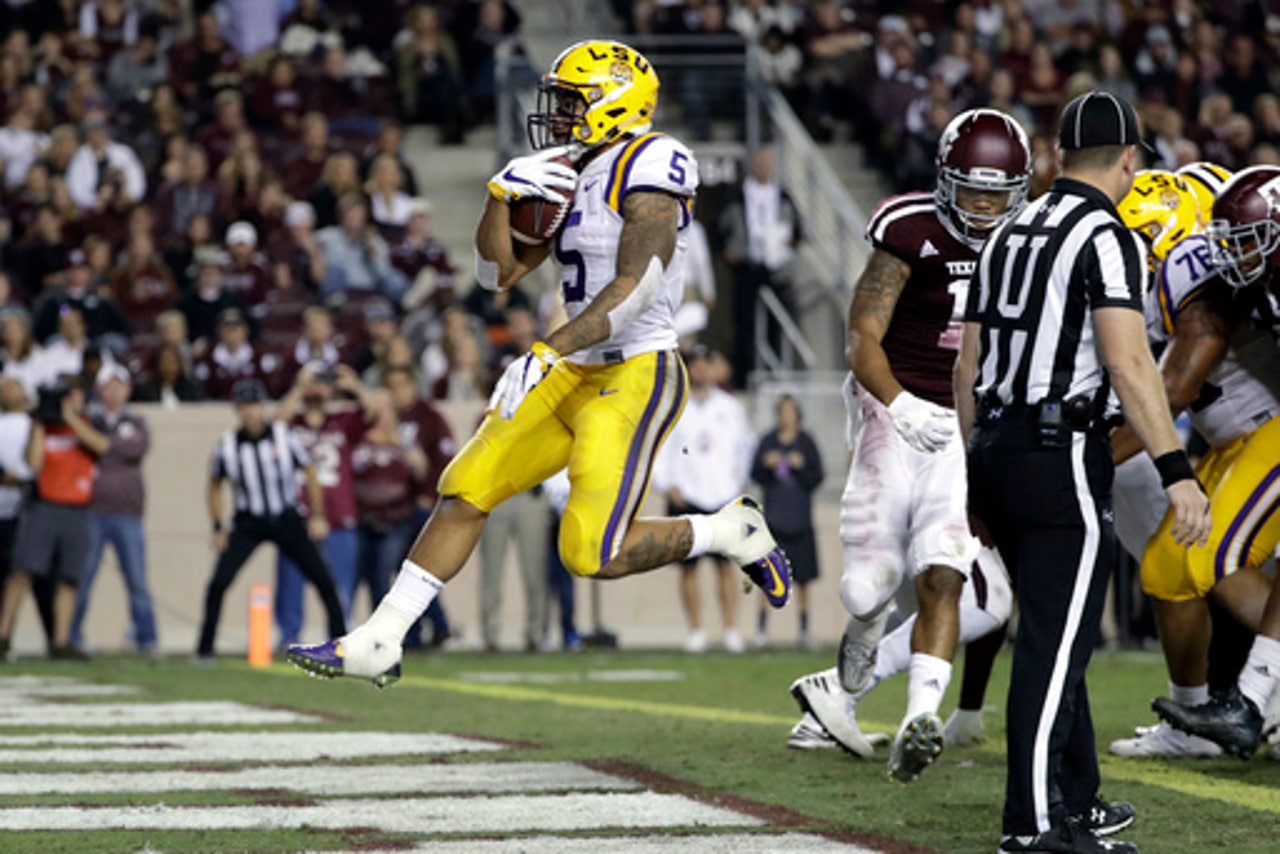 COLLEGE STATION, Texas (AP) Derrius Guice ran for a school-record 285 yards and had four touchdowns and Danny Etling threw for 324 yards and two scores to give short-handed No. 25 LSU a 54-39 victory over No. 22 Texas A&M on Thursday night.
The Tigers were playing without star running back Leonard Fournette and leading tackler Kendell Beckwith because of injuries. But Guice and Etling did plenty to allow LSU (7-4, 5-3 SEC) to handle Texas A&M, and gave the Tigers a 300-yard passer and a 200-yard rusher in the same game for the first time in school history.
It certainly wasn't the first time Guice has had a big game this year, with Fournette struggling with an ankle injury for a big chunk of the season. His performance pushed his career-high rushing total to 1,249 and his four TDs were a career high. The game gave him one more yard than Fournette gained to set the school's single-game rushing record last month.
Guice was asked if he'd thought about breaking Fournette's record.
''I haven't. My head's been on I miss him,'' Guice said. ''He was supposed to be out here with us tonight.''
The Tigers spoke this week about wanting a win to help boost interim coach Ed Orgeron's chances of keeping the job. But on Thursday reports surfaced that LSU was zeroing in on Houston's Tom Herman. The reports prompted LSU's vice chancellor and athletic director Joe Alleva and university administration to issue a statement denying they had chosen a new coach and praising Orgeron's work since taking over in September when Les Miles was fired.
Orgeron said after the game that he hadn't heard anything about his future, but that he would love to retain the job.
''We had to turn this team around and we did,'' he said. ''It was a ship that was sinking and we turned it around.''
While LSU wasn't at full strength, the Aggies (8-4, 4-4) were the healthiest they've been in weeks, with defensive end Myles Garrett over an ankle injury and quarterback Trevor Knight back from a shoulder injury.
Knight made an unexpected return after missing the last two games with the injury. Coach Kevin Sumlin said days after he was injured that he would miss the remainder of the regular season but would return for A&M's bowl game. Instead he returned to throw for 211 yards and three touchdowns before leaving the game late in the fourth quarter with what looked to be a knee injury.
''We were 6-0 and No. 4 in polls at one point. Here we are three weeks later, and we are unranked (in College Football Playoff rankings),'' Knight said. ''That is disappointing. I don't think it is a lack of effort or lack of character or anything. We played some good teams that came up with good wins. I wish I could point the finger at what went wrong and why we lost the games, but the point is, we didn't play as well as we needed to on the back stretch.''
The Aggies cut the lead to 10 with a field goal on the opening drive of the second half, but soon Guice was at work again. His second 45-yard touchdown run came on LSU's next drive to extend the lead to 27-10. Texas A&M failed to convert on fourth-and-4 to give the Tigers the ball back and Guice got to the end zone again, this time on a 6-yard run, to make it 34-10.
Texas A&M cut to deficit with touchdowns three times after that, but each time LSU responded with TDs of its own to keep the game out of reach.
Guice, who had 37 carries, had 65 yards rushing on LSU's first possession, highlighted by a 45-yard touchdown run that made it 7-0. The Aggies tied it in the first on Knight's 36-yard touchdown pass to Christian Kirk.
The Tigers added two field goals before Devin White forced and recovered a fumble by freshman Trayveon Williams late in the second quarter. He returned it for what was initially ruled a touchdown but was called back after a review. It didn't matter much though as Etling connected with Malachi Dupre two plays later on a 20-yard scoring pass that extended LSU's lead to 20-7.
THE TAKEAWAY
LSU: The Tigers responded to the adversity of missing their top players with a nice win to cap what has been a disappointing regular season.
TEXAS A&M: The Aggies missed a chance to improve their bowl status and possibly move into a prestigious New Year's day bowl game despite the return of Knight.
UP NEXT
Both teams will wait for their bowl pairings.
---
More AP college football at www.collegefootball.ap.org and https://twitter.com/AP-Top25
---