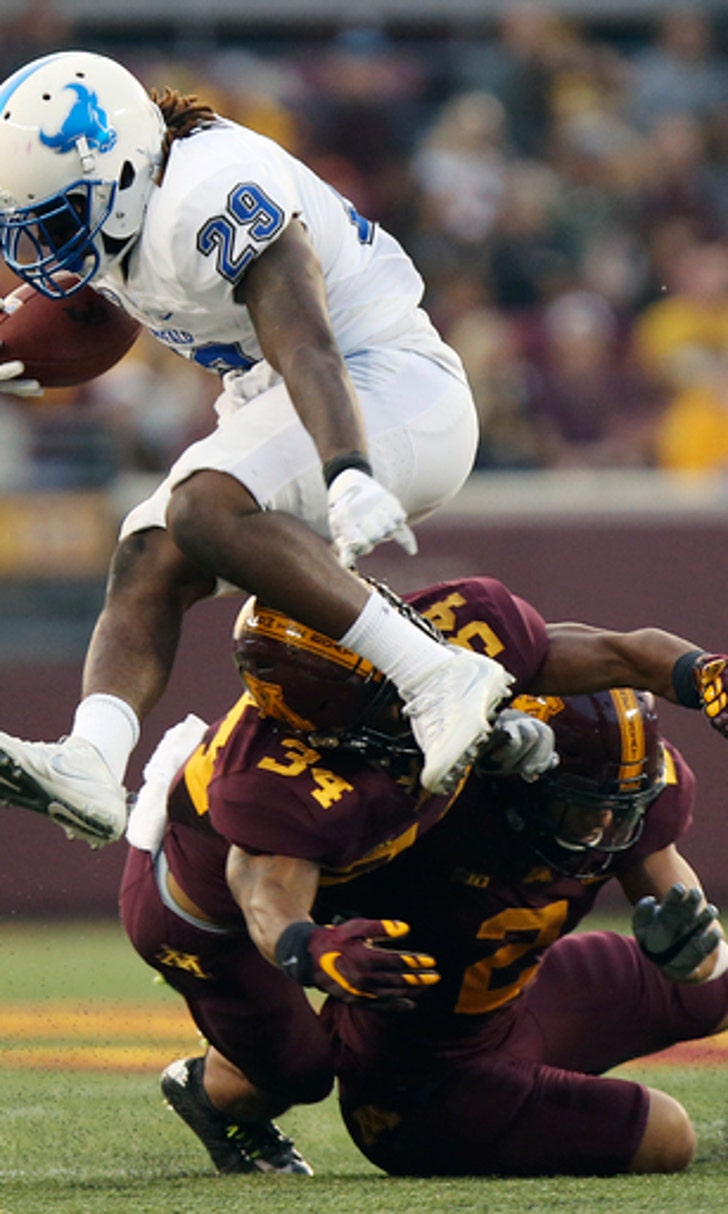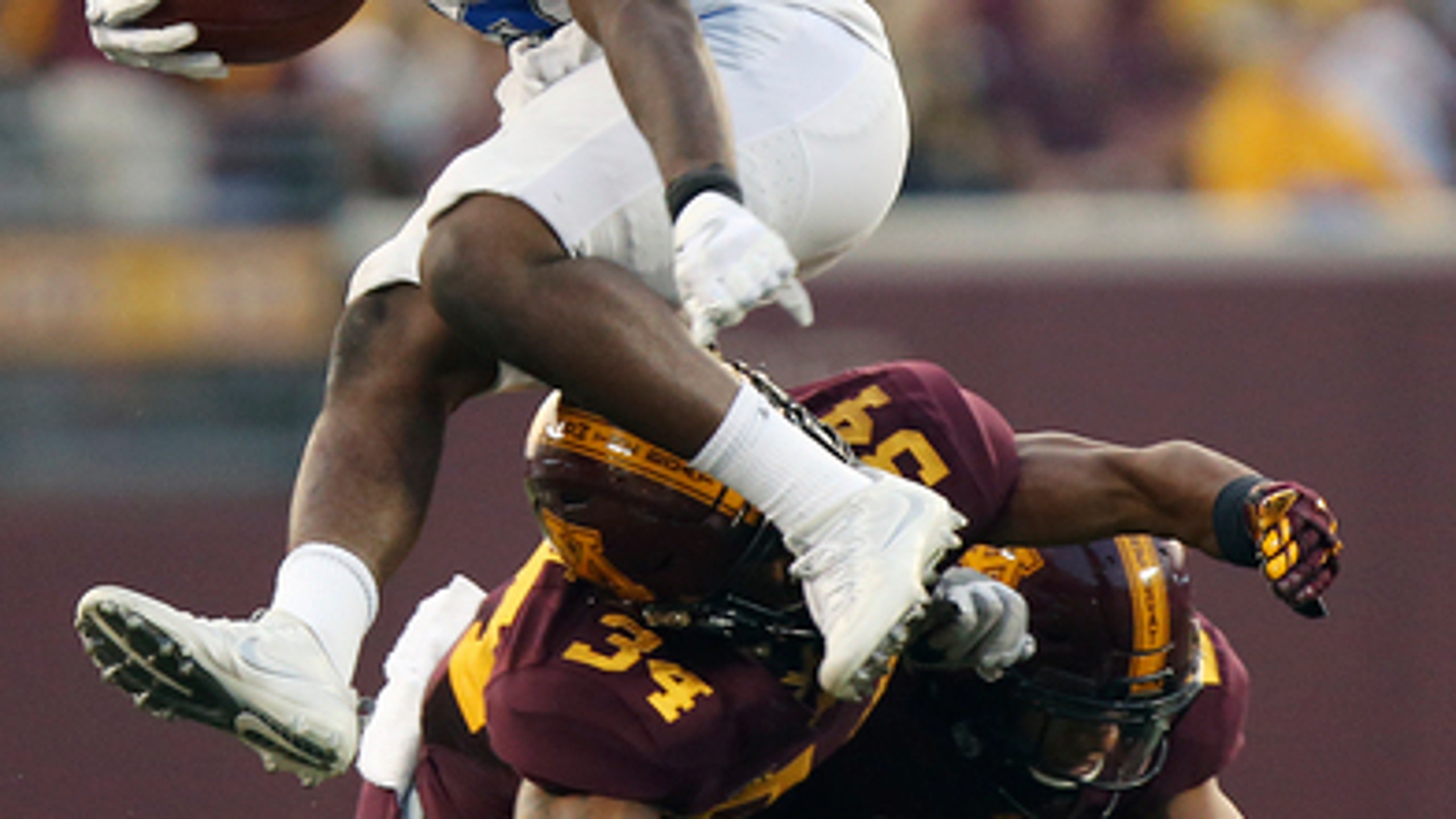 Gophers grind out 17-7 win vs. Buffalo in Fleck's debut (Aug 31, 2017)
BY AP • September 1, 2017
MINNEAPOLIS (AP) P.J. Fleck led his players in a pregame sprint out of the tunnel , with a vintage late-summer evening sky framing his first game as Minnesota's coach.
The Gophers started fast, too, with Tyler Johnson's 61-yard reception from Conor Rhoda - one of two first-quarter touchdowns.
The rest of the game was a slow drag to the finish, which was just fine with Fleck.
Johnson had 141 yards on six catches, all in the first half to match his 2016 season total, and the Gophers grinded out a 17-7 victory over Buffalo in the season opener and Fleck's debut on Thursday night.
''You better always appreciate a win,'' Fleck said, ''no matter how you get it.''
Rhoda started the game and went 12 for 21 for 176 yards, but he threw an interception in the end zone in the second quarter. Croft rushed six times for 32 yards and completed 7 of 11 passes for 63 yards. Neither quarterback stood out from the other in spring or fall practice. The tandem will remain in place for now.
''How they managed and ran the game, I was proud of them,'' said Fleck, who vowed not to make emotional decisions about who was in or out and stick to the prescribed plan for splitting playing time between the two.
Emmit Carpenter missed two of his three field-goal tries for the Gophers, but Rodney Smith and Shannon Brooks were able to find enough running room to wear down the Bulls and run out the clock. Brooks scored on a short run near the end of the first quarter.
''It was really just a stalemate up front,'' Croft said.
JOHNSON EMERGES
After playing quarterback at Minneapolis North High School, Johnson switched to wide receiver as a freshman and showed some flashes of promise. Fleck and wide receivers coach Matt Simon have raved about his progress this year.
''The kid comes to play when the lights are on,'' Rhoda said.
BULLISH
Anthony Johnson gave the Gophers secondary trouble with 11 grabs for 140 yards, including a 50-yard completion that set up his 16-yard touchdown catch from Tyree Jackson on the next play for the Bulls to tie the game late in the first quarter.
The 6-foot-7, 245-pound Jackson finished 22 for 42 for 211 yards and one interception. Khalil Hodge had 20 tackles, the most by a Buffalo player in nine years. The Bulls dropped to 0-8 in their history against Big Ten teams.
''We're all upset in the locker room,'' Jackson said. ''We didn't come here to show up and play against Minnesota. We came here to win.''
WINFIELD SHINES
The Gophers have relied heavily on their defense this decade, and that could be the case again this year despite the departure of several starters. The Gophers forced eight punts and held the Bulls to 51 yards on 22 rushes, with seven tackles, a sack, a blocked field goal and two pass breakups by safety Antoine Winfield Jr.
''Gosh, is he special,'' Fleck said.
FOR STARTERS
Fleck became the first Gophers head coach to win his first game with the program since John Gutekunst beat Bowling Green on Sept. 13, 1986. Jim Wacker (1992), Glen Mason (1997), Tim Brewster (2007), Jeff Horton (2010 interim), Jerry Kill (2011) and Tracy Claeys (2015 interim) all lost.
THE TAKEAWAY
Buffalo: After finishing 2-10 in coach Lance Leipold's second season with a freshman quarterback in Jackson, the Bulls are bound to be better this year. For a team that has produced only two winning seasons in 18 years at the FBS level, a competitive display like this can't be discounted.
''We took a big step forward as a program in what we're hoping to develop, as far as playing with a relentless type of attitude,'' Leipold said.
Minnesota: The Gophers just needed to win this game and get it out of the way, to reduce the pressure on their inexperienced quarterbacks and make sure Fleck wasn't embarrassed with a loss against a lower-tier opponent in his Big Ten debut . Starting with the blocking up front, the offense has a lot of work to do.
UP NEXT
Buffalo: The Bulls play at Army next weekend. The Black Knights are coming off an 8-5 season, their first winning record since 2010.
Minnesota: The Gophers ought to have a tougher time next weekend in their first visit to Oregon State in program history. The Beavers are 11-25 over the last three years but they played a competitive game in Minnesota last season, losing 30-23.
---
For more AP college football coverage: http://collegefootball.ap.org and https://twitter.com/AP-Top25
---
---