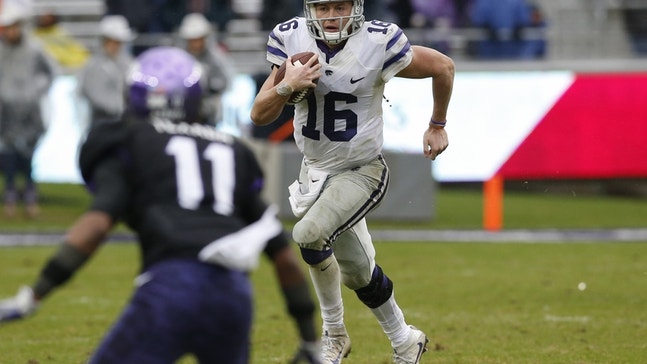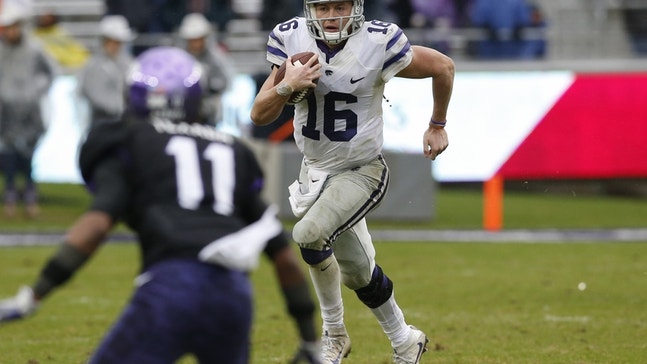 Getting to Know Kansas State
Updated
Mar. 4, 2020 5:44 p.m. ET

Fansided, Shelbie Warr/FanSided via Gig Em Gazette
Nov 26, 2016; Manhattan, KS, USA; Kansas State Wildcats head coach Bill  Snyder is carried off the field by his players following a game against the Kansas Jayhawks at Bill  Snyder Family Football Stadium.
It's time to get to know the Kansas State Wildcats, the final opponent of the Texas A&M football team this season.
To finish the 2016 football season, the Aggies will play Kansas State in the AdvoCare V100 Texas Bowl. The game will take place on Wednesday December 28 at 8pm. The Aggies will look to defeat the 8-4 Wildcats, who have beat every Texas team they have faced so far this year.
MORE: Predicting the SEC Bowl Games
With a strong defensive showing, the Aggies could come out victorious against the Wildcats on Wednesday night. Stopping the run game will be crucial in this one as they will have to constantly account for a moving quarterback.
It's a tall order, but its very much do-able for the boys in maroon and white.
Kansas State surprised a lot of people this year. The Wildcats have wins over Baylor, TCU, Texas Tech, and Texas this year. They will surely look to extend that with a win over Texas A&M as well. Let's take a look at what the Aggies are up against come Wednesday night.
Mandatory Credit: Jim Cowsert-USA TODAY Sports
The Wildcat Offense
Kansas State averages about 32 points per game. They average 232 yards on the ground per game at a clip of 5 yards per carry. Through the air, the Wildcats sit at about 154 yards per game. Kansas State has also scored 72 points this year as a result of turnovers caused by their defense.
Running back Charles Jones has 603 yards on the season, averaging about 5 yards per carry. His best game came against Texas Tech, where he rushed for 128 yards on 19 carries and scored a touchdown.
Kansas State's leading rusher, however, is their starting quarterback Jesse Ertz. Ertz has a total of 945 yards on the season, averaging almost 6 yards a carry when he takes off. That is staggering for a quarterback.
Ertz has 18 touchdowns on the year, 10 of which came on the ground. Only 8 touchdowns were made via the pass. Ertz completes just over 56 percent of his passes.
The Wildcats convert on 3rd down 46 percent (75 of 162) of the time and on 4th down 64 (9 of 14) percent of the time.
Mandatory Credit: Scott Sewell-USA TODAY Sports
The Wildcat Defense
If you know anything about the Big 12, you know that defense is not a focus. Many teams are offensively stacked, but their defensive abilities leave much to be desired.
Kansas State ranks No. 49 in total defense this season, giving up an average of 5.75 yards a play. They have allowed 33 touchdowns this year. They have combined for 15 interceptions and 8 fumble recoveries. This defense isn't spectacular, but they aren't shabby either.
Elijah Lee leads the Wildcat defense with 98 total tackles for the season. He has also accounted for 1.5 sacks, 2 quarterback hurries, 5.5 tackles for loss, one forced fumble, and one fumble recovery.
Kansas State has outscored their opponents all year in the first three quarters of the game. The fourth quarter is normally where things tend to get a little messy for the Wildcats, as they have been outscored 99-76 during the final frame.
***STATS FROM KSTATE ATHLETICS, NCAA***
More from Gig Em Gazette
This article originally appeared on
---
---