TCU Horned Frogs
TCU Horned Frogs
Freaks Week: Top 25 'Freaks' in college football for 2015: Nos. 5-1
Published
Aug. 17, 2015 3:04 p.m. ET

For more than a decade, we've been spotlighting the biggest "Freaks" in college football -- those guys who are the top workout warriors in the sport or the guys who possess some rare physical abilities that wow folks inside their programs. Our Top 25 countdown comes thanks to the input of many coaches, players and sports information directors around the country. Here's our Top 5:
ALSO (ICYMI): 
5. Adoree' Jackson, USC, CB/WR/KR: As a freshman, Jackson won the Pac-12 long-jump title. He also came in fourth in the 100 meters and ran the anchor on the Trojans' 4x100 team. In the process, Jackson became the first USC football letterman to earn track All-America honors in an individual event since Sultan McCullough in 2000. While discussing UConn's Byron Jones soaring 12 feet, 3 inches at the Combine last February, setting a world record, the 5-11, 185-pound Jackson said when it's his turn at the Combine, he's planning on going 12-feet plus: "It's all about technique," he said. "I think it's realistic for me."
4. Kolby Listenbee, TCU, WR: The fastest man in college football, the 6-1, 183-pound senior also was an honorable mention All Big 12 wideout in 2014. He caught 41 passes for 753 yards and proved to be quite the big-game player, rolling up consecutive 100-yard receiving games against Oklahoma and Baylor. He also threw a 31-yard touchdown strike to Aaron Green on TCU's second play from scrimmage against Ole Miss in the Chick-fil-A Peach Bowl and later had a 35-yard TD grab in the game.
Listenbee is the rare guy whose speed coming out of high school from the recruiting sites was actually undersold. Listed as a 4.5 40 guy, in June, he clocked a personal-record 10.03 seconds in the 100 meters to finish seventh at the NCAA nationals in Eugene, Ore.
"He's always been a lot faster than 4.5," coach Gary Patterson said. "Ask everyone in our conference."
Read more about Listenbee here. 
3. Anthony Zettel, Penn State, DT: Like most guys on this list, this is a terrific football player. The 6-4, 281-pound Zettel made first-team All-Big Ten selected by both coaches and media, and led the team in TFLs (17), sacks (8) and INTs (3). Zettel is a beast in the weight room. He set school records in the hang clean (425) and the power clean (390). That stuff got him on this list, but it's all of this other head-turning stuff that gets him on the top five.
As a high schooler in Michigan, Zettel set the state record in the shot put with a throw of 61 feet, 8 inches. Some of Zettel's other eye-popping exploits can be seen on video. Like: 
--How he can hit a golf ball 380 yards off the tee. A 10-handicapper, Zettel said that after football he might try entering some Long Drive contests. He credits his shot-putting background. "I just have a lot of torque and hip rotation," he says. "I don't have a lot of flexibility in my shoulders, but I can really get my hips around."
--How he can throw a football 75-yards plus. With no wind. "On a good throw, maybe 80 (yards)," he says, adding that his fastball has been clocked at 92 mph. "I always had a good arm. I was a good pitcher. Baseball was my best sport." Zettel says he can even throw a football farther than his pal, Christian Hackenberg, Penn State's strong-armed QB. "I can throw it farther," Zettel says. "He can throw it more accurate. He knows I can throw it farther, but he's close."
--How the aspiring MMA fighter (he's been training three or four days a week during the offseason for the past three years with Bruce Lombard) can do a roundhouse kick and in this case almost decapitate a teammate with a full bottle of water.
--How he once tackled a tree and brought it to the ground. "We were out getting firewood," he said. "There was a dead tree. I just decided to tackle it. It wasn't the smartest thing I've done. Luckily, I didn't get injured. I wouldn't do it again."
2. Myles Garrett, Texas A&M, DE: A shredded 6-5, 262-pound sophomore with an eight-pack, Garrett set an SEC freshman record in 2014 with 11.5 sacks. Garrett also clocked in the mid-4.4s in the 40 this offseason, according to Aggies strength coach Larry Jackson, who said the only player he's been around who was anywhere near as explosive as Garrett was Adrian Peterson at Oklahoma. Garrett also vertical-jumped 39 inches and broad-jumped 10-9 1/2.
Garrett's mom was an All-American hurdler. His older brother, Sean Williams, played in the NBA, and his older sister, Brea, is a record-setting weight thrower on the Aggies' track team.
Garrett won't turn 20 till Dec. 29.
1. Shawn Oakman, Baylor, DL: In 2014, Oakman emerged as a dominant force for the Bears, notching 11 sacks, 19.5 TFLs and three forced fumbles. The 6-9, 271-pounder has done some amazing things in the weight room, too. In May, he did a 40-inch box jump while holding a 70-pound dumbbell in each hand. Then, in the offseason, he did four pull-ups despite having an additional 120 pounds harnessed to his waist.
"That's his deal," Baylor strength coach Kaz Kazadi said. "He can load that up. He'll put 120 pounds on there. He'd love to get there and put 200 pounds on there if he could, but he's gotta be smart. He's here to play football, not to display his knack."
Kazadi said Oakman has just 6 percent body fat and can vertical-jump 38 inches when he's fresh. "He looks Calvin Johnson-ish, but then you get up close to him and you see how huge he is. He's a 400-pound bencher and he's doing it with those long arms. He's a 600-pound squatter and he's doing it with those long legs."
As for what he expects Oakman to do at the NFL Combine next winter in the 40-yard dash: "I think he'll definitely go sub-4.7 if he feels good about it. I think he can go 4.6. We focus more on the 10 and the 20 here, but when he gets to that 40, he's got an extremely long stride. It'll be like three steps and he's done."
---
---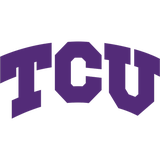 Get more from TCU Horned Frogs
Follow your favorites to get information about games, news and more
---