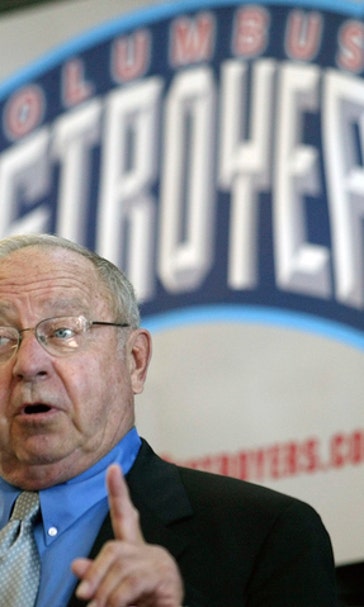 Former Ohio State football coach Earle Bruce dies at 87
April 20, 2018
COLUMBUS, Ohio (AP) Earle Bruce stepped into his dream job, football coach at Ohio State, under most challenging circumstances, replacing the program's revered longtime leader after a fall from grace.
Bruce embraced the task of following Woody Hayes, and went on to have his own Hall of Fame career. He never did quite match Hayes' record or status at Ohio State, but Bruce earned a special place of his own in Buckeyes football history as adored patriarch and sage and the mentor to the program's current coaching star.
Bruce died in Columbus at 87, according to a statement released by his daughters through Ohio State on Friday. He'd been suffering from Alzheimer's disease.
He had a record of 81-26-1 as Ohio State's coach from 1979-87. He was inducted into the College Football Hall of Fame in 2003.
Bruce was hired after the revered Hayes was fired for punching a Clemson player in the 1978 Gator Bowl. Even after being fired by Ohio State and moving on to other jobs, he never lost his passion for Ohio State football.
''He was just so genuine,'' said former Ohio State All-American Chris Spielman, who played for Bruce from 1984-87. ''I think the one thing that stood out to me, and I heard other people describe him this way. There was nothing phony about him. What you saw was what it was. I loved him smiling when he told football stories.''
Ohio State coach Urban Meyer began his coaching career as a graduate assistant under Bruce in 1986, and later worked for him at Colorado State.
''I've made it clear many times that, other than my father, Coach Bruce was the most influential man in my life,'' Meyer said in a statement. ''Every significant decision I've made growing up in this profession was with him involved in it. His wife (Jean) and he were the role models for Shelley and me. They did everything with class. He was not afraid to show how much he loved his family and cared for his family.''
Born in Pittsburgh and raised in Cumberland, Maryland, Bruce had come to Ohio State in the fall of 1949 to play football. He sustained a knee injury that in effect ended his playing days and got him to think about coaching.
He was a high school assistant in Mansfield and became a head coach in 1956 at Salem where his teams went 28-9. He moved on to Sandusky High School in 1960 and in four years had a record of 34-3-3 and then took over at mighty Massillon, one of the most renowned prep jobs in the country. In two seasons, Bruce went 20-0.
Hayes beckoned and Bruce joined him as an assistant at Ohio State in 1966. Bruce was in charge of a bruising offensive line that paved the way for the Buckeyes to win three Big Ten titles, two Rose Bowls, go 43-14 and win the 1968 national championship. Bruce was on the 1968 staff that also Lou Holtz, Bill Mallory, Lou McCullough and George Chaump. Earlier, Bruce had worked on an Ohio State staff that included Bo Schembechler, who would become the head coach at Michigan and serve as a nemesis for both Hayes and Bruce.
After six years on Hayes' staff, Bruce became a head coach. He spent a year at the University of Tampa and went 10-2 with a colorful cast that included NFL star John Matuszak and George Orendorf, who would go on to become a professional wrestling mainstay.
After a stint at Iowa State, Bruce was hired in January 1979 to replace his mentor and friend. He went at the job with characteristic energy and organization, despite some criticism from fans who constantly compared him to the sainted Hayes, the Buckeyes' coach for 28 seasons.
''You don't want to lose in Columbus, Ohio,'' Bruce once told The Associated Press. ''A football loss? That's terrible. You want to win all your home games. You're only as good as your last game here.''
Bruce took over a 7-4-1 team that had lost its last two games and finished fourth in the Big Ten in 1978. He promptly took the Buckeyes to within a whisper of a national title.
With quarterback Art Schlichter working out of an updated, modernized offense and the Buckeyes employing the same old in-your-face defense, Ohio State went unbeaten through the 1979 regular season before losing the national title to Southern California, beaten 17-16 in the Rose Bowl.
After winning or sharing four Big Ten titles, he was fired in 1987 after falling into disfavor with Ohio State President Ed Jennings.
Spielman said news of Bruce's death brought back memories of the Ohio State band showing up at Bruce's home on the day the coach had been fired as a show of support and playing the alma mater for him.
''How much he loved that, appreciated that, I think shows you where Coach Bruce's heart was.'' Spielman said.
He went on to coach at Northern Iowa and Colorado State before returning to Columbus in retirement and again becoming an integral part of Buckeyes football. He worked for years as a radio analyst and was well known for saying how he ''bled scarlet and gray.''
Spielman was recruited to Ohio State by Bruce and became one of 10 All-Americans coached by him.
''I think coach always exuded passion for football and passion for his university,'' said Spielman, who played eight seasons in the NFL with the Detroit Lions. ''The one thing that set him apart as a coach was that he was an equal distributor of criticism and praise.
''If you screwed up you were held accountable. If you did well he'd let you know you did well. I thought that was really how my dad was as a coach, which I really admired.''
Bruce was preceded in death by his wife, Jean. Survivors include four daughters, nine grandchildren - including Ohio State wide receivers coach Zach Smith - and three great grandchildren.
---
AP reporters Dan Sewell in Cincinnati and Ralph D. Russo in New York contributed to this report.
---
---