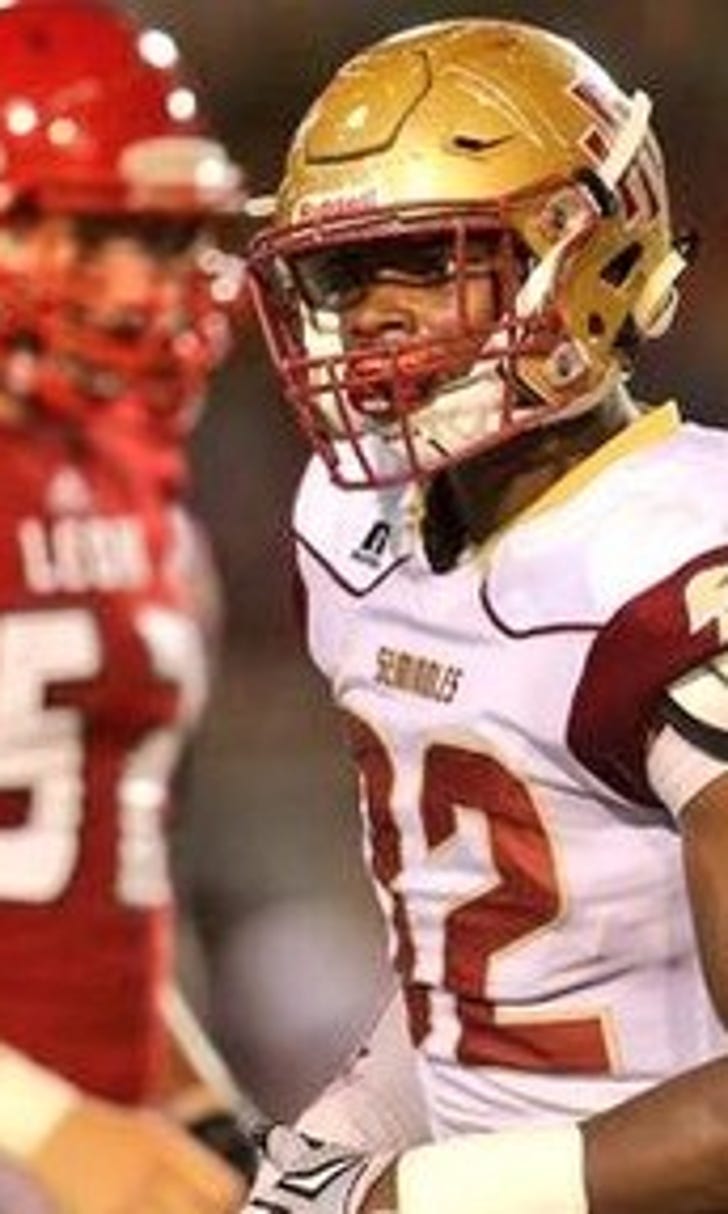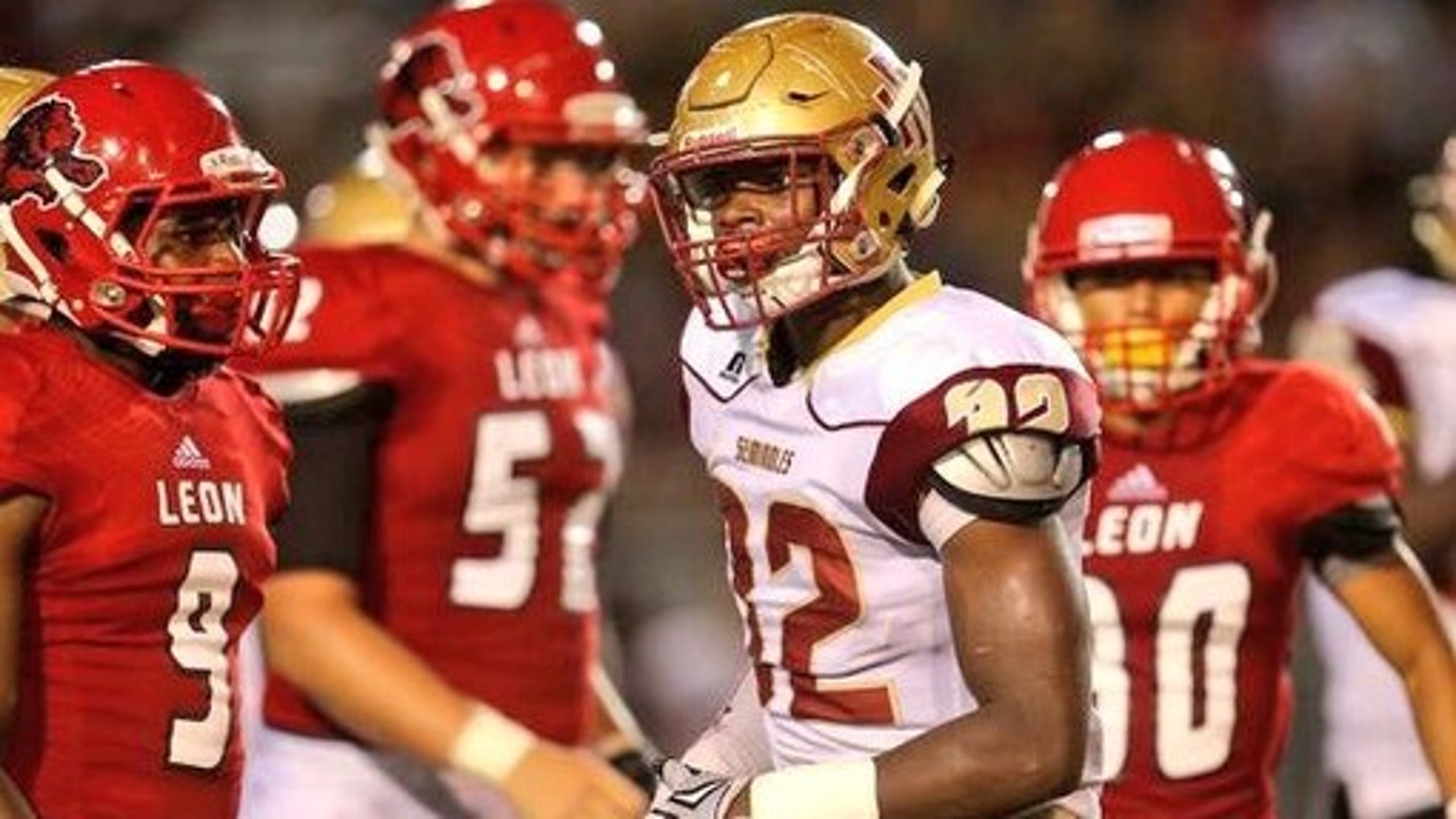 For Western Carolina recruit Cam Brown, amputation just an obstacle
BY AP • July 11, 2017
(STATS) - The Superman tattoo came first. It wasn't until a few weeks later that Cam Brown found himself fighting for his own life.
Running away from anything isn't a familiar concept for Brown, who spent four years pursuing ball carriers as a linebacker at Tallahassee's Florida High and was committed to doing the same at Western Carolina this fall.
Those plans changed May 7.
That was the night Cam's mother, Michelle, got the phone call that turned what should have been a month of celebration into a crash course in soul searching. Yes, there had been cortisone shots in a left shin that was still a bit sore after wrestling season. There were late April X-rays that seemed to indicate Cam was in the midst of a growth spurt, and a pair of crutches with instructions to take it easy for the next couple of weeks. After all, the four-sport athlete had to be ready to flash that grin - the never-met-a-stranger smile that served as a magnetic, infectious force in and around Tallahassee - as he walked across the Civic Center stage to receive his diploma May 26. The doctor promised he'd be healed by the day before graduation. They'd take an MRI just in case.
Cam's orthopedic doctor was on the line. Michelle listened intently and handed the phone to her husband, Sam, saying only one word: "tumor."
"I was completely stunned," Sam Brown said. "You never think about the word 'tumor' and the word 'cancer.' Especially with someone like Cam."
---=
"All I wanted to do was play football."
That was Cam Brown's initial reaction to the diagnosis, and it's also the only time there's any semblance of pain in his voice. It would be hard to find him at fault should a little more creep in.
The tumor was just the beginning. Next, it was a trip to Shands Hospital in Gainesville to figure out exactly what Brown was dealing with. Four options were on the table, with a benign, non-cancerous tumor being the obvious best and osteosarcoma - a form of bone cancer common in the lengthy arm and leg bones of children and young adults - the worst. When doctors discovered it was indeed osteosarcoma, Brown had surgery immediately in an attempt to shrink the tumor - and then the medical team went in to see if the cancer had made it elsewhere.
According to the St. Jude Children's Research Hospital, osteosarcoma has already spread in 15 to 20 percent of patients by the time it's diagnosed, most typically to the lungs. That's exactly what happened with Brown, and there were also spots on his right leg. Three days after the initial surgery, Brown had another operation to put a port in his chest. He began chemotherapy that night, May 13.
Three rounds of chemo shrunk the spots on his lungs but didn't do anything to decrease the spots on his right leg. The tumor itself - in his left shin - was getting larger. Brown's doctors explained options to try to save the leg, but it would be for nothing more than aesthetic purposes.
The decision was made. Brown's left leg would be amputated, two inches above the knee, on June 29. The tumor would go with it, though its effects, at least for now, would remain. A month after high school graduation, a month before he was supposed to be on the field for fall practice at Western Carolina, Brown was losing one of the cylinders in an engine that made him into a first-team Florida all-state Class 3-A linebacker.
What would remain was an unwavering desire to play football again. Brown had already begun probing his coaches about the NCAA's rules on playing with prosthetics.
"That's Cam's big goal," Sam Brown said. "That will be his driving force as he tries to heal. I promise you, Cam's going to find a way back to that field. He's going to shock a lot of people."
---=
Brown turned 18 on April 19, but he'd already treated himself to an early birthday gift - a tattooed emblem on his chest mimicking the Man of Steel. He had no idea the battle that was imminently on the horizon.
"It's not just a Superman tattoo," Brown said. "My (older) brother has tattoos, my dad has tattoos, so I was thinking, 'What can I do?' It turned into my second personality, I guess you could say.
"With all this going on, it's a symbol of hope. I feel like I'm the person who has to give everyone else hope. A lot of people have come to me crying. ... People come to me when they feel like there's something wrong. There's nothing really different - I've always been doing this, it's just on a greater scale."
Now there's a Facebook page - supercambrown, complete with Superman logo - offering regular updates on Brown's recovery. A Twitter hashtag, #TeamSuperCam, with well-wishers and family members. A GoFundMe - #TeamSuperCam Donation Fund - set up to help the family with medical bills and the two-plus hour drive from Tallahassee to Gainesville for treatment.
Then there's the support visible only to those in Northern Florida: the white shoes - Brown's favorite - crazy socks and Superman T-shirts that dotted his graduation ceremony. There are the hospital visits to keep Brown's spirits high and the errands done to help out Sam, Michelle and Cam's siblings, Bin and Samaya.
If those car rides to Gainesville seem long, they're nothing compared to the seven-hour trek to Cullowhee, North Carolina, that Brown was supposed to be making this month. That's twice as long as the trip from Tallahassee to Mercer University in Macon, Georgia, where Brown initially was headed before switching to Western Carolina. But once he met coach Mark Speir and defensive assistants Mark Rhea and Blake Gideon, Brown changed his mind.
"It was how much of a family it felt like," Brown said. "It was my home away from home. I went up to a visit and everyone there was so friendly. They knew I was committed and they still treated me like family."
Upon learning of Brown's diagnosis, Speir made the reverse journey down I-75 just to spend four hours with his recruit.
---=
Sam Brown couldn't do it. He'd gladly trade places with Cam, but there's no way he'd be handling this with the same outlook. "My son is way stronger than I am," he says.
"We're often talking about things like, 'What if it was someone else?' Everyone who knows Cam loves him. He's that guy every guy wishes they could be and every girl is so in love with because he's so smart, strong, good-looking, humble, caring. But we realize that if it wasn't Cam, people wouldn't have such a strong outpouring. A lot of people would be down. Cam stays up, almost all the time."
Cam says he hasn't cried since the diagnosis. His is a family that's already developed some resilience. He's seen his mother deal with the effects of multiple sclerosis, which developed shortly after her second son was born. "If she can go through (a situation like this), I can go through it," Cam says. He then delivers a line we've all seen variations of in adverse situations, one that his father would quote word for word in a separate interview: "God gives his biggest battles to his strongest soldiers."
To Sam Brown, that's exactly what his son is.
"One of the reasons why Cam has been given this particular challenge is because God's work and God's will is the way to go," he said. "Without God, there's no way he could work his way through it."
---=
Cam Brown was up and walking around on crutches July 2, three days after having his left leg removed. He was in the gym the following day, doing exercises with his right leg and lifting weights. He'll return to Gainesville on Wednesday for a two-week check-up, and assuming he's given the green light, there will be another round of chemo. More surgeries lie ahead, but there's one procedure he's certainly looking forward to.
The Browns have already been in touch with a company that makes prosthetic limbs, and Cam eventually plans to have not one but three options to help him find his stride again. One will be for walking and typical daily activities while another will be designed for working out.
As for the third? It'll be designed to let Cam do what Cam planned on doing all along.
There is precedent. Montana State linebacker Koni Dole became the first player with a prosthetic leg to appear in an FCS game in 2015, three years after suffering a horrific compound fracture in high school that eventually resulted in amputation. Kody Kasey, a defensive back from Georgetown College in Kentucky, returned last fall after suffering a gruesome leg injury while blocking on a punt return in 2014 that eventually required removal. Neither has played much - Kasey does have a season of eligibility left, though - and neither came back from cancer.
For now, college takes a backseat to recovery. Western Carolina says this will be Brown's redshirt year, but he plans to take online classes while he continues his chemo. He expects to fully enroll in school in the fall of 2018.
By then, Brown will have had plenty of time to keep lifting. To keep his right leg more fit than it ever was. And to adjust to what will eventually be a brand new limb on his left.
Brown has his eye on coming out of the Whitmire Stadium tunnel in full pads that September, and a message for the Western Carolina fans he expects to find cheering him on.
"They better be ready to see somebody with a prosthetic leg get two or three sacks a game. I'm going to come back bigger and better and stronger and make some history."
---