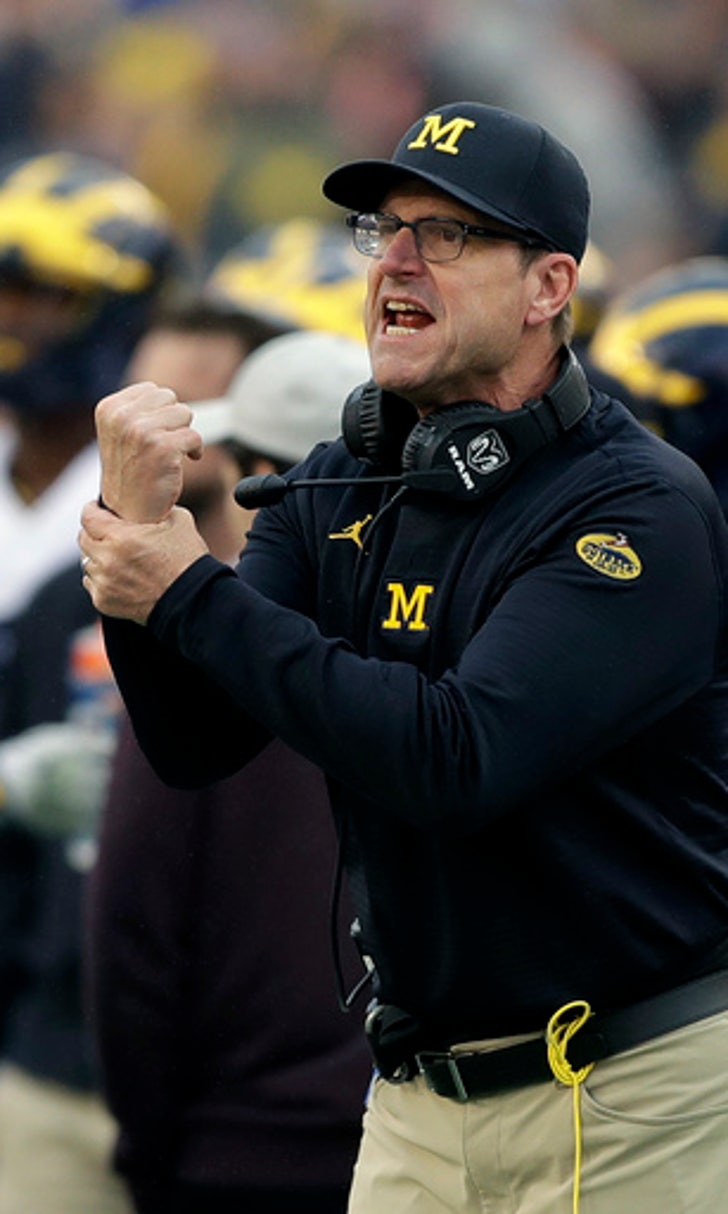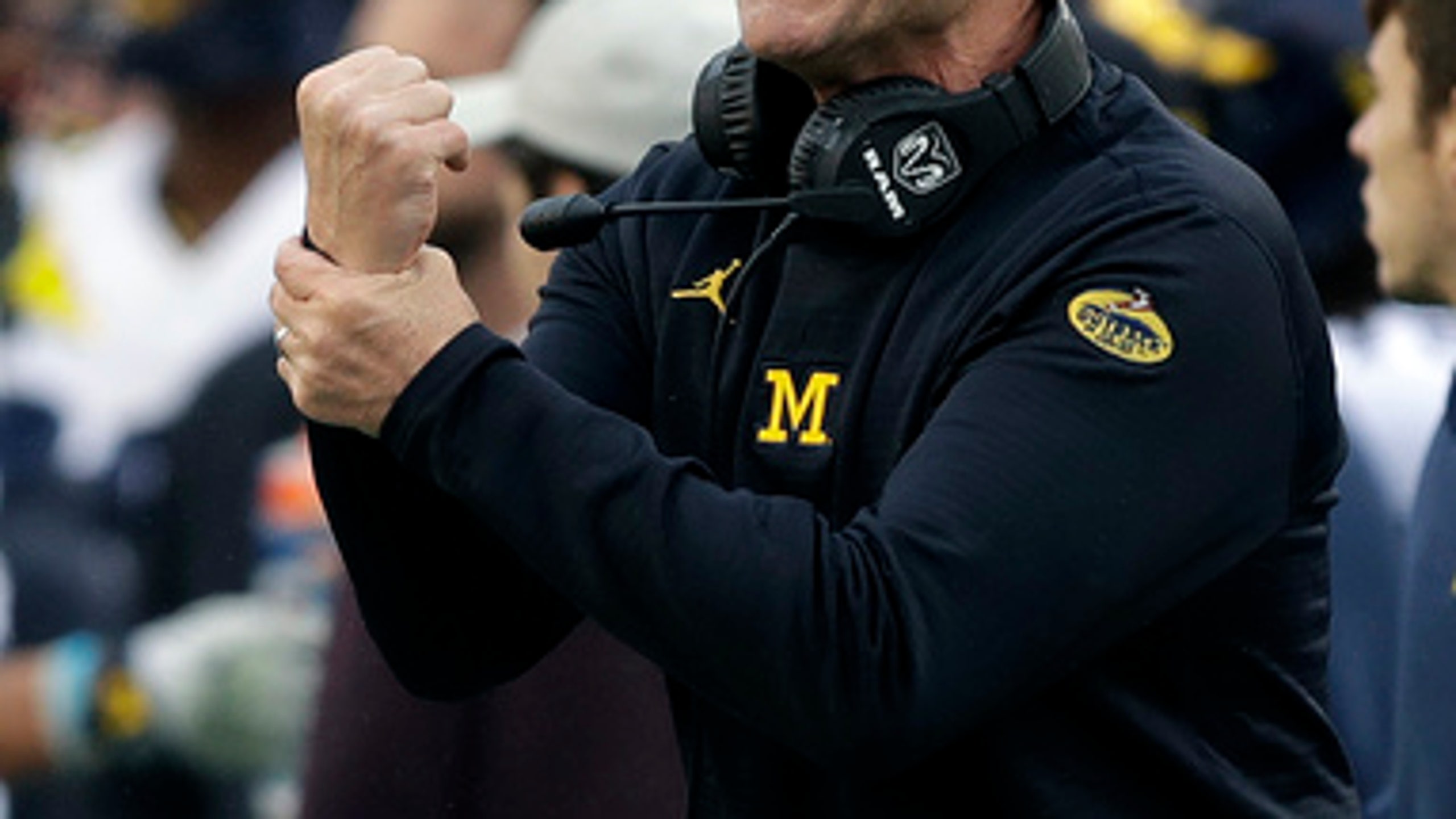 For Michigan, a step back in third season under Harbaugh
BY AP • January 2, 2018
ANN ARBOR, Mich. (AP) For the first time since he arrived at Michigan, it feels like Jim Harbaugh is at a bit of a crossroads.
The team's upward trajectory under Harbaugh ended with a thud this season, and although it wasn't a shock to see the Wolverines take a step back from their 2016 showing, the lack of progress at quarterback was startling. Michigan will return plenty of talent on defense next season, but Harbaugh's offense will be under a microscope as he enters his fourth year at the helm.
''We had some big goals going into the season. A lot of them we didn't accomplish,'' linebacker Noah Furbush said. ''Looking forward to the next season we have all of those same goals we can accomplish. I have this bad taste in my mouth from this season and that's just going to motivate us even more.''
After finishing 10th in the final AP poll of the 2016 season, Michigan had to replace a huge group of key contributors, including Jabrill Peppers, Jake Butt and Jourdan Lewis. The Wolverines came into this season ranked 11th, and that turned out to be way too optimistic. They beat Florida in their opener, but the season took a turn for the worse when they lost at home to Michigan State in October - Michigan's eighth loss in the past 10 games against the Spartans.
The Wolverines finished 8-5, closing the season with losses to Wisconsin, Ohio State and South Carolina. The last defeat came in Monday's Outback Bowl. Michigan turned the ball over five times in a second-half meltdown that essentially handed the Gamecocks a 26-19 win .
''We didn't get the knockout punch when we needed it,'' Harbaugh said after the game. ''We didn't take advantage of the opportunities that were there.''
Afterward, kicker Quinn Nordin apologized on social media for what he admitted was an ''inappropriate gesture'' during the game. In all, it was about as sour an ending as possible for Michigan's season.
The Wolverines did have some bright spots, such as defensive linemen Maurice Hurst, Rashan Gary and Chase Winovich. Hurst was a fifth-year senior, but Gary was only a sophomore, and Winovich still has eligibility remaining. Linebacker Devin Bush and defensive backs Khaleke Hudson and Lavert Hill - all sophomores - also contributed to a defense that figures to be very good in 2018.
The offense is where many of the questions are. Quarterbacks Wilton Speight, Brandon Peters and John O'Korn combined for only 6.4 yards per pass attempt, with 10 interceptions and nine touchdown passes. Only Peters is expected back from that trio, and the Wolverines may end up pinning their hopes on Mississippi transfer Shea Patterson - but it's not clear if he'll be eligible right away.
Michigan also has Dylan McCaffrey, who didn't play this season but was one of the top quarterback recruits in the country in 2017.
When Harbaugh took over at Michigan, there was talk that the Wolverines were finally getting their version of Nick Saban or Urban Meyer. Well, Saban won a national title in his third season at Alabama, and Meyer did it within three years at both Ohio State and Florida. So by that sky-high standard, Harbaugh has a lot of catching up to do.
But while those expectations proved excessive, the Wolverines did make real progress in Harbaugh's first two seasons, winning 10 games each in 2015 and 2016. His 2016 team was in the national title hunt until a double-overtime loss at Ohio State. If Michigan can return to that level in 2018 and beyond, the Wolverines will probably win their share of big games eventually.
The schedule won't do them any favors next season. Michigan has to face Notre Dame, Michigan State and Ohio State on the road - a tough task for a program that's shown signs of growth under Harbaugh but is still struggling to beat its biggest rivals.
''We know that we have real issues that we have to fix if we want to be great and we want to be a real national championship contender,'' running back Karan Higdon said. ''Those are mistakes that we can't have, including myself. I have some things that I wish I could get back. We have to make sure that we work on that during the offseason''
---
More AP college football: www.collegefootball.ap.org and https://twitter.com/AP-Top25
---
Follow Noah Trister at www.Twitter.com/noahtrister
---
---