New England Patriots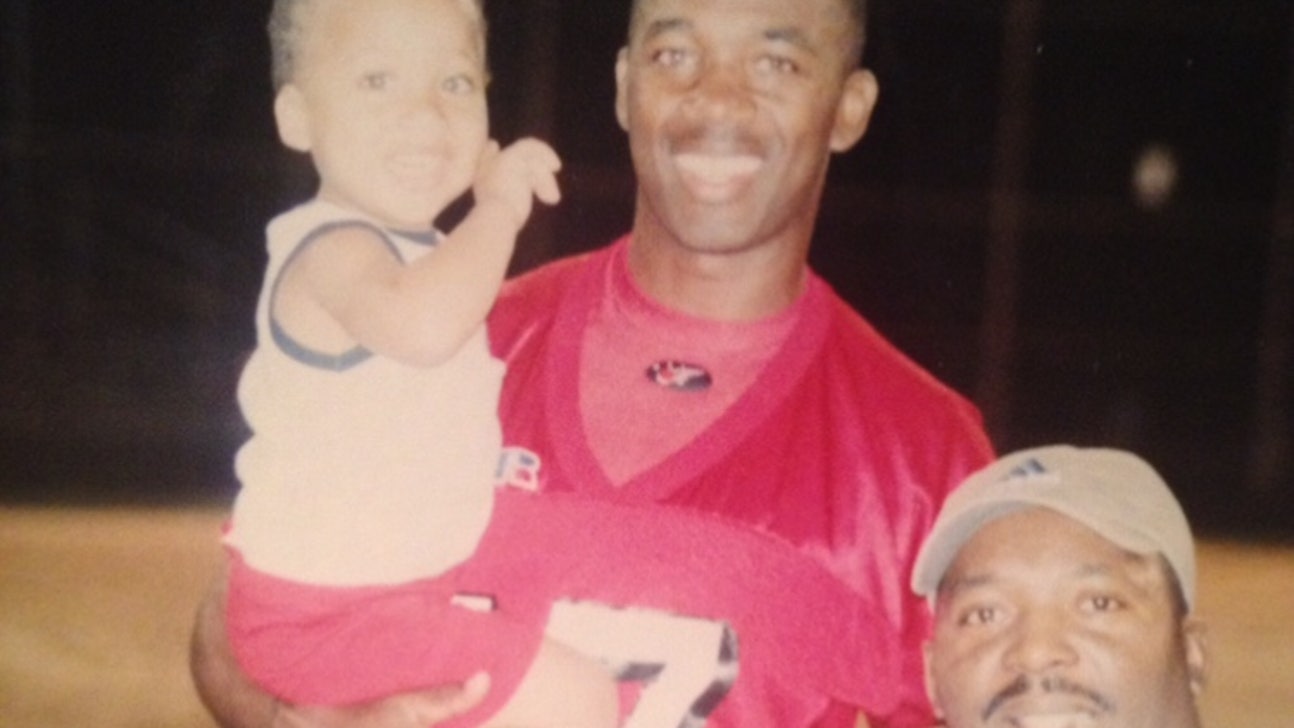 New England Patriots
For family of the late Darryl Stingley, football remains a tradition
Published
Jun. 17, 2016 8:00 p.m. ET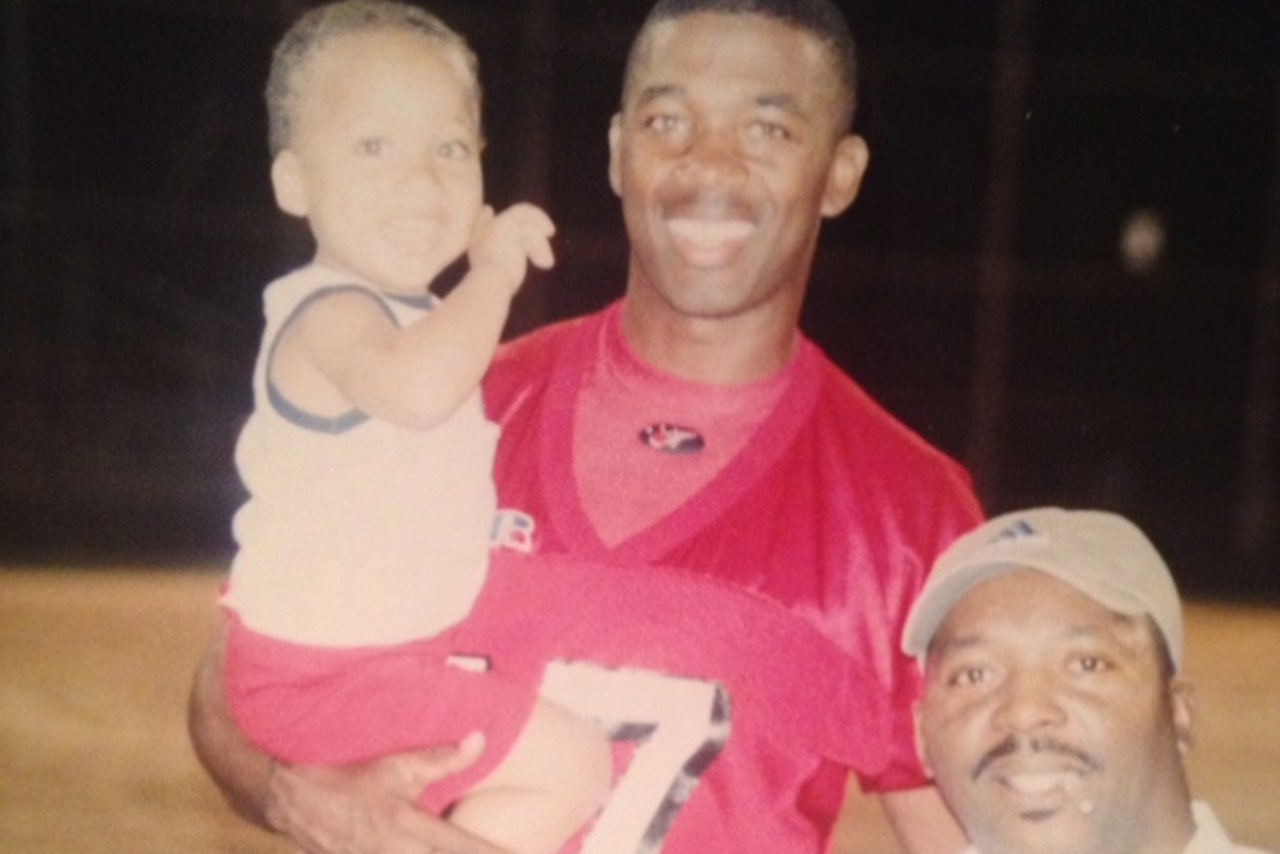 Derek Stingley said his son gave him the best Father's Day present this year — Derek Jr., only 14, earned a football scholarship to LSU and committed to the Tigers. On Sunday, the dad will do as he always does on Father's Day and reflect on his own dad, a man who passed away nine years ago and was the first to note Derek Jr.'s athletic gifts.
The kid was 4 when Derek's dad told him "that boy is going to be special", after observing how fast the little child could run. Derek's late father was a pretty special athlete in his own right and is the reason why the name Stingley is so memorable for football fans over 40.
Darryl Stingley was a first-round draft pick of the New England Patriots in 1973 out of Purdue. He was a budding star receiver whose life took a tragic turn on Aug. 12, 1978 in a preseason game against the Raiders in Oakland. 
"I was 7 years old the night it happened," said Derek, who recalled he and his mom were living in the family's home in Chicago at the time. "I remember it like it was yesterday."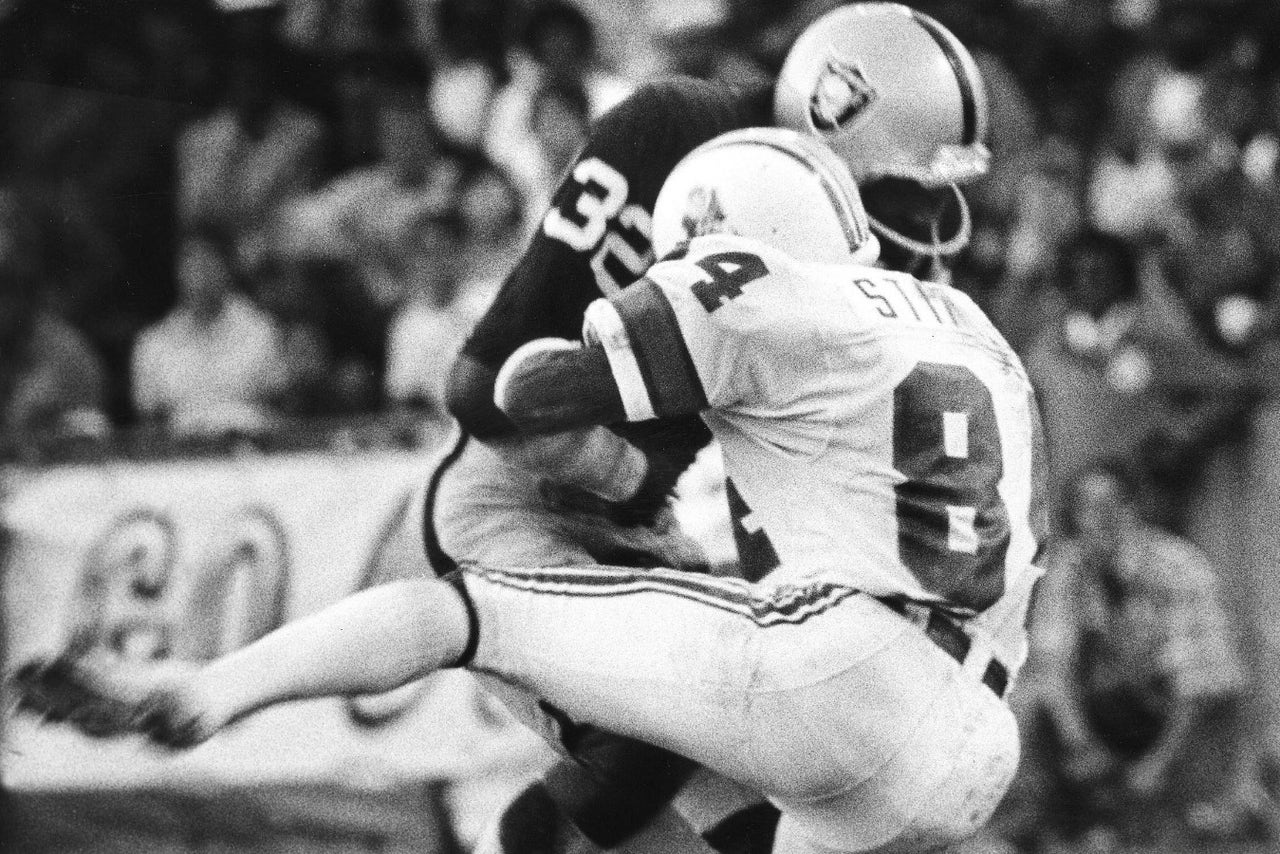 "It" was a horrific collision between his dad, stretching for a pass over the middle in the red zone, and Oakland safety Jack Tatum. Darryl Stingley lay motionless on the field while trainers raced to attend to him. The hit was deemed legal by refs, but it left Stingley with two broken vertebrae and paralyzed him front the chest down. It is as gruesome as any play in NFL history.
"We didn't see it live," Derek Sr. said in an interview with FOX Sports this week. "We didn't get a lot of New England games in Chicago because of the Bears and Packers. My mom woke me and my brothers up. She said she had to leave to go to California. It was serious. She said something about him being paralyzed. I never heard the word 'paralyzed' in my life before. 
"She said he couldn't move at all. I thought, 'That can't be true. I know my dad can move.' I'd seen him around the house even when he'd had a broken arm, and a broken leg. This, I just couldn't even bring into my imagination. I used to call him Superman. He was this superb athlete. And then he couldn't move?"
Derek was too young for any of this to make sense. He remembers the commotion from older family members that night. His mom would be gone to California from August until December with his dad. Right before Christmas, Derek, the youngest of three sons, visited his dad in a hospital room. 
"He's laying in the bed, and I said 'Dad, get up! Dad, get up!' He never moved. I said to myself, 'Wow.'" The youngster, though, still didn't accept his father's prognosis. He would massage his dad's arms and flex his fingers. "I was basically doing therapy on him all night thinking something is gonna trigger," Derek said. 
But it never did.
Derek said he and his father spoke about that specific exchange only once. "He told me 'That was the hardest moment in my life because I couldn't sit up for my baby boy,'" Derek said.
The first couple of years after Darryl was paralyzed were especially hard on the Stingley family. Darryl was 26 at the time. His wife was 25. Not surprisingly, Darryl was often frustrated and angry. "Doing things for my dad became second nature," Derek said.
If he was thirsty and going to the refrigerator for something to drink, he'd ask his dad if he was too. Seeing his father, such a proud man, become dependent on others for the most mundane acts was tough on everyone in the house, Darryl especially.
"If his head was itchy, me or my mom had to scratch it, only you don't know exactly where it itched," Derek said.
No, a little to the right.
"Can you imagine that?"
At first, Derek wondered why his father argued so much, but soon he understood. The Stingleys separated but wound up getting back together, Derek said. 
"They were trying to figure this whole thing out. He was still a good father."
Darryl Stingley was able to come to terms with his new normal by the early '80s, his son says. "He didn't let anything slow him down. It took him awhile to get going. He was full of life and full of joy. He was a well-dressed man. He was really into fashion. He was out at every sports event — €"Bears, Bulls, Cubs, Sox."
Hearing from his father's old teammates and friends about the kind of man his dad was — that he had a way of making people feel like they were the most important in the world when he was around them — made Derek as proud as what Darryl had done on the field.
"He could talk with you about any subject," Derek said. "I think my father was the smartest man I've ever known. His advice was always on point."
Derek always had seen himself as a people pleaser, which is probably to be expected given his experience with his father's situation. His dad preached to him how crucial it was to not dwell on things. 
"Son, let it go," Darryl told him.
 "You can't worry about the things that you can't control."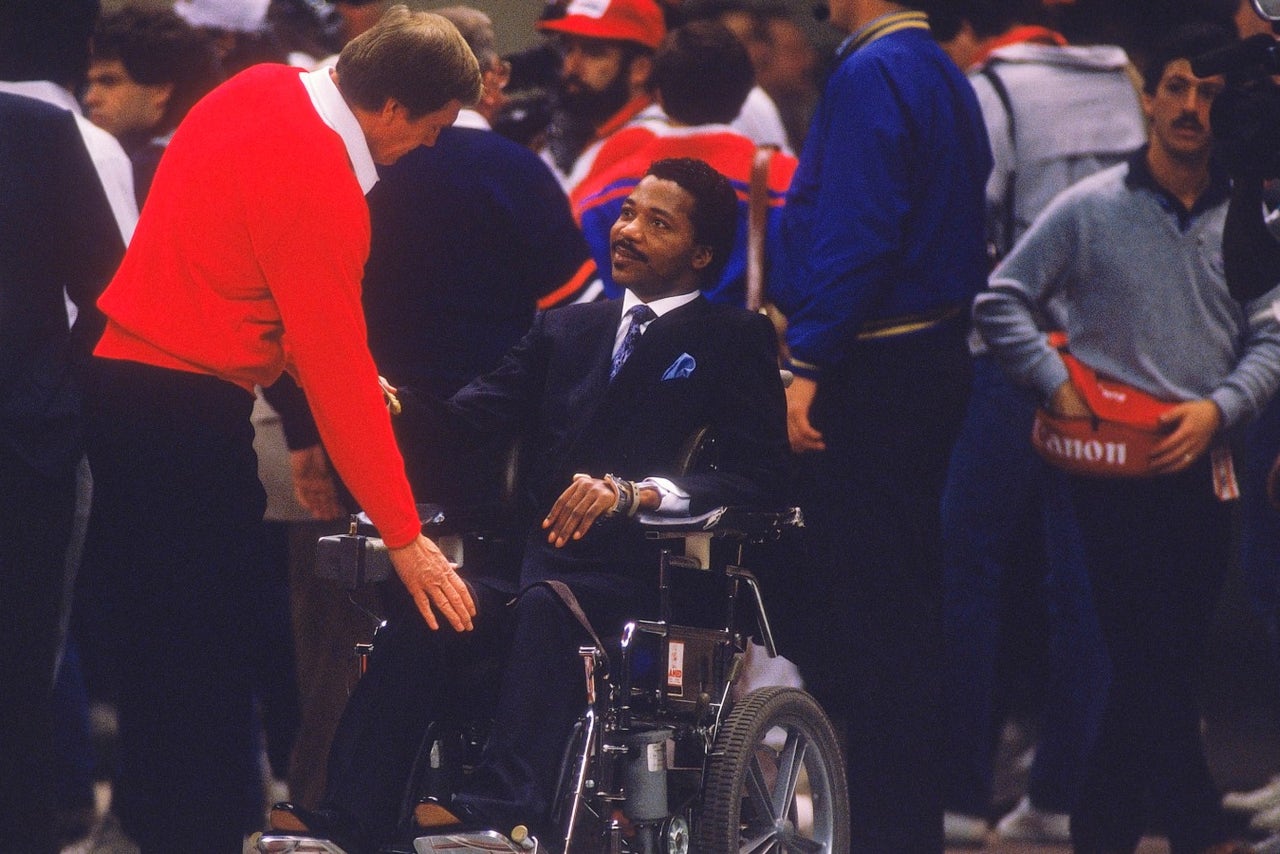 Darryl Stingley
Neither Darryl Stingley nor anyone else in their family discouraged Derek from playing football. His father said what had happened to him was a freak accident. 
"If you play the game the way it's supposed to be played, going 100 percent and you play your tail off, you'll be fine," Darryl told him. "Say a prayer before you walk on the field and thank the Lord when you walk off."
Derek was undersized at about 5-foot-10, 150 pounds, but he became a standout in the Arena Football League and spent a few weeks in 1999 on the New York Jets practice squad.
"My dad was my biggest fan," said Derek, who stopped playing in 2004 and has been coaching for the past decade. 
In 2007, Darryl passed away in his sleep at age 55. An autopsy determined that contributing factors were bronchial pneumonia, quadriplegia, spinal cord injury and hardening of the arteries.
Darryl's grandson Derek Jr. said he remembers his grandmother showing him the video of the hit that left his grandfather paralyzed when he was 5 or 6.
"They said he'd only live two or three more years but he ended up living 30 years longer," she told him. "He had such a strong heart."
Derek Jr. created some buzz this month in the football recruiting world. The 6-foot, 170-pound cornerback in the Class of 2019 wowed the LSU staff at a satellite camp in New Orleans. 
Folks at The Dunham School in Baton Rouge, where the Stingleys live, call Derek Jr. "Little Sting." They rave about how mature Derek Jr. is. Neil Weiner, the head coach of the football team, said Derek Jr. makes one big play after another, picking off five passes last season and returning a couple of kicks for touchdowns. The kid isn't one to do much celebrating. He does everything for the team, even snapping on punts, and is a sprinter on the track team. He also has a 3.8 GPA.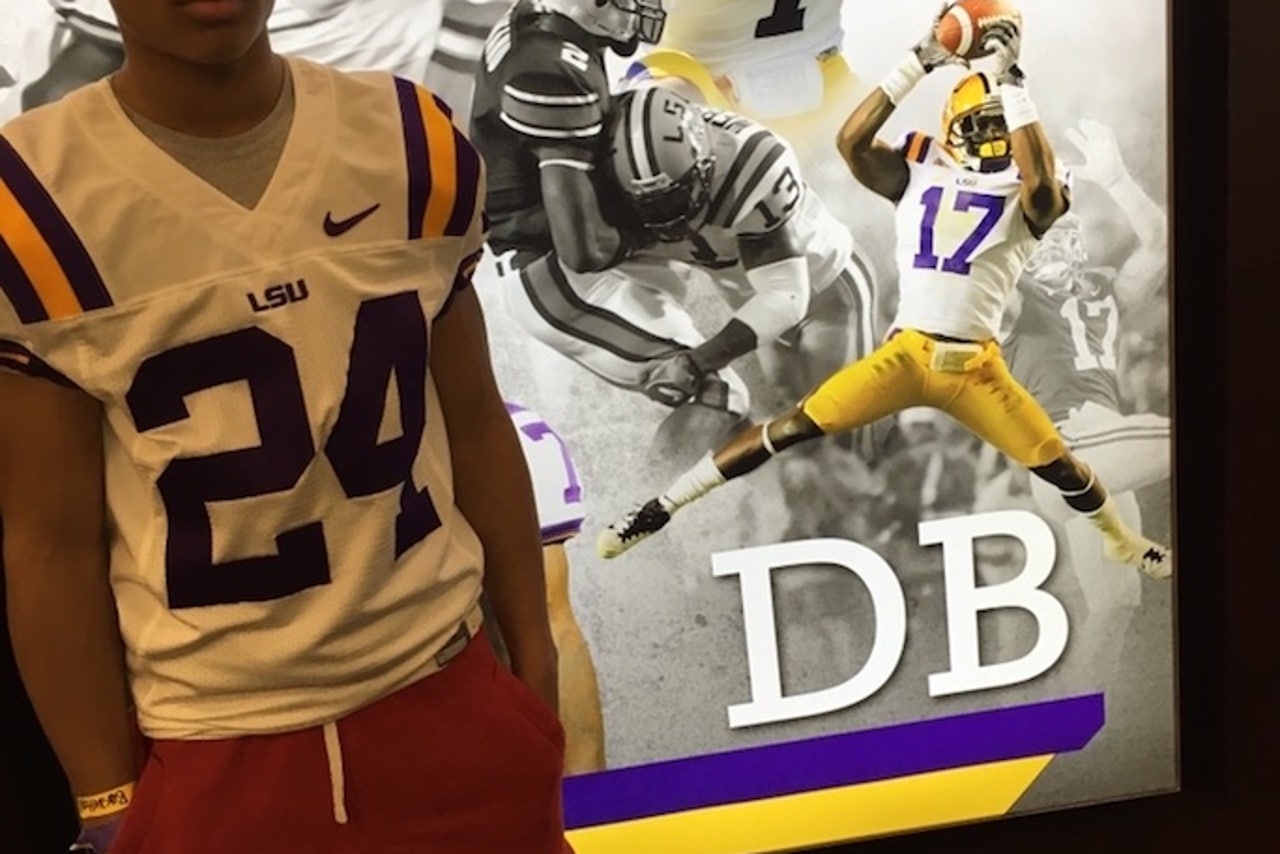 Derek Stingley Jr.
"He's just a very calm, cool, collected guy," Weiner said. "He holds himself to a really high standard."
Little Sting knows plenty about his family's legacy. He remembers visiting his grandfather in Chicago often when he was a little kid, he said. "I talked to him a lot about life and about football."
The advice his grandfather gave him: "Just have fun. Don't be scared."
"If I do make it to the NFL, I'll keep him on my mind," Derek Jr. said. "I'll do it for him and for my dad."
---
---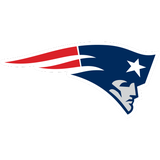 Get more from New England Patriots
Follow your favorites to get information about games, news and more
---