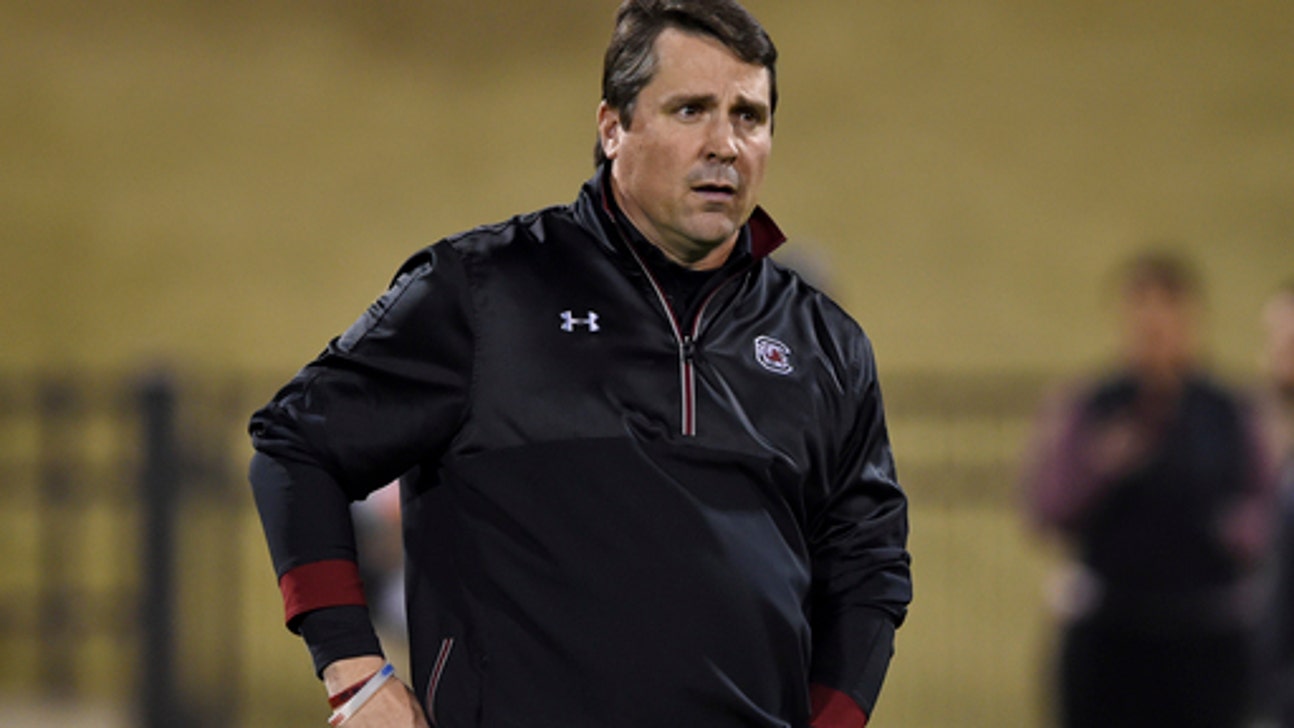 Flowers, No. 25 South Florida ready for big finish to season
Updated
Mar. 4, 2020 12:35 p.m. ET

BIRMINGHAM, Ala. (AP) South Florida's December has been a little more eventful than it had hoped.
The Bulls say a little drama won't derail what's been the best football season in school history.
The program lost coach Willie Taggart to Oregon earlier this month before former Texas coach Charlie Strong was hired a few days later. Interim coach T.J. Weist will lead the Bulls on Thursday when No. 25 South Florida (10-2) faces South Carolina (6-6) in the Birmingham Bowl.
South Florida's star quarterback Quinton Flowers says Taggart's departure was tough, but he also credits his former coach with the best advice he's received about dealing with the situation.
''It's like Coach T told us, `We're the ones out there playing, not him,''' Flowers said.
And as long as Flowers has been playing, South Florida has been gaining a ton of yards and scoring a lot of points. The program is averaging nearly 44 points per game and has already set a school-record with 10 wins.
South Florida's offense revolves around Flowers. The 6-foot, 209-pound junior has thrown for 2,546 yards and 22 touchdowns this season while also running for 1,425 yards and 15 touchdowns.
For a guy like South Carolina coach Will Muschamp, whose specialty is on the defensive side of the ball, figuring out a way to slow down Flowers represents a huge challenge.
''He's extremely talented,'' Muschamp said. ''His largest talent in my opinion is his competitive edge. You can see how he positively affects the guys around him. That's what a leader does. When he's playing well, they play extremely well offensively.''
South Carolina (6-6) has had a solid defense for most of the season, but the Gamecocks were torched against Clemson in a 56-7 loss during the regular-season finale. Clemson has its own star quarterback in Deshaun Watson and South Carolina couldn't figure out a way to slow him down.
Flowers is a similar type of threat, though he might be a slightly better runner and a little less polished in the passing game. South Carolina linebacker T.J. Holloman said the goal is to make Flowers one-dimensional on Thursday.
''If we put him in the box, keep him in the box and make him focus on throwing the ball, we should have a good shot,'' Holloman said.
---
Some other things to watch at the Birmingham Bowl on Thursday:
BENTLEY'S BETTER: South Carolina has been much better since freshman Jake Bentley took over at quarterback. The Gamecocks have a 4-2 record over the last half of the season, including SEC wins over Tennessee and Missouri. Bentley has thrown for 1,030 yards, six touchdowns and two interceptions while completing more than 63 percent of his passes.
BOWL HISTORY: South Carolina is back in the postseason after missing a bowl with a 3-9 record in 2015. The Gamecocks have won their last four bowl games in a streak that includes wins over Nebraska, Michigan, Wisconsin and Miami. South Florida has a 4-3 record in bowl games in 17 years at the FBS level. The Bulls made a bowl for a second straight season.
MUSCHAMP AND FLOWERS: Flowers says that then-Florida coach Will Muschamp recruited him when he was in high school in Miami. But like many coaches, Muschamp wanted him to possibly play a different position. Flowers said he was adamant about playing quarterback and that's a big reason he went to South Florida.
BULLS ON OFFENSE: South Florida also already set school records in rushing yards, scoring, touchdowns and total offense this season. The Bulls have scored at least 30 points in 16 straight games, which is the longest such streak in the country.
WEIST RETURNS: Weist, South Florida's interim coach, has a lot of history in Alabama and at Legion Field. He was a receiver for the Crimson Tide in the mid-1980s and was also a graduate assistant for the program.
---
More AP college football: www.collegefootball.ap.org and https://twitter.com/AP-Top25 .
---