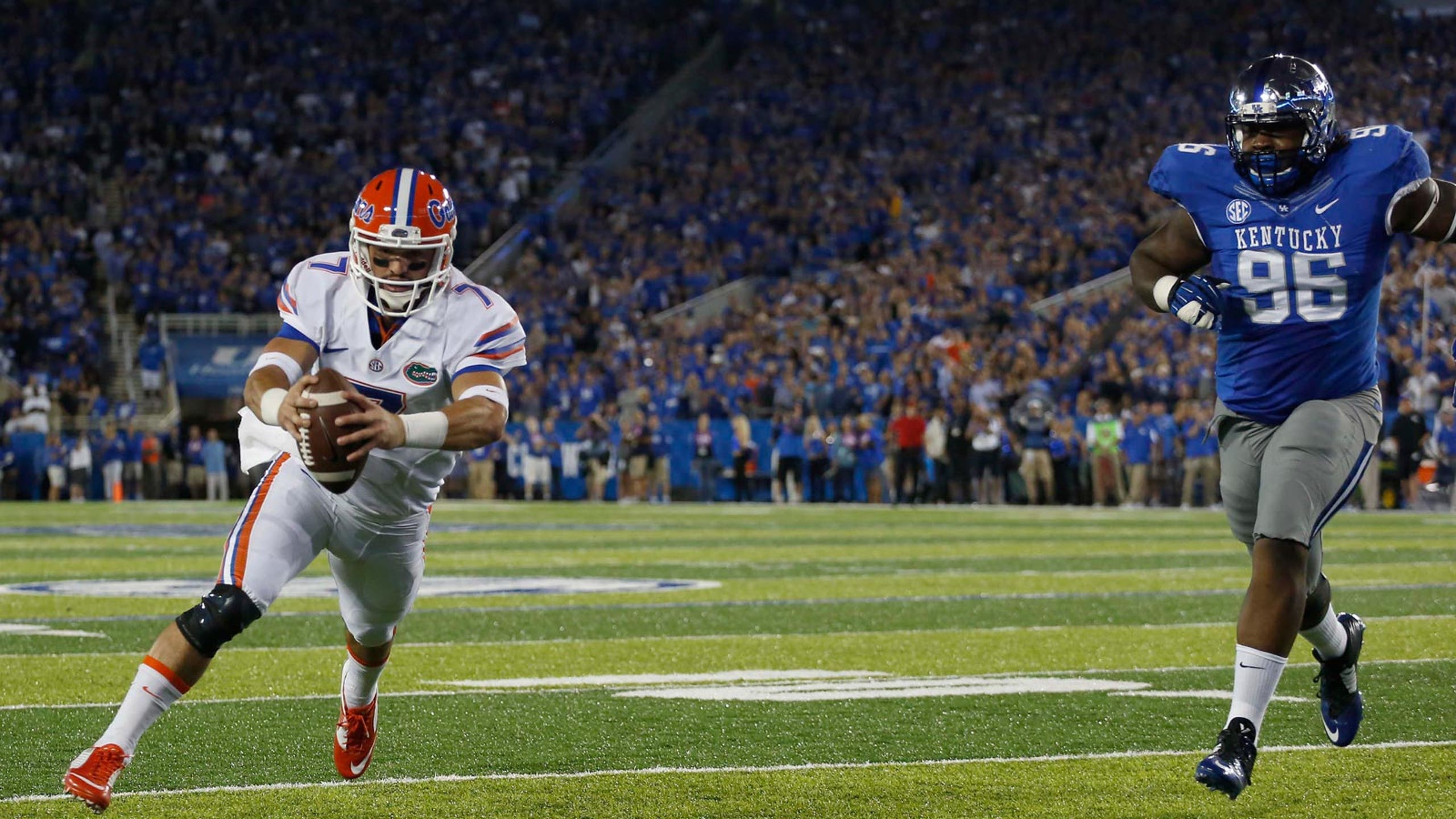 Florida's Will Grier learns stern lesson in college, tougher than one NFL would teach
BY Sam Gardner • October 13, 2015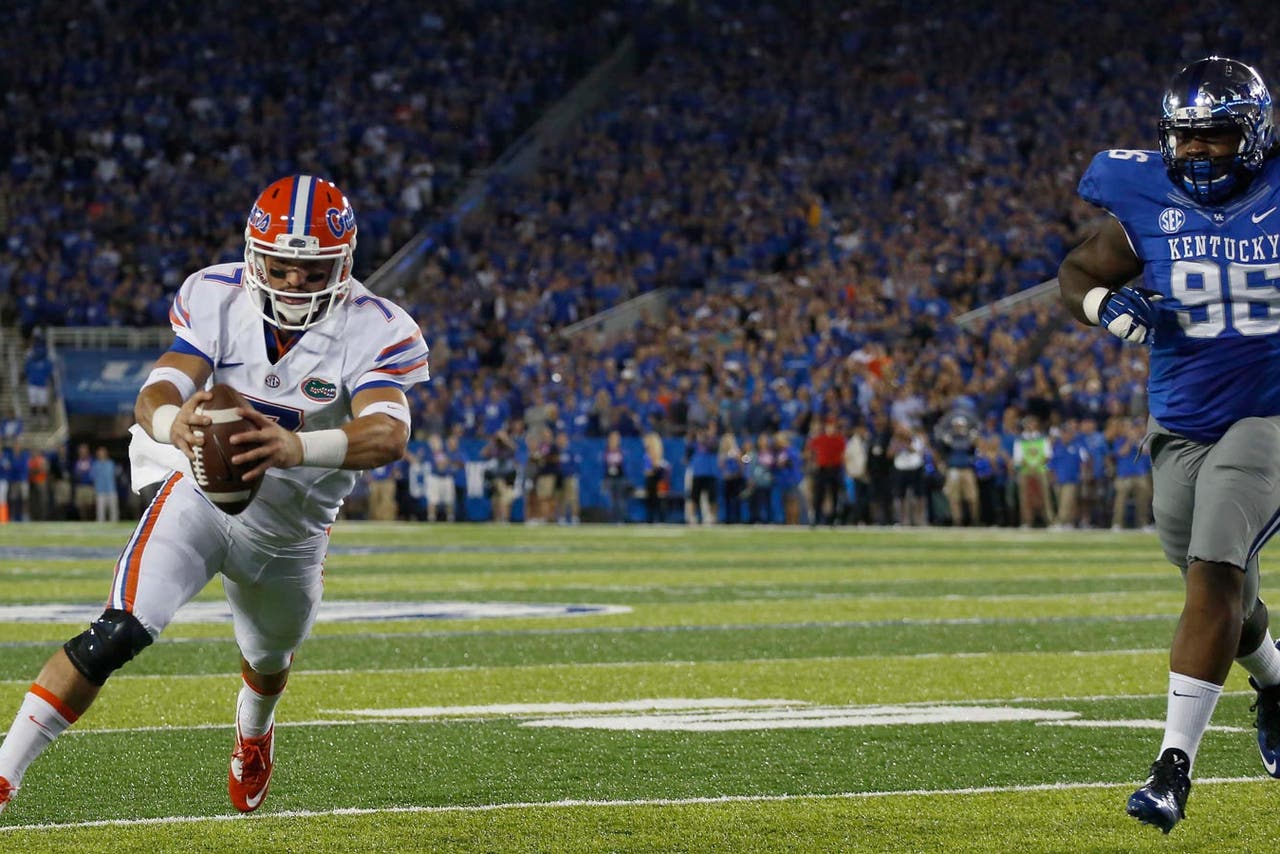 We may never know exactly how much Will Grier knew about the banned substance he took that got him suspended for at least the next year, and it's tough to say for sure whether the Florida quarterback's emotional apology at a news conference Monday was a display of genuine remorse or crocodile -- er, Gator -- tears from a 20-year-old who is simply embarrassed he got caught.
In either case, the question must still be asked: Is the NCAA's penalty for first-time infractions like Grier's commensurate with the crime, especially when you consider that the same mistake, no matter how brazen, would cost an NFL player only four games?
In the program's first year under head coach Jim McElwain, Florida has been one of college football's biggest surprises, racing out to a 6-0 record for the first time since 2012, good enough for a No. 8 national ranking heading into this weekend's visit to Baton Rouge to play sixth-ranked LSU.
The Gators have reclaimed their place in the national spotlight thanks in part to a traditionally stout defense that has forced 13 turnovers and is holding opponents to just 14 points and fewer than 300 yards per game. However, there's also something to be said for the team's about-face on offense, an awakening led largely by the redshirt freshman Grier, who, before the ban, completed 65.8 percent of his passes for 1,204 yards and 10 touchdowns, with just three interceptions.
In light of Monday's news, there's a fair argument being made that Grier, who reportedly gained somewhere between 20 and 43 pounds since arriving in Gainesville, could have PEDs to thank for his revival of a unit that finished 2013 and 2014 ranked 113th and 93rd in total offense, respectively. But even if we assume the worst --€" that Grier knowingly and shamelessly took a supplement that was not allowed -- is it a lapse that should cost him 25 percent of his NCAA eligibility?
Hours after Grier's suspension was announced, Pro Bowl tight end Antonio Gates returned to the lineup for the San Diego Chargers after his four-game suspension for PED use. At the time of the ruling, Gates blamed "supplements and holistic medicines" for his positive test and said he "never knowingly ingested a substance that was banned by the NFL," a go-to alibi in PED cases.
Gates caught nine passes for 92 yards and two touchdowns --€" the 100th and 101st of his career -- in the Chargers' 24-20 loss to the Pittsburgh Steelers in his first game back. And with the transgression behind him, the veteran and his team can move on, with Gates fully understanding that another slip-up will cost him 10 games, fewer than Grier is liable to miss thanks to his own.
Perhaps it's misguided to give Grier the benefit of the doubt that Gates has received, but on the surface, it feels unlikely that Grier's use of a banned substance was a calculated move meant to game or circumvent the system, just as it's reasonable to believe that the 35-year-old Gates mistakenly ingested something illegal in his efforts to recover from yet another bruising season.
If anything, it seems more likely that Grier's use of PEDs --€" he reportedly used a substance called Ligandrol --" was a witless move by a kid who should have checked with someone who knows the rules before trying to pack on a few pounds in an effort to better absorb the next Robert Nkemdiche sack.
On Monday, McElwain stressed the program's efforts to educate its players on what is and isn't allowed, telling reporters that Grier and the rest of his players know that "before you even take cough medicine, you've got to check with the medical staff." He also made Grier stand before the media and the world and apologize for his mistake --€" but only after he first did the same to his teammates.
That public shaming alone should be enough to keep Grier from driving past a GNC again, and I'm just not sure what more a yearlong suspension --€" one that, if upheld, could cost Grier up to 15 games depending on the Gators' success without him --€" will do to further rehabilitate the offender in this case.
It's not so much that Grier shouldn't be penalized at all, but more that the NFL, for all the criticism it gets for its handling of discipline, has a better approach to curtailing PED use.
A four-game suspension is by no means just a slap on the wrist, and in Grier's case, it would cost him not only the LSU game, but also SEC matchups with Georgia, Vanderbilt and South Carolina. His absence for those outings alone could derail Florida's hopes at a conference championship run and would more than send the message that PED use, whether intentional or not, isn't something that's taken lightly.
Instead, the current application of the rule could effectively be a career-ender for Grier. In addition to missing the rest of this season, he'll miss at least the first six games of his sophomore campaign. Coaching logic dictates that McElwain won't switch starters midway through the season unless the team is flopping, so Grier could be looking at his junior year as his next best chance to regain his starting spot, and by then, who knows how entrenched Treon Harris (or someone else) might be in the role.
Obviously, the objective in levying any disciplinary action is not to leave the recipient feeling like he or she got off easy, but there's also a point at which a penalty becomes unreasonable. A year-long suspension for a first-time PED offender is excessive --€" a penance more befitting of a player who didn't learn his lesson the first time around --€" and there's no reason a college football player should forfeit a quarter of his eligibility for an offense that costs a professional a quarter of a season.
Baseball and basketball are more lenient with first-time PED users than the NCAA, banning players for 50 and 10 games, respectively, and while it's never easy to contend that a PED user is getting a raw deal --€" after all, Grier could just be a despicable cheat who thought he could get away with something dirty; he's not exactly Kolton Houston --€" one could certainly understand why Grier and the Gators might feel he's being unfairly hung out to dry.
You can follow Sam Gardner on Twitter or email him at samgardnerfox@gmail.com.
---
---