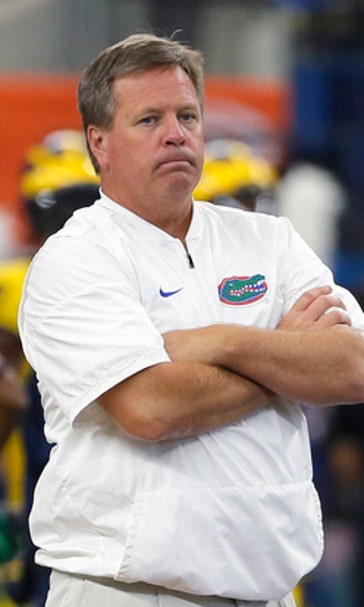 Florida's McElwain says he was wrong to cite death threats
October 25, 2017

GAINESVILLE, Fla. (AP) Calling his actions uncharacteristic, Florida coach Jim McElwain said Wednesday he was wrong to bring up death threats that ''happened in the past.''
McElwain provided some insight into the threats while expressing remorse for the firestorm he caused and all those it affected.
''It's just something that came up and obviously was on my mind,'' he said following practice. ''It doesn't make it right. It doesn't make it right to air that laundry.''
McElwain said Monday that Florida players and families received death threats amid the team's struggles. He did not contact police and declined to say whether he personally received threats.
''It goes with the territory,'' McElwain said two days later. ''You know what? It's hard to leave (it alone) sometimes. You know how much I care about this program, these players. Obviously, everything that goes with it. But ultimately allowing one or two - and who even knows who it was, right? You don't know. It's anonymous. So that is what it is, and I'm confident we're all right.''
The university's athletic department released a statement Monday night saying administrators met with McElwain and that the coach ''offered no additional details.''
It was a strange situation since McElwain seemingly declined to share details about a serious allegation with his bosses.
McElwain questioned the statement Wednesday, saying, ''I don't really quite understand what even the statement was.'' He said he visited with athletic director Scott Stricklin and assistant Laird Veatch on Monday, and ''they were really good and supportive.''
Florida (3-3, 3-2 SEC) plays third-ranked Georgia (7-0, 4-0) on Saturday in nearby Jacksonville.
The Gators have lost two in a row - by a combined three points - and are on the verge of elimination in the SEC's Eastern Division race.
McElwain acknowledged that he did something he tells his players to avoid: letting his emotions take over. The last thing he wanted to do was created a distraction during the week. He spoke to his players about letting things ''creep into the focus.''
''Sometimes things are on your mind and I go ahead and speak,'' McElwain said. ''It doesn't make it right. ... At the same time, it's letting one or two (people) get to you and not recognize how great our fan base is, obviously, and the people associated with this program that are here for you to help in any way.
''I've been doing this a long time and obviously allowing the clutter to get to you is not what it's all about. Obviously, our guys are aware of it. We've talked about it. You know, we're ready to go play Georgia and move forward. The people have been great. That's very comforting.''
---
More AP college football: http://collegefootball.ap.org and https://twitter.com/AP-Top25
---
---