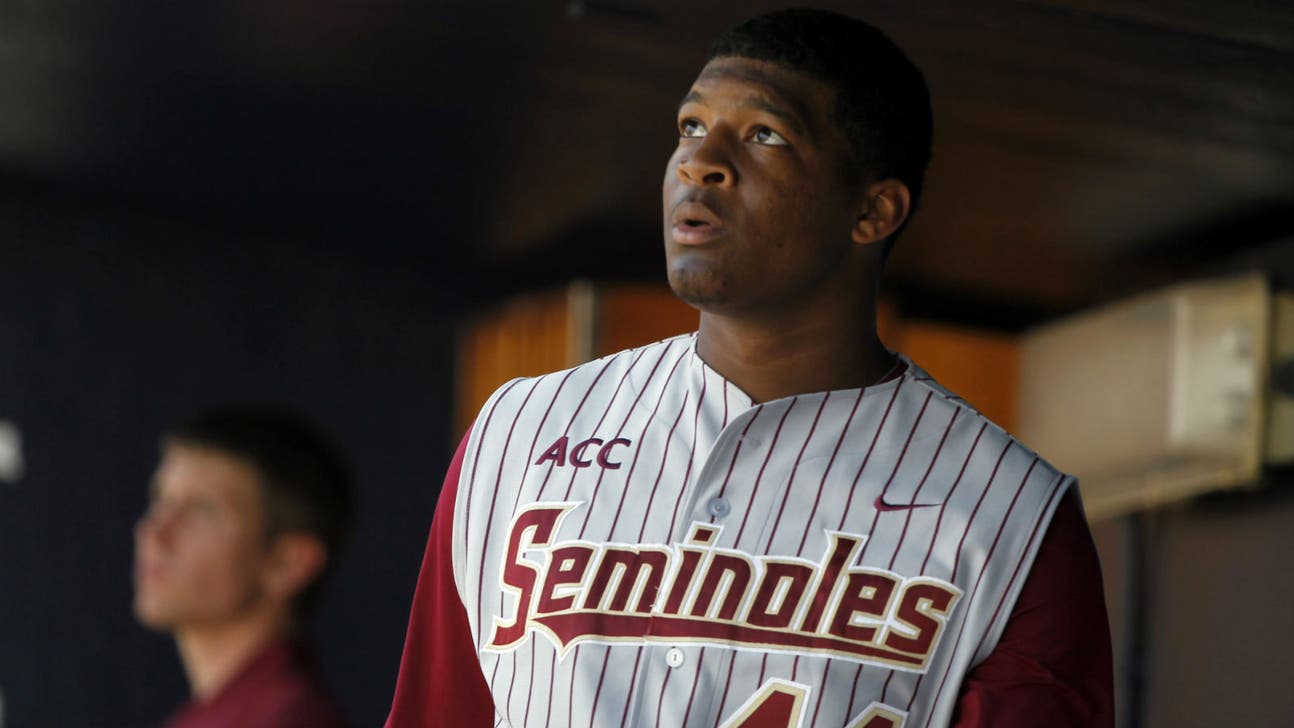 Florida St. QB Jameis Winston to miss 1 spring practice due to baseball
Published
Mar. 19, 2014 1:25 p.m. ET

TALLAHASSEE, Fla. -- Florida State quarterback Jameis Winston will miss just one practice and be available for all other spring football activities.
The Heisman winner is the closer on the baseball team ranked No. 2 in the country by Baseball America. The Seminoles have a weekend series at Georgia Tech starting April 11, but Florida State football coach Jimbo Fisher said Wednesday that the quarterback will be at the Spring Game on April 12.
"This is the funniest part of my life right now because I'm busy," Winston said. "The busier I can get, the better for me. I enjoy doing both, going back and forth.
"Yeah, it's hard on the body, but it's fun. I'm young and I'm pretty sure I can make it."
The Seminoles quarterback will miss Saturday's practice because he'll be returning from Clemson. The Seminoles play a weekend series against the Tigers starting Friday. Clemson (12-7, 5-1 Atlantic Coast Conference) is in second place in the ACC's Atlantic division behind Florida State (17-3, 5-1).
"That's a critical series for them," Fisher said. "He's playing such a critical role for them, he can do that."
Winston has to develop chemistry with two new starting receivers and a new No. 1 running back in 2014.
He doesn't plan to do anything extra to keep his body from breaking down except sleep as much as possible.
"I literally have no time on my hands now," Winston said. "Usually I can have some down time with the guys, but now I've got to go home, go to bed, get some film-work in and call it a night."
Fisher has been a strong supporter of Winston playing baseball. That was part of the reason he decided to play at Florida State. His roles this spring, however, are much different than 2013.
Winston was competing for the starting quarterback job with, now, Alabama's Jacob Coker at this point last year. He was a reliever on the baseball team and started 22 games in the outfield and 10 as the designated hitter. This spring, Winston has a national title in football, a Heisman trophy and the starting job locked down. He's also the closer on the baseball team with a 0.84 ERA and bigger responsibilities.
"I think he actually threw more (last year) because of their outfield stuff," Fisher said. "Being (the closer), he's not getting the innings, he's just getting quality innings. We'll keep up with how his arm feels and all that.
"It was funny, last year, the days he threw with us and during football season is when he had his highest velocities. We'll keep a close eye. We definitely don't want to injure him in any way, shape or form."
Winston said he doesn't use a calendar and the football and baseball coaches remain in constant contact to make sure his schedule runs smoothly. He also has a member of the sports information department text him regularly reminding Winston where to be and when.
"He's my memo man," Winston said with a laugh.
---