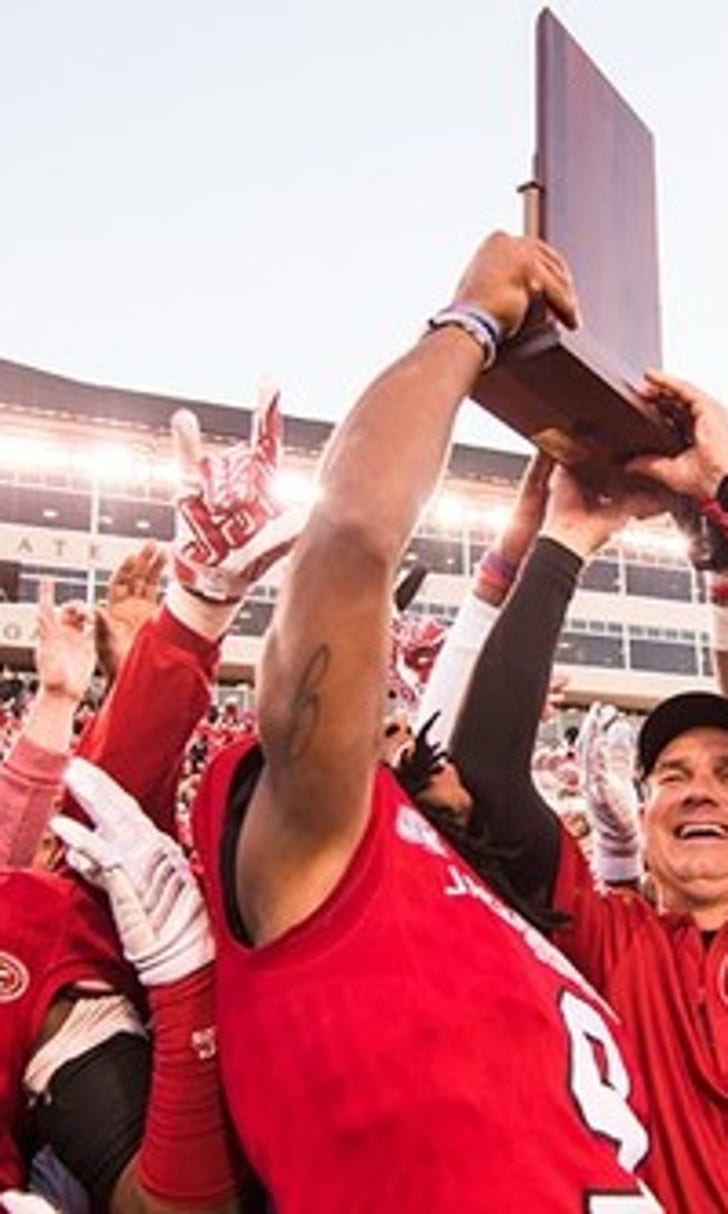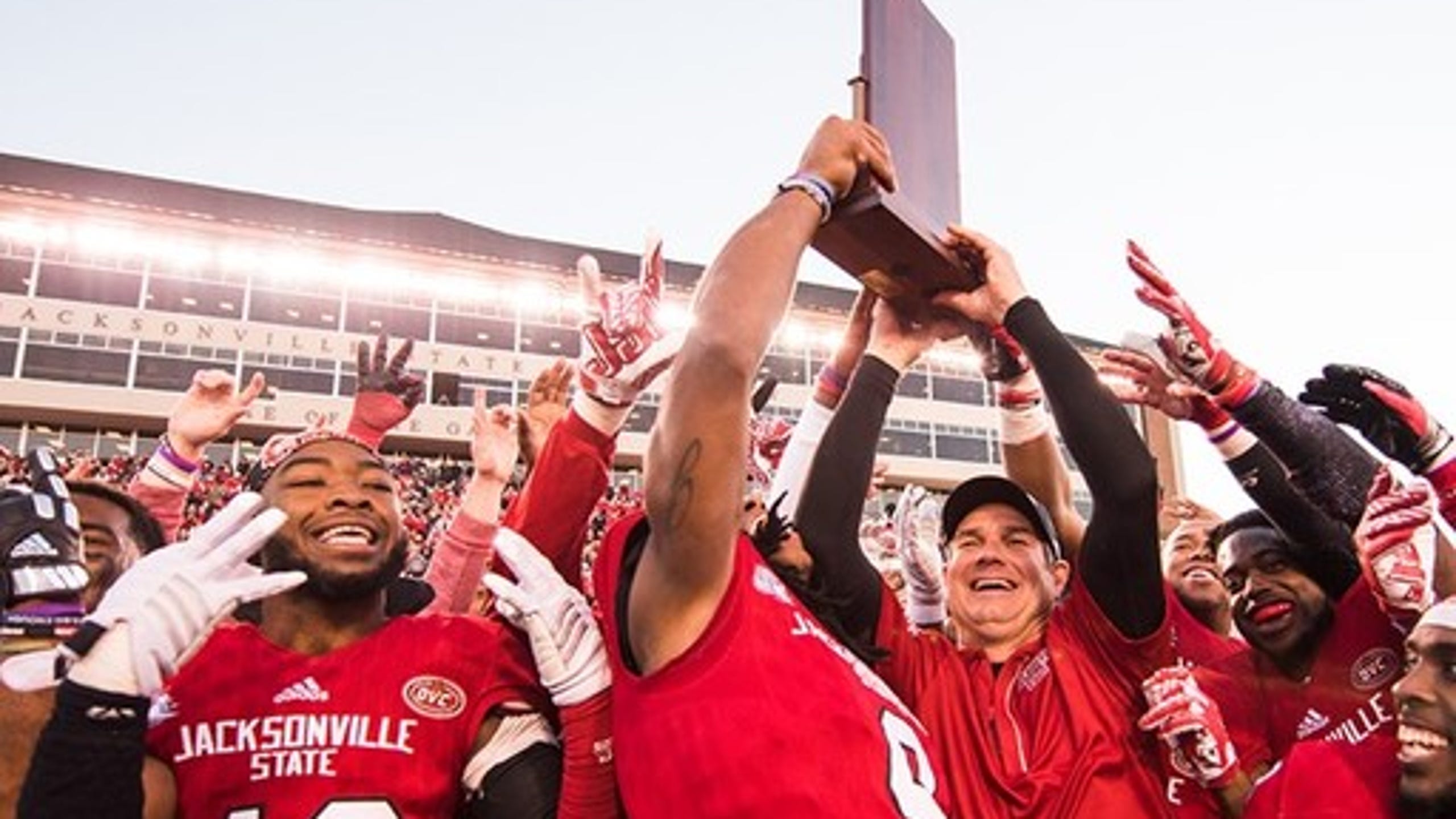 FCS Top 25 Roundup: Playoffs taking shape
BY foxsports • November 20, 2016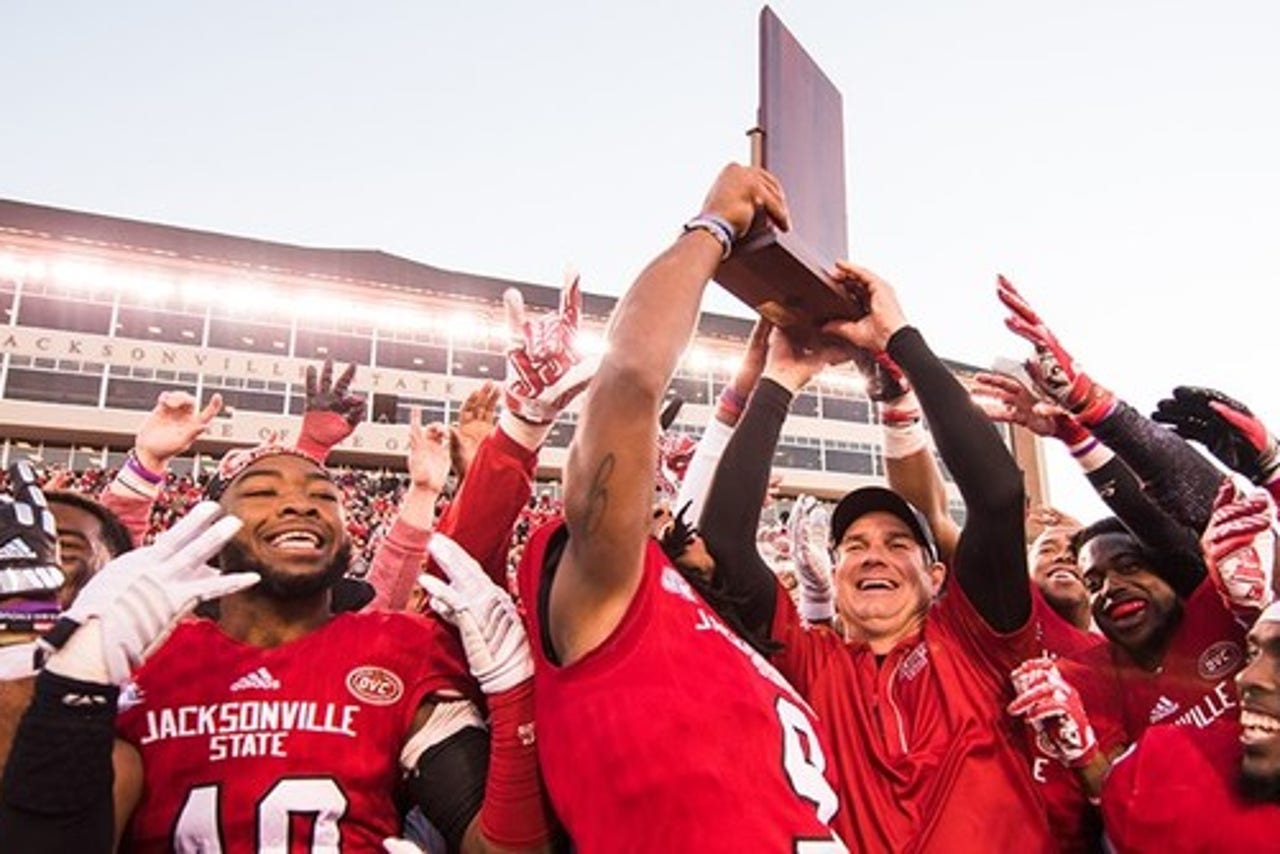 (STATS) - A number of teams were left to wait and hope for FCS at-large playoff bids, but 10 teams were going to have automatic bids in hand by the end of Saturday's big day of college football action.
Jacksonville State (Ohio Valley), Charleston Southern (Big South), top-ranked Sam Houston State (Southland) and South Dakota State (Missouri Valley) clinched their respective conference's bid on Saturday, joining six teams that already had qualified for the 24-team field.
The playoff field, which includes 14 at-large teams, will be announced on an ESPNU selection show at 11 a.m. ET Sunday.
Eastern Washington (Big Sky), James Madison (CAA Football), Lehigh (Patriot), Saint Francis (Northeast), San Diego (Pioneer) and The Citadel (Southern) had clinched automatic bids prior to Saturday's action.
The Ivy League (co-champs Penn and Princeton), MEAC (North Carolina Central) and SWAC don't send their champions to the playoffs.
---=
STATS FCS TOP 25=
---=
Saturday, Nov. 19=
---=
No. 6 James Madison 63, Elon 14=
James Madison (10-1, 8-0) finished off a perfect season in CAA Football by gaining 699 yards of offense. Quarterback Cole Johnson, in his first start, was 12 of 13 for 274 yards and two touchdowns to Domo Taylor, while Khalid Abdullah rushed for 125 yards and a touchdown.
---=
William & Mary 34, No. 7 Richmond 13=
Kendell Anderson carried the ball 42 times for 219 yards and two touchdowns as William & Mary (5-6, 3-5) ended a five-game losing streak to rival Richmond (8-3, 5-3), which might have blown a seed and first-round bye in the playoffs. The Spiders also lost quarterback Kyle Lauletta to a possible season-ending knee injury.
---=
No. 14 Charleston Southern 28, Kennesaw State 7=
Darius Hammond carried the ball 17 times for 153 yards and two touchdowns as Charleston Southern (7-3, 4-1) earned a share of the Big South title with Liberty and claimed the automatic playoff bid.
---=
No. 19 Lehigh 45, Lafayette 21=
In the 152nd meeting of college football's most-played series, Lehigh (9-2, 6-0) completed a perfect season in the Patriot League. Nick Shafnisky passed for 268 yards and three touchdowns, including two to Troy Pelletier.
---=
No. 20 Wofford 17, VMI 0=
With its third shutout of the season, Wofford (8-3, 6-2 Southern) likely locked down its first playoff bid since 2012. Lorenzo Long rushed for 111 yards and a touchdown.
---=
Wagner 31, No. 25 Saint Francis 24=
Wagner built a 31-7 lead after three quarters to prevent playoff-bound Saint Francis from winning an outright Northeast Conference title. Duquesne gained a share with the Red Flash (7-4, 5-1). Seahawks quarterback Alex Thomson passed for 263 yards and three touchdowns while the defense had three interceptions against Saint Francis' Zack Drayer.
---=
No. 2 Jacksonville State 33, UT Martin 7=
Jacksonville State (10-1, 7-0) finished unbeaten in the Ohio Valley Conference for the third straight season. Quarterback Eli Jenkins rushed for four touchdowns and the Gamecocks intercepted four passes (Jaylen Hill with two) in the first half.
---=
Montana State 24, No. 22 Montana 17=
Montana's collapse from playoff contention - four losses in its final five games to finish 6-5 - was finalized by archrival Montana State. Quarterback Chris Murray sparked the Bobcats' upset by rushing for 142 yards and two touchdowns.
---=
No. 4 North Dakota State 28, South Dakota 21=
The five-time reigning FCS champion Bison (10-1, 7-1) followed Easton Stick's three touchdown passes and a 369-yard ground assault to a road victory and a share of their sixth straight Missouri Valley Football Conference title. Lance Dunn had a game-high 145 yards on 14 carries and the Bison held the ball for 37 minutes, 10 seconds.
---=
No. 24 North Carolina Central 42, No. 9 North Carolina A&T 21=
North Carolina Central (9-2, 8-0) won the MEAC title to power into the Celebration Bowl, where it will face the SWAC champion Dec. 17 in Atlanta. Quarterback Malcolm Bell had 315 yards of total offense (184 passing, 131 rushing) and accounted for three touchdowns. A&T (9-2, 7-1) hopes to secure an at-large bid to the FCS playoffs. All-America running back Tarik Cohen gained 82 yards and a touchdown on 23 carries.
---=
No. 15 Youngstown State 65, Missouri State 20=
With an unstoppable run game, Youngstown State (8-3, 6-2 Missouri Valley) likely sewed up its first playoff bid since 2006. Joe Alessi (seven carries, 190 yards, two touchdowns), Martin Ruiz (19-183-3) and Jody Webb (15-166-2) helped the Penguins average 10.6 yards per carry while rushing for 572 yards.
---=
North Carolina 41, No. 5 The Citadel 7=
The Citadel (10-1), the Southern Conference champion, lost for the first time despite outgaining its ACC opponent 371-356 in offensive yards and holding the ball for 42:25. Grant Drakeford scored on a 28-yard run in the fourth quarter.
---=
No. 13 Villanova 41, Delaware 10=
Villanova (8-3, 6-2 CAA) won the 50th renewal of the Battle of the Blue as quarterback Zach Bednarczk had 273 yards of total offense and four touchdown passes and running back Matt Gudzak gained 175 yards from scrimmage and scored twice.
---=
No. 17 Grambling State 47, Texas Southern 28=
DeVante Kincade threw for three touchdowns and Jestin Kelly (133 yards, one touchdown) and Martez Carter (122 yards, two touchdowns) led the run game as Grambling State (8-1, 8-0) remained unbeaten in the SWAC.
---=
East Tennessee State 15, No. 18 Samford 14=
Samford's bid for a playoff berth took a serious hit in the Southern Conference. ETSU's J.J. Jerman kicked three field goals, including a 28-yarder as time expired, and the Buccaneers (5-6, 2-6) held Bulldogs quarterback Devlin Hodges to a season-low 122 passing yards and no touchdowns. The Bulldogs are 7-4, including one win over a sub-Division I team.
---=
Southern Illinois 44, No. 23 Western Illinois 34=
Western Illinois (6-5, 3-5 Missouri Valley) likely worked its way out of the playoff picture by allowing 20 unanswered points in the final seven minutes of its third straight loss. SIU's Sam Straub won a quarterback duel with WIU's Sean McGuire, throwing for 450 yards and four touchdowns with three interceptions.
---=
No. 1 Sam Houston State 59, No. 11 Central Arkansas 23=
Junior Jeremiah Briscoe completed 27 of 42 pass attempts for 431 yards and seven touchdowns, leading Sam Houston (11-0, 9-0) - the only unbeaten team in the FCS - to the Southland Conference title. He has thrown a conference-record 52 touchdown passes, just four off the FCS season mark. Central Arkansas (9-2, 8-1) entered the game allowing only 16.8 points per game.
---=
No. 8 South Dakota State 45, Northern Iowa 24
South Dakota State (8-3, 7-1) gained a share of the Missouri Valley title with North Dakota State and secured the automatic playoff bid as the result of a win over the Bison last month. Jake Wieneke (seven receptions, 136 yards) caught two touchdowns from Taryn Christion and threw one to the Jackrabbits' quarterback.
---=
Alabama 31, No. 12 Chattanooga 3
Chattanooga (8-3) held a 3-0 lead after one quarter against the nation's top-ranked team. Quarterback Alejandro Bennifield was 16 of 21 for 106 yards.
---=
No. 21 Cal Poly 55, Northern Colorado 48
Cal Poly (7-4, 5-3 Big Sky) hopes it clinched a playoff bid after quarterback Dano Graves dazzled with 338 yards of total offense and three total touchdowns. He was 14 of 15 for 191 yards and two touchdowns, and carried the ball 18 times for 147 yards and one touchdown.
---=
Friday, Nov. 18=
---=
No. 3 Eastern Washington 35, Portland State 28=
EWU overcame a 28-21 deficit after three quarters to clinch a share of its fourth Big Sky title in five years. The Eagles (10-1, 8-0) claimed the conference's automatic bid to the playoffs because of a higher Sagarin rating than North Dakota, which will receive an at-large bid. Sophomore Gage Gubrud threw for 304 yards and three touchdowns, including the game-winner to Kendrick Bourne with 8:19 left to play.
---=
Thursday, Nov. 17=
---=
No. 16 Coastal Carolina 42, Liberty 7=
De'Angelo Henderson rushed for 139 yards and three short touchdowns, sparking Coastal Carolina (9-2) to its sixth straight win.
---=
Idle=
---=
No. 10 North Dakota (9-2, 8-0 Big Sky)=
---