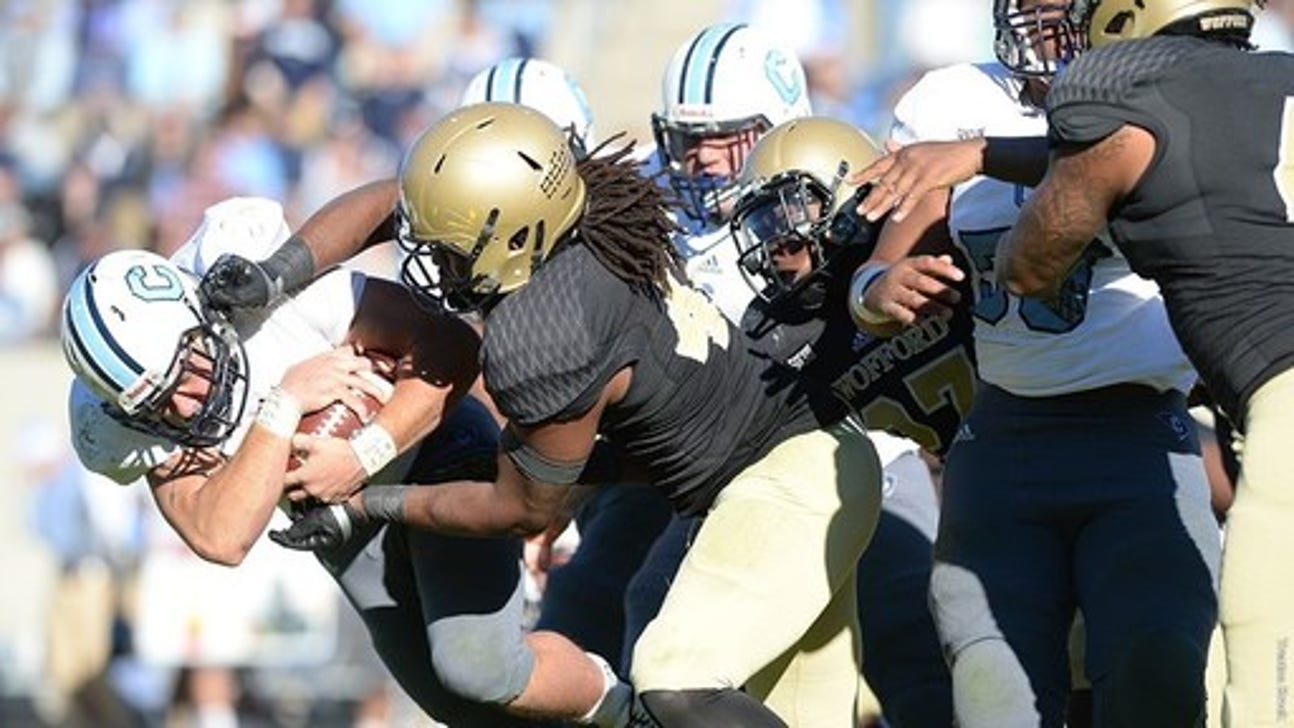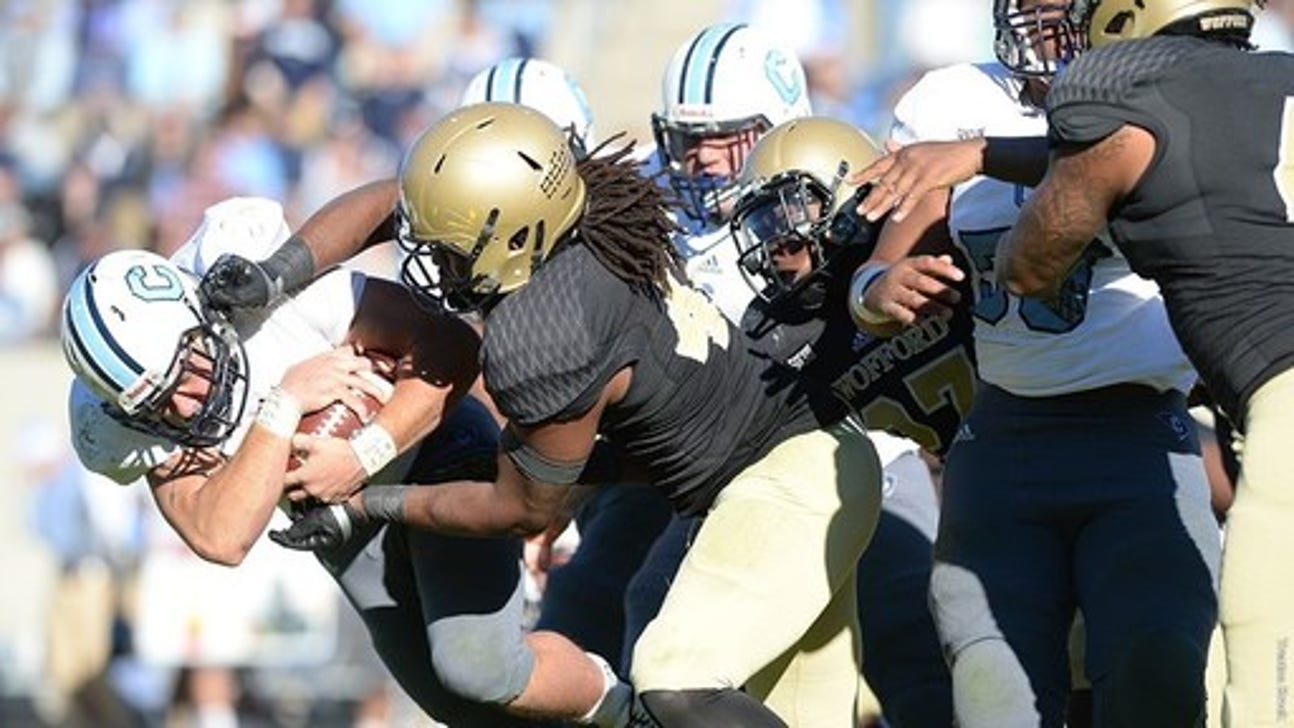 FCS Top 25: No. 5 Citadel wins in OT
Published
Oct. 23, 2016 1:34 a.m. ET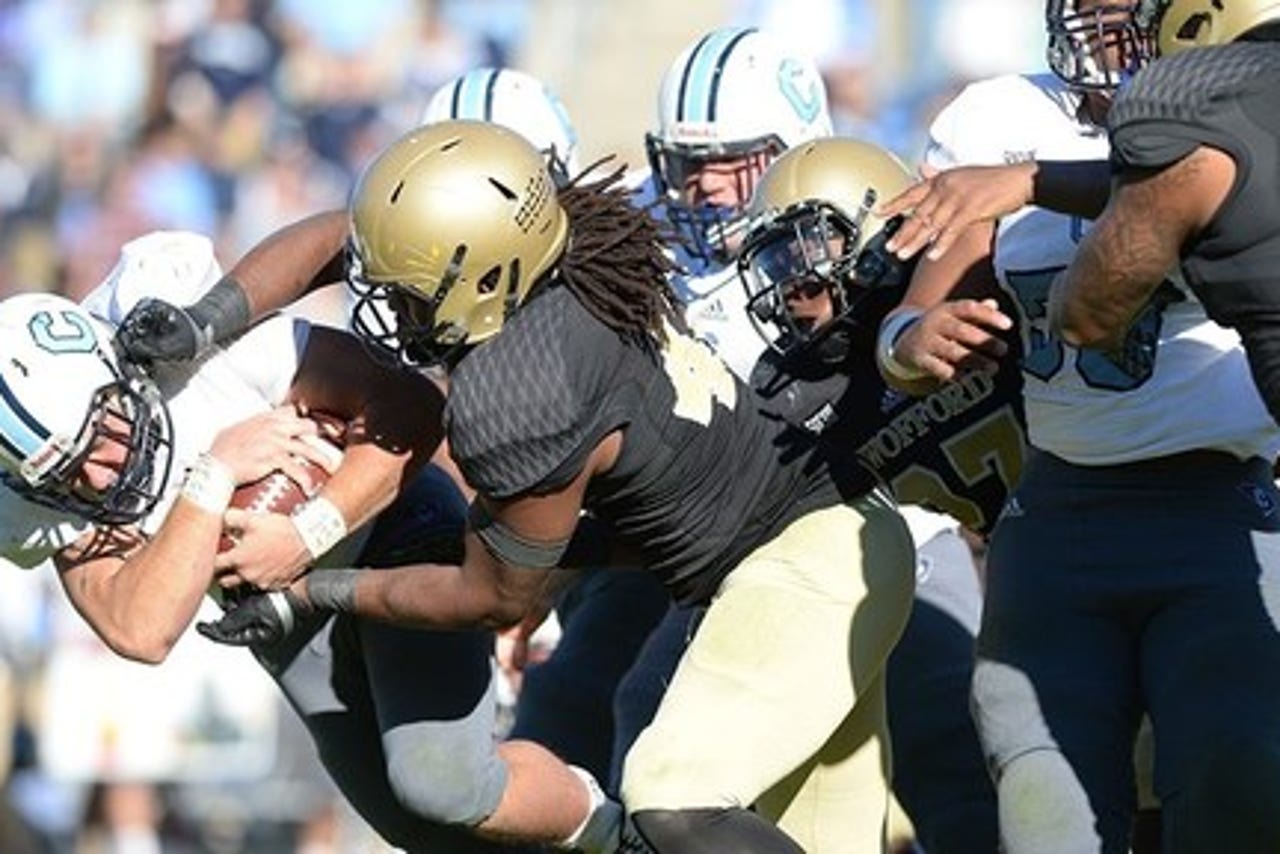 (STATS) - The Citadel's ability to deliver in the clutch is why it is off to the best start in school history.
The No. 5 Bulldogs came through again Saturday, edging Wofford 24-21 in overtime to push their record to 7-0 under first-year coach Brent Thompson.
The Citadel and top-ranked Sam Houston State are the only unbeaten teams in the FCS.
Cody Clark's 21-yard field goal in overtime gave The Citadel the lead before Ben Roberts recovered Wofford running back William Gay's fumble on the Terriers' possession. It was Wofford's fourth turnover.
"We can't put the ball on the ground," Wofford coach Mike Ayers said. "They are too good to give them more opportunities.
The Citadel, which leads the SoCon with a 5-0 conference record, has won five games by eight points or less.
In a matchup of two triple option offenses, The Citadel was held to 190 rushing yards, just under half of its FCS-leading average. Fullback Tyler Renew led the Bulldogs with 84 yards on 23 carries, and Reggie Williams and Dominique Allen both rushed for touchdowns.
The Citadel tied the game 21-21 on K.D. Williams' 13-yard interception return for a touchdown with 5:57 remaining in the fourth quarter.
The Bulldogs entered the game tied with their 1992 squad for the best start in school history. The '92 squad ended the regular season ranked No. 1 in the nation.
Wofford gained 299 rushing yards, led by Lorenzo Long's 103 yards.
---=
STATS FCS TOP 25 SCHEDULE=
Saturday, Oct. 22
No. 1 Sam Houston State (7-0, 6-0 Southland) 38, Nicholls (3-4, 3-2) 21
Sam Houston won its first game as the No. 1 team in the nation as Jeremiah Briscoe completed 32 of 48 passes for 419 yards and three touchdowns with one interception.
Tight end Deon Hutchinson caught two TDs, giving him five touchdowns among seven receptions this season.
---=
No. 2 Jacksonville State (6-1, 3-0 OVC) 24, Eastern Kentucky (2-5, 1-3) 7
The Gamecocks intercepted five passes and returned three of them for touchdowns in their 20th straight Ohio Valley Conference win. Jaylen Hill had two of the picks, including a 60-yard TD return, and Joel McCandless and Reggie Hall scored on 41- and 88-yard returns, respectively.
---=
No. 3 Eastern Washington (6-1, 4-0 Big Sky) 41, Montana State (2-6, 0-5) 17
EWU sophomore Gage Gubrud was 37 of 51 for 520 yards and four touchdowns.
Senior Cooper Kupp caught 13 passes for 154 yards and a touchdown, and set the Eagles' career record for all-purpose yards (6,079). Like Jacksonville State's Josh Barge, he has caught a pass in 45 straight games - tying the FCS record.
---=
No. 4 North Dakota State (6-1, 3-1 Missouri Valley) 21, No. 12 Western Illinois (5-2, 2-2) 13
King Frazier rushed for 89 yards and two touchdowns as five-time defending FCS champion NDSU rebounded from its first loss.
Western Illinois quarterback Sean McGuire committed three turnovers in the game's final eight minutes.
---=
No. 6 Richmond (7-1, 4-1 CAA) 35, Elon (2-5, 1-3) 7
The Spiders made it five straight wins as quarterback Kyle Lauletta threw for 223 yards and two touchdowns, and freshman Deontez Thompson rushed for 116 yards and scored two touchdowns.
---=
No. 7 South Dakota State (5-2, 4-0) 24, No. 13 Youngstown State (5-2, 3-1) 10
SDSU won the first-place showdown in the Missouri Valley Conference as quarterback Taryn Christion had 249 yards of total offense and threw for two touchdowns.
Brady Mengarelli scored on a 2-yard run in the game's third minute, the first rushing touchdown surrendered by Youngstown State this season.
---=
No. 9 Charleston Southern (4-2, 2-0 Big South) 38, Presbyterian (2-5, 1-2) 3
Quarterbacks Shane Bucenell and Robert Mitchell didn't show much rust as CSU returned from a three-week layoff. Bucenell was 13 of 14 for 156 yards and rushed for a touchdown, while Mitchell ran for 113 yards and two touchdowns, including a 78-yarder.
Presbyterian managed only 102 offensive yards.
---=
Northern Arizona (4-4, 3-2) 45, No. 10 Montana (5-2, 2-2) 34
The surging Lumberjacks tripped Montana after the Grizzlies had scored 135 points over their two previous games.
Blake Kemp threw for 259 yards and four touchdowns in the win. Montana quarterback Brady Gustafson was 34 of 59 for 394 yards and four touchdowns with one interception.
---=
No. 11 Chattanooga (7-1, 5-1 Southern) 30, VMI (3-4, 1-3) 13
Chattanooga didn't have standout running back Derrick Craine, but Richarde Bagley picked up the slack with 189 yards and two touchdowns on 23 carries. Quarterback Alejandro Bennifield had both a touchdown pass and run.
---=
No. 14 North Carolina A&T (6-1, 4-0 MEAC) 34, Howard (1-7, 1-4) 7
Tarik Cohen rushed for 133 yards and a touchdown and became the 10th player in FCS history to reach 1,000 rushing yards in four different seasons. He raised his career rushing total to a MEAC-record 5,054 yards.
Quarterback Lamar Raynard threw for three touchdowns, including two to Denzel Keyes.
---=
Murray State (2-5, 2-2 OVC) 40, No. 15 Eastern Illinois (5-3, 3-2) 38
Eastern Illinois committed six turnovers in a surprising home loss. Murray State's Connor Mitchell was 6-for-6 on field goal attempts, and quarterback KD Humphries had 330 yards of total offense and a touchdown pass.
Devin Church led EIU with 213 yards from scrimmage and three touchdowns.
---=
No. 16 Villanova (6-2, 4-1 CAA) 24, No. 23 Albany (4-3, 1-3) 13
Aaron Forbes rushed for 151 yards and two touchdowns and the Villanova defense had nine sacks and forced two turnovers. Linebacker Ed Shockley collected 10 tackles, including four for loss with 3½ sacks, and had a fumble recovery.
---=
No. 17 Cal Poly (5-2, 3-1 Big Sky) 21, UC Davis (2-6, 1-4) 9
In the Battle for the Golden Horseshoe, Cal Poly's Kyle Lewis scored on a 91-yard run with 2:54 remaining to extend the Mustangs' 14-9 lead. He finished with 141 yards on eight carries and Joe Protheroe added another 95 yards in a 320-yard ground assault.
---=
No. 17-tie Coastal Carolina (5-2) 33, Central Connecticut State (1-6) 25
Coastal linebacker Alex Scearce had three takeaways, scoring touchdowns on an interception and a fumble recovery, to spark the Chanticleers, who played without injured running back De'Angelo Henderson. Tyler Keane threw for two touchdowns.
---=
No. 19 North Dakota (6-2, 5-0 Big Sky) 28, Idaho State (2-5, 1-3) 21
Keaton Studsrud passed for 173 yards and two touchdowns and ran for another score, helping the Big Sky-leading Fighting Hawks control the ball for 39 minutes, 30 seconds.
---=
No. 20 Central Arkansas (6-1, 5-0) 22, Lamar (3-4, 3-2) 12
Central Arkansas limited Lamar to 15 rushing yards on 34 carries, while quarterback Hayden Hildebrand passed for 208 yards and a touchdown.
---=
No. 21 Samford (6-1, 4-1 Southern) 30, Western Carolina (1-6, 0-5) 17
Wide receiver Karel Hamilton caught 16 passes for 208 yards and two touchdowns, and quarterback Devlin Hodges threw for 375 yards and accounted for three touchdowns in Samford's fourth straight win.
---=
No. 22 Grambling State (5-1, 4-0 SWAC) 59, Mississippi Valley State (0-8, 0-6) 10
The Tigers returned from a three-week layoff to notch an easy SWAC victory. DeVante Kincade passed for 326 yards as well as four first-half touchdowns.
---=
No. 24 Stony Brook (5-2, 4-0 CAA) 28, Delaware (2-5, 0-4) 3
Defensive end John Haggart had 11 tackles, 5 1/2 tackles for loss, three sacks, forced three fumbles and recovered one as Stony Brook moved into a first-place tie in CAA Football with idle James Madison. The Seawolves have not allowed a touchdown in 10 quarters.
Offensively, Stacy Bedell rushed for 120 yards and two touchdowns.
---=
Vanderbilt (4-4) 35, No. 25 Tennessee State (5-2) 17
Tennessee State trailed 21-17 at halftime, but was shut out in the second half of its third all-time game against an FBS opponent.
Tigers quarterback Ronald Butler had 325 yards of total offense and passed for two touchdowns to Patrick Smith (seven receptions, 170 yards).
---=
IDLE=
No. 8 James Madison (6-1, 4-0 CAA)
---