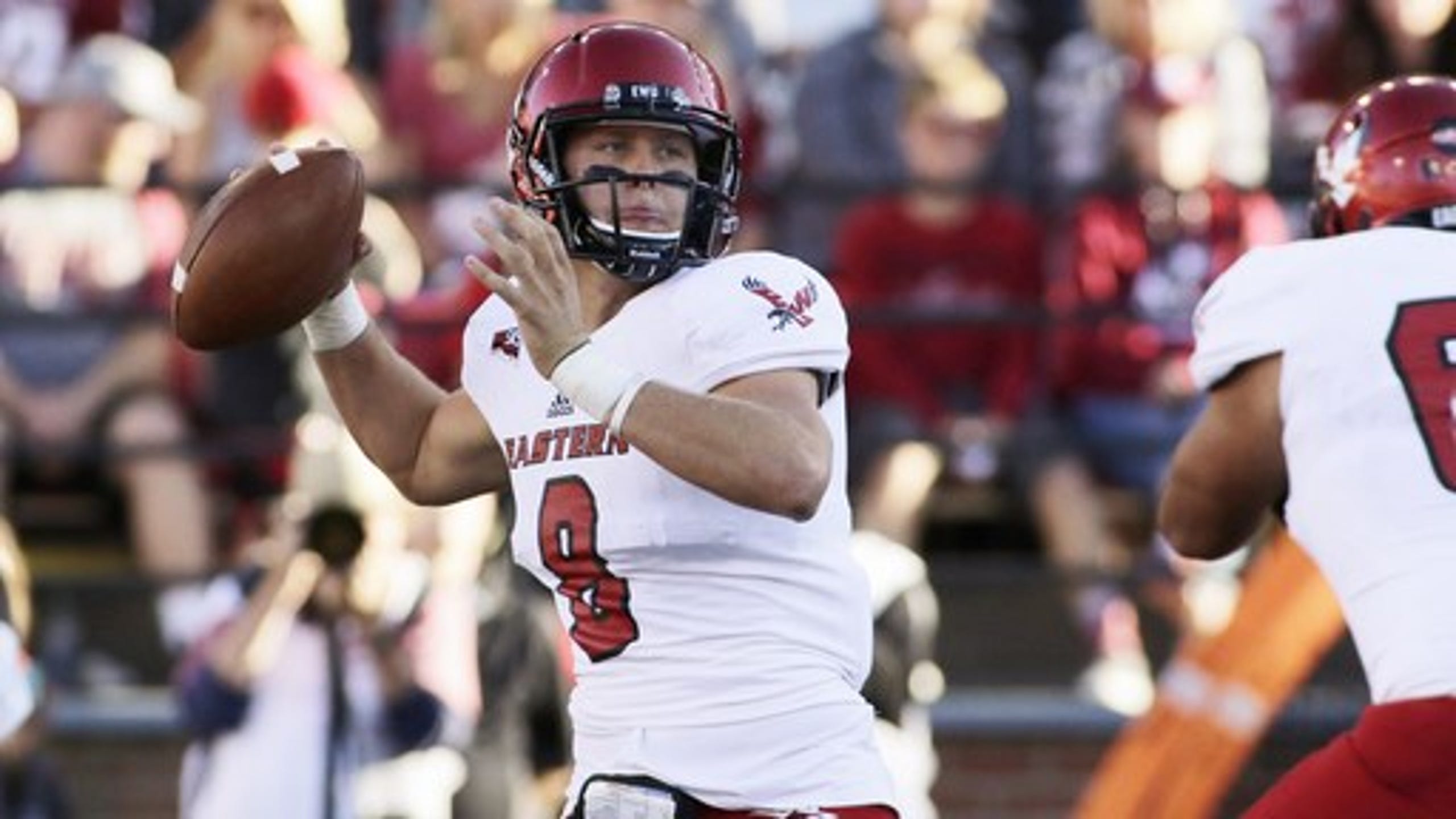 FCS review: EWU's Gubrud 'passes' test
BY foxsports • September 4, 2016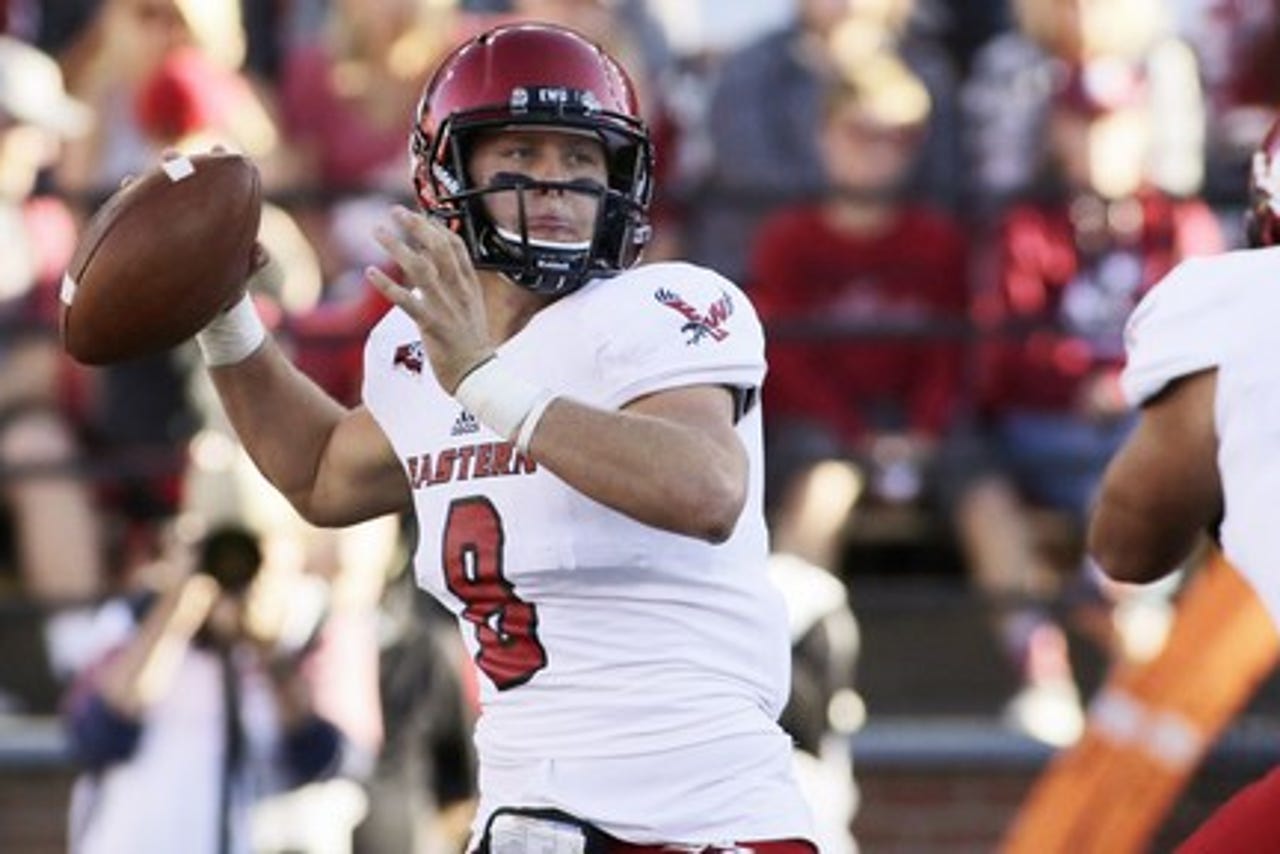 (STATS) - Eastern Washington knocked off an FBS opponent and all-world wide receiver Cooper Kupp set the FCS career record for touchdown receptions Saturday night.
Oh, by the way, Gabe Gubrud established an EWU single-game record for total offense in his first career start as the No. 14 Eagles stunned Washington State 45-42 as a 27-point underdog.
The upset was one of four wins by FCS teams over FBS opponents on opening weekend, with No. 4 Richmond, No. 5 Northern Iowa and unranked Albany all grabbing the spotlight as well.
It's been a meteoric rise for Gubrud considering the redshirt sophomore had to win the starting job away from last year's top two QBs - Jordan West, a 3,000-yard passer a season ago, and Reilly Hennessey. Gubrud held for kicks and was the team's rugby-style punter and saw limited action behind center, but he grabbed the No. 1 position in spring camp and solidified it in the preseason with - dare we say - Vernon Adams-esque production.
Against Washington State, the 2015 Sun Bowl champ, Gubrud had 551 total yards. He completed 34 of 40 passes for 474 yards and five touchdowns with one interception and rushed for 77 yards and a TD on 14 carries.
It helps to have an incredible receiving corps led by Kupp, last year's STATS FCS Offensive Player of the Year, but Gubrud also has stepped into a situation in which Eastern Washington has replaced all five starters plus two senior backups on the offensive line.
"He didn't go out there wide-eyed or nervous," coach Beau Baldwin said. "He didn't play perfect - nobody played perfect and I didn't coach perfect. You're always searching for that, but he went out there with confidence and attacked it. I think that helps you a lot when you settle down and don't pay attention to everything else that's going on."
With a win over Washington State on his resume, Gubrud's second career start will come next Saturday at top-ranked North Dakota State, the five-time reigning FCS champion.
---=
SECOND AND 10=
Ten more observations from the FCS weekend:
- While Eastern Washington simply outgunned its opponent, winning the turnover battle was the difference for Richmond, UNI and Albany. Richmond was a plus-4 its 37-20 win over Virginia, Albany had the same margin in beating Buffalo 22-16, and UNI came out on top of Iowa State 25-20 with a 4-1 margin.
- While CAA Football nabbed two of the FBS wins, Maine almost had a third one in 30-year-old coach Joe Harasymiak's debut as Division I's youngest head coach - a 24-21 loss to Connecticut. Plus, the conference picked up a terrific intersectional win with Stony Brook beating No. 19 North Dakota 13-9, No. 12 James Madison set a program record with 80 points against Morehead State in coach Mike Houston's debut and Delaware looked strong in a 56-14 rout of Delaware State.
- Go outside the FBS upsets and our FCS Team of the Week is East Tennessee State. Yeah, go figure after the Buccaneers didn't beat a Division I team last year when they returned to football after a 12-year break. Talk about a reversal. Kennesaw State opened its 6-5 startup season a year ago with a rout at East Tennessee State, but a year later, the Bucs went down to Georgia and posted a 20-17 double-overtime victory. J.J. Jerman's 24-yard field goal was the difference for coach Carl Torbush's squad, whose next game will be a return to the Southern Conference schedule Sept. 17 against Western Carolina at Bristol Motor Speedway.
- FCS power Montana would have had an easier time dispatching Saint Francis than 41-31 if it didn't have to face Red Flash senior Lorenzo Jerome (you pick: an All-American at safety or kick returner? Or both?). But turnovers plagued quarterback Brady Gustafson last season and he needs to leave that behind after committing four in the Griz's season-opening win. He can be spectacular, of course, as his five total touchdowns in the second half indicated.
- Youngstown State enjoyed a much-needed fast start to its season, something that happens regularly considering it's won 22 straight home openers. But quarterback Ricky Davis was impressive in his first career start, the run game spread the wealth and the defense was smothering in the much-too-easy 45-10 win over defending Northeast Conference champ Duquesne. It's been 10 years since the Penguins last made the FCS playoffs and second-year coach Bo Pelini has too much talent not to get it done this season.
- On a busy day of action Saturday, it shouldn't be overlooked that Wofford linebacker Michael Roach returned to campus two days after going into cardiac arrest during the Southern Conference team's season-opening win at Tennessee Tech. The junior from Kenosha, Wisconsin, collapsed on his team's sideline during the third quarter. He was later diagnosed at a medical center in Cookeville, Tennessee, with hypertrophic cardiomyopathy, the leading cause of sudden cardiac death in young athletes in the United States, and had an implantable cardioverter defibrillator inserted on Friday. Typically only 5 percent of people survive after going into cardiac arrest.
- Uncertainty at quarterback - even when good players are involved - isn't necessarily beneficial for a team, and Eastern Kentucky has it under first-year coach Mark Elder. Bennie Coney, who had a strong junior season, came off the bench in a loss to Purdue and played better than Maty Mauk, the much-accomplished graduate transfer from Missouri who got the start. And then there's the future of the program, sophomore Tyler Swafford, who was impressive in leading a touchdown on his drive. The Colonels come right back for a Thursday night game against Pikeville. Which QB is the answer?
- No team has had as eventful a start to the season as Charleston Southern. Ironically, the highlight has been a loss - a superb effort against North Dakota State before losing in overtime. Coach Jamey Chadwell and an unnamed assistant were each suspended one game for a violation of NCAA recruiting rules on social media, then starting quarterback Kyle Copeland suffered a season-ending knee tear against Kentucky State. Next weekend's visit to Florida State doesn't offer much relief.
- The team nobody is paying attention to, FBS transitioning Coastal Carolina, got off to a fine start in what should be an excellent season. The No. 16 Chanticleers scored 35 unanswered points in the second half of a 38-14 win at Lamar. One matchup was worth keeping an eye on - Coastal's De'Angelo Henderson rushed for 158 yards and two touchdowns, tying former Virginia Tech standout Lee Suggs for the NCAA Division I record 27th straight game, while Lamar's 2,000-yard rusher Kade Harrington broke off two long scoring runs in a 207-yard night.
- Heading into Sunday's action, the only new coaches to win their opening games came from ranked teams - No. 11 McNeese (Lance Guidry), No. 12 James Madison (Mike Houston), No. 15 The Citadel (Brent Thompson) and No. 20 Western Illinois (Charlie Fisher). Twelve coaches from unranked teams lost on opening weekend, with SWAC coaches Fred McNair of Alcorn State and Michael Haywood of Texas Southern set for debuts on Sunday.
---=
A LOOK AHEAD=
The highlight of next weekend's action is one of the most anticipated games of the season as Eastern Washington visits North Dakota State - a matchup of the two most recent FCS champions. The Eagles' quarterfinal-round win over NDSU in 2010 predated the Bison's 20 straight playoff wins and five consecutive national titles.
Other big FCS matchups include Montana at Northern Iowa, Northern Arizona at Western Illinois and Samford at Central Arkansas. The FBS matchups include Charleston Southern at Florida State, Jacksonville State at LSU and Youngstown State at West Virginia.
---