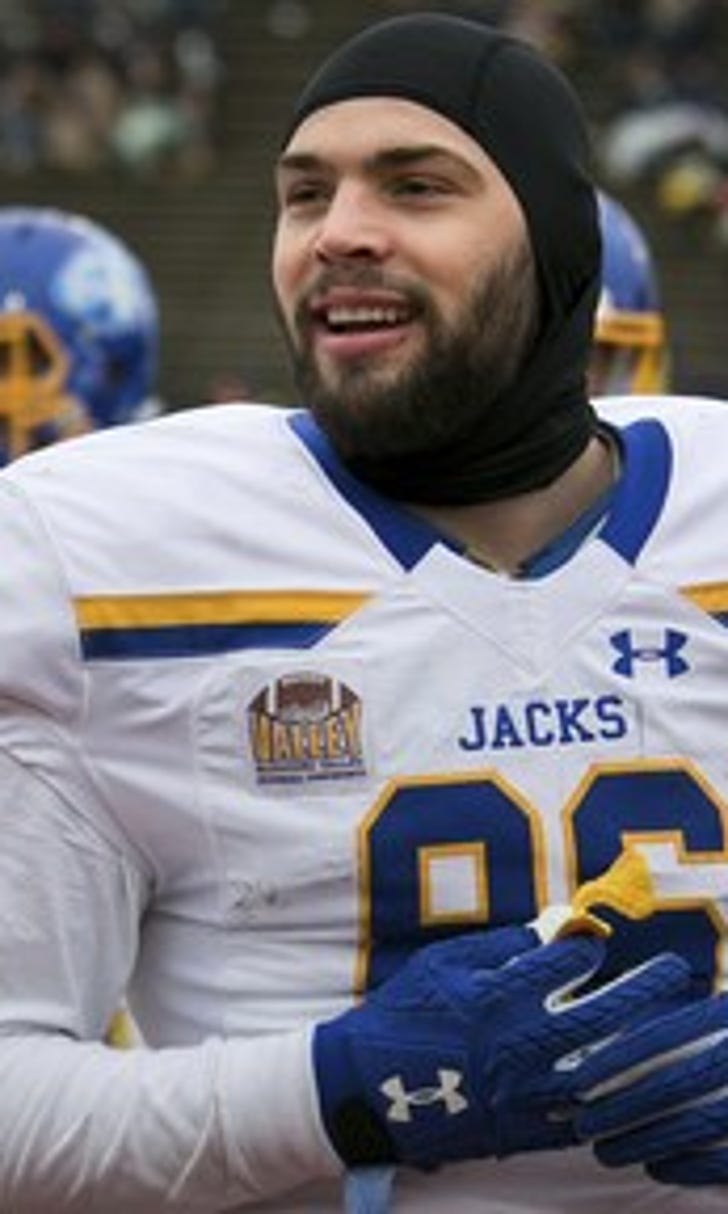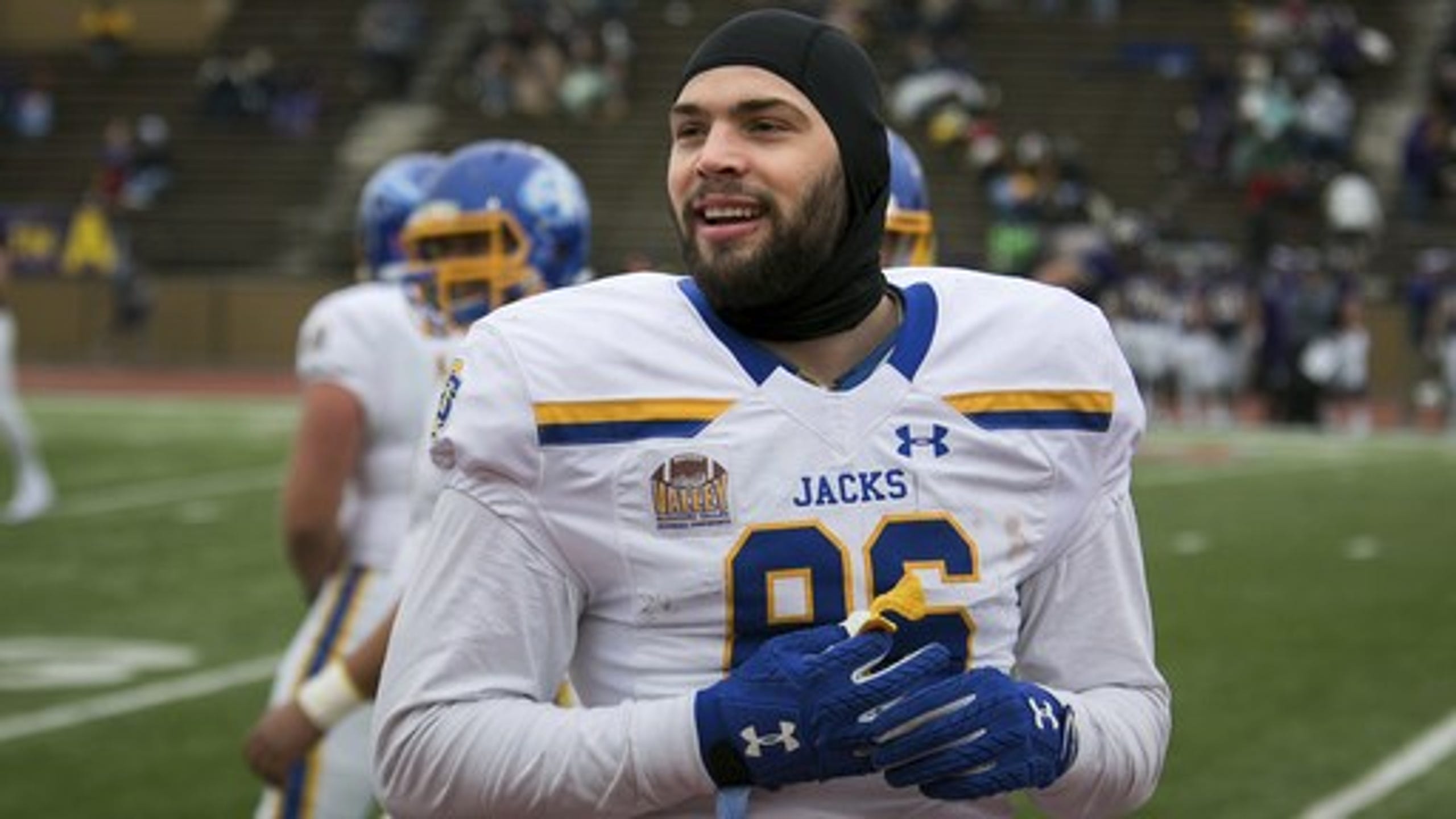 FCS prospects ready for NFL Combine
February 26, 2018
(STATS) - Super sleeper. Matchup nightmare. Top FCS draft prospect.
South Dakota State tight end Dallas Goedert has seen the headlines describing his NFL draft candidacy, but he feels he has something extra to prove/
Goedert missed a breakout opportunity at the Senior Bowl last month because of a hamstring injury suffered in his team's first practice. But he gets to state his case in the next week as one of 20 FCS players who will be among the 335-plus at the NFL combine, beginning Tuesday at Lucas Oil Stadium in Indianapolis.
While many draft analysts have given the 6-foot-4 1/2, 260-pound Goedert a second- to third-round grade, his competitive fire still burns.
"I just kind of hope to eliminate all the doubt that teams might have with me coming from a smaller college," Goedert said. "They don't think I played as high a competition and maybe can't compete with (FBS-level players), so I just want to kind of prove them wrong and show them that I can compete with whoever's lined up in front of me."
Goedert, considered one of the top tight end prospects in the draft, made the STATS FCS All-America first team in each of his final two seasons. In his career, he caught 198 passes for 2,988 yards and 21 touchdowns.
Should Goedert run the 40-yard dash during the on-field testing at the combine - not a definite due to his injury - he said he wants to run in the 4.6-second range.
Like past years, the FCS boasts excellent talent at the combine, especially offensive linemen (including North Carolina A&T's Brandon Parker and Stony Brook's Timon Parris), linebackers (North Dakota State's Nick DeLuca and South Carolina State's Darius Leonard) and defensive backs (Jacksonville State's Siran Neal, Illinois State's Davontae Harris and Weber State's Taron Johnson).
The combine is staggered into positional groups over four-day intervals, concluding with the on-field workouts. The workout dates: running backs, offensive linemen and special teamers on Friday; quarterbacks, wide receivers and tight ends on Saturday; defensive linemen and linebackers on Sunday; and defensive backs on March 5.
FCS players Invited to 2018 NFL combine
Quarterback: Kyle Lauletta, Richmond, 6-3, 217
Running Back: Chase Edmonds, Fordham, 5-8, 203; Roc Thomas, Jacksonville State, 5-11, 193
Tight End: Dallas Goedert, South Dakota State, 6-4 1/2, 260
Wide Receiver: Jake Wieneke, South Dakota State, 6-4, 218
Offensive Guard: Jamil Demby, Maine, 6-4 1/2, 323; Skyler Phillips, Idaho State, 6-2 1/2, 314
Offensive Tackle: Brandon Parker, North Carolina A&T, 6-7, 323; Timon Parris, Stony Brook, 6-5, 320; Greg Senat, Wagner, 6-6, 294
Defensive End: John Franklin-Myers, Stephen F. Austin, 6-3 1/2, 280
Defensive Tackle: Bilal Nichols, Delaware, 6-3 1/2, 301
Outside Linebacker: Nick DeLuca, North Dakota State, 6-3, 243; Darius Jackson, Jacksonville State, 6-2, 233; Darius Leonard, South Carolina State, 6-2, 229
Cornerback: Davontae Harris, Illinois State, 5-11, 203; Danny Johnson, Southern, 5-9, 182; Taron Johnson, Weber State, 5-11, 189; D'Montre Wade, Murray State, 5-11, 201
Safety: Siran Neal, Jacksonville State, 6-0, 206
---
---