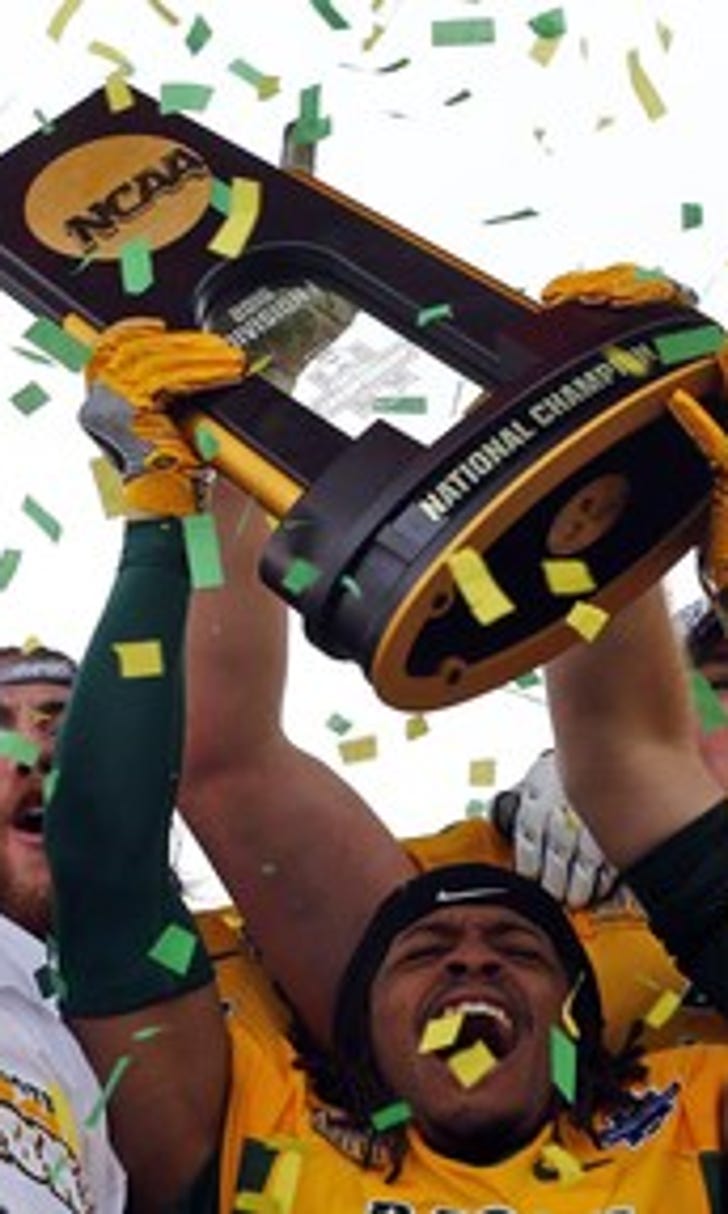 FCS playoffs from A to Z
BY foxsports • November 25, 2016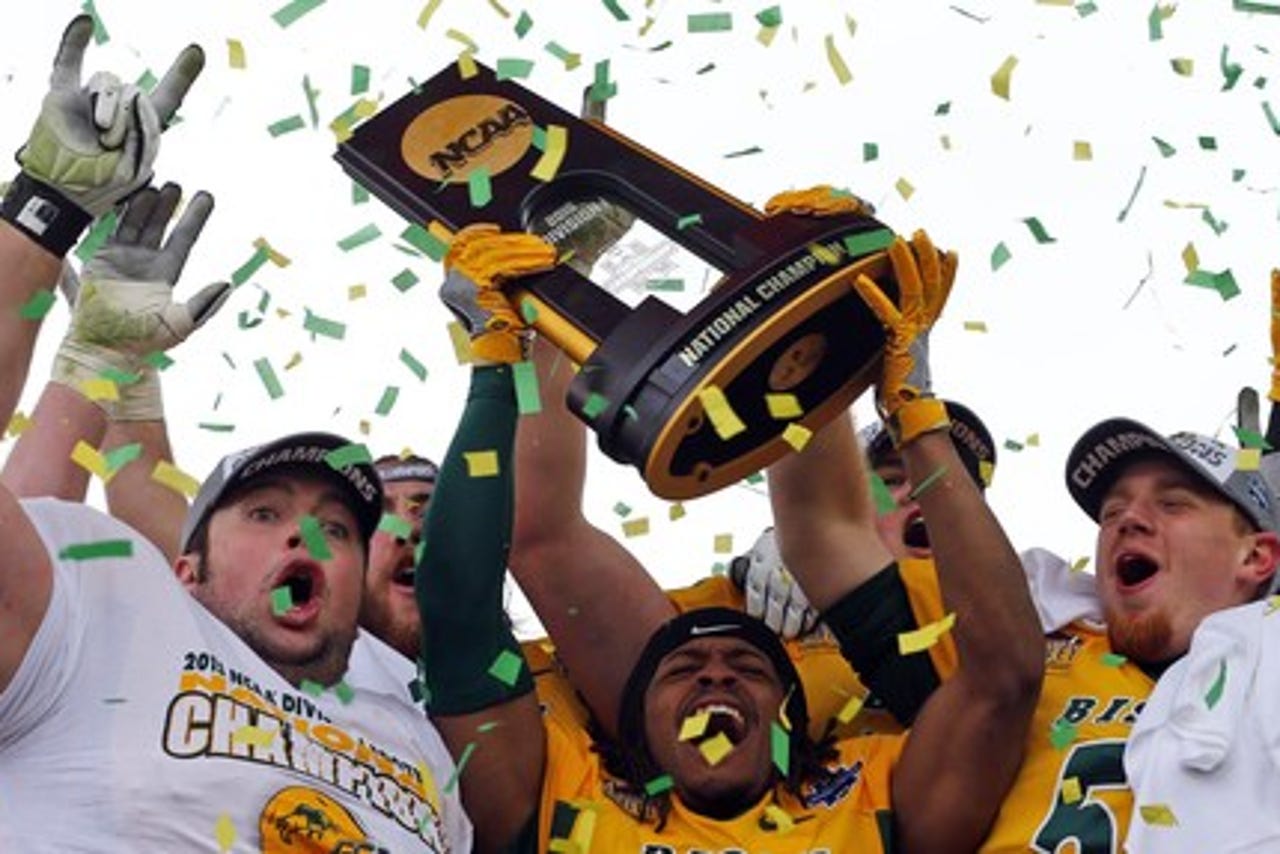 (STATS) - The FCS was alphabet soup even in the days when it was called NCAA Division I-AA, so with the best playoffs in college football beginning on Saturday, it's good to know the 24 teams in the field from A to Z.
NDSU, er, North Dakota State is the five-time defending champ, but there are plenty of contenders to be the FCS champ.
Enjoy all the fun.
With this year's field …
A is for coach Andy Talley. The retiring Villanova coach goes into his 12th playoff appearance with a 2009 FCS title and 257 career wins (229 with the Wildcats) to his credit.
B is for the backup quarterbacks. Richmond is turning to its backup to make his first career start in the first round. Charleston Southern, Lehigh, New Hampshire, North Carolina A&T, Wofford and Youngstown State are other teams playing in the first round that haven't simply relied on one quarterback to win games.
C is for coaches. There are nine who have earned their conference's coach of the year award already: North Dakota's Bubba Schwiegert (Big Sky), Charleston Southern's Jamey Chadwell (Big South), James Madison's Mike Houston (CAA), South Dakota State's John Stiegelmeier (Missouri Valley), Saint Francis' Chris Villarrial (Northeast), Jacksonville State's John Grass (Ohio Valley), Lehigh's Andy Coen (Patriot), The Citadel's Brent Thompson (Southern) and Sam Houston State's K.C. Keeler (Southland).
D is for Dakota. Three of the eight seeded teams are North Dakota State (1), North Dakota (7) and South Dakota State (8).
E is for eleven. There are 11 teams back in the field from a year ago. None has been better about coming back than New Hampshire, which is making its 13th straight appearance under coach Sean McDonnell.
F is Frisco. The growing Dallas suburb is the neutral site host to the championship game for the seventh consecutive season. Toyota Stadium is undergoing renovation, so seating capacity has dropped from 20,086 to about 15,300.
G is for great games. It's what we all want during this grand time of the season.
H is for home field advantage. There's only one playoff game without it - the championship. Eleven of the playoff qualifiers, including six seeded teams, were unbeaten at home in the regular season, and all of the qualifiers combined to go 112-15 (.882).
I is for incomparable. Eastern Washington wide receiver Cooper Kupp holds the FCS and Division I records for receptions (402), receiving yards (6,061) and touchdown receptions (68).
J is for Jeremiah Briscoe. The Sam Houston State quarterback leads the FCS in passing yards (4,096), passing yards per game (372.4), touchdown passes (52), passing efficiency (187.0) and points responsible for per game (28.9). He's four shy of the FCS single-season record for touchdown passes.
K is for keeping drives alive. Playoff qualifiers Cal Poly, James Madison, Eastern Washington, San Diego, Sam Houston State and Lehigh are the only teams in the FCS whose third down conversion rates are above 50 percent.
L is for losses. Central Arkansas, Chattanooga, North Carolina A&T, Richmond, Saint Francis, Samford and The Citadel ended the regular season with a defeat. But that was then, this is now …
M is for momentum. Illinois State, once 3-5, surged to an at-large bid with three straight season-ending wins. Sam Houston State has the longest winning streak (11) and is one of 11 teams in the field that haven't lost since the calendar turned to November.
N is for nicknames. The more unique ones are the Jackrabbits (South Dakota State), Penguins (Youngstown State), Red Flash (Saint Francis) and Toreros (San Diego). The most common is Wildcats (New Hampshire, Villanova and Weber State).
O is for offense. Sam Houston State ranks No. 1 in the FCS in points per game and offensive yards per game, while Eastern Washington is No. 2 and 3, respectively, and Jacksonville State is No. 3 and 2, respectively.
P is for the Palmetto State. South Carolina has a mini-tournament going on in the first two rounds as Charleston Southern visits Wofford before the winner heads to The Citadel.
Q is for questionable calls. It's guaranteed a fan base will second-guess the head coach after a loss.
R is for rematches. Avoiding them, that is, after last year's field drew criticism for too many rematches. San Diego at Cal Poly is a first-round rematch (Cal Poly won 38-16 on Sept. 10), but there are only two possibilities in the second round (New Hampshire-James Madison and Wofford-The Citadel).
S is for seeded teams. North Dakota State, Eastern Washington, Jacksonville State, James Madison, Sam Houston State, The Citadel, North Dakota and South Dakota State are thankful to first-round byes on Thanksgiving weekend.
T is for turnovers. They decide so many games. Lehigh has committed the fewest turnovers (eight) in the FCS and North Dakota has the most takeaways (20) and best turnover margin (plus-17) in the field.
U is for upsets. Yeah, bring 'em on.
V is for coach Chris Villarrial. After Saint Francis didn't have a winning season in its first 22 years on the Division I level, the Red Flash have posted back-to-back winning records under a seventh-year coach who has them in the playoffs for the first time. North Dakota is the other first-time qualifier, but it didn't join Division I until 2008.
W is for wide receivers. The field includes the top seven in the FCS in receiving yards: Saint Francis' Kamron Lewis (1,349), Eastern Washington's Cooper Kupp (1,297), Samford's Karel Hamilton (1,242) South Dakota State's Jake Wieneke (1,204) and Dallas Goedert (1,146), Richmond's Brian Brown (1,179) and Lehigh's Troy Pelletier (1,140).
X is for X-factors. Special teams, senior leadership, injuries, weather, luck - they're all included.
Y is for Youngstown State. The four-time national champion in the 1990s is back in the field for the first time since 2006, ending the longest drought among the 22 teams that were in the field previously.
Z is for bye-zon. North Dakota State pronounces its Bison nickname as bye-zon. Yeah, they're the five-time reigning national champs, they call the shots.
---