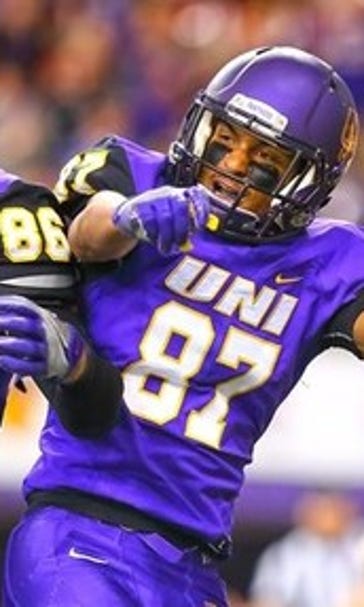 FCS Game of the Week: Northern Iowa at North Dakota State
October 26, 2017

(STATS) - North Dakota State players like to say the most physical game of their season comes against Northern Iowa. When both teams are fighting to control the line of scrimmage, things tend to go crunch.
What some of the NDSU players may not know is the UNI running game was missing in action earlier this season, but it's been back the last two weeks with running back Marcus Weymiller. Now the Panthers head to the Fargodome on Saturday with a realistic shot of upsetting NDSU, which is bidding to win a seventh straight Missouri Valley Football Conference title.
Incredibly, both teams are coming off two straight wins over Top 10 opponents. UNI (4-3, 3-1) has the chance to make it three in a row against the No. 2-ranked Bison (7-0, 4-0) in the STATS FCS Game of the Week.
"By no means would you say, 'Boy, they can only run the football now,'" NDSU coach Chris Klieman said. "I think they have much more balance to their offense. If you're able to run the football - and we know that - it sets up all your play action and gets a little bit more single coverage. They've done a great job in the last two weeks for sure in being able to exploit what the defense is giving them."
"We said this three weeks ago," UNI coach Mark Farley said, "each week you're going to get a tougher opponent, a better defense, and now we're to North Dakota State. They're going to have to improve from last week, we need to get rid of error that we have on that field and we need to clean up some things communication-wise. We're a long ways from arriving on offense or defense right now, but we've made good progress in the last couple games."
While Weymiller has played smash-mouth football the last two weeks with 71 carries for 303 yards and four touchdowns in UNI's wins against South Dakota State and Youngstown State, North Dakota State has been powering through the opposition all season. The Bison rank fourth in the FCS in rushing yards per game (293.4).
However, the Bison will probably have to play without Lance Dunn, their leading rusher and the FCS leader with 13 touchdowns, because of a hip injury suffered against Western Illinois last week. The Bison, who beat Youngstown State a week earlier, still have big running threats in running back Bruce Anderson and quarterback Easton Stick.
Let the crunching begin.
FCS GAME OF THE WEEK
The Matchup: Northern Iowa (4-3, 3-1 Missouri Valley) at No. 2 North Dakota State (7-0, 4-0)
Kickoff: 3:30 p.m. ET at the Fargodome (19,000) in Fargo, North Dakota
Television: ESPN3, KVLY, NBC North Dakota network
Series: Northern Iowa leads 26-24 (last meeting: North Dakota State won 24-20 on Oct. 29, 2016, in Cedar Falls, Iowa)
The Skinny: North Dakota State has won three straight meetings and six of the last seven in the series. The Bison also are seeking their 100th win of the decade (they're 99-12). They enter the rivalry game with the nation's stingiest defense, allowing the fewest points (9.6) and yards (192.7) per game. Against Western Illinois, NDSU's defense had five sacks, seven tackles for loss, four pass breakups, a Tre Dempsey interception and two quarterback hurries. Opponents have punted more than twice as many times as the Bison - 43-19. UNI allowed only 99 combined rushing yards in the wins over South Dakota State and Youngstown State. Even without Dunn playing for NDSU, the Panthers still must contain the run of Bison QB Easton Stick and RB Bruce Anderson. Opponents have gotten to the Panthers with the passing - 266.6 yards per game (106th nationally) and 16 touchdowns. While NDSU must beware of the Eli Dunne-to-Daurice Fountain passing combo, the difference for UNI recently has been Marcus Weymiller and the surging run game.
Prediction: NDSU's plus-11 in turnovers stands out against UNI being minus-1. A key turnover will make a difference. Like last year, North Dakota State, 24-20.
---
---