'Eternal impact' more important than 325 wins to Carson-Newman coach
BY Reid Forgrave • August 20, 2015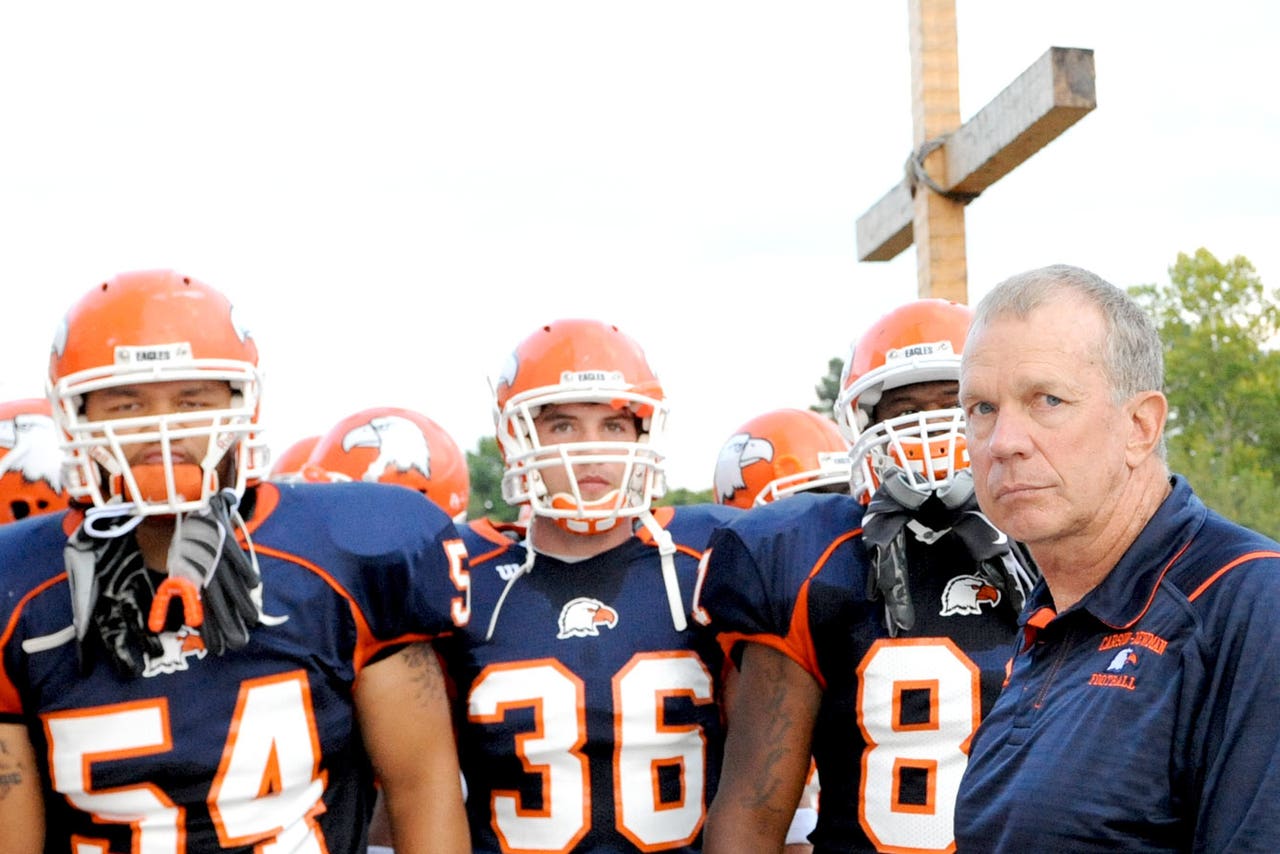 When Ken Sparks' grandchildren were young, they frequently visited his house and looked at his trophy collection. As you can imagine, the accomplishments of the longtime head coach at Carson-Newman University – the winningest active coach in college football – are vast. Five NAIA national titles. Three Division II runner-up finishes.  Untold numbers of coach of the year and hall of fame honors. The fruits of a coaching career that last season reached 325 wins, surpassing Bear Bryant for sixth all time.
And yet the grandchildren didn't huddle awestruck in a trophy room to peer at their grandfather's gleaming spoils of victory. Instead, they had to trudge up to the attic, where Sparks kept his mementoes tucked away in boxes, as if embarrassed by them.
As I've gotten to know Sparks and the people closest to him, I've come to see these trips to the attic as a metaphor for the coaching success of the 71-year-old who is entering his 36th season as the head coach for the Baptist school near Knoxville, Tenn.
Yes, he has dedicated himself to chasing excellence on the football field. A Bible verse that's one of the guiding principles of Ken Sparks' life is Colossians 3:23: "Whatever you do, work at it with all your heart."
Working at football with all their hearts has brought all these wins to Ken Sparks, to his staff and to the hundreds of young men who've played on his football team.
But it's the second part of that same Bible verse that's more important to Sparks:
"Whatever you do, work at it with all your heart, as working for the Lord, not for human masters."
That's why, when I was speaking with Sparks the other day about what those 325 victories mean to a football program that has for decades faithfully adhered to an old-school veer-option offensive philosophy, he used a surprising phrase: "Pretty insignificant."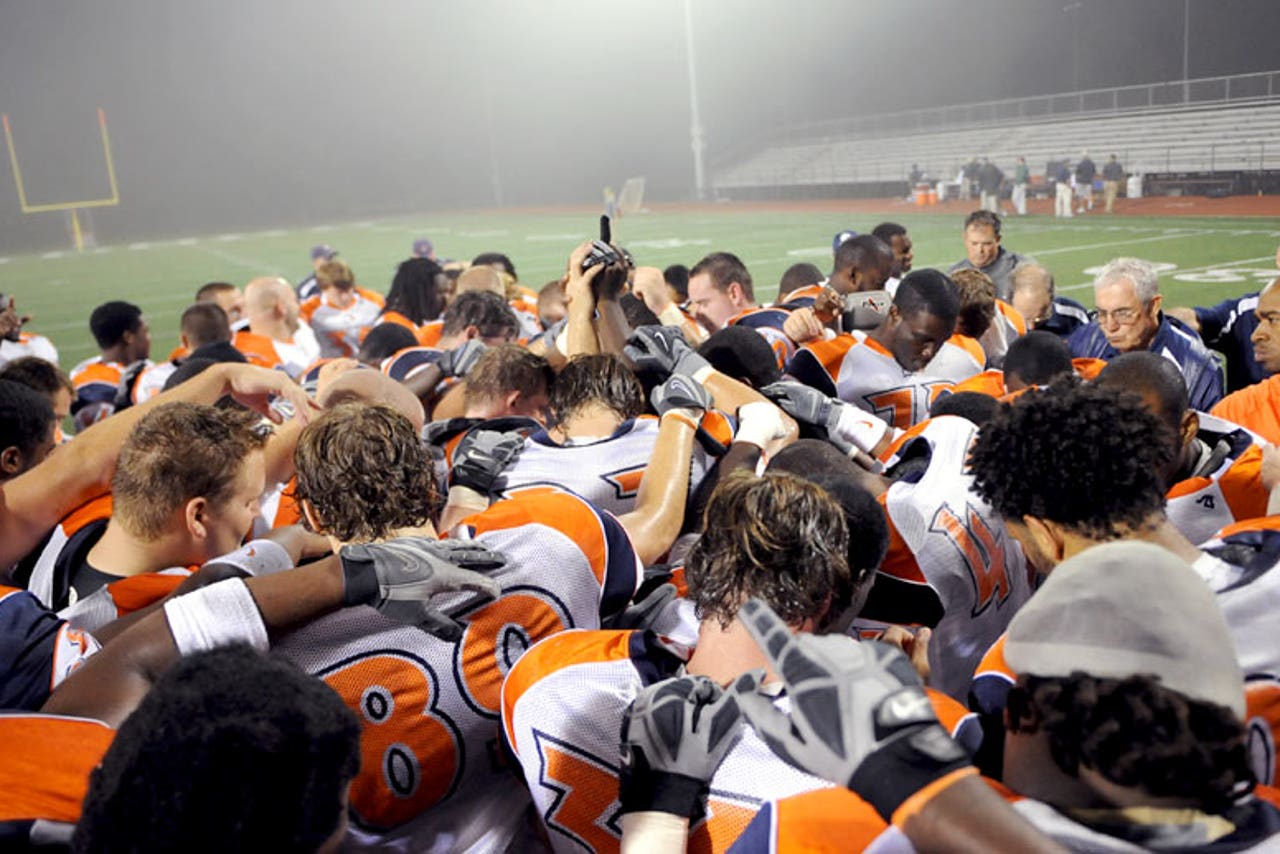 It's easy to see how faith and football mix at Carson-Newman.

To Sparks, football is a laboratory for life.  That way of thinking bears itself out in a number of very true clichés he has spent a life making real to his players. That football is the ultimate team sport. That no single player wins a football game but that one single player who doesn't act with the group can lose it. That everyone gets knocked down in football, but what defines greatness is getting back up. That football is a collision sport, an indicator of manhood, an activity that values courage and toughness.
For Ken Sparks, this philosophy has added up to a lot more than just 325 wins.
"If you get a chance to use football to help you win life, that's the way it's supposed to be," he said. "If you try to use football as life, it's not going to mean much. It's not an end in itself."
"If we're not careful, we'll make football a god in itself," Sparks continued. "We have a real God. We don't have to make idols in artificial guise. We already have a God who is everything we're looking for."
This is where someone who is not an evangelical Christian may begin to tune out. It's where Ken Sparks can begin to sound a bit too preachy, especially if you're not used to hearing someone who is so up front about his faith. But to reduce Sparks to just another proselytizer ignores the incredible humility and authenticity in a man who has touched hundreds of lives by drawing this line between football and Jesus Christ.
"My dad, he's the real deal," said Chad Sparks, a pastor at a non-denominational church in Knoxville. "There's nothing artificial, nothing false about him. He's just very simple. When I say simple, I don't mean anti-intellectual. He just is what he is. There's no agenda, except that he really wants to see people's lives change."
It's a testament to a man whose own life changed when he was the same age as the football players he now coaches.
Sparks was the son of a drunk, the descendant of Tennessee bootleggers who were mired in generations of poverty. He remembers his father as a good man and a hard worker who owned a small beer store, but he also remembers the bad things: when his father would drive drunk with his son in the car, when Sparks was a kid and had to clean up vomit from the beer store's bathroom.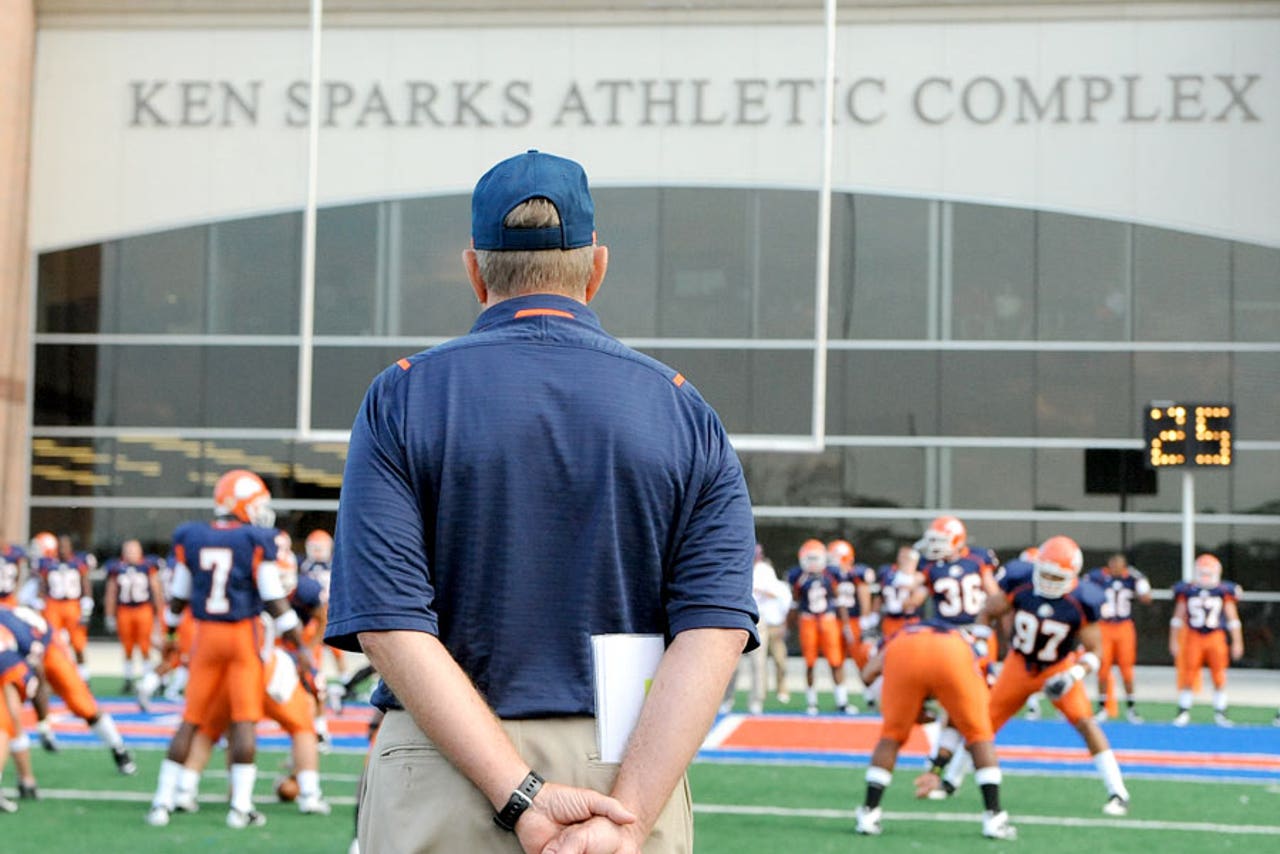 Not many coaches have an on-campus building named after them while they're still on the job.
He was heading toward that same life himself, he says, when shortly after high school a couple of big things happened: His father passed away, and a young pastor moved to town. One church retreat later and Sparks never turned back.
"He came after me," Sparks said. "He came and talked to me about the Lord. I just wanted to get him off my back, but after I became a Christian, he took me under his wing."
In a way, that's what Sparks has been to his players, too.
And Sparks believes those 325 wins are an almost accidental byproduct of what he's really focused on as a coach – striving for excellence, doing things the right way, saving his players' souls by introducing them to Jesus Christ.
"I don't read anywhere in the Bible where God says you need to be mediocre," said Mike Turner, the Carson-Newman associate head coach who has worked under Sparks for more than three decades. "We talk about being men of excellence. We're all red-blooded American males, and you want to compete, you want to win every football game you play. We want to play for that national championship every year. But there is more to it than that. You're hoping you're making a difference in a kid's life that's got the possibility of eternity hanging in the balance. That's so much more important than any scoreboard."
As an example, Turner points to a photograph he keeps framed in his office. The Carson-Newman football team had just beaten North Alabama in the quarterfinals of the Division II playoffs some years ago. The team gathered for a photo in front of the scoreboard. But by the time the photo was taken, just moments after the game ended, the score had already been taken down.
"It's what Coach Sparks always talks about: 'That scoreboard doesn't last too long,' " Turner said.
The reason you're reading a story about Ken Sparks is because of all those wins and titles. But Ken Sparks' reason for coaching is about something else entirely. He talks about players' lives that have changed through Carson-Newman football. The high school kids with poor grades or difficult upbringings that he took a chance on. The kids who didn't grow up in church who Sparks helped lead to Christianity. The player who Sparks kicked off the team, who went back home and got a construction job and who begged his way back onto the team after he realized how much he needed a degree.
"He took a chance with me, a big chance, and most people wouldn't have given me that second opportunity," said James Barron, who in the 1980s convinced Sparks to put him on his team despite having recently gotten out of jail. Barron is now in management at a janitorial service company. "He changed my life, he really did."
So even though his grandchildren may have been enamored of those gleaming trophies, and even though you and I are most impressed with the 325 wins that have him creeping up on names like Bobby Bowden and Joe Paterno, Sparks is most proud of the other stories.
"Trophies are not the story," Sparks said. "Only thing trophies can do is to make me think more about myself than I should. That's the old Devil's game with all of us, to make us think we are something that we aren't."
"If I'm about chasing those things, I'm missing my whole point, my whole reason to live," he continued. "Those trophies and victories, when I take my last breath, they're gone. When there's people that are having an eternal impact on other people, when they're difference-makers, when there are ways that can help them win at life and live a good life, those are the trophies that last."
Email Reid Forgrave at reidforgrave@gmail.com, or follow him on Twitter @reidforgrave.
---