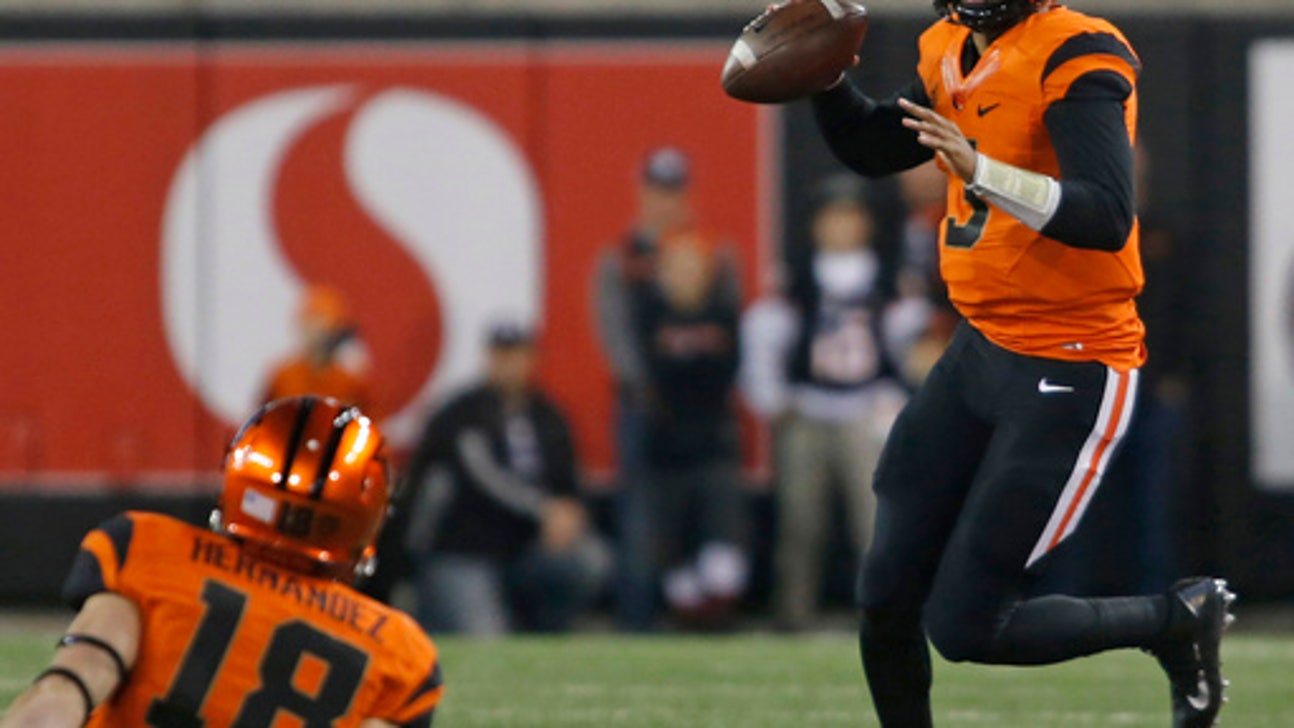 Ducks and Beavers both pumped for the Civil War after wins
Published
Nov. 25, 2016 4:03 a.m. ET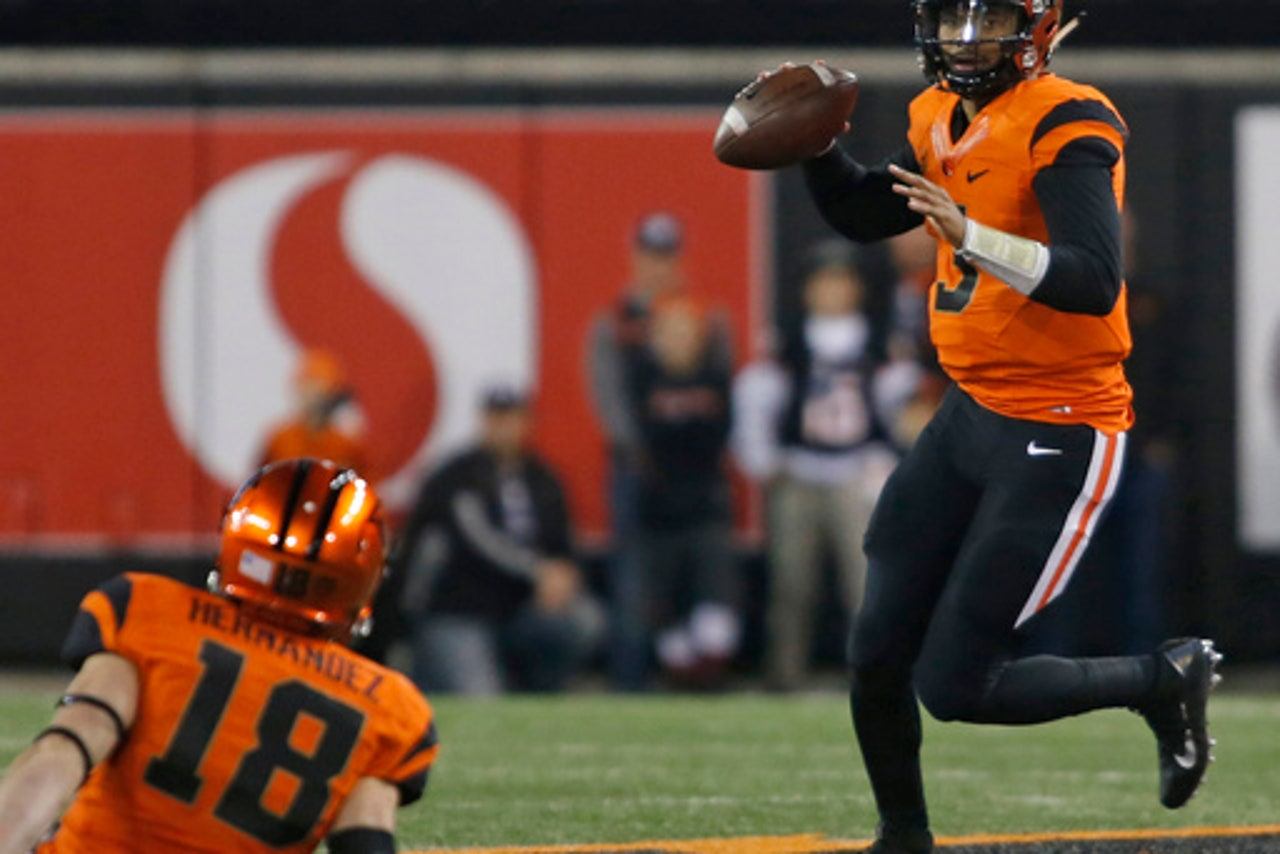 CORVALLIS, Ore. (AP) Even though there aren't any conference championships or big bowl games on the line, the winner of Saturday's Civil War does get something: They avoid the Pac-12 North basement.
Oregon and Oregon State both have 2-6 records in conference play, but the stories surrounding those results are decidedly different.
The Beavers (3-8) continue to show incremental improvement in the second year under coach Gary Andersen, despite getting hit by injuries - most notably to starting quarterback Darell Garretson. The Ducks (4-7) are having an unexpectedly disappointing year marked by five-game midseason losing streak.
But both teams were also boosted this week by victories last weekend. The Ducks upset then-No. 11 Utah 30-28 in Salt Lake City, thwarting the Utes' shot at a spot in the Pac-12 championship game. The Beavers are coming off a 42-17 thumping of Arizona at Reser Stadium. Marcus McMaryion threw for 265 yards and five touchdowns.
''Big games are created sometimes by win-loss records or where you sit within the season. This game's a big game every year regardless of the situation or the scenario,'' Andersen said. ''Our kids understand that, they know that, and that it's an honor and a privilege for them to play in it. They'll remember it for the rest of their lives.''
The game is the first sellout at Reser Stadium since the 2014 Civil War. Other things to consider when the Ducks visit the Beavers on Saturday:
PLAYING FOR SETH
Oregon State wide receiver Seth Collins remains hospitalized with an undisclosed illness. Andersen has not been able to talk about Collins' condition because of privacy rules. Collins fell ill following the Beavers' game at UCLA on Nov. 12. Linebacker Manase Hungalu said Collins was in the team's thoughts following the victory over Arizona, and he will be in the Civil War, too.
''This whole team is built around family. One family member goes down, we gotta fight for him. That was our whole motivation for this game and it will continue until he gets better,'' Hungalu said.
SO YOU'RE SAYING THERE'S A CHANCE?
Should the Ducks win and get to five overall wins this season, there is a chance that they'll be invited to a bowl game because there's a possibility that there won't be enough six-win teams to fill all the games. Coach Mark Helfrich addressed the possibility earlier this week.
''I heard a couple guys talking about that and there's a lot of - again, the biggest part of that is getting to five and the best way you do that is recover from this one'' he said. ''We've already obviously gotten a great advance look on Oregon State who's playing really well right now and dominated Arizona and so again, the only thing that matters is how we prepare.''
FOCUS ON THE BACKS
Both teams have sturdy running backs who struggled at times with injuries this season. Oregon State running back Ryan Nall has rushed for 796 yards and nine touchdowns, but his season has been impacted by a foot injury. His Oregon counterpart, Royce Freeman, has had two straight games with 100 or more yards, and seems to have bounced back after dealing with an injury to his right leg earlier in the season. Freeman has 839 yards rushing and nine touchdowns.
QUARTERBACKS, TOO
Both teams are playing quarterbacks that weren't starters at the beginning of the season. Justin Herbert unseated graduate transfer Dakota Prukop at Oregon and has fared well for a true freshman, throwing for 1,756 yards and 18 touchdowns while making just six starts. McMaryion, a sophomore, was pressed into service when Garretson and backup Conor Blount were injured earlier this season. He's thrown for 1,189 yards and nine touchdowns in the past six games.
HISTORY LESSON
This is the 120th edition of the Civil War, which dates to 1894. Oregon holds a 63-46-10 advantage in the series, including the last eight straight. The Beavers' last victory in the series was a 38-31 OT thriller at Autzen Stadium in 2007. Last season the Ducks won 52-42 at Autzen.
---
More AP college football: www.collegefootball.ap.org and https://twitter.com/AP-Top25.
---