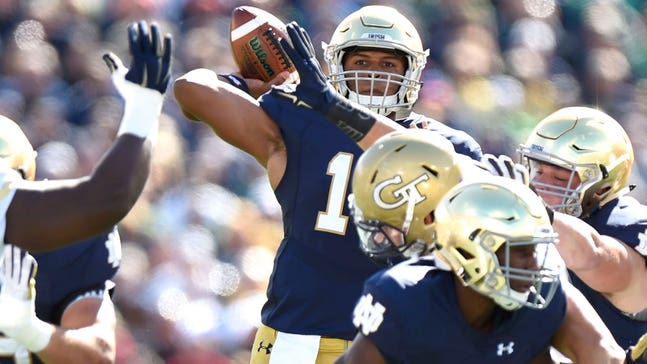 DeShone Kizer has high expectations for himself, Notre Dame following bye week
Published
Oct. 28, 2015 4:30 p.m. EDT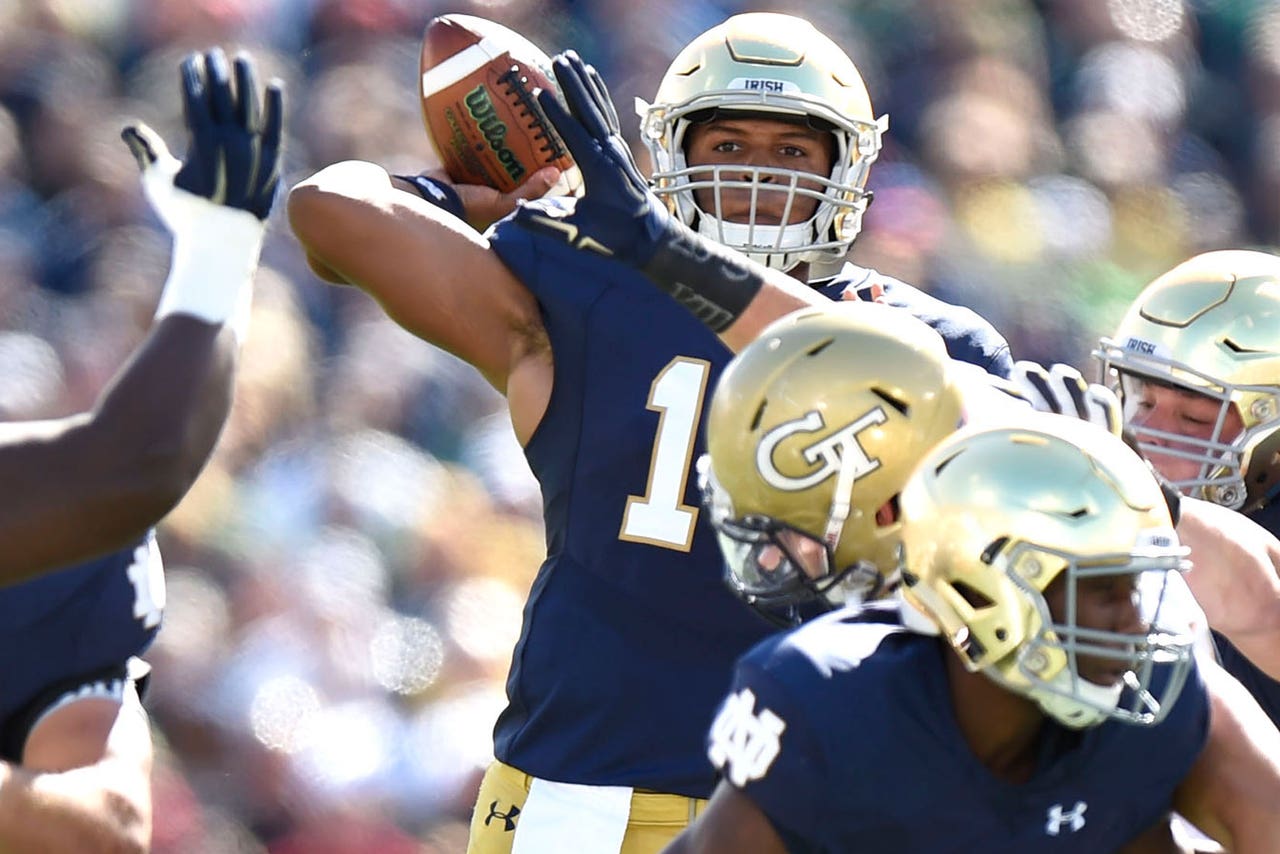 Nobody could blame DeShone Kizer for needing a break this week.
From the middle of September through the middle of October, the redshirt freshman Notre Dame quarterback went from backup to starter for one of the nation's most storied programs.
Thrust into action at Virginia, all he did was throw the game-winning touchdown pass in the waning minutes. Then Kizer led the Fighting Irish to a pair of victories before coming up two points short at Clemson.
Since falling to the still-unbeaten Tigers, the Irish have beaten rivals Navy and USC to improve to 6-1 and move back into the top 10 at No. 9.
No game last weekend meant Notre Dame's many banged-up players could take some time to get healthier, but it was also an opportunity for the young Irish quarterback to take a deep breath.
"He was running on fumes and not just the academics," Notre Dame head coach Brian Kelly told reporters this week. "There's a lot thrown on him: Being the quarterback at Notre Dame; this was all new to him, having a camera, being the center of it. He needed a break. There's a lot more pep in his step, and energy and confidence, and it was a welcome break for him."
Kizer did not dispute anything his coach had to say.
The Toledo, Ohio native acknowledged feeling a whirlwind around him all season, and he welcomed a chance to go back home for a break.
"Things just go so quickly that you don't really get to evaluate what you've done, and this last week, being home and getting the support from my city when I was back home, really showed the position I'm really in right now," Kizer said.
Looking back at what he has done so far, including throw for 1,370 yards and 10 touchdowns with four interceptions, left him anxious to do more the rest of the way.
"We have a great opportunity to be a very good team for the second half of the year," Kizer said. "We are playing some really good opponents coming up. I believe that with a change of mind-set for myself and for my team, to take a good first half, a top-10 first half, and make it a top-four second half, we'll be able to adjust some things and get things rolling into the direction that we want to be in."
Asked to explain what types of adjustments he sees being necessary, he explained he does not think "good" should be acceptable the rest of the way.
"I need to be able to prepare to be the best quarterback in the nation every week," Kizer said. "I was in the position the first half of the year where I was a replacement. I was a guy who was able to manage a game and accomplish a mission in that sense. Now I want to take it into the second half of the year and be the best quarterback in the nation every time I step on the field. Because I know that after evaluating the first half, that I have the ability to.
"There are some times where I fall down and I limit myself and I don't play at the highest of levels and I can't allow that to happen anymore. In order for this season to be great, everyone has to play great and starting at the quarterback position, I'm going to try my hardest to be the best quarterback in the country every time I step on the field."
---
---