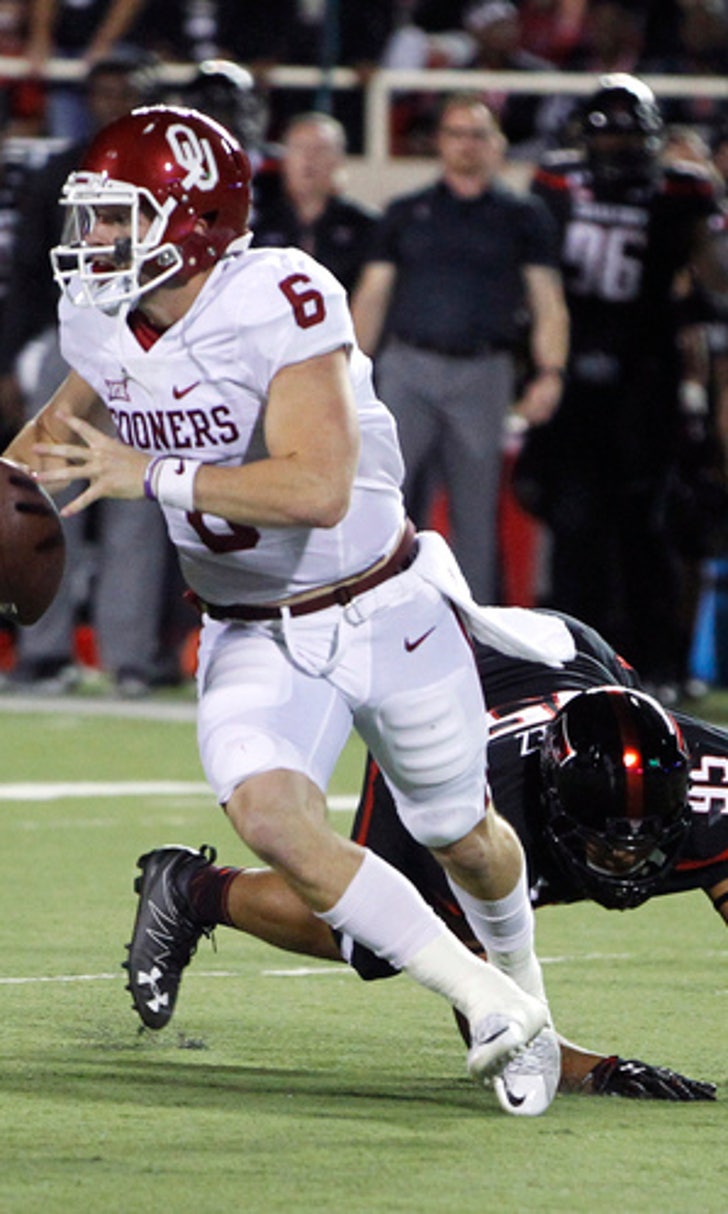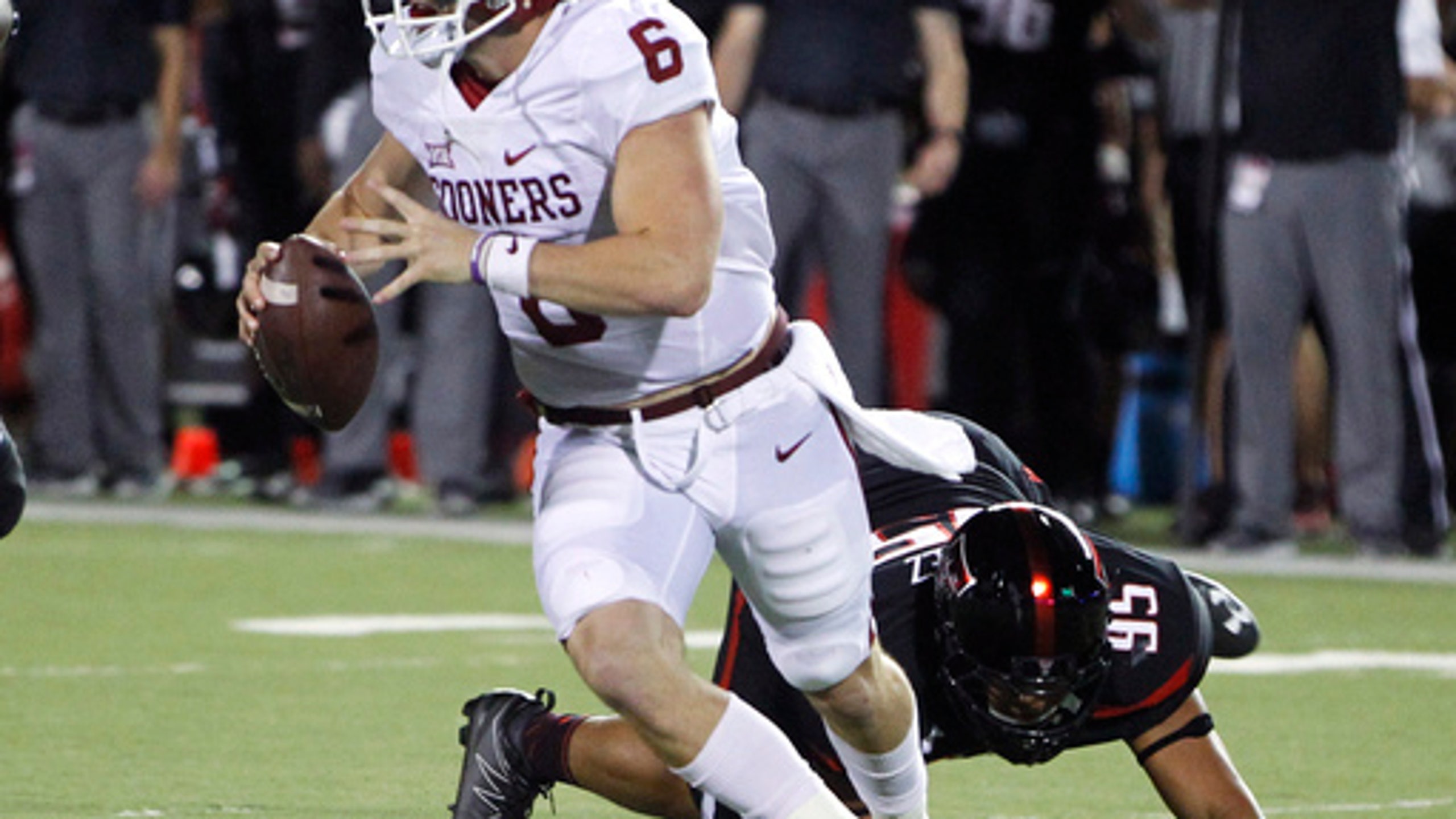 Defense rests: No. 16 Oklahoma beats Texas Tech 66-59
BY foxsports • October 23, 2016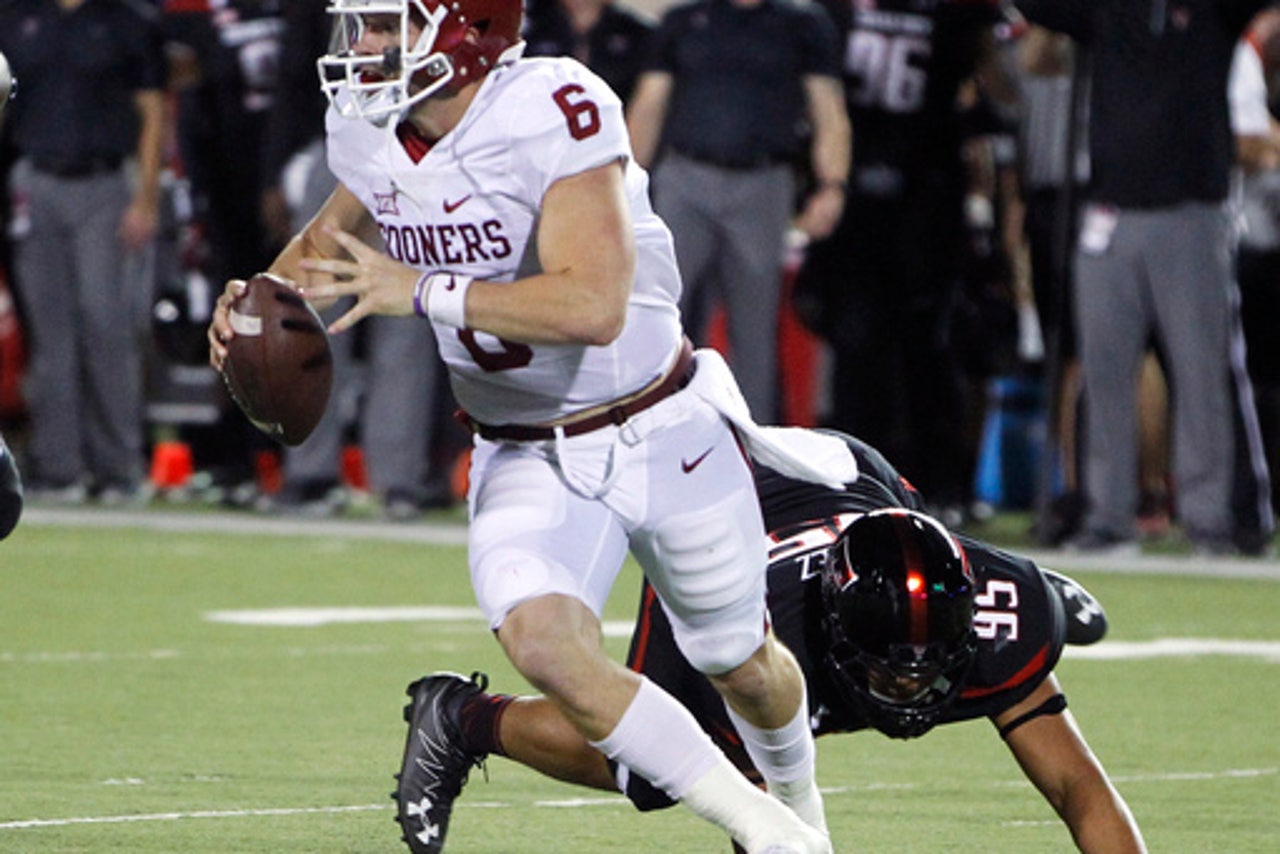 LUBBOCK, Texas (AP) Baker Mayfield knew Texas Tech's offense would put up points Saturday night.
''I told some of the guys at halftime, `If you're scared and you don't want to score every drive, then stay in here,''' the Sooners quarterback said.
The only thing to stop No. 16 Oklahoma after that was the final whistle.
Mayfield passed for seven touchdowns and 545 yards to help the Sooners beat Texas Tech 66-59 in a game that broke the NCAA record for combined offensive yards with 1,708.
Mayfield completed 27 of 36 passes and broke the school game touchdown mark of six held by Landry Jones. His TD passes went for 56, 49, 23, 23, 43, 34 and 15 yards.
The Sooners scored on five of their six second-half possessions, and the exception was when they ran out the clock in the fourth quarter.
Joe Mixon caught three touchdowns passes and Dede Westbrook had two for the Sooners (5-2, 4-0 Big 12). Mixon also ran for two touchdowns, a 46-yarder and a 42-yarder. He finished with 263 yards rushing and 114 yards receiving. He's the first Sooner ever to reach 200 yards rushing and 100 receiving in the same game.
''I thought Joe Mixon just had a game for the ages,'' Sooners coach Bob Stoops said. ''Just incredible.''
Westbrook caught nine passes for 202 yards.
''He's phenomenal,'' Texas Tech coach Kliff Kingsbury said. ''He's just better than anybody we had on the field.''
Pat Mahomes threw for five touchdowns and 734 yards for Texas Tech (3-4, 1-3). His passing yards total tied the NCAA record, matching Connor Halliday when Washington State played California in 2014.
''Someone told me (about tying the passing record) in the locker room,'' Mahomes said. ''But, like I said, we didn't win the game, so it really didn't matter.''
The 125 points are the second-most in a game involving a ranked team. The record is 133 in No. 9 West Virginia's 70-63 victory over No. 25 Baylor on Sept. 29, 2012.
The teams surpassed the 1,640 yards gained when Nevada played San Jose State in 2001.
Oklahoma defensive coordinator Mike Stoops was disappointed in his unit.
''Everything we did, they had guys running free pretty much all night,'' he said. ''We thought we were making improvements. To fall on our face like this, we've got to re-evaluate some things we're doing.''
Kingsbury was glad the game wasn't an embarrassment that last week's 48-17 loss to West Virginia.
''I thought we were into it, a lot more passionate at least,'' he said. ''I thought at least we had good energy.''
THE TAKEAWAY
Oklahoma: The Sooners relied heavily on Mixon, who finished with 31 carries, and his work made it easier to be without Samaje Perine. Perine, who has six rushing TDs, is out for at least two weeks with a pulled leg muscle .
Texas Tech: The Red Raiders' defense, often derided as weak and porous, put together three stops against the Sooners in the first half. Texas Tech forced punts on two OU possessions and held the Sooners on fourth-and-1 when they stopped Mixon deep in Red Raiders territory.
POLL IMPLICATIONS
Oklahoma likely won't move up much in the AP Top 25 poll after the win - Texas Tech hasn't been ranked this season - but the Red Raiders might get some votes after playing the Sooners so closely.
EVEN OFFENSE
Both teams finished with the same number of total yards - 854. The longest pass play by each quarterback was 56 yards. Mahomes had the most yards rushing: 85 to 19 for Mayfield.
UP NEXT
Oklahoma: The Sooners play Kansas at home next Saturday.
Texas Tech: The Red Raiders face TCU in Fort Worth next Saturday.
----
This story has been updated with the correct spelling of Landry Jones.
---
AP college football website: www.collegefootball.ap.org
---