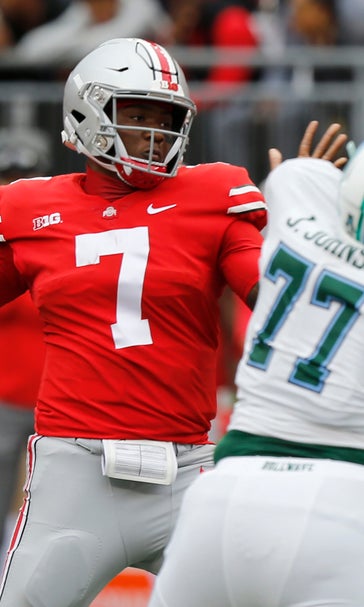 College Football Picks: Playoff implications in September
September 26, 2018
Serious playoff implications in late September. It is Saturdays like this that make college football's decision-makers so protective of the regular season.
Week five features two high-stakes, top-10 matchups on Saturday night. No. 4 Ohio State visits No. 9 Penn State, where the Buckeyes will be greeted by the famous Beaver Stadium whiteout — one of the most electric atmospheres in college football. No. 7 Stanford kicks off at the same time at No. 8 Notre Dame, the first time in 33 meetings the Cardinal and Fighting Irish have both been in the top 10.
Now is a good time for the requisite reminder that one loss won't put any team out of the playoff race with selection Sunday not until Dec. 2.
Still, these should be big. The last two seasons the winner of the Ohio State-Penn State game has gone on to win the Big Ten East and the conference championship (though neither of those teams made the playoff). There are still plenty of significant challenges left for the Buckeyes and Nittany Lions, the two highest-scoring teams in the country.
The impact of Stanford-Notre Dame in the playoff race is more nuanced. The Cardinal, with their challenging schedule, could be the most attractive team out of the Pac-12 for the College Football Playoff selection committee, especially with No. 11 Washington having already lost to No. 10 Auburn.
Notre Dame could box out the entire Pac-12 with a win, but the independent Irish have to make their case without winning a conference title.
The selection committee's first rankings are still more than a month away, but Saturday night's results from State College and South Bend will play a big role in shaping them.
The picks:
THURSDAY
North Carolina (plus 18) at No. 16 Miami
Hurricanes made a quarterback switch in last week's game, but have not committed to start Malik Rosier or N'Kosi Perry ... MIAMI 35-14.
SATURDAY
Louisiana-Lafayette (plus 49) at No. 1 Alabama
The line started at about 53 points. Maybe Nick Saban will have mercy on former assistant Billy Napier, now the Ragin' Cajuns' head coach ... ALABAMA 56-10.
Tennessee (plus 31½) at No. 2 Georgia
It was only two years ago coach Butch Jones and the Vols beat the Bulldogs for a second straight season. Life comes at you fast ... GEORGIA 55-10.
Syracuse (plus 22) at No. 3 Clemson
Syracuse is looking for its first 5-0 start since its undefeated 1987 season ... CLEMSON 48-21, BEST BET.
No. 4 Ohio State (minus 3½) at No. 9 Penn State
Nittany Lions had issues stopping the run in first halves against Pitt and Illinois; That won't work against the Buckeyes ... OHIO STATE 34-28.
Mississippi (plus 12½) at No. 5 LSU
Two FBS quarterbacks with at least 100 attempts have yet to throw an interception and LSU's Joe Burrow is one of them (Boise State's Brett Rypien is the other) ... OLE MISS 31-28.
Baylor (plus 23½) at No. 6 Oklahoma
Sooners will be thrilled to see anyone but Army on the other side of the field ... OKLAHOMA 49-24.
No. 7 Stanford (plus 4½) at No. 8 Notre Dame
Cardinal offense has been boom-or-bust, fueled by big plays; Irish defense has been pretty good at limiting explosive plays ... NOTRE DAME 27-21.
Southern Mississippi (plus 28) at No. 10 Auburn
Eagles and Tigers have played just once since 1993, with Auburn winning in 2008 ... AUBURN 38-14.
No. 20 BYU (plus 17) at No. 11 Washington
Huskies LB Ben Burr-Kirven leads the Pac-12 in tackles at 13.25 per game ... WASHINGTON 31-10.
No. 12 West Virginia (minus 3½) at No. 25 Texas Tech
Mountaineers and Red Raiders have combined to complete 72 percent of their passes ... WEST VIRGINIA 45-35.
Pittsburgh (plus 15) at No. 13 UCF
Knights have scored at least 30 points in each of their 16 straight victories ... UCF 42-31.
No. 14 Michigan (minus 14) at Northwestern
Wildcats offense, already shaky, will be without leading rusher Jeremy Larkin, who retired from football this week with a neck/spine condition ... MICHIGAN 30-13.
South Carolina (plus 1) at No. 17 Kentucky
Typical Kentucky would lose this game; These Wildcats are different ... KENTUCKY 27-20.
No. 18 Texas (minus 8½) at Kansas State
Longhorns have not won in the Little Apple since 2002, with five straight losses ... TEXAS 31-14.
No. 19 Oregon (minus 3) at No. 24 California
How do the Ducks bounce back from giving away the Stanford game? ... OREGON 35-21.
Central Michigan (plus 28½) at No. 21 Michigan State
Last nonconference game for the Spartans shouldn't be a problem ... MICHIGAN STATE 45-21.
Virginia Tech (plus 5) at No. 22 Duke
Hokies beat Florida State and lose to Old Dominion and are now underdog to Duke. Strange days indeed ... VIRGINIA TECH 24-21, UPSET SPECIAL.
Florida (plus 7½) at No. 23 Mississippi State
After leading the Bulldogs for nine seasons, Gators coach Dan Mullen now faces them ... MISSISSIPPI STATE 31-20.
TWITTER REQUESTS
Florida State (minus 6) at Louisville —
Been a rough start for both, but the Cardinals could be in big trouble ... FLORIDA STATE 21-13.
Army (plus 9) at Buffalo — @andrewside89
Bulls QB Tyree Jackson, 6-foot-7, 245 pounds, an intriguing NFL prospect ... BUFFALO 31-24.
Utah (minus 1) at Washington State — @VegasAggie
Utes got a tough draw from the Pac-12 schedulers, getting Washington, Stanford, Oregon and Washington State from the North Division ... UTAH 30-27.
Iowa State (plus 10½) at TCU — @joshdub—
Horned Frogs have not lost three straight since 2013 ... TCU 34-21.
---
---