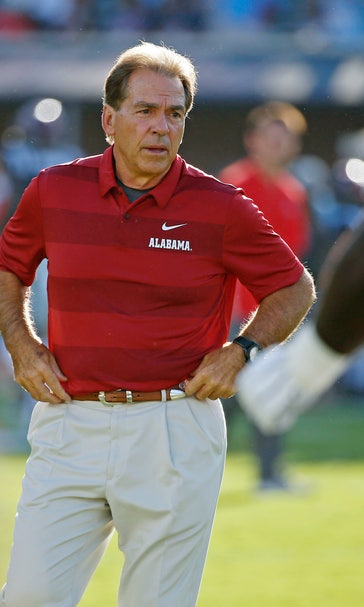 College Football Picks: October begins with 14 unbeatens
October 3, 2018
The arrival of October in college football means nonconference game are mostly done, with some notable exceptions involving independents, late-season rivalries and those mid-November cupcakes that have become a Southern staple.
Conference play usually means familiar opponents, tighter games and a higher probability for favorites losing. The season's second month begins with 14 unbeaten teams. Broken down by conference, they look like this:
SEC — 4 (No. 1 Alabama, No. 2 Georgia, No. 5 LSU, No. 13 Kentucky).
American — 3 (No. 13 Central Florida, South Florida, Cincinnati).
ACC — 2 (No. 4 Clemson, No. 23 North Carolina State).
Big 12 — 2 (No. 7 Oklahoma, No. 9 West Virginia).
Big Ten — 1 (No. 3 Ohio State).
Pac-12 — 1 (No. 21 Colorado).
Independent — 1 (No. 6 Notre Dame).
By the end of October, that number will be down to 12 at most. Since every conference now plays a championship game, there cannot be more than seven undefeated teams on Dec. 3, the College Football Playoff's selection Sunday. Only the SEC managed to get through the first month with the possibility of a matchup of unbeatens in its title game.
Among the unbeaten, LSU, Notre Dame and Kentucky face tricky road trips this week, while Colorado and N.C. State are home for potentially tough divisional games. The picks:
No. 1 Alabama (minus 35) at Arkansas
Tide has been outscored 28-17 in the fourth quarter. Clearly, those third- and fourth-stringers need a lot of work ... ALABAMA 52-10.
Vanderbilt (plus 26) at No. 2 Georgia
Bulldogs have the No. 1 defense in the SEC (4.35 yards per play allowed), but the fewest sacks (five). That's odd ... GEORGIA 49-21.
Indiana (plus 25) at No. 3 Ohio State
A few times each season, the Hoosiers get frisky with a highly ranked team but still lose ... OHIO STATE 38-17.
No. 4 Clemson (minus 17) at Wake Forest
QB Trevor Lawrence is expected to play against the 102nd-ranked pass defense in the country ... CLEMSON 48-21.
No. 5 LSU (minus 2½) at No. 22 Florida
Tigers have won four of five and six of eight in the annual crossover series. Six of those games were decided by one score ... LSU 23-20.
No. 6 Notre Dame (minus 5½) at No. 24 Virginia Tech
Irish won't face another ranked opponent until at least mid-November if at all ... NOTRE DAME 31-21.
No. 7 Oklahoma (minus 7½) vs. No. 18 Texas at Dallas
We can all agree this game will definitively determine whether Texas is, indeed, back. ... OKLAHOMA 35-29.
No. 8 Auburn (minus 3) at Mississippi State
Two offenses looking for answers ... MISSISSIPPI STATE 20-17, UPSET SPECIAL.
Kansas (plus 28) at No. 9 West Virginia
Mountaineers have won four straight against KU, all by at least three scores ... WEST VIRGINIA 49-17.
No. 10 Washington (minus 21) at UCLA
Bruins will be fortunate to score a touchdown ... WASHINGTON 31-6.
SMU (plus 24) at No. 12 UCF
Knights have converted 62 percent of their third downs, tops in the nation ... UCF 56-24.
No. 13 Kentucky (plus 5) at Texas A&M
It's the Bear Bryant Bowl. The legendary coach did stints at Kentucky and A&M from 1946-57. The only two times the Wildcats and Aggies played (1952-53), Bryant was coaching Kentucky. He later coached Alabama ... KENTUCKY 25-23.
Utah (plus 5) at No. 14 Stanford
Utes are third in the nation in defense (4.03 yards per play) and 96th in offense (5.33 ypp) ... STANFORD 24-17.
Maryland (plus 17½) at No. 15 Michigan
First of four straight opponents for the Wolverines that currently have winning records ... MICHIGAN 38-17.
Nebraska (plus 20) No. 16 Wisconsin
Badgers have won six of seven meetings since the Huskers joined the Big Ten and nothing sums up Nebraska's recent problems better than that ... WISCONSIN 42-21.
Florida State (plus 13) at No. 17 Miami
Hurricanes snapped a seven-game losing streak to the 'Noles last season with a dramatic comeback. This year, the 'Canes get to flex a little ... MIAMI 31-14.
Northwestern (plus 11) at No. 20 Michigan State
WiIdcats have beaten the Spartans the last two seasons ... MICHIGAN STATE 28-14.
Arizona State (plus 2½) at No. 21 Colorado
Sun Devils RB Eno Benjamin ran for 312 yards against Oregon State, or 29 more yards than he had on the season coming into the game ... COLORADO 28-24.
Boston College (plus 4½) at No. 23 NC State
Wolfpack could set up a huge game at home against Clemson on Oct. 20 coming off an open date ... BOSTON COLLEGE 31-28.
Iowa State (plus 10) at No. 25 Oklahoma State
Cowboys have won six straight meetings but the last three have been by seven points or fewer ... OKLAHOMA STATE 31-17.
TWITTER REQUESTS
Missouri (plus 2) at South Carolina — @DABomination4
Bowl eligibility could be at risk for the Gamecocks with a loss, and that is definitely not what South Carolina fans were expecting this season ... MISSOURI 34-30.
Tulane (plus 7) at Cincinnati — @MrCatsPatrick
Bearcats (5-0) trying to become bowl eligible for first time since 2015 ... CINCINNATI 28-18.
Iowa (minus 6) at Minnesota — @Jake_Burroughs
Hawkeyes are seventh in the nation in defense (4.29 yards per play) and 71st in offense (5.78 ypp) ... IOWA 16-7.
San Diego State (plus 14½) at Boise State — @24themoney
Broncos might not be able to afford another loss if they want to lock down a New Year's Six bowl bid ... BOISE STATE 31-21.
Syracuse (minus 4) at Pittsburgh — @SportsMasterDan
Two surprise teams; one (Syracuse) surprisingly good and the other (Pitt) surprisingly bad ...PITT 31-28.
---
---