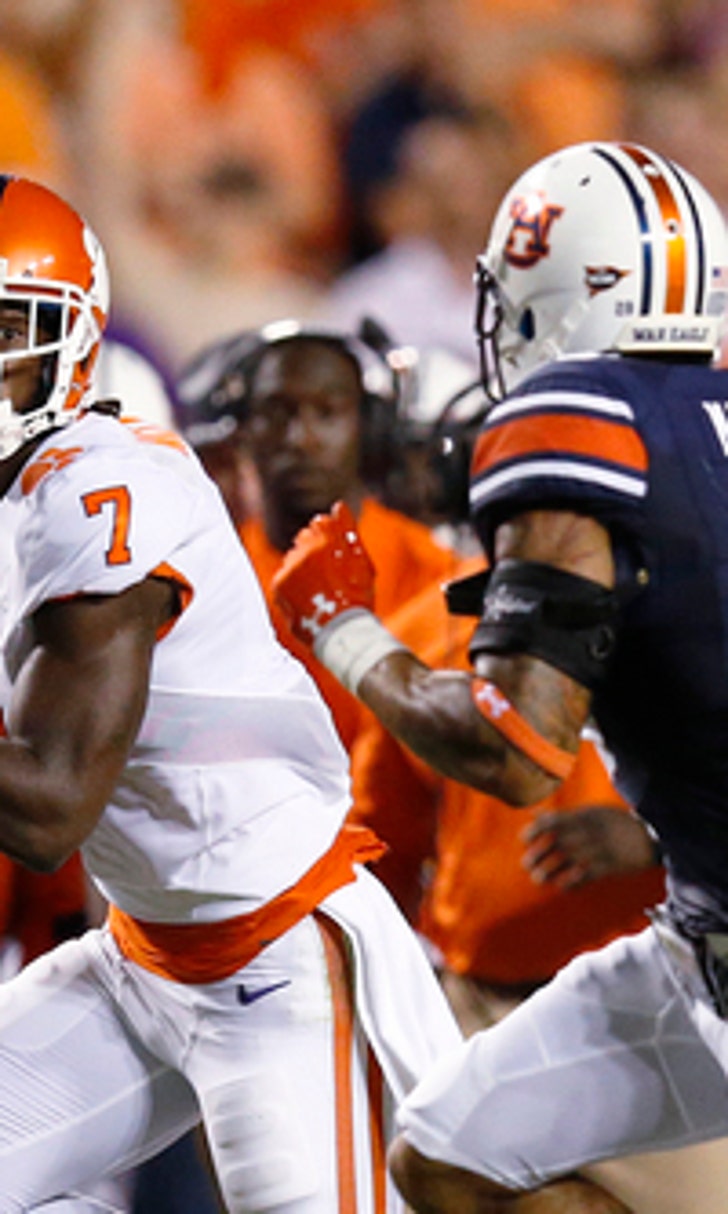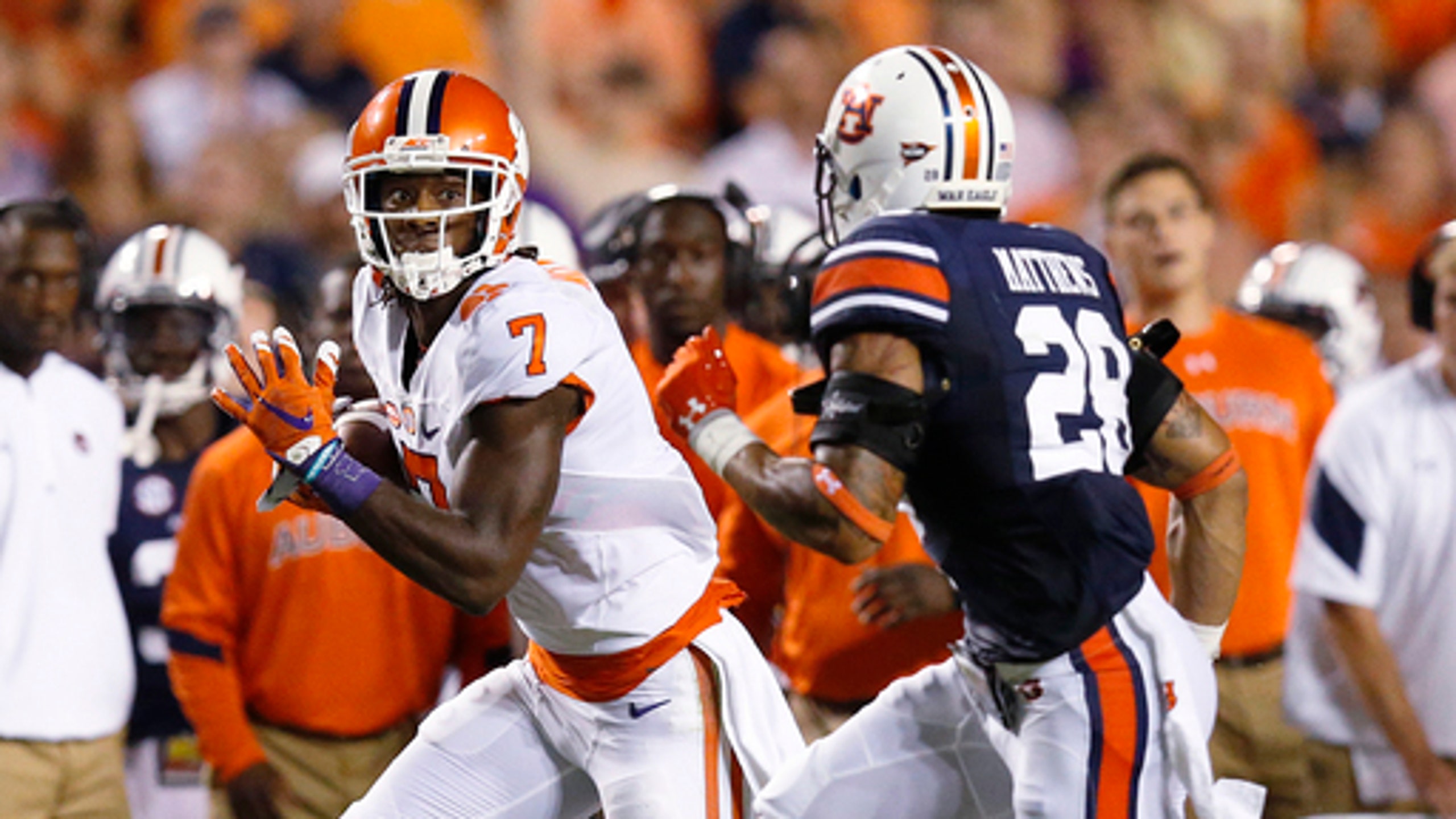 Clemson QB focused on wins, not stats after sluggish start
BY foxsports • September 5, 2016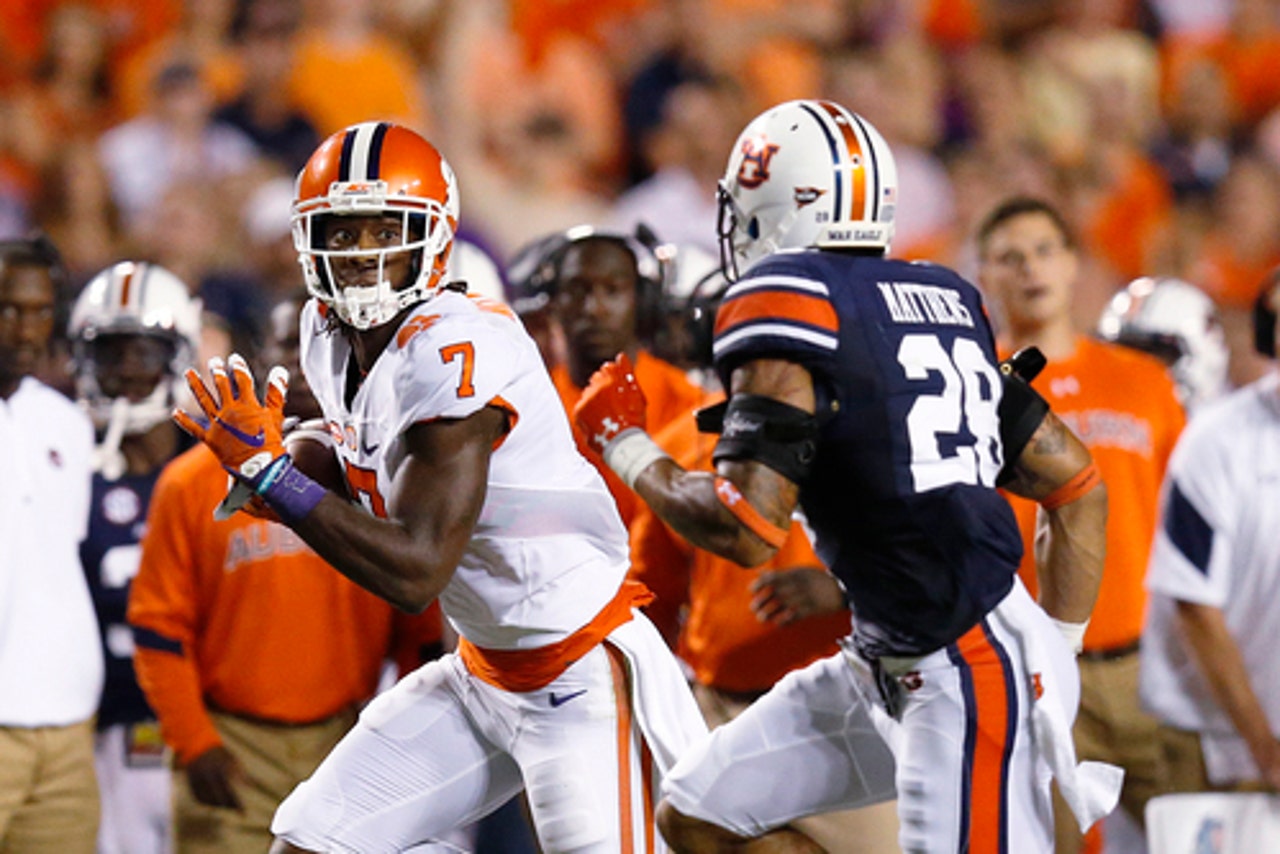 CLEMSON, S.C. (AP) Clemson quarterback Deshaun Watson isn't worried about his team's sluggish start or where he fits into the Heisman Trophy race after week one. He said he's focused on victories, like the one his team picked up in their season opener at Auburn.
''As a whole the offense, we did a pretty good job,'' Watson said Monday about his team's closer-than-expected 19-13 win Saturday night. ''Sometimes, though, we just kind of slipped up.''
No. 2 Clemson (1-0) plans to fix those bobbles at home Saturday against Troy (1-0).
The Tigers left Auburn with 399 yards and 19 points, both down from the nearly 515 yards and 39 points they averaged last year on the way to the national championship game. Watson, one of the leading Heisman contenders, threw for 248 yards and a touchdown - also off his average passing numbers from 2015.
Watson believes the performance has more to do with timing and miscommunication issues than with Auburn's defense. And he shoulders the blame.
''The tempo could've been better and that starts with me,'' Watson said. ''I take responsibility for that, driving the team, driving the offense, making sure everyone's getting set and being focused on that play at the moment.''
Lapses and mistakes were not topics discussed about Clemson's offense this offseason.
Led by Watson, the Tigers figured to be a point-a-minute powerhouse, unstoppable by all but the very elite college defenses. It didn't always look that way at Auburn.
Clemson's marquee players had their moments. Watson threw the game-winning TD on a pretty 16-yard spiral to Hunter Renfrow in the final quarter. Tailback Wayne Gallman, the school's single-season rushing record holder, gained 123 yards and had a TD. And Mike Williams had nine catches and 174 yards after sitting out last season with a neck injury.
Still, it left some, including co-offensive coordinator Tony Elliott scratching their heads about the errors.
''Really, it's a humbling experience for our guys to say, `Hey, now we have to go on the field and live up to all the expectations and not focus on what everybody's saying,''' Elliott said.
Elliott said when he looked at the stats coming off the field Saturday night, he was pleased his group got almost 400 yards against a Southeastern Conference. When digging deeper, he circled the missed chances like Williams' first-half, mid-field fumble and Watson's interception that kept things tighter than they should've been.
''We've just got to understand that we've got to get off to a fast start like we always do,'' Elliott said. ''We cannot have self-inflicted wounds. We had some critical errors at critical times.''
It will be the second straight week Clemson and Dabo Swinney face a former Tiger defense coordinator. Last Saturday night, Auburn's Kevin Steele had his players geared up to slow down Clemson. This time, it's Vic Koenning, who led the defense from 2005-2008, a stretch that included seven games under Swinney, then an interim coach.
Troy opened with a 57-17 win over Austin Peay last week.
''It's just another game,'' Troy tailback Jordan Chunn said of facing Clemson. ''We'll have to carry (ourselves) the same way, just like we did with Austin Peay, have the same game plan.''
Watson will take the same approach this week as he has all off season - largely steering clear of the Heisman hype, his NFL future and the offensive show many expect ever time the Tigers line up. Clemson's players, he said, are better skilled than a year ago. Just wait, Watson says, and the air show will come.
''We understand what we have and we understand what we can do,'' Watson said. ''Just because we didn't put up 500 yards and 40 points doesn't mean that we're still not explosive.''
---
AP college football website: www.collegefootball.ap.org
---