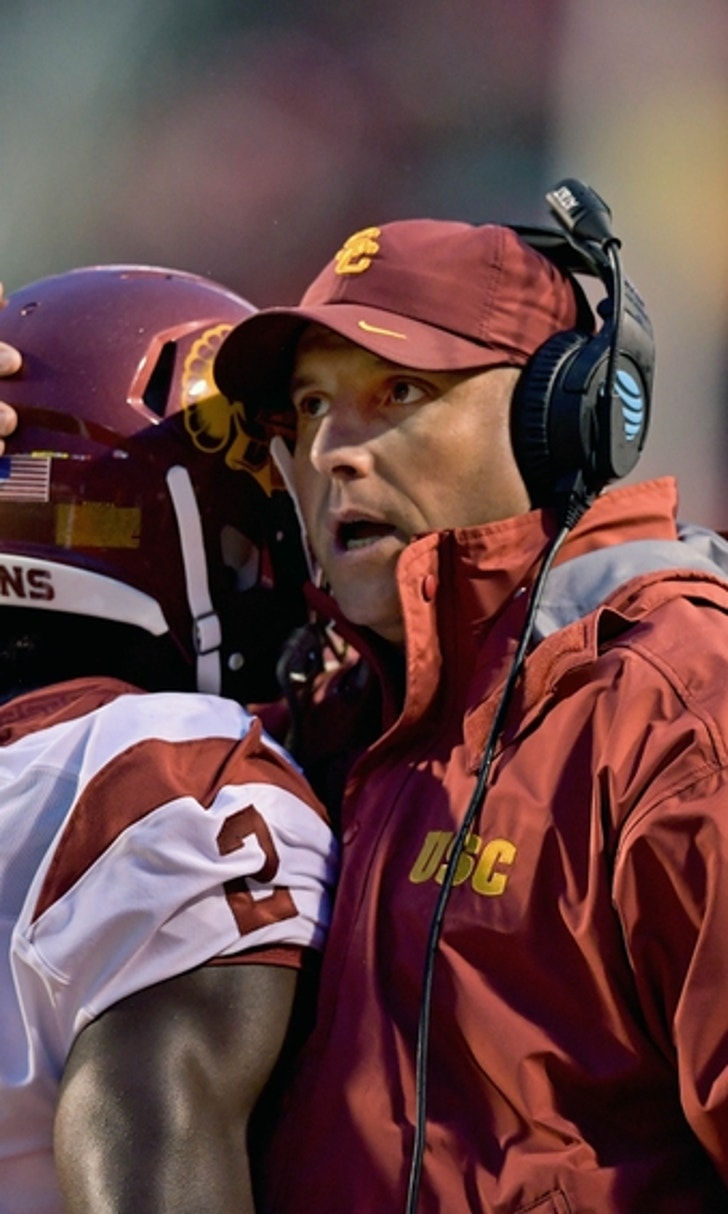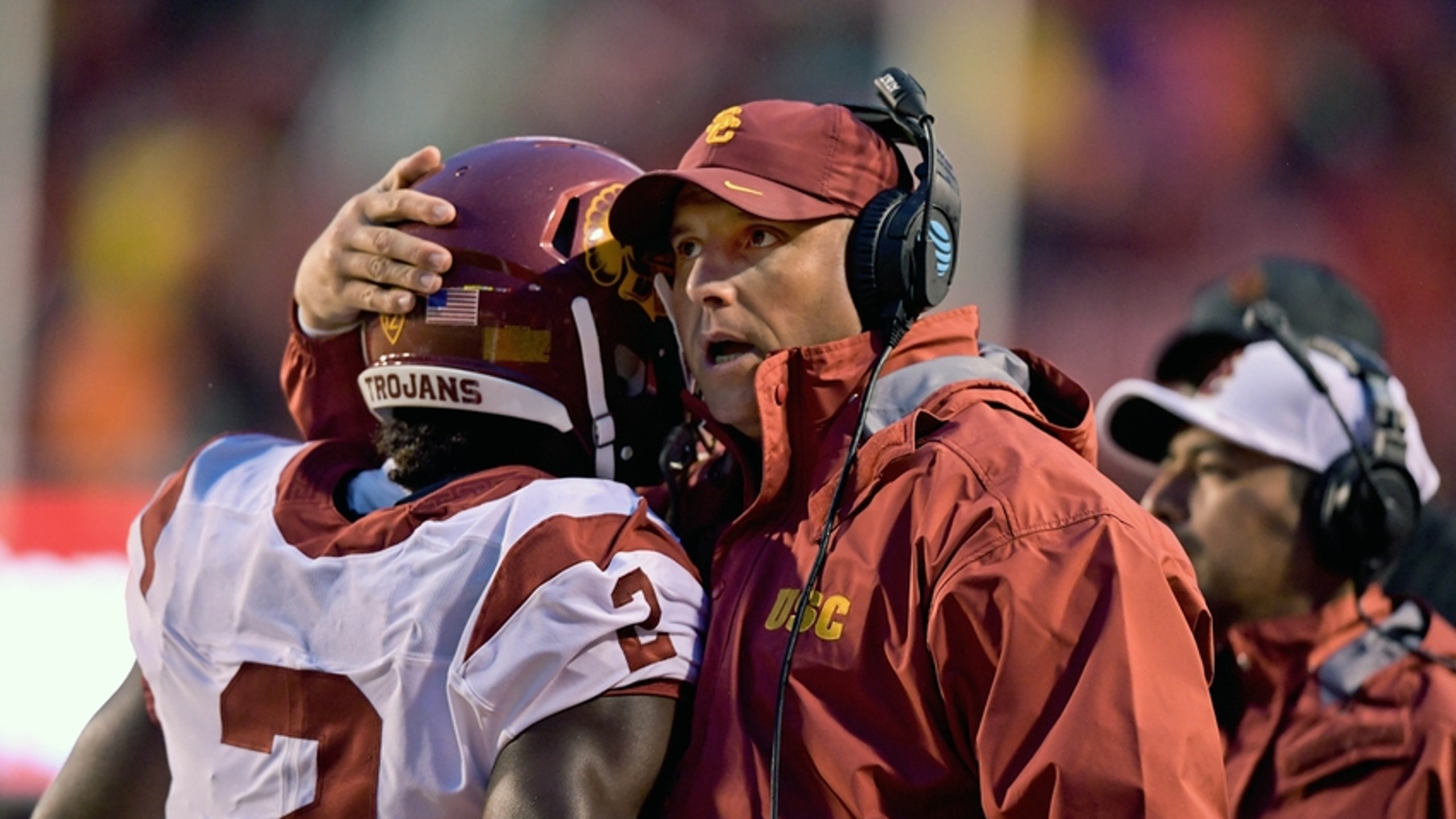 Clay Helton on USC NFL Draft Decisions: Honesty is Key
BY Fansided and Alicia de Artola/FanSided via Reign of Troy • December 15, 2016
With two key USC NFL draft decisions upcoming, Trojan head coach Clay Helton says honest information is the best advice he can give.
There's a fine line between being blunt and being selfish when it comes to head coaches advising on NFL decisions.
Pete Carroll got caught on the wrong side when Mark Sanchez made his decision to leave for the NFL after one season as a starter — and many lambasted the head coach for not having his player's back.
That's the line USC head coach Clay Helton must now walk, balancing what is in the best interest of his football team and the best interest of individuals like Adoree' Jackson and JuJu Smith-Schuster, who are weighing the option of forgoing their senior seasons for the NFL draft.
Helton doesn't have any hard-and-fast rules about how to approach these conversations with his players.
Each case is different. Each player is different.
If the head coach is guided by anything, it's honesty. Even if honesty doesn't always work in his own self-interest.
"Coach Clay Helton knows what he's talking about," Zach Banner noted. "If you're a three-and-done dude, he's going to tell you you're a three-and-done dude."
Banner, himself, was not a "three-and-done dude." He wasn't even four-and-done, making his decision last year about coming back for a fifth and final season with the Trojans.
The head coach sat down with his right tackle and gave him his honest opinion — that Banner still had work to do.
CHECK OUT: 50 Best Draft Picks In USC History
"Coach Clay just told me plain and simple — he thinks it's a better decision for me to come back," Banner said. "It's helpful he's blunt. That's what you're supposed to be. A coach should be blunt with you and tell you what you need to work on and what you're good at."
There are numerous factors to consider when making an NFL decision, and chief among them is whether or not a player is in the best position to succeed once they get there.
"When you get into that next level, NFL stands for Not For Long. You've got to be ready," Helton said.
Dec 30, 2015; San Diego, CA, USA; Southern California Trojans head coach Clay Helton with Southern California Trojans wide receiver JuJu Smith-Schuster (9) during the 2015 Holiday Bowl against the Wisconsin Badgers at Qualcomm Stadium. Mandatory Credit: Kirby Lee-USA TODAY Sports
And sometimes it's clear that a player is indeed ready. That was the case for Leonard Williams after the 2014 season. Despite reasons for him to stay, the coaches knew that it was time for Williams to take that next step.
"When you're a Leonard Williams and you know you're a Top 15 pick, if that's the case you have to go help pack his bags," said Helton.
And sometimes there are life factors that come into play. Helton references the decision that Buck Allen made in 2014 as well, a desire to help provide for his family fueling his early departure.
It was different for Banner and it might be different for Jackson and Smith-Schuster.
There are dozens of factors to add to the pro and con list for both.
Jackson has already accomplished more than most players in USC history. He is a Thorpe Award winner and unanimous All-American. Even then, he says there are still things he wants to accomplish at USC.
"I want to win the Heisman. I want to win a national championship here," Jackson said.
For Smith-Schuster, he thought the decision would be easy. But now he acknowledges that he's having second thoughts.
SEE ALSO: 10 Best USC Receivers of All-Time
All the while, the draw of the NFL remains understandably strong for two athletes who have the potential and aspirations to be great.
"That's their decision," said Banner. "It's just like recruiting. When we host recruits, you tell them, you've gotta make your own decision. You have to make your own decision because it's the best thing for you."
More from Reign of Troy
That's why Helton concerns himself with information. It's not his job to weigh the pros against the cons. It's his job to draw the T-chart and populate the two columns.
"What I try to do is provide them as much information as possible so they and their families can make the best decision for them," Helton said.
Both juniors have indicated they will not sit down to work out their choice until after the Jan. 2 bowl game, focused on helping USC cap the season with a win.
Helton will be there to give his input, then stand back and let them make their decision.
"If they choose to stay, you're the happiest head coach in the country," he said. "If they choose to go, you hug their neck and you say thank you for all you've done for this university and this coaching staff."
---
---