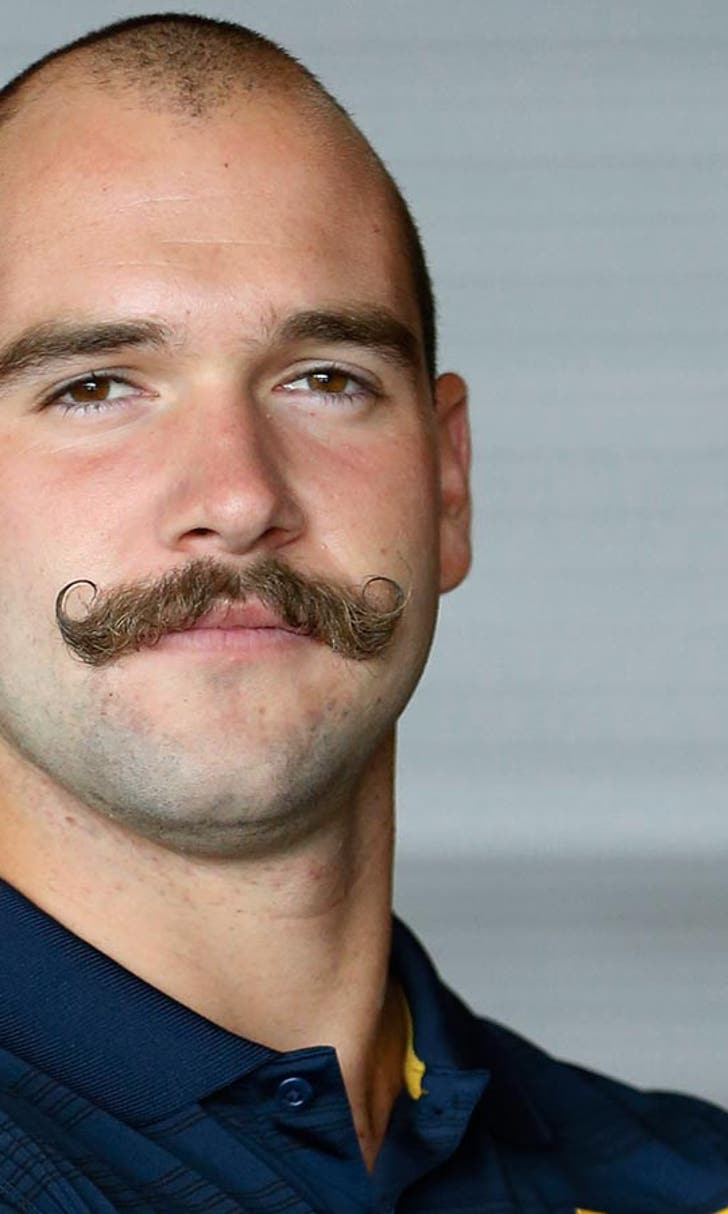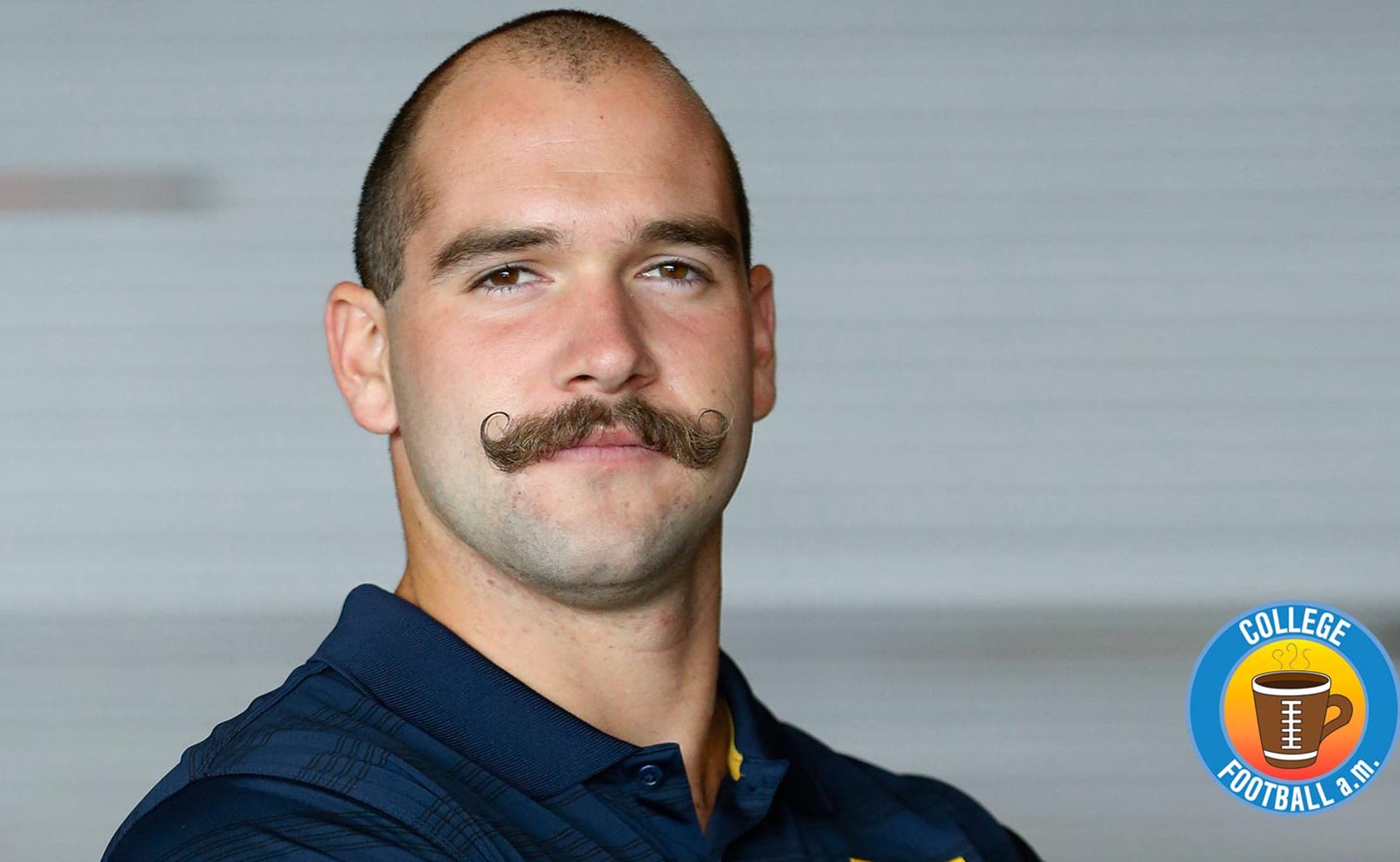 CFB AM: WVU punter shows how to wax the perfect, grossest mustache
BY Teddy Mitrosilis • October 2, 2014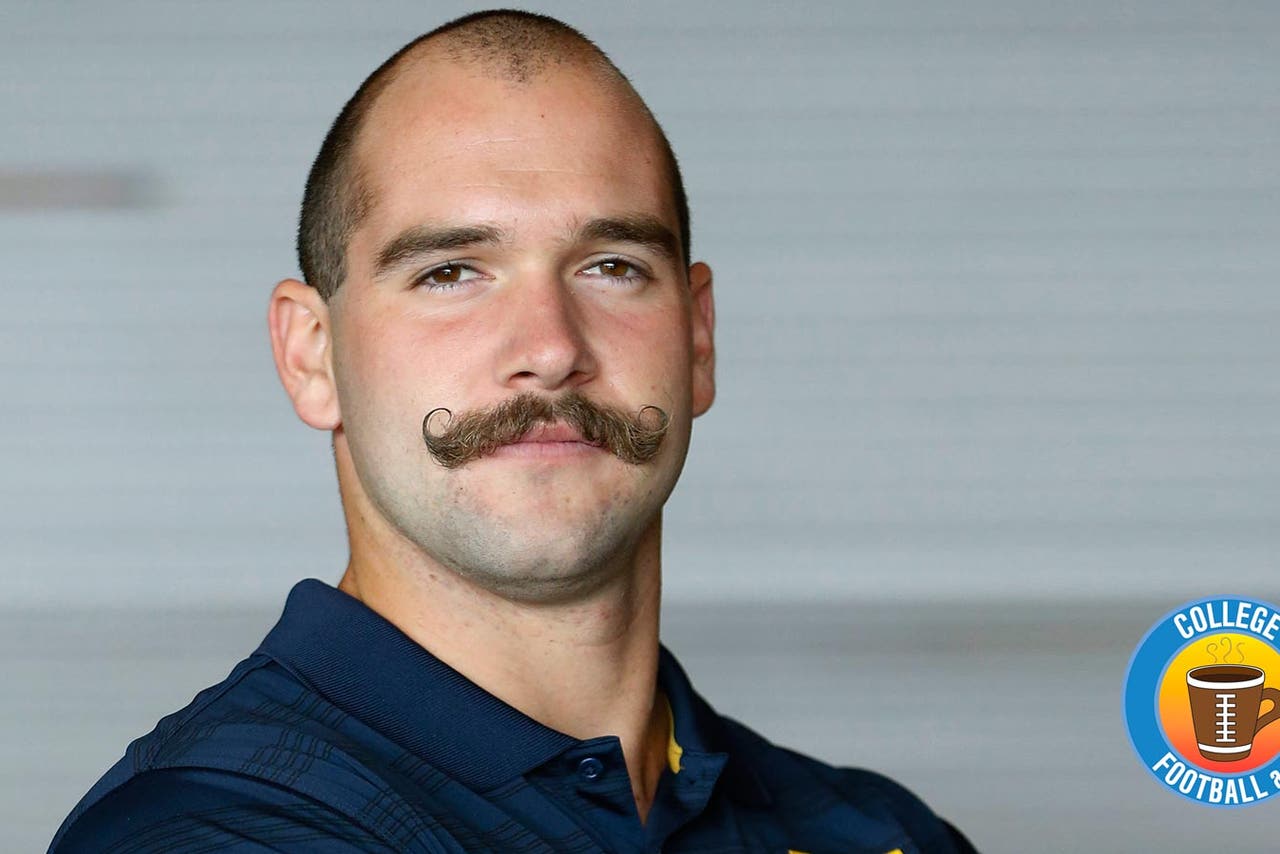 Nick O'Toole is a grown man and a legend.
These things are indisputable.
The West Virginia punter has become popular around college football for his incredible handlebar mustache, as you can see above.
It's the most perfect and grossest (in a good way!) 'stache since Ron Burgundy's.
How do you even maintain a wild thing like that?
Glad you asked!
O'Toole recently appeared on camera with mustache wax in his hands and demonstrated the perfect technique for grooming his mustache. It's mesmerizing video. Enjoy:
THREE THINGS YOU NEED TO KNOW
1. Our Brady Hoke update for Thursday, Oct. 2: Hoke named Devin Gardner Michigan's starting quarterback and took responsibility for what happened with Shane Morris last Saturday. "From the start, when you're a leader, you always have to take responsibility," Hoke said. "I take responsibility for our student-athletes, and I would take it for their health and welfare. But I'll also make it clear I don't make decisions on the health and welfare, and that shouldn't be the coach's decision."
Hoke also said his relationship with athletic director Dave Brandon is great, which is another reason why it could be unlikely Brandon is the one who fires Hoke. What's more likely: Michigan's board decides to remove them both at some point this fall.
2. The Ohio State student who ran on the field last Saturday and was body slammed by strength coach Anthony Schlegel has lost his academic scholarship that covered tuition and housing for former golf caddies. Wait: Ohio State gives out academic scholarships because you used to be a caddy?
3. Good news here: Wisconsin QB Joel Stave says he has put the yips behind him and is ready to work his way back onto the depth chart. What helped Stave overcome the mental block, it seems, is a simple realization that bad throws were just bad throws – not some life-changing event. "Just realize you're only playing football, you're just throwing a ball," he said. "It's not the end of the world one way or the other." Good for Stave – it'll be nice to see him back on the field.
THREE THINGS YOU SHOULD KNOW
1. With the huge Alabama-Ole Miss game this weekend, Coy Wire wrote about Lane Kiffin and how he's transformed the Alabama offense in a short period of time. How Kiffin manipulates formations by grouping personnel in unconventional ways that will force mismatches is uncanny. As Coy writes, knowing how the defense will adjust, Kiffin calls formations to set the defense where he wants it and to force it to tip off quarterback Blake Sims before the snap whether it's in man or zone coverage. Then Kiffin moves his playmakers around the formation to initiate an opportunity to make a play in space. It's really good stuff and well worth a few minutes of your time.
2. Jameis Winston stood next to a 7-foot-4 Florida State basketball recruit and looked like a little kid. This photo is hilarious.
3. The Big Ten announced a proposal under the new Power 5 autonomy governance structure to provide additional benefits to athletes. This won't appease the "college athletes must be paid straight cash homey!" crowd, but I think the scholarship changes are great. The league proposes to re-examine the full cost of education for athletes, make scholarships guaranteed multi-year deals and honor the scholarships for life. If Johnny Manziel leaves Texas A&M early, plays in the NFL for 15 years and then wants to come back to A&M to finish his degree at 37 years old, his scholarship will still pick up the last year of his education.
The one line of the proposal I wonder about is this in regards to guaranteeing the scholarships: "If a student-athlete is no longer able to compete, for whatever reason, there should be no impact on institutions' commitment to deliver an undergraduate education." There's uncertainty with what "for whatever reason" means. So if an athlete gets in off-field trouble over and over and is booted from the team, the school still must honor their scholarship? That would be interesting. Otherwise, positive developments all around.
THREE THINGS YOU MAY WANT TO KNOW
1. So, Texas A&M coach Kevin Sumlin apparently partied with Johnny Manziel and Rick Ross last year during bowl season. And apparently Sumlin was the life of the party. Uh … that's a funny story and one I'd LOVE for Sumlin to reveal, but he has to be terrified of discussing that at length right? What are the odds that NCAA violations – not that I agree with those violations, necessarily – DON'T occur at a Rick Ross party? Minus-10 percent?
You're right, nothing could go wrong in that scenario. Nothing at all.
2. Matthew McConaughey gave a pep talk to the Texas football team and his message was a simple one that applies to everyone: Why do you do what you do?
3. This is unfortunate news: Utah State QB Chuckie Keeton, a thrilling player to watch, will likely miss the rest of the season after reinjuring his left knee, which kept him out of most of 2013 too. He's a senior and could apply for a medical redshirt to play at Utah State again in 2015, or he could focus on a professional career. Tough blow for a good player. Get better, Chuckie.
LASTLY
* Enjoyed this feature from Mark Schlabach on Alabama QB Blake Sims and all the people who helped craft the man he is today.
* Melissa Joan Hart, best known for starring on "Sabrina the Teenage Witch," has an Alabama fan for a spouse and is now following Crimson Tide recruits on Twitter. The SEC – making people do inexplicable things since long before Bear.
* With Ole Miss ready to step into the national spotlight this weekend, Dan Wolken examines how perceptions are changing at the university, as the Rebels continue to distance themselves from a past where racism was prominent.
* This is pretty cool if you like tech stuff like I do: Georgia Tech is now accepting bitcoin for concessions payments at football games. It also plans to extend that surface to students on campus.
* USC players read each other's weird tweets out loud for the camera. Su'a Cravens apologizing to his future wife, who he says he may or may not currently know, for not doing the dishes is pretty funny.
Have a great Thursday, all.
Teddy Mitrosilis is an editor and writer for FOXSports.com. Follow him on Twitter @TMitrosilis and email him at tmitrosilis@gmail.com.
---