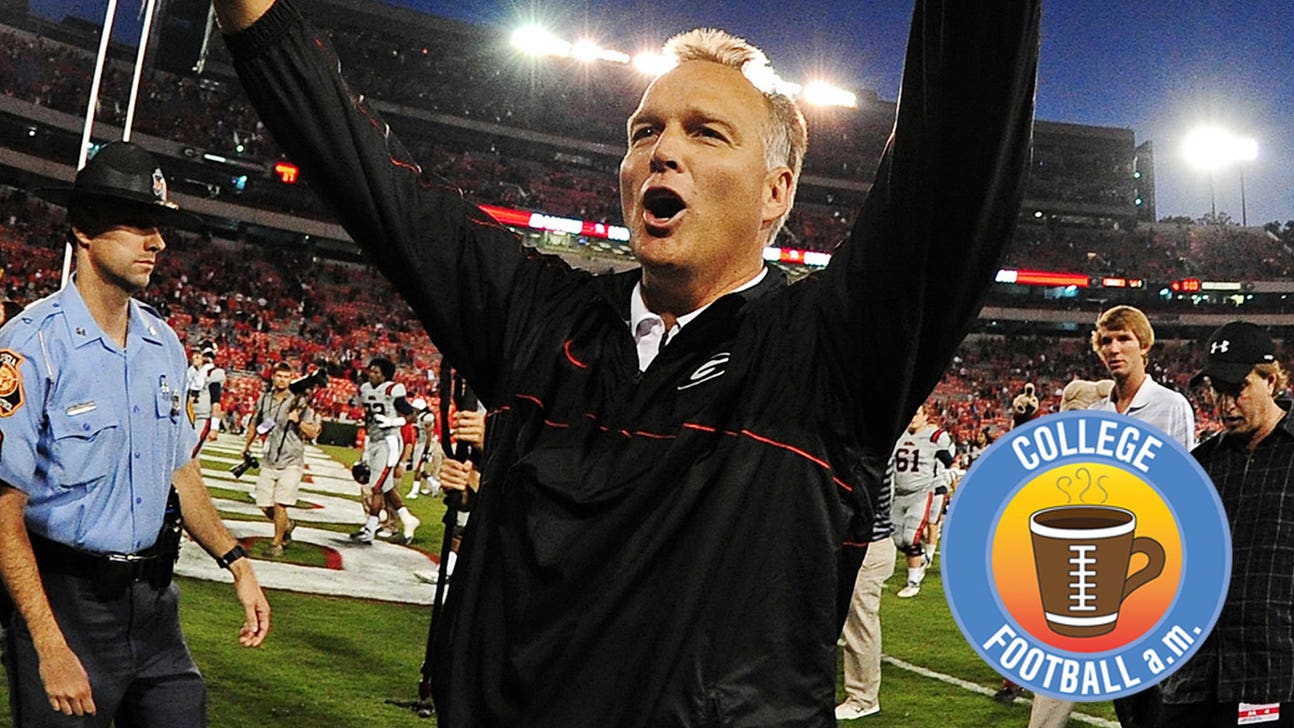 CFB AM: Watch Mark Richt's insane slow-motion backflip off high dive
Published
Aug. 14, 2014 9:00 a.m. ET

Mark Richt has always struck me as a fairly chill guy by college football head coach standards.
He's dealt with ridiculous hot seat talk emanating from Georgia circles better than most would.
He's always preached faith and at least some semblance of balance in life.
He seems measured.
Richt, by and large, seems like the kind of dude you'd love to have a cookout with. He's not some high-wired, relentless adrenaline junky.
All of that adds to the amazement over what has become a Richt ritual at Georgia camp – his doing a flip off the high dive at Georgia's Gabrielsen Natatorium. Richt stands back to the water, stretches his arms out and just let's himself fall like he's playing the role of fool in one of those group trust exercises. He might quite possibly be insane.
Richt did it again this year, and Georgia used a GoPro video to capture it in slow-motion. It's fantastic. Here's the video. Enjoy.
THREE THINGS YOU NEED TO KNOW
1. Notre Dame coach Brian Kelly officially announced Everett Golson as the Fighting Irish's starting quarterback on Wednesday. While Golson was competing with Malik Zaire for the job, this decision was widely anticipated by those around the program despite how "open" Kelly said the competition was. Even after a season away -- because of the work Golson put in with private QB coach George Whitfield -- there's reason to believe he will be a better version of the quarterback who helped the Irish reach the 2012 BCS national title game. If he indeed is better, Notre Dame will be very good in 2014.
2. Penn State announced seven captains for the 2014 season, and quarterback Christian Hackenberg was one of them. He's the first sophomore to ever be voted a captain in the Nittany Lions' 128-year history. Pretty cool.
3. A bit of a stunner for Northwestern: Senior running back Venric Mark has decided to transfer. He said it's to play closer to his family in Texas, which is probably true, but there's likely more to it. Mark was suspended for the first two games of the 2014 season for violating team policy and said five days ago, "I made a mistake and am prepared to deal with the consequences of that. First and foremost, I feel like I let my teammates down, and that feels the worst. I'm grateful to have another season to compete with this team."
On Wednesday, he released the following statement:
Mark ran for 1,366 yards and 13 TDs as a junior in 2012, then missed all but three games last season due to injury. The NCAA granted him another year of eligibility, but now that one class shy of graduation at Northwestern will require him to sit out the 2014 season if he wants to attend an FBS school (if he had graduated, he could play immediately). The guess here is Mark will pick an FCS school in Texas, finish his career and take a shot at the NFL.
THREE THINGS YOU SHOULD KNOW
1. Former Texas quarterback Vince Young has taken a job at the university in the Division of Diversity and Community Engagement, where he'll assist first-generation college students.
2. Charles Davis stopped by The Audible to chat with Stewart Mandel about Oregon-Michigan State, Texas, UCLA and more. To listen to the podcast, click on the player below.
3. The SEC Network launches today, and Kevin Trahan has three things to know on Day 1. You didn't ask, but I have one thing to know about this: MORE FOOTBALL!
THREE THINGS YOU MAY WANT TO KNOW
1. An Arizona State lineman publicly announced he is gay on Wednesday, becoming the "first active major division college player" to do so. Former Mizzou Tiger and current St. Louis Ram Michael Sam tweeted this in support:
Congratulations Chip Sarafin for having the courage to be yourself. Wishing you and your teammates much success this season. #courage2014

— Michael Sam (@MichaelSamNFL) August 13, 2014
One thought: I deliberately held this out of the first two sections because I believe we've moved beyond the stage where every athlete coming out should be a story, which is a positive thing. That we have to add qualifiers like "first active major division college player" to this probably tell us we're stretching. However, many people were discussing this story on social media Wednesday afternoon, so I feel like I'd be doing a disservice to you for not mentioning something that clearly generated interest. So here it is, under something you may want to know. I wish Chip Sarafin and the Sun Devils a successful season.
2. You'll need 10 minutes, but I recommend watching the first episode of "The Grind," a Hard Knocks-style show Cal is doing on YouTube during its training camp. Good stuff.
3. Former Kansas State quarterback and all-around American badass Collin Klein is fitting in with the Wildcats as a new assistant coach.
LASTLY
* A former Houston Cougar was killed the other day while serving in Afghanistan. Condolences to his family.
* An 18-year-old Arizona fan battling cystic fibrosis got some special treatment from his Wildcats.
* Clemson-South Carolina is the nation's most underappreciated rivalry, writes Bill Bender. Agree or disagree?
* South Carolina quarterback Dylan Thompson is trying to dial back his "gunslinger mentality," writes Josh Kendall.
* Sam Khan catches up with one of the most important assistant coaches in college football this season, Texas A&M offensive coordinator Jake Spavital, who's tasked with picking a replacement for Johnny Manziel. Spavital, 28, is a rising star in the coaching business.
* When I wake up in the morning, I look in the mirror and do my best Denzel Perryman impersonation. What is pain? What is fatigue? Will. You. Ever. Quit? Gets me fired up for the day ahead posting things on the Internet.
Have a great Thursday, all.
Teddy Mitrosilis is an editor and writer for FOXSports.com. Follow him on Twitter @TMitrosilis and email him at tmitrosilis@gmail.com.
---