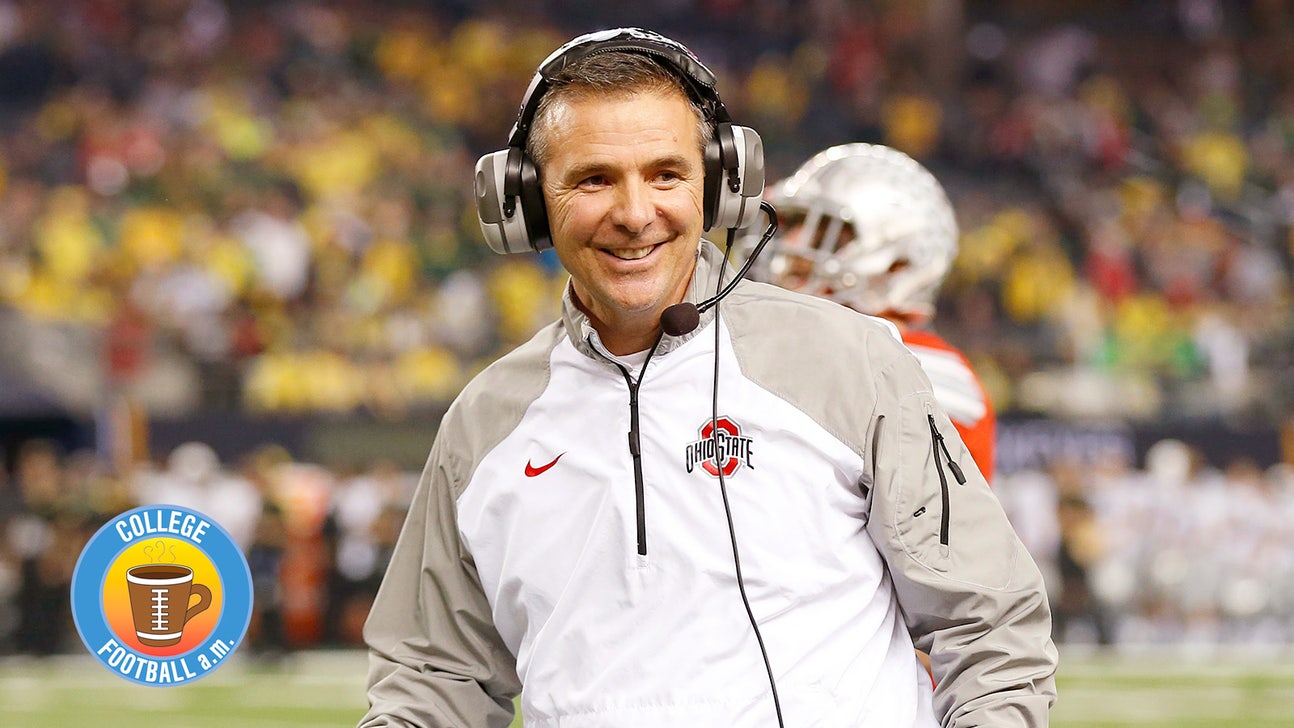 CFB AM: This 2017 QB recruit's love for Ohio State has zero limits
Published
Feb. 9, 2015 9:45 a.m. ET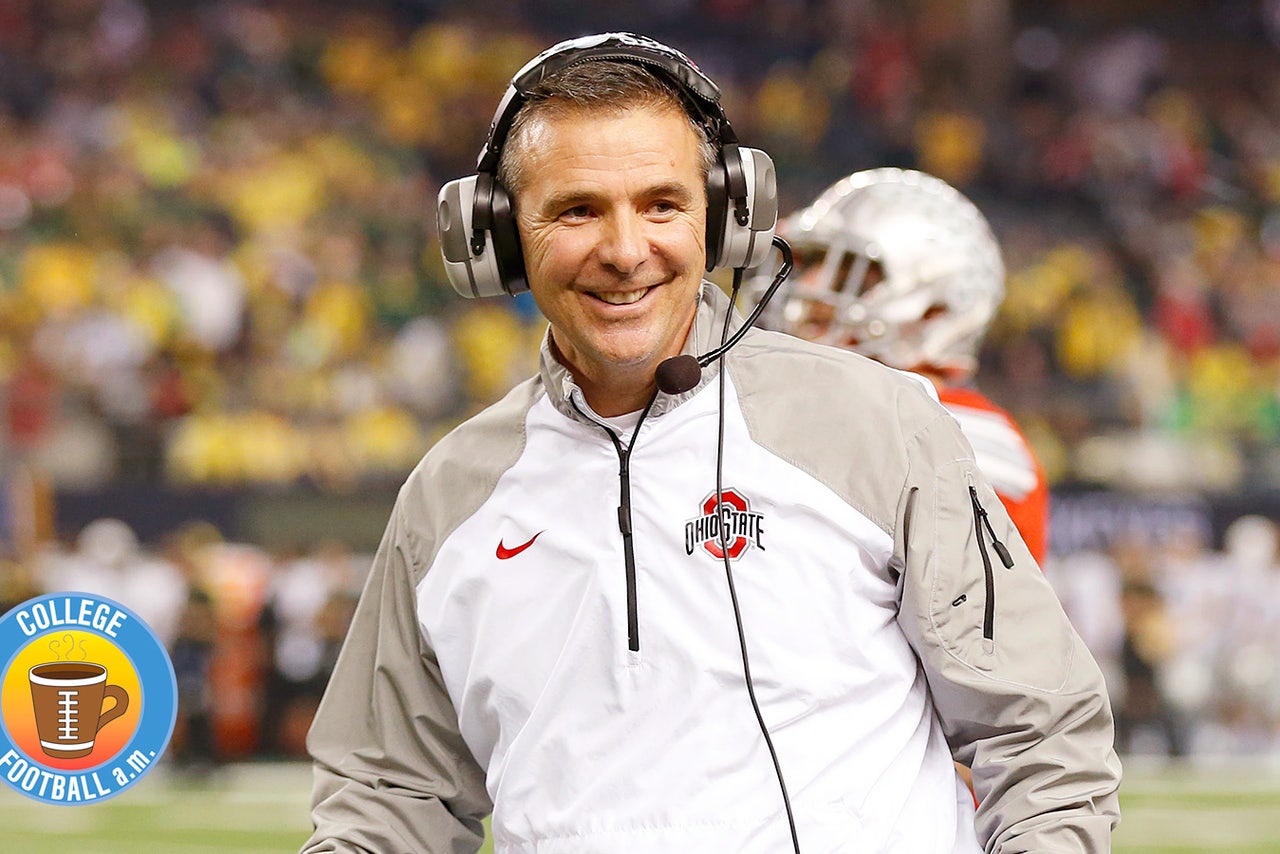 Is Ohio State's success starting to make some people go crazy?
I think it might be, particularly when it comes to prospective Buckeyes who are envisioning futures in Columbus as prosperous as how the 2014 season ended for the Bucks.
Take Danny Clark, who's a quarterback recruit in the Class of 2017, which means he's finishing up his sophomore year of high school.
Clark apparently has an offer from Ohio State and "committed" to the Buckeyes in December 2013, only a few months into his high school career. The term "committed" should be applied as loosely as possible in this instance since recruits can't make it official until February of their senior seasons, and a lot can happen between now and then.
But Clark is SO sure that he'll be going to Ohio State that he put it in ink – on his arm.
Yes, Clark got the block 'O' with the day he verbally committed to the Bucks permanently etched into his left arm. "If I don't go to Ohio State, it's going to be my fault," Clark told Cleveland.com. "There's nothing that would make me not want to go there. For me, it's kind of an extra motivation to think that one day I am going to be down there playing with them. It's just really special."
So not only did Clark get the tattoo, but he would blame himself if he doesn't end up at Ohio State?
Danny, buddy, there are two full years until you can officially sign with the Buckeyes. These verbal scholarship offers aren't exactly chiseled in stone. We couldn't have waited just a LITTLE bit longer before getting tatted?
Give Clark this: His devotion to Ohio State is clearly unparalleled among other 2017 recruits. We'll see who else wants to get inked.
THREE THINGS YOU NEED TO KNOW
1. Jim Harbaugh is enjoying the Michigan-Ohio State rivalry just a little bit. Over the weekend, after Ohio State caught some heat for apparently being not totally honest with a recruit (attention, Danny Clark!!!), Harbaugh tweeted out this "thought of the day," which I will never believe was coincidental:
And then Ohio State's director of player personnel tweeted this:
Lord, I love college football.
2. Five-star defensive end CeCe Jefferson is expected to send his Letter of Intent to Florida "soon," after his father talked over the weekend with Gators defensive coordinator Geoff Collins. Jefferson balked at officially signing with Florida last week after UF's D-line coach left. Of course, until Jefferson's letter is in the hands of coach Jim McElwain, this recruiting saga isn't over.
3. Bobby Petrino did something shady last week, pulling a kid's scholarship for a terrible reason two days before National Signing Day. Apparently the recruit who suffered has found his new school.
THREE THINGS YOU SHOULD KNOW
1. As part of our signing day bonanza last week, we had Ole Miss coach Hugh Freeze on with Bruce Feldman and Stewart Mandel. Freeze was asked about bringing in troubled QB Chad Kelly, and I thought he gave a concise and great response as to why he views it worth the risk. It won't change the amount of criticism Freeze (and other coaches who take chances like this) will get for giving Kelly another opportunity, but that doesn't much matter.
2. ICYMI: A couple recent podcasts coming out of our signing day coverage. We'll have a handful of others on the site this week.
LSU's Les Miles:
Penn State's James Franklin:
3. A few coaching moves if you missed them: Detroit Lions special teams coordinator John Bonamego will be the new Central Michigan head coach; Mike DeBord will be Tennessee's new offensive coordinator, per Bruce Feldman; Notre Dame running backs coach Tony Alford will jump to Ohio State in the same role; UCLA defensive coordinator Jeff Ulbrich has officially left the Bruins to be the linebackers coach for the Atlanta Falcons.
THREE THINGS YOU MAY WANT TO KNOW
1. Former FSU WR Rashad Greene is writing a diary for FOX Sports Florida as he prepares for the NFL Draft.
2. When you're getting the faces of your favorite teams' head coaches TATTOOED ON YOUR BODY, are you taking this sports thing a little too far? I think you might be taking it a little too far. Urban Meyer does look pretty real here, though.
3. Appalachian State joined the teams with official spring practice underway. Look at this photo: 60 degrees and beautiful.
LASTLY
Sunday was a sad day for everyone who loves sports, but particularly college basketball fans and especially those of us with ties to the North Carolina family, as legendary UNC hoops coach Dean Smith passed away at the age of 83.
The most amazing thing you'll read and hear in the wake of Smith's passing is that, for how supremely great he was as a basketball coach, no former player or colleague will mention his coaching ability or achievements first. They'll talk about his incredible ability to recall detail and how he used that, among other traits, to enhance personal relationships he cherished with players, friends and acquaintances. Some of that is captured here in Reid Forgrave's piece. And if you have a little time for one longer Dean Smith story, read this profile Tommy Tomlinson wrote last year about Smith's memories fading away as dementia took its toll. It's the best thing on Smith I've read.
Teddy Mitrosilis is an editor and writer for FOXSports.com. Follow him on Twitter @TMitrosilis and email him at tmitrosilis@gmail.com.
---