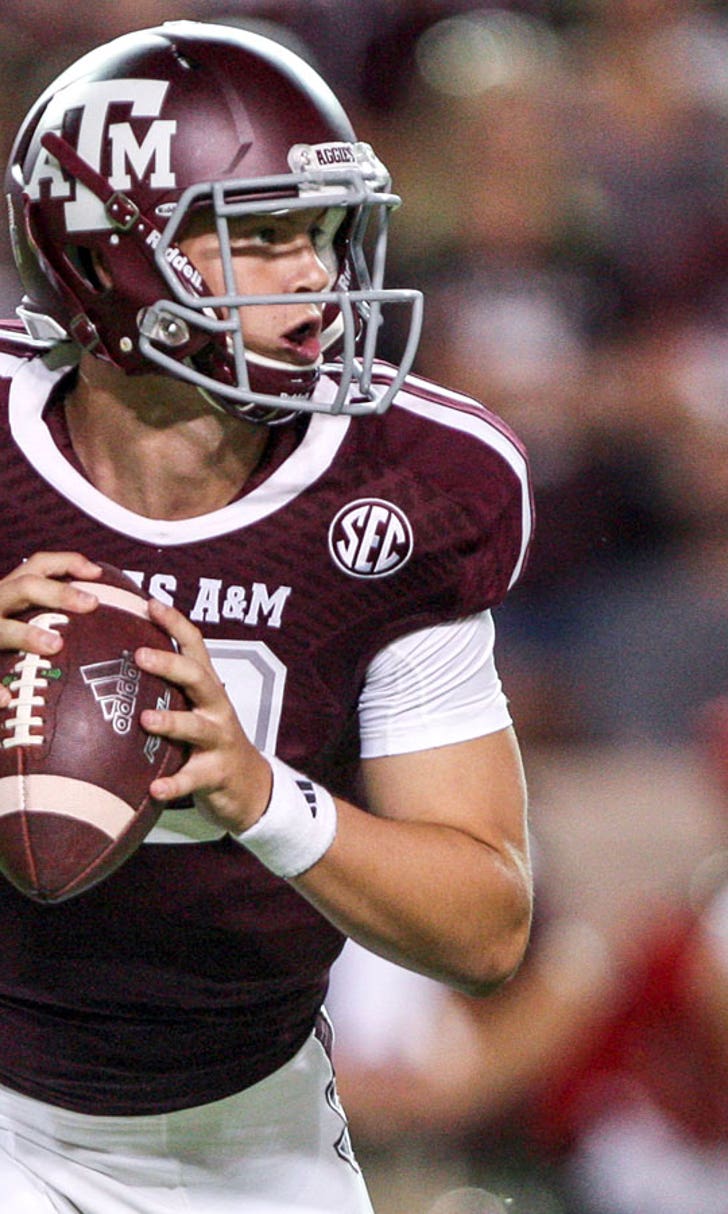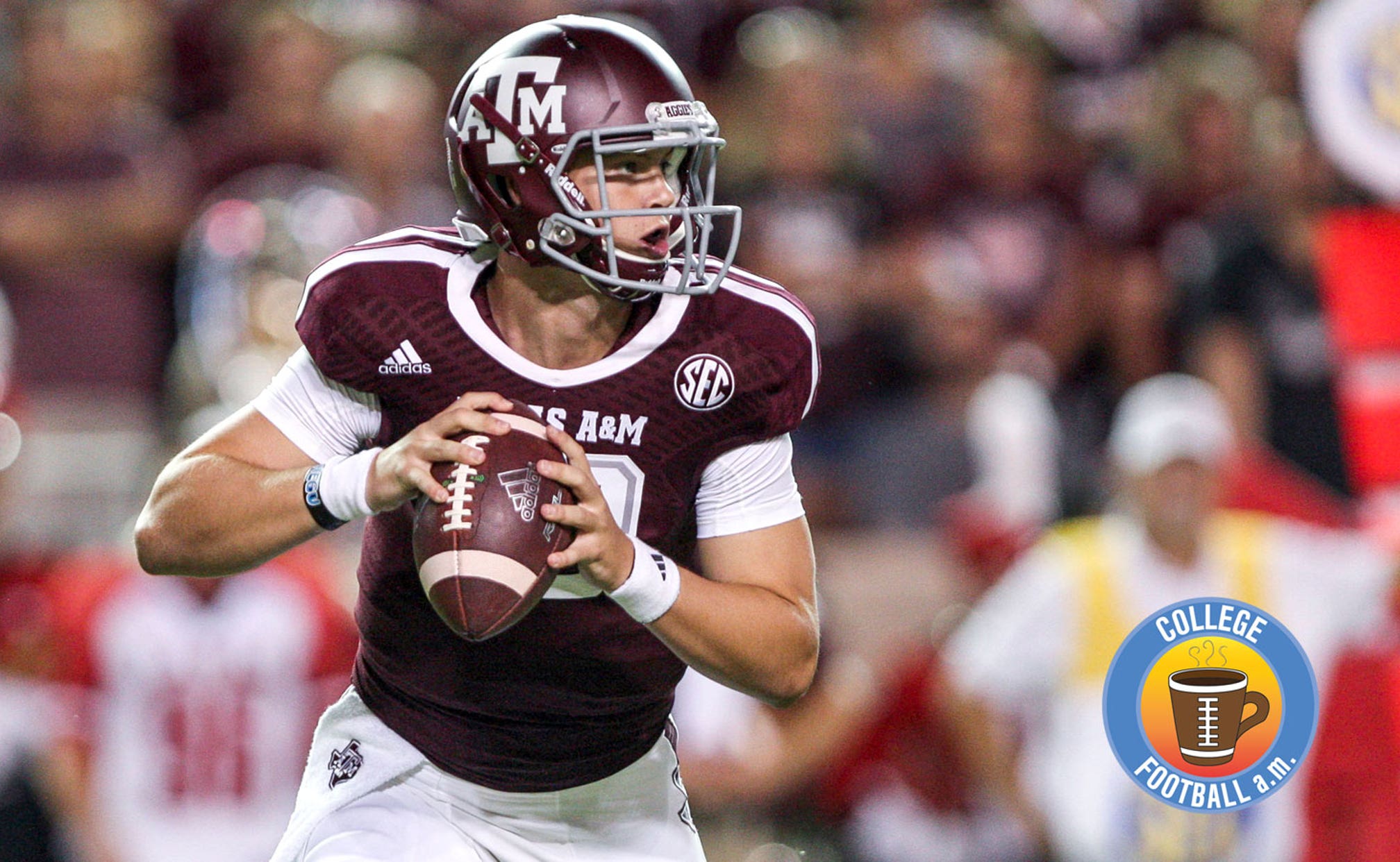 CFB AM: Texas A&M QB flirts with camera girl as Barry White plays
BY Teddy Mitrosilis • October 6, 2014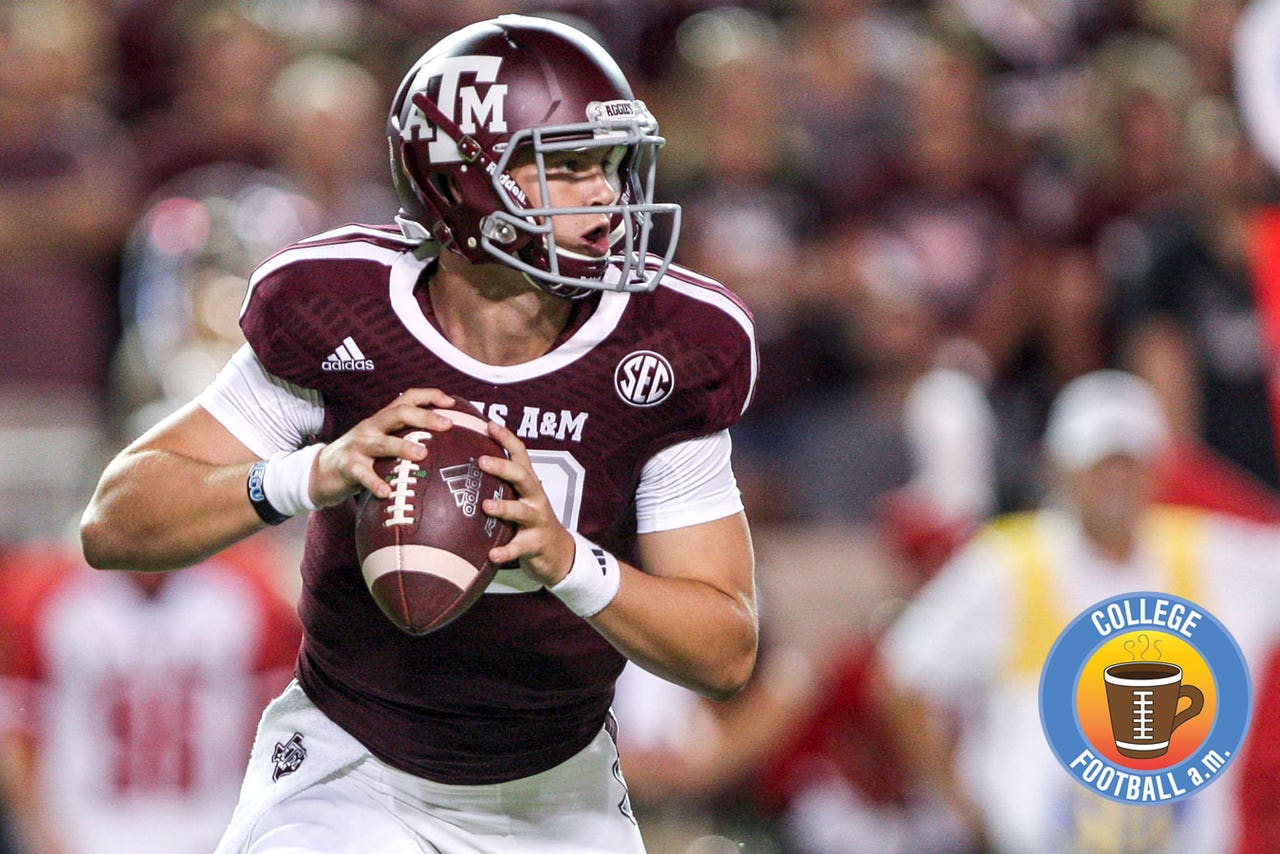 Texs A&M quarterback Kyle Allen didn't play last weekend at Mississippi State, but that doesn't mean the Aggies' freshman backup wasn't working hard.
Allen was competing as hard as he could, giving it all he's got.
It just happened to be a different kind of game.
While Texas A&M was on its way to losing to the Bulldogs, cameras zoomed in on Allen on the sidelines talking to a cute camera girl.
It's impossible to know what he said, but he clearly was trying to make her laugh.
Afterwards, the Saturday Down South website got the video and did what any reasonable outlet would do – set it to Barry White's "Can't Get Enough of Your Love Baby." It's fantastic.
If you want to start your Monday off right by jamming for a few minutes to Barry White's song in full, here ya go.
Good luck, Kyle. Glad to see you're taking Pete Carroll's words to heart when he says, "Always compete."
THREE THINGS YOU NEED TO KNOW
1. On Sunday night, we rolled out the first FOX Four of the season. We compiled a 13-member panel and asked them to vote on their Top 10 teams, then tallied up the points for a singular Top 10, with the Top 4 being highlighted as our playoff selections. We're going to do this every Sunday night through the end of the season. Our 13 voters: Tim Brando, Charles Davis, Bruce Feldman, Joey Harrington, Joel Klatt, Matt Leinart, Stewart Mandel, Ryan Nece, Petros Papadakis, Brady Quinn, Rob Stone, Clay Travis and Dave Wannstedt. Coy Wire serves as a committee analyst. 
I'm really excited about this project for a couple reasons. First, the difference in opinions on a 13-member panel are tremendous, and with the week of chaos we just had, this is the perfect time to do something like this. There is an endless amount of fun, healthy debate we'll have through the end of the season.
But second, and most important, is it gives us an avenue for engaging all of you each week in an area where every college football fan is passionate. The FOX Four will reflect a wide variety of opinions, and therefore it will be highly criticized. That's good! Bring your own opinions to the panel and state your cases. All I can tell you is that this is a really smart and good group of 13 college football fans who care about the work they do. So if you can give us a couple minutes each week, dive in and have fun with us – that's the whole point of the FOX Four.
2. The latest AP Top 25 poll is out after all the upsets in Week 6, and it has Auburn No. 2 and Ole Miss and Mississippi State tied at No. 3. Meanwhile, the Coaches poll puts Baylor at No. 3 and Notre Dame at No. 5 before sliding in the Bulldogs at No. 6. I don't know if I'd take MSU over Baylor, but I'd definitely take them over the Irish, who despite getting great QB play so far this year out of Everett Golson don't have a ton around him on offense. Notre Dame's defense is strong, but would you trust the Irish to score 30 points against a team with an above-average defense if that was the only way to win? I wouldn't.
3. Couple crucial injury notes: No. 5 Baylor lost starting defensive end Jamal Palmer for the rest of the year after he tore his ACL against Texas. Illinois QB West Lunt will miss four-to-six weeks with a leg fracture. Get healthy, fellas.
THREE THINGS YOU SHOULD KNOW
1. Bruce Feldman's Big Picture column posted late Sunday night. As usual, it has a lot of good stuff, including on the Heisman race, Ole Miss coach Hugh Freeze, Ohio State QB J.T. Barrett, the backup QB sparking Arizona State and much more. I loved the Freeze stuff – it briefly captured the spirit of fearlessness with which he's approached his career.
2. The SEC fined Ole Miss $50,000 and Kentucky $25,000 for their fans rushing the field after big wins on Saturday. What's the point of this? Seriously – what's the point? We're a society of far too many rules. We have rules to enforce rules.
3. Fantastic job by the Notre Dame video team that put together this slow-motion film of the Irish's game-winning touchdown against Stanford this past weekend. Superb production quality.
THREE THINGS YOU MAY WANT TO KNOW
1. Here's the Arizona State radio call from the Sun Devils' Hail Mary to beat USC last weekend. So awesome.
2. I loved what the SB Nation crew did with this on Saturday, tracking the Ole Miss goal posts through social media after they were torn down in celebration of the Rebels' win over Alabama.
3. This one-handed catch by Fairmont State's Fabian Guerra is niiiiiiice.
LASTLY
* Auburn fans erupted when Alabama's loss was announced in Jordan-Hare Stadium last Saturday. You can hear them cheer really loudly if you so choose.
* Going back to Feldman's Big Picture column real quick: In the Freeze section, he said the Ole Miss coach is the best he's ever seen at speaking in front of a group. So that sent me to YouTube out of curiosity, and I came across Freeze's speech before the 2012 Egg Bowl, when he was scratching and fighting to change the culture at Ole Miss and build the foundation of his own SEC program. Two years later, we're starting to see his attitude and energy manifest itself in victories on the field.  This speech is spectacular and a wonderful way to start your week.
Have a great Monday, all.
Teddy Mitrosilis is an editor and writer for FOXSports.com. Follow him on Twitter @TMitrosilis and email him at tmitrosilis@gmail.com.
---