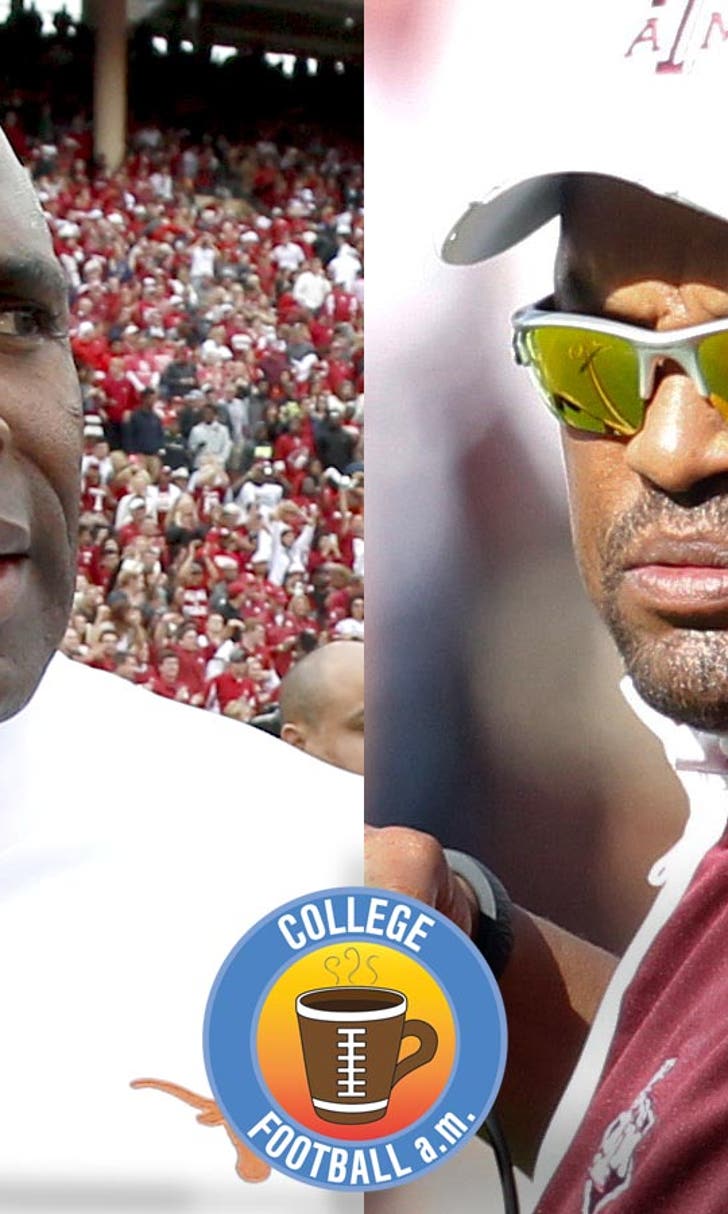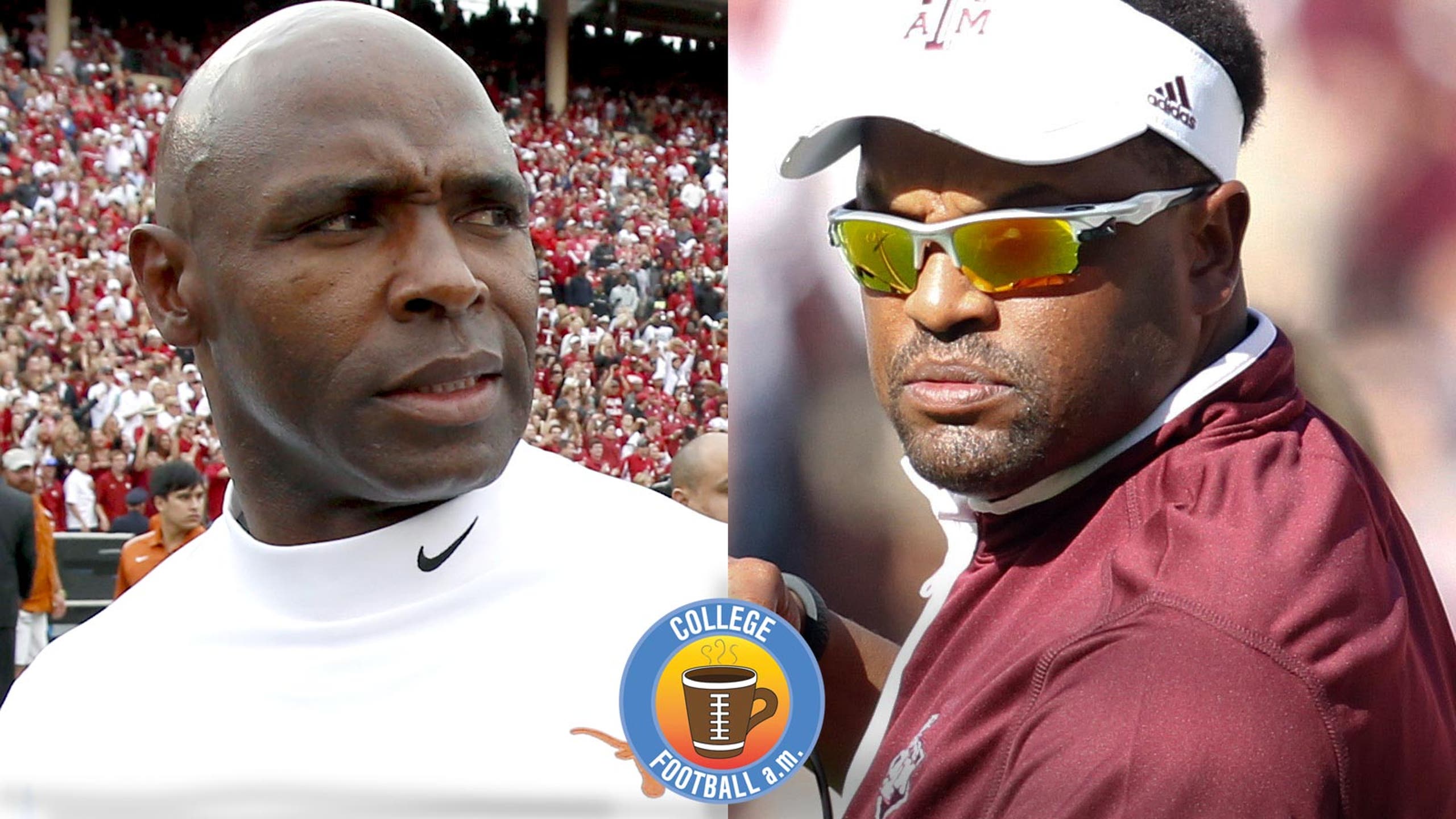 CFB AM: SEC reportedly afraid of Texas A&M facing Texas in bowl game
BY Teddy Mitrosilis • November 19, 2014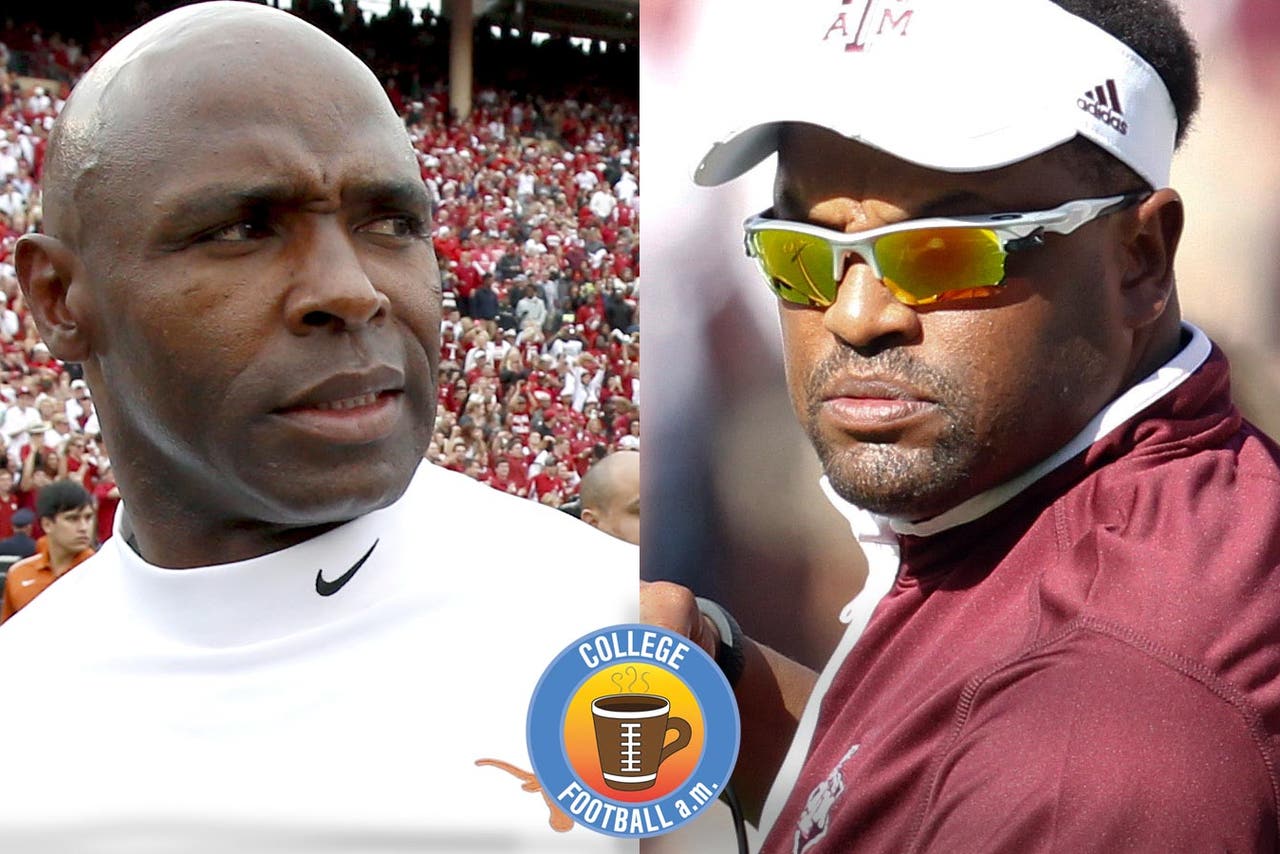 How much progress has Charlie Strong made at Texas in his first season as the head coach?
One indication was the Longhorns becoming bowl eligible last week in a season they've openly admitted was a rebuilding year in Austin. Another is the growing feeling that Texas could give No. 5 TCU a lot of trouble when the Horned Frogs visit on Thanksgiving evening.
But the greatest might be this: Is the SEC afraid of Texas A&M facing the Longhorns in a bowl game? Apparently the league is letting bowls with SEC and Big 12 tie-ins know they wouldn't support that matchup.
According to a report from HornsDigest.com's Chip Brown, the SEC believes there's too much for the league to lose in recruiting power if the Aggies and Longhorns square off.
From Brown's story:
Two sources close to the situation told HornsDigest.com SEC officials have indicated to bowls with SEC and Big 12 tie-ins that the SEC won't support a Texas vs Texas A&M postseason matchup. In short, A&M has too much to lose from a potential loss.
Right now, the Aggies and Kevin Sumlin are seen as the school to beat in the Lone Star State in recruiting. Why risk diminishing that status with just more than two months until National Signing Day? 
Especially when UT and A&M have been head-to-head on so many key recruits.
Because the SEC handpicks which of its schools will play in the Outback, Gator, Belk, Liberty, Music City and Texas bowls, the conference known as the biggest, baddest bully on the block can make sure no fight is made unless they say it's made.
Well, that's too bad – and probably a bit paranoid on the SEC's part. The Longhorns are going to get their share of recruits within the state regardless, and there's more than enough talent in Texas to fuel two programs humming at a high level. Currently, the Aggies have the No. 6 recruiting class for 2015, according to 247Sports' composite rankings, and Texas is at No. 16. (Update: SEC says no decision has been made on A&M-Texas bowl.)
THREE THINGS YOU NEED TO KNOW
1. Alabama jumped to No. 1 in the new College Football Playoff rankings, while Oregon, Florida State and Mississippi State rounded out the top four. TCU dropped one spot to No. 5 while Ohio State jumped up to No. 6 to split the Big 12 duo, with Baylor coming in at No. 7. Here are some quick takeaways from Stewart Mandel on the new rankings.
2. USC has reinstated cornerback Josh Shaw nearly three months after he concocted a story about how he injured both of his ankles. Shaw's fake story – that he jumped off a balcony to help save a drowning nephew – became a viral sensation when USC wrote it up and published it on the school's website, lauding Shaw's courageous act. They were quickly embarrassed when the story unraveled and the public found out that Shaw actually jumped off a balcony at his apartment complex in Los Angeles after a heated argument with his girlfriend that got so loud police were called. Seeing authorities outside made Shaw scramble. A domestic violence case was opened, and authorities closed it earlier this week after concluding there would be no charges. USC then welcomed Shaw back on Tuesday, and Steve Sarkisian will determine how the senior can help the Trojans in the remaining few games of the year.
3. Midweek MAC football is already bound to get weird, but now bad weather across the country is really making things interesting. Bowling Green plays at Toledo tonight, and somehow Kent State made it to Buffalo for tonight's game; Buffalo was hammered by snow yesterday. There were several people at the Massachusetts-Akron game on Tuesday night to see Akron win, 30-6, and then things just got bizarre at Northern Illinois' 21-14 win at Ohio.
THREE THINGS YOU SHOULD KNOW
1. A recruit met with Alabama coach Nick Saban and said it was "almost like talking to God."
2. Georgia lawmakers want a $25,000 fine and jail time for autograph brokers who try to pay college football players like Todd Gurley for money. That's all fine, as I'm certainly against third parties profiting off college athletes when the athletes themselves can't, but I think it redirects the real problem, which is the NCAA's audacity to sit a player out four games for collecting a small amount of money for his autograph. Yes, I know "rules are rules" and they must be enforced, and no, I'm not advocating rule breaking of any kind in college sports. What I'm advocating is changing the damn rule.
By the way: Those rumored Jameis Winston autographs that were floating around now have serious suspicions about their authenticity.
3. Ohio State injured QB Braxton Miller reportedly plans to return to the Buckeyes in 2015 rather than explore transfer options or the NFL. Miller is out this season with a shoulder injury, and in his absence redshirt freshman J.T. Barrett has become a star. It'll be a problem to sort through for Urban Meyer and his staff next fall, but it's a good one to have. Injuries and poor performance happen.
THREE THINGS YOU MAY WANT TO KNOW
1. Someone messed with Chip Kelly's Wikipedia account to make it read that the Philadelphia Eagles coach is now coach of the Florida Gators. It since has been corrected, but Gators fans must have been dreaming wildly for a few hours (and, no, I don't see any way that would actually happen – not this year).
2. Cole Stoudt will start for Clemson on Senior Day, and Dabo Swinney went on the offensive against fans who might boo the QB after his poor game against Georgia Tech last week. Totally with Dabo here.
3. Tuesday was the 15-year anniversary of the 1999 Texas A&M bonfire tragedy, and the Universiy of Texas did a nice thing by offering its support on social media.
The Texas band's tribute in '99 was also floating around social media yesterday.
LASTLY
* Here's my hit from Tuesday on the Eric Hasseltine Show in Memphis talking a bunch of CFB stuff.
* The Yale student president put a lot of effort into making a YouTube video to talk trash to Harvard by challenging its student president to a boxing match before The Game. It was a nice effort.
And then sometime shortly thereafter, Harvard president Gus Mayopoulos posted a 19-second Facebook video from his dorm room asking one simple question (warning: language).
Official decision: Gus Mayopoulos by knockout!
Have a great Wednesday, all.
Teddy Mitrosilis is an editor and writer for FOXSports.com. Follow him on Twitter @TMitrosilis and email him at tmitrosilis@gmail.com.
---