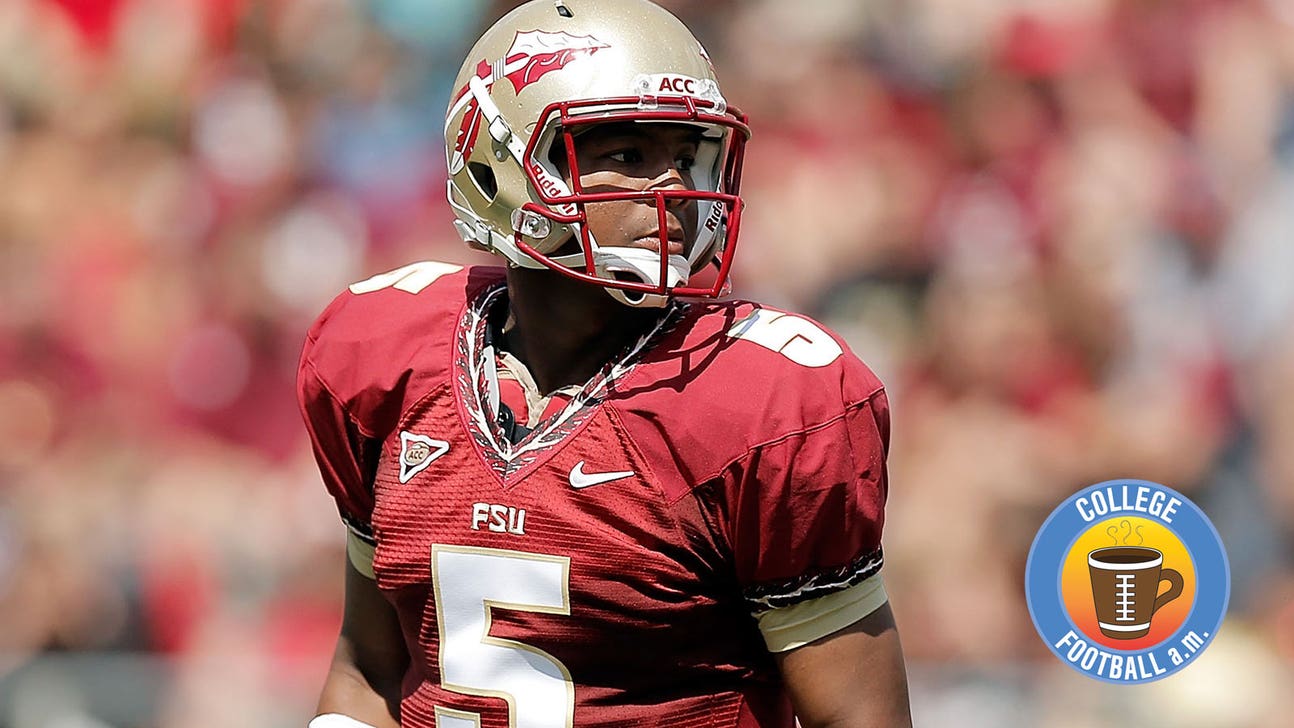 CFB AM: Police deny wild rumor of violence in Winston autograph line
Published
Aug. 11, 2014 9:00 a.m. ET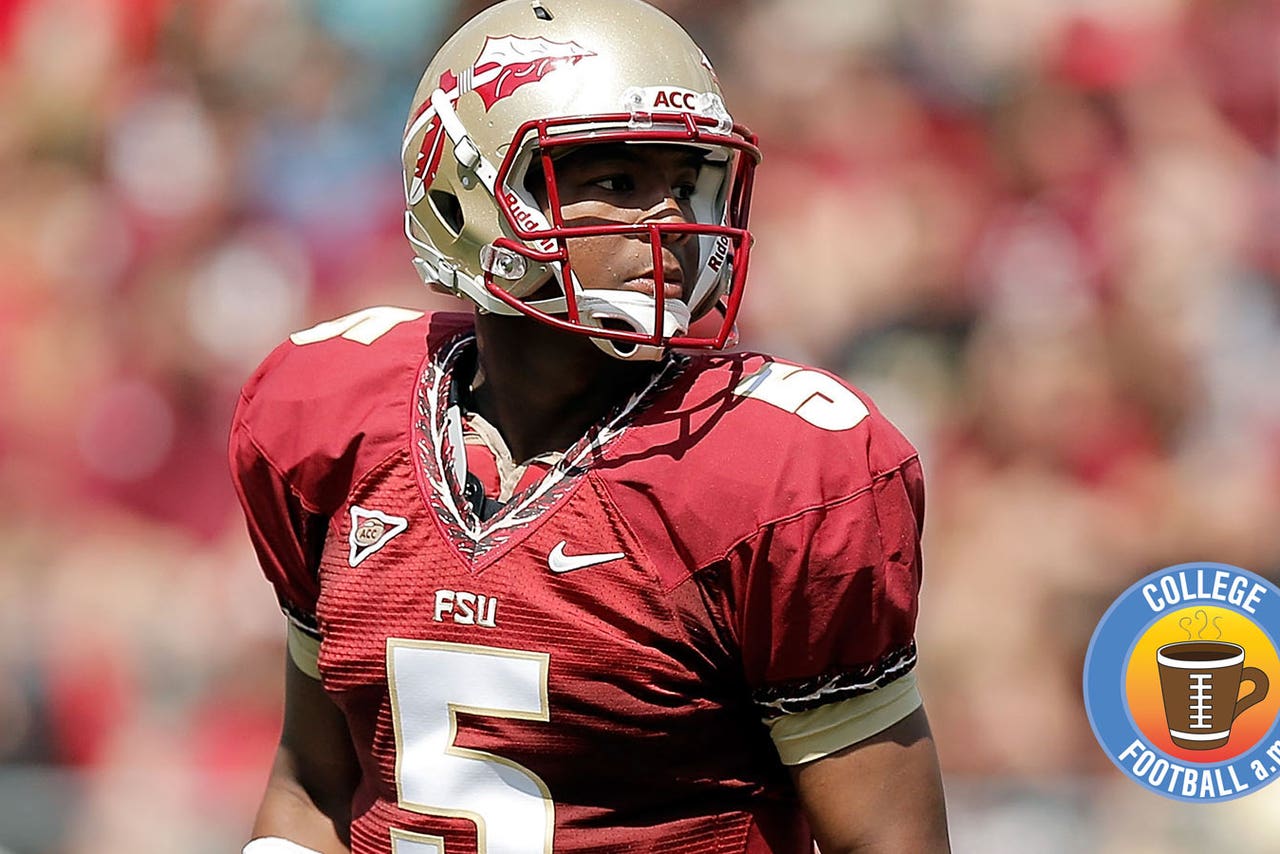 Update: FOX Sports exchanged emails with Florida State Deputy Chief of Police Jim Russell, who said the report stating arrests were made at FSU's Fan Day is incorrect. Russell also said he's not aware of any fight in line, which was the reason the report stated for the arrests.
"The only incident in line that I am aware of specifically is that an officer had to tell a couple people to relax in the Jameis line as they seemed to get a little rude & agitated with each other, but nothing came of it," Russell wrote. "Lt. Justin Maloy said that a few people during the event were asked to leave due to line cutting, but nothing serious enough to generate a police report, and nobody handcuffed, etc.
"Only 2 reports we had all day yesterday was a DUI and a fire alarm not related to the event. Just basic crowd management it sounds like. That's about the extent of what I know."
Florida State held its media day on Sunday, and naturally there were a couple interesting things that happened regarding quarterback Jameis Winston.
First, someone in Seminoles Land thought it would be a good idea to hold a Twitter chat with Winston, using the #AskJameis hashtag, as if the collective maturity of Twitter comes anywhere near a level respectable enough to do this.
Unsurprisingly, not every question for Winston inquired about how cool it was to win the Heisman or a national championship last season.
Surprisingly, something even more ridiculous than holding an #AskJameis chat happened.
Start with a simple question: What would you do for your favorite player's autograph?
Deal with big crowds and sweaty bellies pressing up against the small of your back as you wedge into a space unfit for your mass? Yeah, probably.
Wait for hours in line? Eh, maybe.
Get arrested? Hell no.
But that's what two Florida State fans reportedly did Sunday. It started to get a little rowdy in Winston's autograph line at media day, so authorities began roping off the area with police tape. Police tape! At a college football media day!
But that did only so much.
According to a reporter on scene, at least two people were arrested for fighting in line:
In their defense, that autograph is going to be worth quite a bit of money someday … wait, you're right, there's actually no defense for getting arrested in an autograph line.
At least two people were arrested for fighting in the Jameis line #FSU

— Melina Vastola (@melinasphotos) August 10, 2014
(h/t SB Nation)
THREE THINGS YOU NEED TO KNOW
1. If you missed it late on Friday afternoon, Judge Claudia Wilken ruled against the NCAA in the Ed O'Bannon case, declaring that college athletes are entitled to compensation for use of their name, image and likeness under antitrust law. Two things Wilken did not grant the athletes: The ability to negotiate contracts as "free agents" and the opportunity to seek product endorsements. Otherwise, her ruling established July 1, 2016 as the date they can begin receiving a cut of revenues. Stewart Mandel has rigorously covered the O'Bannon trial from the beginning and has more analysis of the decision. As expected, the NCAA will appeal the O'Bannon ruling.
2. On Saturday, Bruce Feldman reported that UCF coach George O'Leary is strongly considering stepping down during the 2014 season. The decision could happen as soon as after Week 1 against Penn State in Ireland, with assistant head coach of offense Brent Key, who also has offensive line and recruiting coordinator duties, taking over the Knights as head coach. O'Leary denied the report. In other UCF news, O'Leary named his starting quarterback – redshirt freshman Pete DiNovo.
3. A 32-year-old active Navy SEAL is trying to make Northwestern's team as a defensive end. Good luck, Tom Hruby! Thanks for your service.
THREE THINGS YOU SHOULD KNOW
1. This is a strange story that could mean nothing or be really big for Florida State: Stud defensive back Jalen Ramsey was kicked out of practice on Sunday for reportedly getting too physical, even knocking Winston to the ground once, and afterward coach Jimbo Fisher said, "He'll decide if he wants to play at Florida State." Ramsey started every game last season at either cornerback or safety, earning second-team Freshman All-America honors, and is slotted as the Noles' starting free safety entering 2014. He's a vital part of what's probably the nation's most talented defense. Who knows what happened on Sunday – maybe Ramsey was frustrated, for whatever reason, and had a bad day. But if it becomes anything more than that, it's an important story.
2. Former USC quarterback Max Wittek seems to be headed to Hawaii, although it's not quite official. For a while, Texas seemed like the landing spot for Wittek, but the Longhorns backed out of the race this spring when it was determined the QB wouldn't receive his undergraduate degree from USC in May but rather in December. If Wittek had his diploma, he could play immediately upon transferring to a new school. Without it, he must adhere to the usual FBS transfer rules of sitting out one season.
3. Auburn quarterback Nick Marshall addressed the media for the first time since being cited for marijuana possession and apologized for the incident. "I made a mistake, and I'm just trying to gain my trust back from the coaches," Marshall said. "I let my family down, and I'm also trying to gain their trust back and also the Auburn fans." Coach Gus Malzahn has already said Marshall won't start Week 1 against Arkansas, but it's undetermined just how long Marshall will sit.
THREE THINGS YOU MAY WANT TO KNOW
1. Ohio State quarterback Braxton Miller sat out spring practice after having some surgical work done on his shoulder, and while he's been intentionally limited in fall camp, coach Urban Meyer said on Sunday that Miller will be ready for the Buckeyes' Aug. 30 season-opener against Navy. Miller, if healthy, should be a strong Heisman candidate in 2014 and is obviously paramount to Ohio State's playoff chances.
2. How does former Ohio State coach and current Youngstown State president Jim Tressel stay right mentally? By quoting Tupac.
3. Loved this piece from Dirk Chatelain on Nebraska video coordinator Mike Nobler, the team's biggest jokester and master mind behind Bo Pelini's stunts this offseason.
LASTLY
* Michigan unveiled some alternate uniforms for the Penn State game, which look very similar to its normal uniforms – just with some additional stripes.
* Alonzo Moore had never heard of Nebraska while growing up in small-town Louisiana, but now he's in the wide receivers mix, writes Brian Christopherson.
* SB Nation's Jason Kirk went behind the scenes at the new College Football Hall of Fame.
* Let's visit Miami camp, where the Hurricanes are playing dodge ball.
* USC coach Steve Sarkisian took the "Ice Bucket Challenge" and then called out Pete Carroll and the Seattle Seahawks. Pretty cool video:
Have a great Monday, all.
Teddy Mitrosilis is an editor and writer for FOXSports.com. Follow him on Twitter @TMitrosilis and email him at tmitrosilis@gmail.com.
---