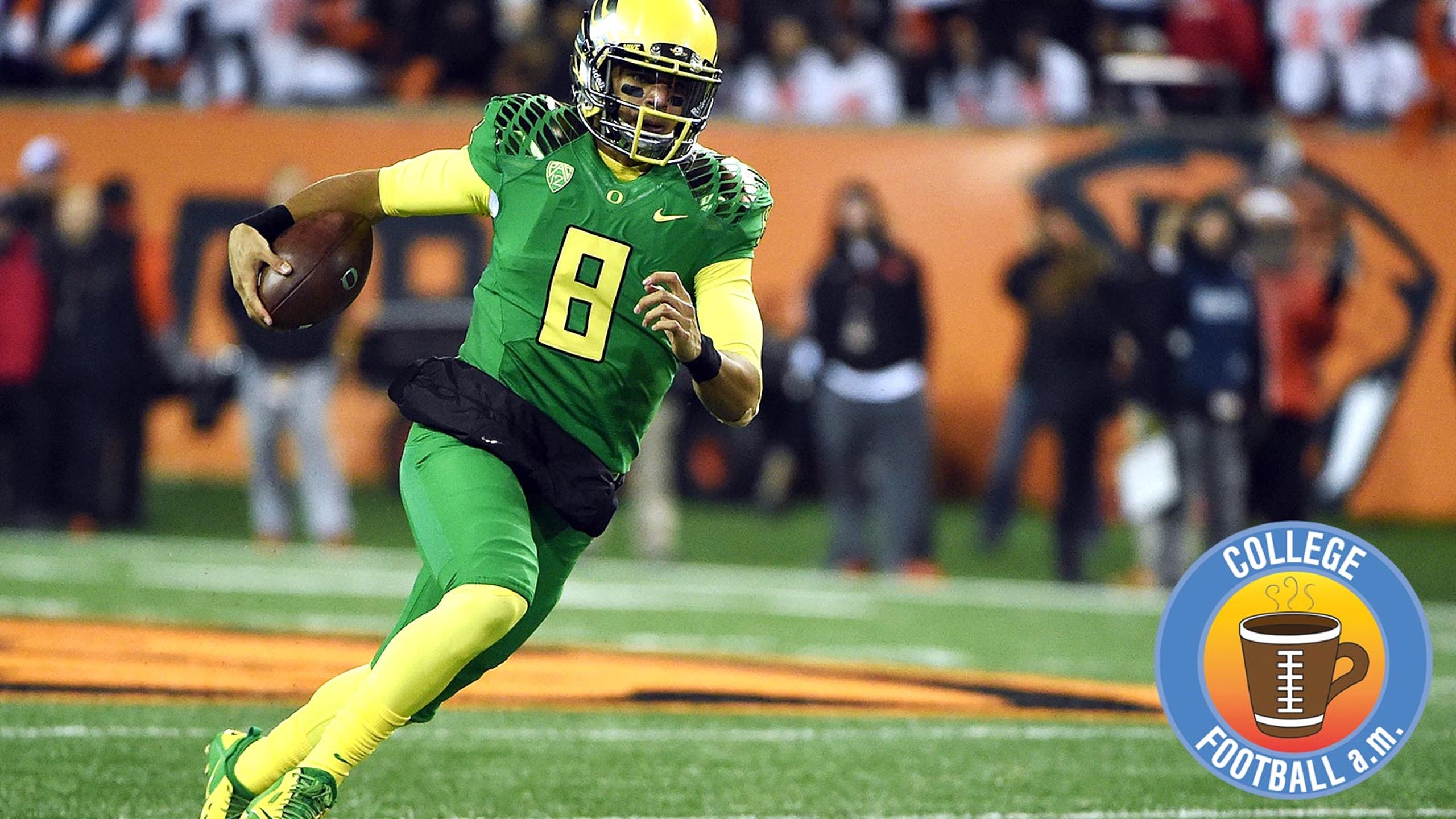 CFB AM: Oregon OC thanks Mariota by telling great fat-woman story
BY Teddy Mitrosilis • December 11, 2014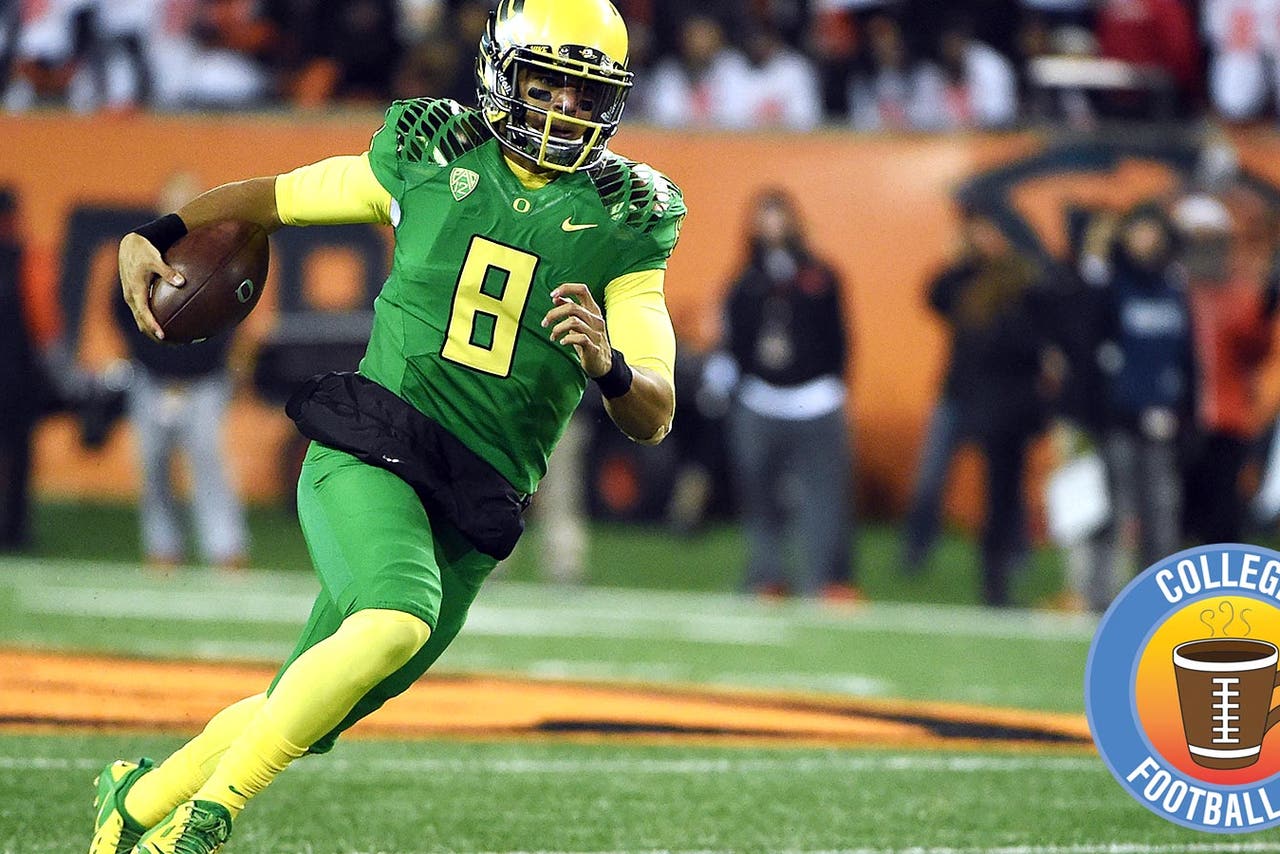 Oregon offensive coordinator Scott Frost was trying to compliment his QB, Marcus Mariota, with a funny story that involves an incident with a fat woman.
No, seriously, he was.
Speaking at the Broyles Award ceremony, an event to honor the top assistant coaches in the country, Frost thanked Mariota for getting him there and said the best thing about Mariota is his quick wit and ability to think on his feet.
To demonstrate this, Frost told a story about Mariota working at a grocery store his freshman year in Eugene. A large woman wanted to buy half a head of lettuce, and Mariota said they don't sell lettuce on half heads. The lady didn't like that answer, so Mariota walked back to get the manager and tell him about the issue. Little did he know the large woman was following behind him and would hear what he said to his manager. I'll now turn it over to Frost:
A few things: One, that's hilarious and quite impressive that he reacts that quickly. Two, for some reason I don't think Mariota will be telling that story when he wins the Heisman Trophy on Saturday night.
And three, I feel like the NFL is really missing an opportunity to judge quarterbacks' intelligence levels by not placing them in a random grocery store, having a fat woman get upset about half a head of lettuce and seeing how they respond. I'm shocked this isn't a Combine drill yet.
THREE THINGS YOU NEED TO KNOW
1. Wednesday brought us a little stunner: Wisconsin coach Gary Andersen informed the program he's leaving to take the Oregon State job, which was vacated when Mike Riley left for Nebraska recently. In two seasons with the Badgers, Andersen went 19-7 and just got Wisconsin to the Big Ten title game. On the surface, not many will understand this move. In the Big Ten West, Wisconsin was in the division opposite Ohio State, Michigan State, Michigan and Penn State – it's essentially the Big Ten's version of the SEC East. Big Ten title appearances could have been a regular expectation. Now, Andersen takes what is perceived to be among the most difficult jobs in the Pac-12, in a North division that includes Oregon, Stanford and Chris Petersen-led Washington.
But when Wisconsin athletic director Barry Alvarez was explaining what Andersen told him about this decision, Alvarez said Andersen made it with his family in mind. Andersen is from Utah, and there was some thought he wanted to get back to the Western part of the country. It's curious only because Andersen's stock was rising and he certainly could have gotten a job bigger than Oregon State with another good season or two at Wisconsin, but Andersen understands the state of the Badgers better than anyone and maybe thought this was the time to jump with star running back Melvin Gordon heading to the NFL, instability at QB and a dearth of talent at the skill positions. And, of course, everyone evaluates opportunities differently. Maybe Corvallis has everything Andersen and his family want. Best of luck to him.
2. First there was a rumor that Michigan reached out to David Cutcliffe at Duke to offer its head coaching job and Cutcliffe turned it down. Then Michigan quickly said that it hasn't contacted Cutcliffe or offered the job to anyone, which I read more as a PR move, because God forbid a rumor that Duke's coach turned down Michigan keeps floating around out there. Then Cutcliffe said he personally hasn't spoken, which I read as that doesn't mean Michigan hasn't spoken with someone who might know something about Cutcliffe's interest. So I have no idea what to believe, but there's some kind of smoke here, whether it's Michigan being interested in Cutcliffe or Cutcliffe believing Duke is a better job for him. Either one says something interesting.
3. This is troubling but far too early to draw any conclusions about what may or may not have happened: Police responded to a domestic disturbance call at J.T. Barrett's apartment, the Ohio State quarterback who became a star this year and broke his ankle in the Michigan game.
THREE THINGS YOU SHOULD KNOW
1. In Stewart Mandel's Mailbag on Wednesday, he analyzed the playoff committee's Ohio State-Baylor-TCU decision for the No. 4 spot as cleanly as I've read it anywhere. Initially I thought the "eye test" weighed heavily into that evaluation – understandably after what we watched the Buckeyes do to Wisconsin – but the Buckeyes also had an on-paper case stronger than most probably realized. The "Big Ten is terrible" narrative can cloud everything else. Check out Mandel's analysis if you're still interested in why things unfolded how they did.
2. The College Football Playoff showed off a first look at its inaugural national championship ring. Pretty sweet, I must say.
3. Michigan has been working with the PR firm Edelman since the Shane Morris concussion controversy in September to help repair the program's public image. Edelman is the same firm that Penn State hired in the wake of the Jerry Sandusky scandal and the one North Carolina is currently working with after news of widespread academic fraud came to light. My only question: Does Edelman have a quarterback or any skill position players? This is Michigan – a great university and storied football program. Just get back to winning and all the image stuff will be done with.
THREE THINGS YOU MAY WANT TO KNOW
1. Alabama OC Lane Kiffin did an interview with a local Little Rock, Arkansas, radio station prior to the Broyles Award ceremony, discussing some Crimson Tide matters, which he hasn't been able to do this season due to Nick Saban's no media policy for his assistants. Kiffin would later get up to the podium and tell a Saban short joke. Good times had by all.
2. Former Wisconsin Badger and current Houston Texan J.J. Watt is a man of his word.
3. Spencer Hall has quite an enjoyable interview with broadcaster Verne Lundquist, who discusses how he came to be called "Verne" (not his real first name), hosting a bowling show in Dallas 40 years ago that he's still embarrassed about, singing in a college band and a lot more. Lundquist is a fascinating guy and one of college football's gems.
LASTLY
* Chad Morris has been reaching out to former SMU players and trying to mend relationships as he begins the process of rebuilding the program, writes Bill Nichols.
* Cool story from Andrea Adelson on NC State QB Jacoby Brissett writing letters to his teammates to enhance their bond.
* Missouri's Gary Pinkel was named SEC Coach of the Year.
* Did you know the Army-Navy game also has a flag football game tradition? Pretty neat video.
Have a great Thursday, everybody.
Teddy Mitrosilis is an editor and writer for FOXSports.com. Follow him on Twitter @TMitrosilis and email him at tmitrosilis@gmail.com.
---