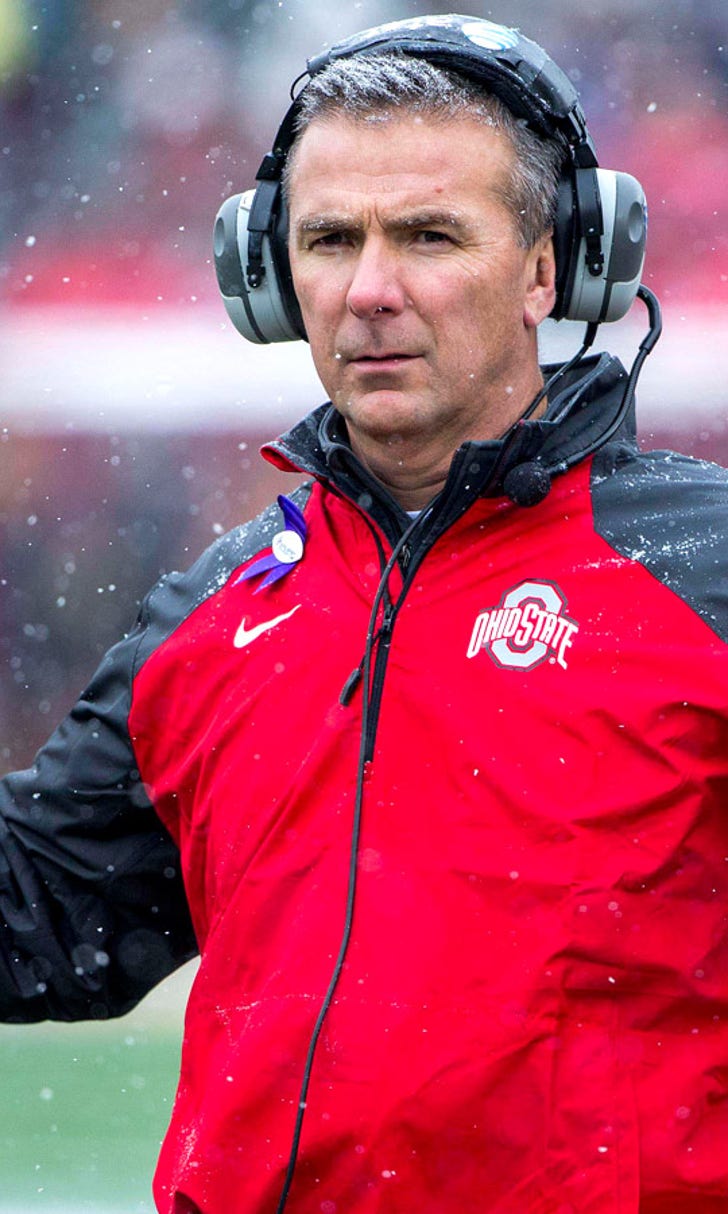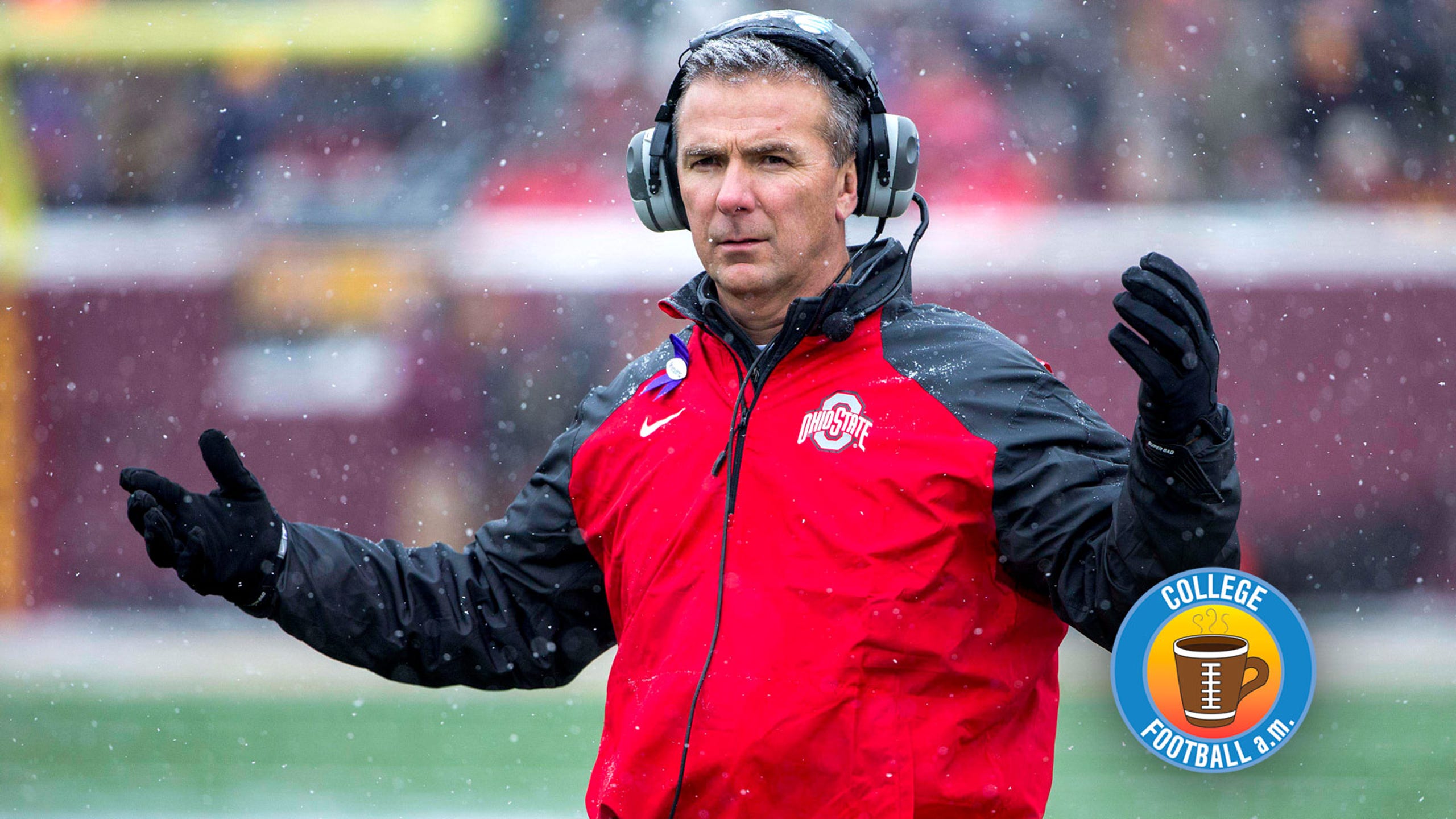 CFB AM: Ohio State wiping every single Michigan reminder off campus
BY Teddy Mitrosilis • November 25, 2014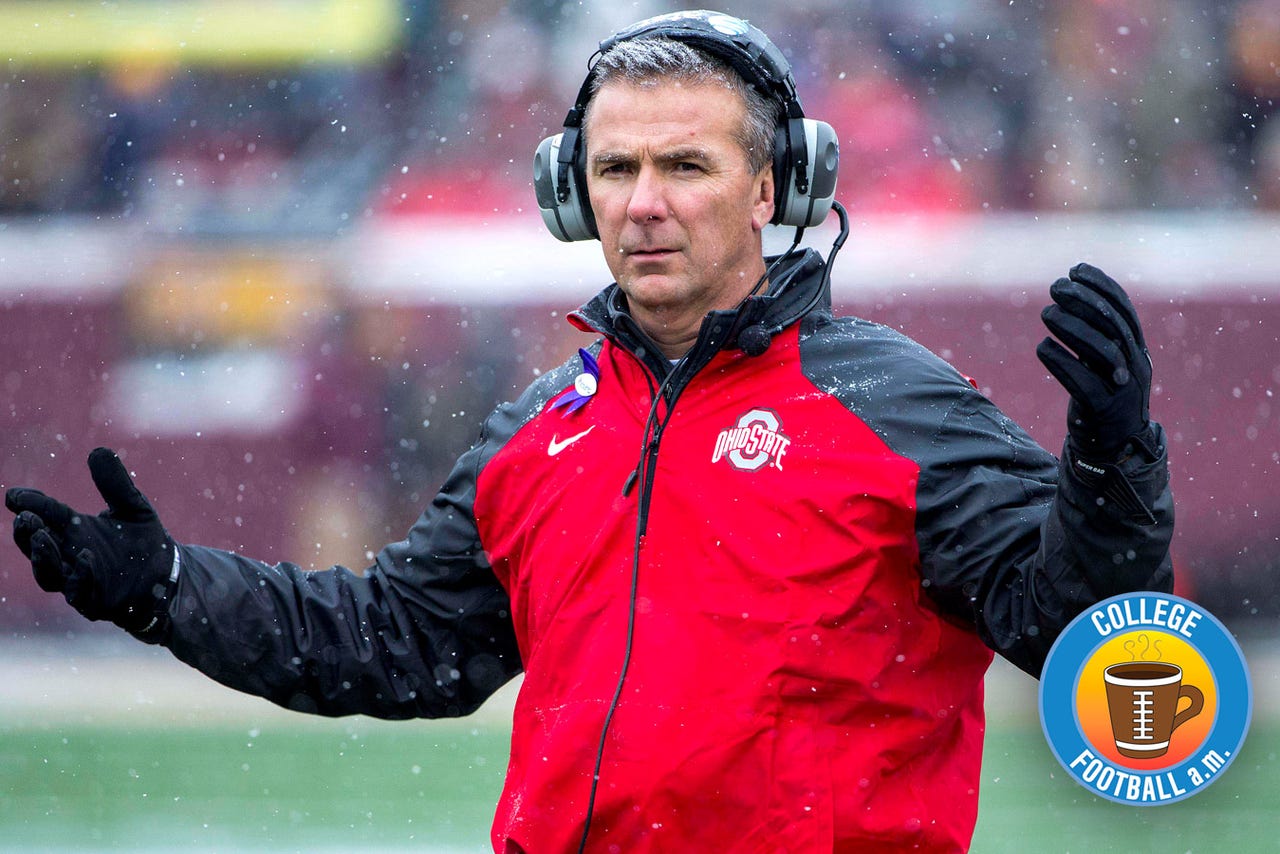 When do you know it's officially Ohio State-Michigan week?
When Urban Meyer admits this is "not another game" and a junior Buckeye linebacker says he hasn't used the word "Michigan" since he arrived on campus three years ago.
When Ohio State students are trying to outsmart campus police so they can uphold a tradition of jumping into a lake.
And when fans are going to great lengths to cover up every 'M' with red tape on campus this week.
Yes, they are trying to get them all. Check out these photos (h/t SB Nation):
THREE THINGS YOU NEED TO KNOW
1. UCLA quarterback Brett Hundley said on the radio there's a "really good chance" this is his last year with the Bruins. That's not surprising, but it's always notable when a player goes on record with comments like that with a few games remaining to play. In other draft news, Miami running back Duke Johnson is torn on whether or not to return for his senior season. Johnson suffered a broken ankle last season and has returned to have a great year in 2014. His draft stock won't be any higher next year, so save yourself the year of damage and head to the NFL, Duke.
2. The Pac-12 issued a statement saying officials made errors on two different touchdowns in the Stanford-Cal game that cost the Bears. ''[The] replay crew will be held accountable for the errors through the Conference's disciplinary process," the league said. FOX Sports rules expert Mike Pereira also wrote on Saturday how the officials messed up an ejection, as well.
3. An Alabama offensive lineman isn't replaying last year's Iron Bowl in his mind because "a lot of people are lucky and they got lucky." Luck, atrocious execution on special teams, whatever you want to call it. Meanwhile, thank you Rhett Lashlee. The Auburn offensive coordinator admitted what every fan already knows about rivalry games: they aren't "just another game." They are something else.
THREE THINGS YOU SHOULD KNOW
1. Stewart Mandel's Week 13 Forward Pass looks at the SEC West and why it's the most dominant division ever, which could become a key talking point for Mississippi State if the Bulldogs finish 11-1 but don't go to the SEC title game. Others will dispute Miss. State's resume, and the debate will go round and round forever, per usual.
2. Radio host and TV personality Paul Finebaum will host a live show during the Iron Bowl where analysts will break down the game in real time and Finebaum will take calls from his usual listeners as the game progresses to get their reaction. This could be an absolute train wreck, and I mean that in the best possible way. Those calls as the outcome of the game crystallizes will be superb.
3. North Carolina players caused thousands of dollars worth of damage to the visiting locker room at Duke after beating the Blue Devils last week, and UNC issued an apology and said it will pay for the damage. Is it 2015 yet? This year has not been kind to my school.
THREE THINGS YOU MAY WANT TO KNOW
1. Here's Bret Bielema wearing an afro. Yep, these are good times for the Hogs.
2. An Alabama columnist is asking Crimson Tide fans to stop yelling the F-word at other teams during a popular song that's played over the loudspeakers at home games. Good luck.
3. Is Wisconsin's Melvin Gordon working on the best season for a running back since Barry Sanders in 1988? Lots of good nuggets in this Bill Connelly piece. Quick thought on Gordon: Is there ANYTHING he can do to win the Heisman? What if he runs for 2,500 yards and Wisconsin wins the Big Ten title? It feels like we've already awarded Marcus Mariota the Heisman and are just waiting to make sure Oregon wins its final two games. But at some point Gordon's season has to be matching, or eclipsing, the great year Mariota is putting up, right?
LASTLY
Minnesota looks like a fun team to play for, and Jerry Kill seems like a coach who loves his players.
Have a great Tuesday, all.
Teddy Mitrosilis is an editor and writer for FOXSports.com. Follow him on Twitter @TMitrosilis and email him at tmitrosilis@gmail.com.
---