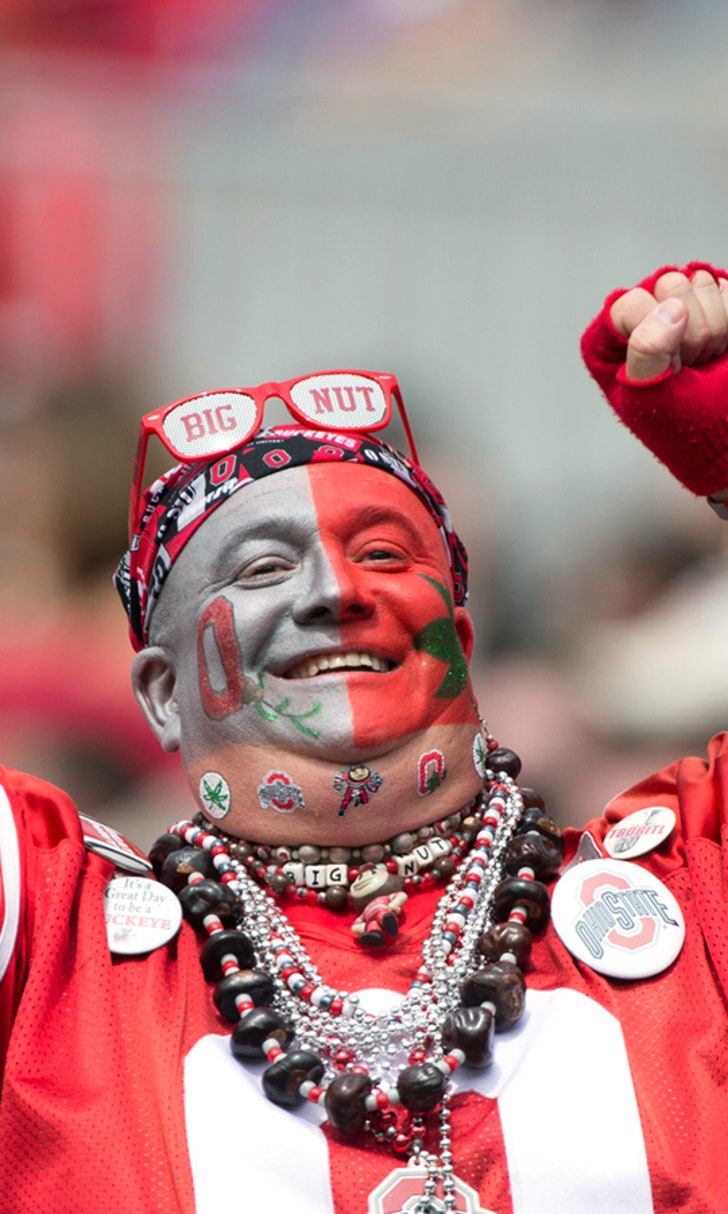 CFB AM: Ohio State band kicks wounded Michigan at its lowest
BY Teddy Mitrosilis • September 30, 2014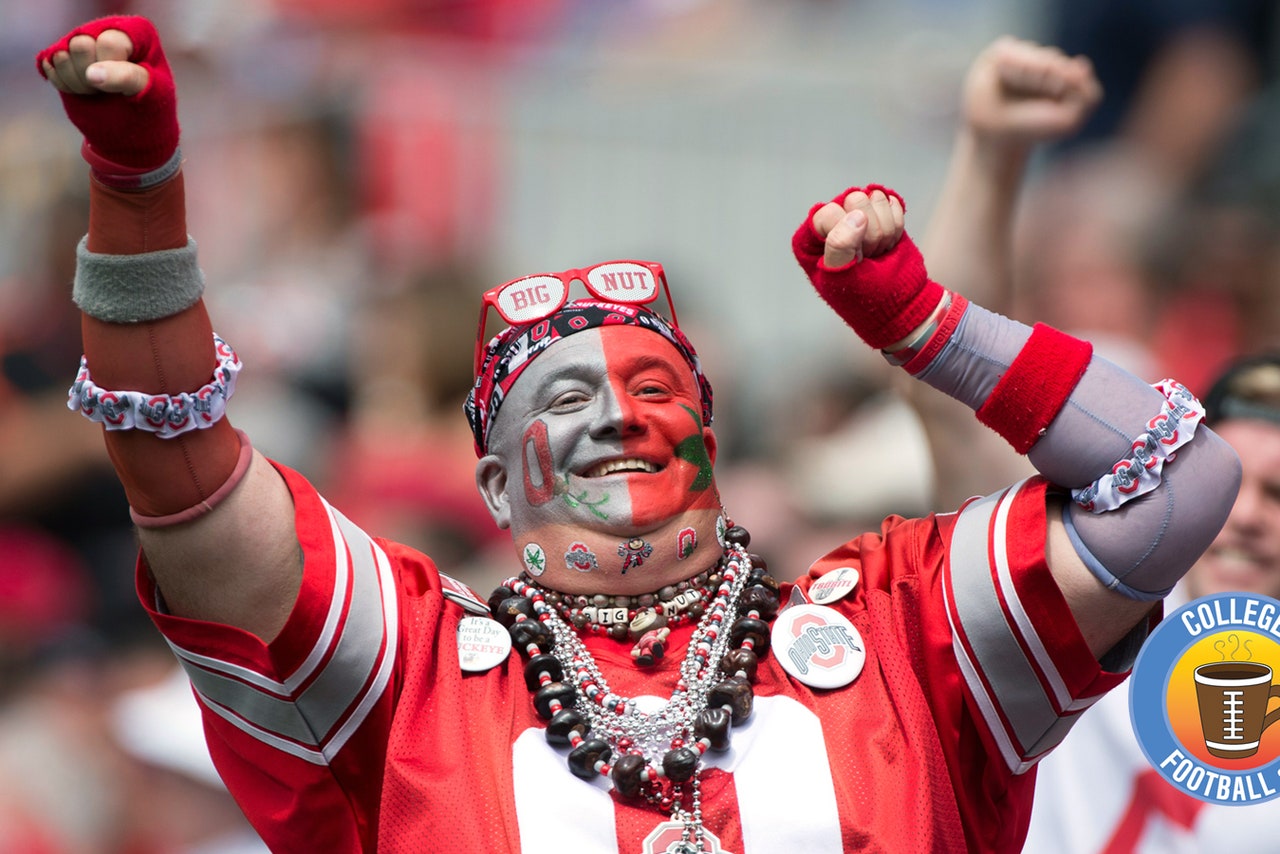 As you've heard (and will see below), these are not happy days around Michigan football.
The Wolverines lost three games in September for the first time ever in their 135-year history.
Their head coach, Brady Hoke, appears to be counting the days until his firing.
And athletic director Dave Brandon could be doing the same, as the university is reportedly beginning to gauge the interest of other ADs around the country.
So, of course, as any self-respecting and bitter rival would do, the Ohio State Buckeyes decided to kick the Wolverines at their absolute lowest.
Last weekend during a halftime performance that honored the "Wizard of Oz," the Buckeyes' band worked the Wolverines into their show by doing what? By making them the witch. So not only does Michigan have to be a bad football team right now, it also has to be a witch. Geez.
THREE THINGS YOU NEED TO KNOW
1. Late last night, around nearly 1 a.m. ET, Brandon released a statement saying that QB Shane Morris, in addition to a high ankle sprain, suffered a "probable, mild concussion" in Saturday's game against Minnesota. He also acknowledged two instances of blunt miscommunication "that cannot occur again." One was the conversations between medical staff and Hoke during the game on Saturday, and the other regarded Monday morning, when Hoke spoke at a press conference without any knowledge of the concussion diagnosis that had been reached on Sunday.
One positive is that Brandon said Michigan will now have an "athletic medicine professional" in the press box or video booth going forward so they can watch replays – it was the replay the nation saw on Saturday after Morris took a huge hit that revealed how dazed he appeared – and communicate with the on-field staff. The statement is long, so I'm not going to print it here. Here's the full statement if interested.
Credit to Brandon for taking a full day to work through a thorough process and get as many answers as he could and then make adjustments based on that information, but this is also just another sign of the disconnect at Michigan. Head coaches are conditioned to know the details of their programs. How could Hoke, the head coach, not be among the very first phone calls on Sunday from the medical staff after Morris' diagnosis is complete? Not only was he not immediately notified, he wasn't notified Monday morning, either, knowing he had to speak to the media later. That doesn't make any sense at all. Kinda like the entire last three weeks in Ann Arbor.
2. Bill Connelly helps sort through the various Michigan trees in search of the Wolverines' next coach after they presumably fire Brady Hoke at some point this year. It really is incredible how murky the options get for such a great job, in theory, if Michigan can't pull one of the Harbaughs or LSU coach Les Miles. The way this search is already being discussed, particularly in regards to the Harbaughs – "Michigan would prefer Jim over John" – reminds me of the Texas search last year, where it was just assumed the resources and size of the brand would attract almost anybody.
In reality, what Michigan may have to do is scrap what the public thinks Michigan should do and select a coach who can implement a plan and culture that they believe in, as Texas did with Charlie Strong. Outside of the names mentioned, it's hard to figure out which current college head coach that might be. Maybe it's a coordinator, which would be less appealing to the masses than a head guy, or maybe it's an NFL coach of some sort.
It's interesting to think about a guy like Atlanta Falcons OC Dirk Koetter, or someone of that mold. He's highly regarded in the league and has plenty of college head coaching experience, having racked up a 66-44 record as the head coach at Boise State and Arizona State before jumping to the NFL. His stint at ASU did not end well, and Michigan probably wants a defensive-minded coach rather than offensive.
But again, should the school hire a "defensive Michigan man" just because that's what it's supposed to do? That hasn't really been working. If the Wolverines want to have a deep, and realistic, pool to choose from, maybe they'll have to rethink the qualities that could make a successful head coach in this age of college football. Regardless, this search is already endlessly fascinating.
3. Georgia running back Todd Gurley was falsely accused of punching someone in an Athens bar because he allegedly was upset that a guy took a selfie with Gurley in the background. That wasn't true, and video from the bar told the real story. As Clay Travis points out in his post on the subject, Gurley should be thankful for the video in this instance, which is interesting after we just witnessed video escalate the Ray Rice story exponentially. The lesson for all: For better or worse, what you did or didn't do will come to light.
THREE THINGS YOU SHOULD KNOW
1. UCF coach George O'Leary was accused of making racial remarks in a lawsuit filed by former defensive coordinator Paul Ferraro, who's seeking more than $15,000 in damages for wrongful termination and racism. The lawsuit claims O'Leary made insensitive remarks regarding Ferraro's Italian heritage, as well as remarks about African-Americans and those of Jewish descent. In a statement, UCF strongly denies Ferraro's claims.
2. LSU coach Les Miles has officially decided to turn the quarterback job over to true freshman Brandon Harris – sort of. Miles is always coy in how he states things and said on Monday, "It stands to reason that [Harris] would get first snaps in the next game." The next game comes this Saturday at Auburn, a tough spot for a true freshman to make his first career start, but Harris is a talented guy. Excited to see how he handles it and how Anthony Jennings bounces back if he gets some snaps in the back-up role.
3. Stewart Mandel had his Forward Pass column on Monday, which looks ahead to Ole Miss-Alabama, Notre Dame-Stanford, Nebraska-Michigan State and more. Good stuff here if you have a few minutes.
THREE THINGS YOU MAY WANT TO KNOW
1. Mike Leach is at it again. Somehow the Washington State head coach got on the topic of technology and dating in a press conference Monday, and expressed his concern about "machines" destroying the human species. Here's what he said.
2. NC State coach Dave Doeren accused Florida State of faking injuries against the Wolf Pack last Saturday. He called it "unsportsmanlike" that FSU players would, Doeren says, fake an injury to stop the clock, go to the sideline and then immediately return to the game. On Monday, FSU coach Jimbo Fisher levied his own accusations against Doeren – Fisher accused him "of not knowing what he's talking about." Coach sparring is so fun.
3. The NCAA denied former Texas Tech QB and current Oklahoma walk-on Baker Mayfield's waiver request to be immediately eligible to play, and Mayfield's father called Kliff Kingsbury a "scoundrel" who is "hellbent on punishing Baker." What, exactly, did Kingsbury do wrong other than not make any promises to Mayfield heading into his sophomore season? You could argue Mayfield did more than enough last year as a freshman to warrant a scholarship this year, sure, but if Mayfield was also upset because Kingsbury wouldn't name him the starter, well that's Mayfield's problem. Kingsbury had Davis Webb, who every coach in America would choose first.
LASTLY
* Bob Asmussen goes behind the scenes with Illinois the night before the Nebraska game.
* Enjoyed this piece by Michael Casagrande on how the no-huddle changes how Alabama communicates.
* A Mississippi State defensive lineman is motivated by his daughter, writes Michael Bonner.
* This is glorious work from an Auburn fan creating an Iron Bowl video set to "A Tribe Called Conquest" music. Poking Nick Saban never gets old for some people, does it?
Have a great Tuesday, all.
Teddy Mitrosilis is an editor and writer for FOXSports.com. Follow him on Twitter @TMitrosilis and email him at tmitrosilis@gmail.com.
---