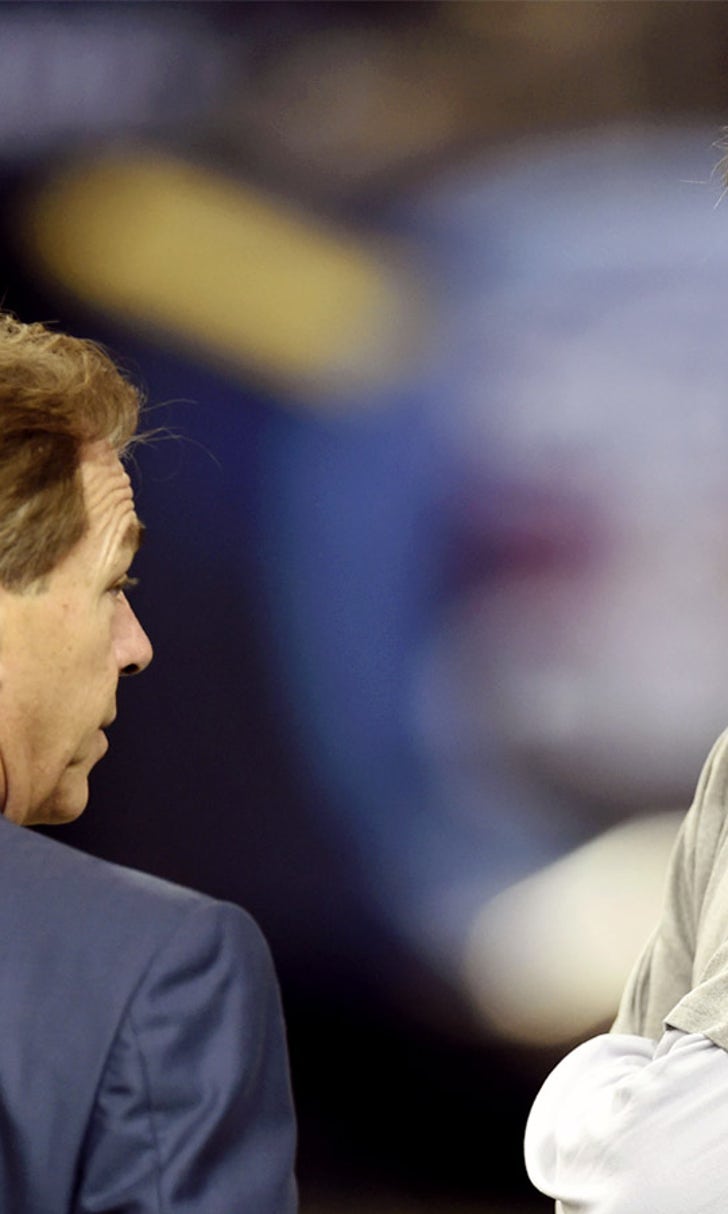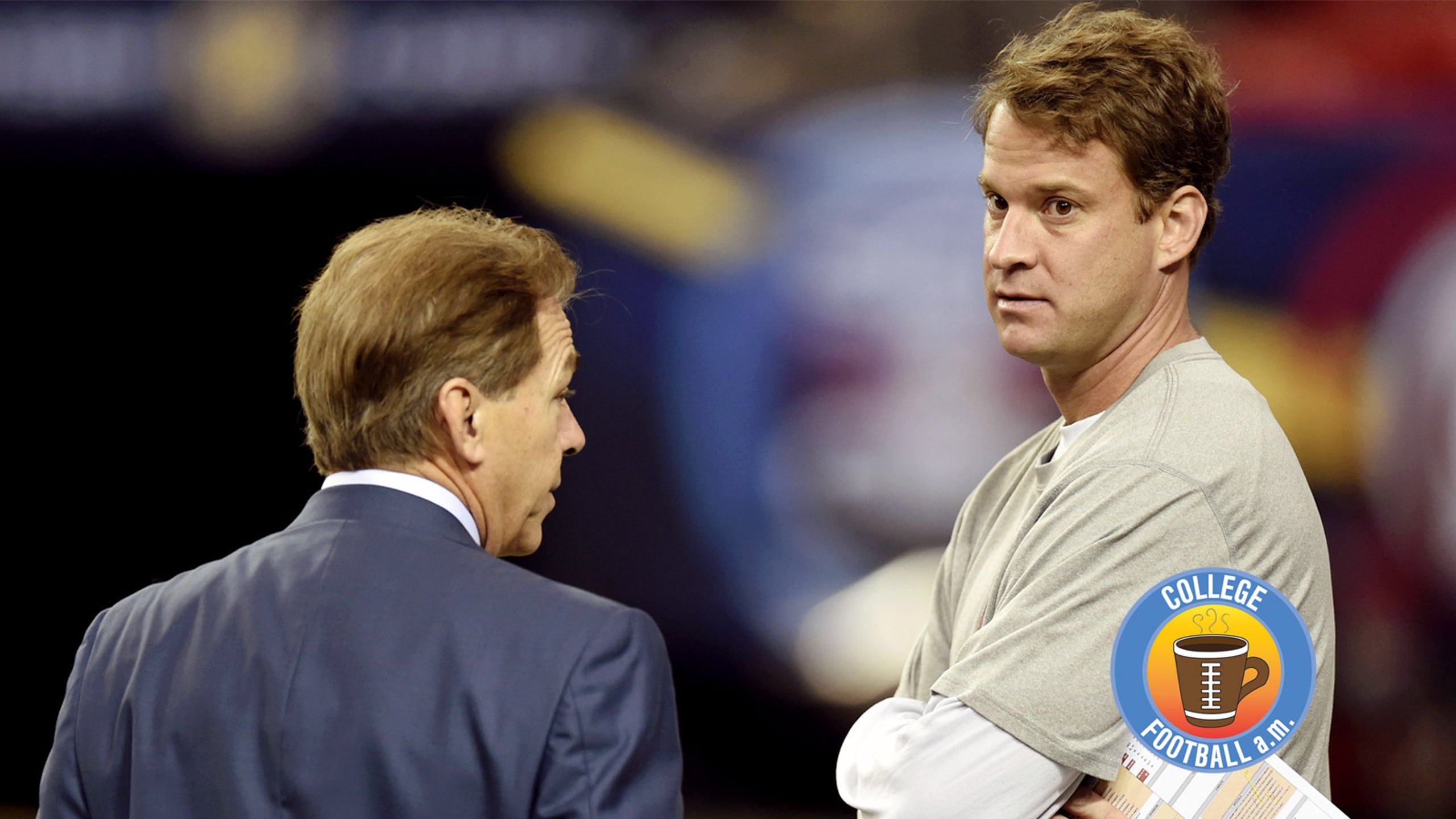 CFB AM: Lane Kiffin spends award speech cracking Nick Saban jokes
BY Teddy Mitrosilis • December 10, 2014
Alabama offensive coordinator Lane Kiffin was a finalist for the Broyles Award, honoring the nation's top assistant, and his speech at the ceremony started off so well.
Kiffin humbly thanked Nick Saban for the opportunity to come to Tuscaloosa.
"Coach Saban took a chance on me when a lot of people wouldn't do it and has been phenomenal to me throughout the entire year," Kiffin told the crowd in Little Rock, Arkansas.
But Kiffin, who per Saban's policy for his staff has not been allowed to speak with the media this season, then had to take a couple minutes to crack a few jokes at Saban's expense. He just couldn't pass up the opportunity.
Kiffin said he's asked a lot about what Saban says to him on the sideline when he's following behind him, "you know, right about here," Kiffin said, putting his hand near his hip to demonstrate Saban's height.
"Oh, gosh, we're on TV," he then says. "Can you get that part out? This is why he doesn't let me talk to the media."
Kiffin then answers the question of what Saban says to him: "Hey Lane, I love you so much, thank you so much for coming here … Can you stop throwing the ball so much and just run it a few more times please?"
Kiffin didn't end up winning the award -- Ohio State OC Tom Herman did -- but it's a fun moment that shows the humorous side Kiffin has always had but hasn't always been the best at expressing.
Now, will Saban think it's so funny? That's another question. Here's the video of Kiffin.
THREE THINGS YOU NEED TO KNOW
1. On Tuesday there were reports that fired Nebraska coach Bo Pelini has been offered and is close to accepting the Youngstown State job. However, Tuesday evening Pelini spoke with SI and denied the rumors, saying that "it's all a complete fabrication of the truth." So we'll see, but it seems like there's some smoke there.
2. UNLV has hired a high school coach to take over its program. Las Vegas Bishop Gorman's Tony Sanchez will be the new head man, which has been rumored about for some time. Sanchez has helped turn Bishop Gorman into a national powerhouse program and has the support of some Vegas power players. Before we even consider Sanchez's coaching ability, this hire guarantees that financial support and recruiting will rise significantly at UNLV, which makes it almost a no-brainer hire for the Rebels.
3. The UAB Faculty Senate is considering a no-confidence vote on president Ray Watts -- essentially saying they don't trust him to do his job correctly -- in the wake of the football program being eliminated. The best outcome would been a complete review of UAB athletics that culminates with the school finding the basic resources needed to fund a football program and bringing the Blazers back. That's probably unlikely, though, so I'm not sure what this really accomplishes other than to say, "There's a lot of folks who aren't happy with this decision." Join the crowd.
THREE THINGS YOU SHOULD KNOW
1. Will Muschamp has been the most high-profile name tossed around for various defensive coordinator positions, namely at Auburn and Texas A&M, but one guy who could be a good choice for a school that doesn't get Muschamp is Clancy Pendergast. He was off the sidelines this season after doing great work with USC's defense and then losing his gig when Steve Sarkisian brought DC Justin Wilcox with him from Washington. Bruce Feldman caught up with Pendergast to talk about what this year has been like for him and how he's staying sharp as a coach. He has a ton of college and pro experience with great results, so he'll certainly have job offers this winter. Pendergast, who spent seven seasons with the Dallas Cowboys, would be interesting at Texas A&M.
2. Ohio State released the uniform design it will be wearing against Alabama in the Sugar Bowl, and the Buckeyes' gloves and undershirts will have sketches of Woody Hayes' chalkboard on them. These are sweet.
3. Oregon also released the uniforms it'll wear against Florida State in the Rose Bowl. These all-green threads aren't nearly among the Ducks' most inventive uniforms, but I like the fresh, simple look.
THREE THINGS YOU MAY WANT TO KNOW
1. Bleacher Report mashed together a video of every Marcus Mariota touchdown this season. There's more than 50 of them. Pretty cool.
2. According to a report, Michigan has reached out to LSU coach Les Miles. This would be more important news, except it's essentially due diligence on Michigan's part. They're probably having initial conversations with the representatives of a lot of folks, so keep this in perspective. But it sure is fun to ponder a future of Miles at Michigan (and then the ripple effect that occurs after the LSU job becomes available).
3. Pete Thamel went behind the scenes with Urban Meyer as the College Football Playoff was being unveiled and Meyer learned Ohio State was in. Good read.
LASTLY
* We finally had Eric Hasseltine back on the Eric Hasseltine Show this week after a couple weeks away (enough Grizzlies basketball, dude, it's still football season!). Here's my visit on the Memphis show from Tuesday if interested.
* Hat tip to Mississippi State social media guru Kyle Niblett for sending this video along of the Bulldogs, who are heading to the Orange Bowl, doing a little spoof on Miami Vice.
Have a great Wednesday, everybody.
Teddy Mitrosilis is an editor and writer for FOXSports.com. Follow him on Twitter @TMitrosilis and email him at tmitrosilis@gmail.com.
---