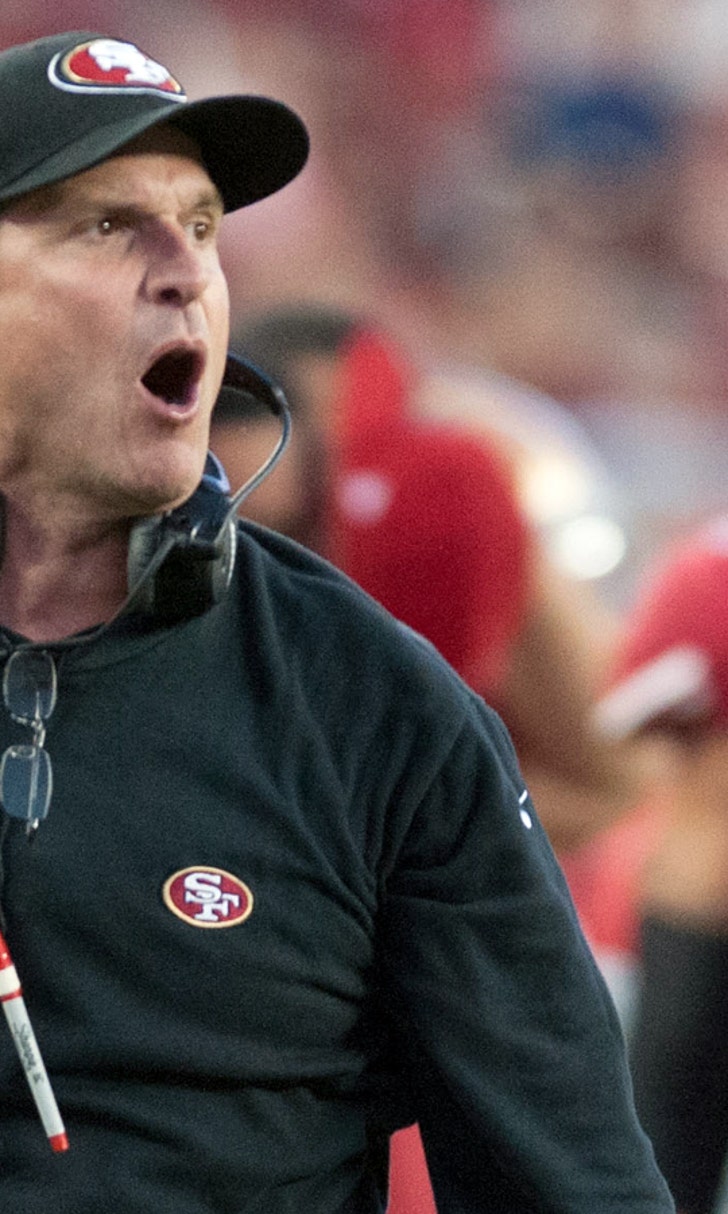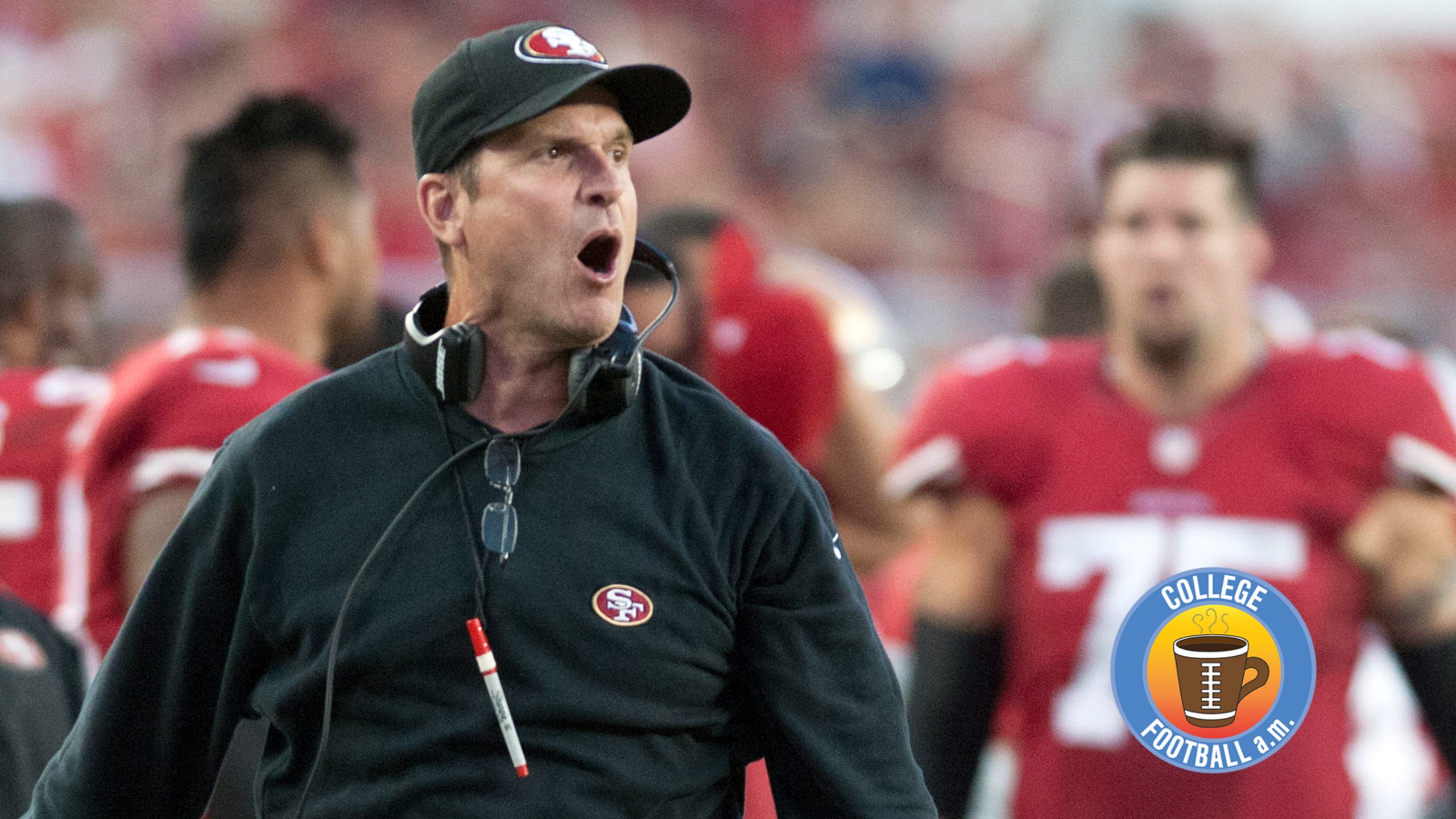 CFB AM: Jim Harbaugh to Michigan is becoming more real by the day
BY Teddy Mitrosilis • December 17, 2014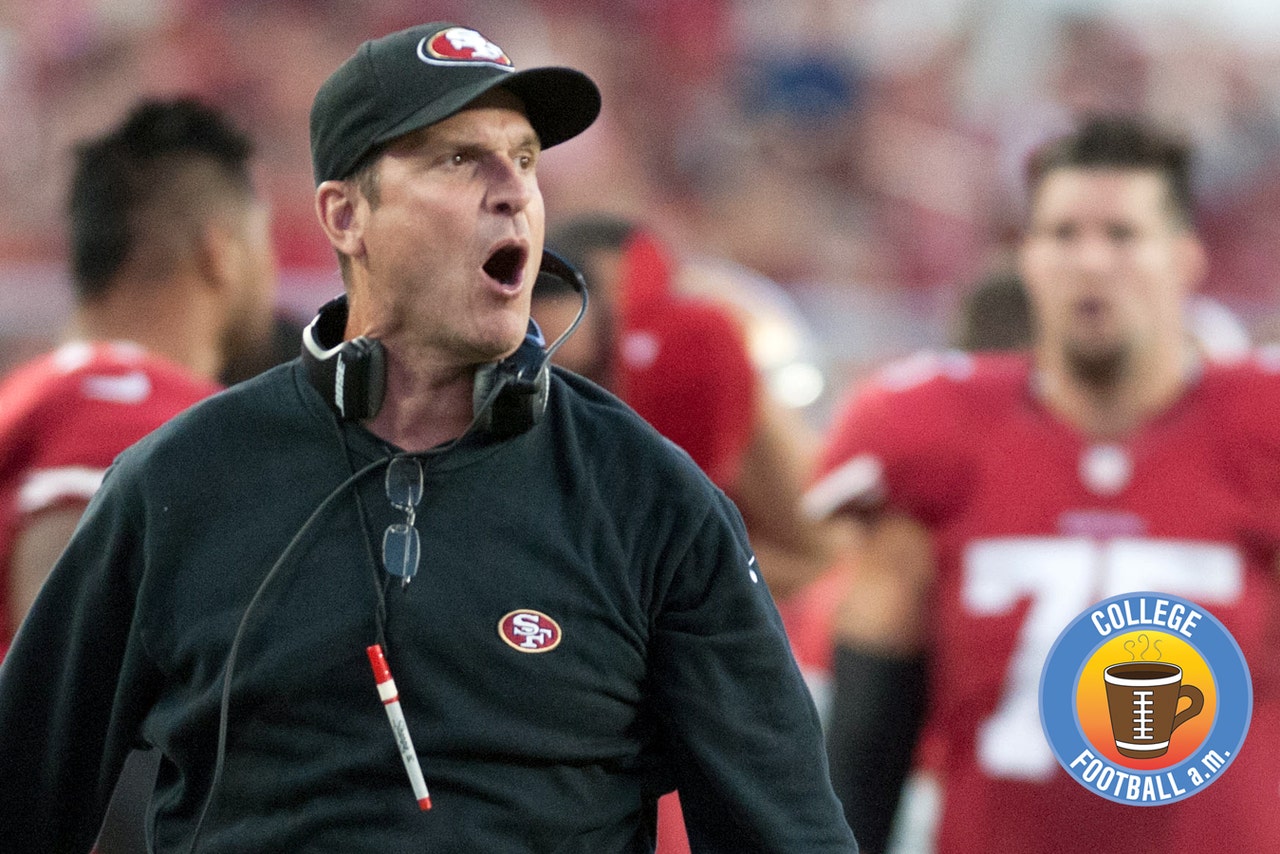 Michigan fans and alumni are clamoring for the Wolverines to hire Jim Harbaugh as their next football coach, and as each day passes, a little more smoke rises from the smoldering coaching search in Ann Arbor.
The school hasn't indicated one way or another that it's targeting Harbaugh, but if the tempo of this process is itself any indication, Michigan is allowing every opportunity for the San Francisco 49ers coach to entertain coming back to Michigan to resurrect the program at which he played his college ball.
Here's where we currently are with this search:
Everybody in Michigan Nation – and we mean everybody – is trying to convince Harbaugh to come to Ann Arbor, from Desmond Howard to Charles Woodson to the late Bo Schembechler's son.
LSU coach Les Miles, a guy with Michigan ties and presumably a name high on the Wolverines' list, said he hasn't had any contact with the school and isn't leaving the Tigers. Mississippi State coach Dan Mullen said he also has not had any contact with Michigan. It's unlikely the Wolverines hire one of the coveted coordinators available – say, Michigan State's Pat Narduzzi – and if Pitt goes after Greg Schiano and lands him (see below), that's one potential fit for Michigan off the board.
Meanwhile, the 49ers have been eliminated from the NFL playoff race and have 11 days left in their regular season. This is the perfect time for Michigan to be patient, as we're currently in a recruiting dead period that prevents coaches from making in-person visits with prospects until Jan. 14 (although they can still be in contact).
Naturally, this timeline is fueling every Michigan rumor mill out there. A Pittsburgh radio guy is reporting Michigan and Harbaugh already have terms of a deal in place (which, no disrespect, seems unlikely and premature). A Detroit sports blog is saying that Harbaugh has already reached out to old Michigan teammates and peers in the profession about "getting the band back together" in Ann Arbor. MGoBlog, a respected Michigan source on the Web, is saying that things are in motion between the two sides. Even Detroit News columnists are now very suspicious of Michigan's deliberate pace with this search and believe it indicates the school has dialed in on Harbaugh.
All of this is to say, of course, that there's nothing official whatsoever, and it still seems (to me, anyway) unlikely that Harbaugh would leave the NFL when he'll have a number of organizations offering him the keys to their operation this offseason. But there's also a reason the Michigan community stirs a little bit more with each passing day.
For readers: What are the chances you think Harbaugh gets to Michigan?
UPDATE: Late Wednesday afternoon, FOX Sports' Mike Garafolo reported Harbaugh is mulling over a $48-million offer from Michigan after previously dismissing the notion of returning to Ann Arbor. It's important to note there's still been no interview and the 49ers have two games remaining in their season. So I again want to reiterate there's nothing definitive about Harbaugh going to Michigan, but we're starting to build a pretty impressive pile of reports saying there's genuine interest between the two sides and that the Wolverines are now viewed as a viable option alongside NFL gigs.
THREE THINGS YOU NEED TO KNOW
1. Fired Nebraska coach Bo Pelini won't be spending 2015 doing house chores. Pelini has agreed to become the next coach at Youngstown State, which is a move home for Bo, as he went to high school in Youngstown. With Jim Tressel as university president, Pelini steps into a place where he can win big at the FCS level and set himself up for another Power 5 job. But it doesn't seem like Pelini will be in any rush to move on from Youngstown, as this move was about family and the pull back to home. "It is with great passion and enthusiasm that I become the head football coach at Youngstown State University," Pelini said in a statement. "This is an exciting time for my family and me as we return to the Mahoning Valley."
Good for Bo -- I hope he does well there and gets Youngstown humming again like Tressel had it in the 1990s before moving on to Ohio State.
2. Bruce Feldman reported Tuesday that Paul Chryst informed Pitt he was heading to Madison after practice to meet with Wisconsin officials about their head coaching job. According to a report from Tuesday evening, Chryst will officially be introduced today at 6 p.m. CT as Wisconsin's new coach. Now Pitt has to begin yet another search for a head coach and reportedly has targeted Greg Schiano to replace Chryst. That would be a terrific hire for the Panthers.
3. We released our 2014 FOX Sports All-America team on Tuesday, as did the Associated Press. People were most surprised to see the recognition Washington got, with three different defensive players making various All-America teams. It was a tough process -- we listed picks for a first and second team, and it still felt like we were leaving a lot of worthy players off.
THREE THINGS YOU SHOULD KNOW
1. Bruce Feldman ranked his top 10 true freshmen of 2014. How great was this season for new impact talent in college football? Just read Bruce's 10th selection on this list and all of the names in the blurb that didn't make the cut. Pretty crazy and pretty exciting as we look forward to 2015 and watching these guys blossom.
2. Huge news in East Lansing: Michigan State quarterback Connor Cook has decided to return to the Spartans for his senior season. Cook has made significant strides this season as the Spartans' offense took a big leap forward – it ranks 18th in the nation in yards per play (6.58) after ranking 82nd in 2013 (5.4). "I've sat down and talked to my family. The main goal is obviously to come back," Cook said. "Talked among them, talked among my friends, with the coaches. I have unfinished business that I want to do, that I want to accomplish next year."
Cook said he specifically wants to improve his running ability to be better prepared for the modern NFL game. "If I drop back and guys are covered, then I can scramble and get some yards. Not trying to be a dual-threat quarterback in any means, but if I have to get four or five yards, just be more of a threat with my feet -- and then use the running back more. ... You look at guys in the NFL, guys that make a living off of throwing to the back. That's why their completion percentage is so high."
3. TCU has rewarded head coach Gary Patterson with a contract extension that signs him through the 2020 season. "We don't wait around," athletic director Chris Del Conte said. "You don't let grass grow between your toes when you have the very best in America, so we settled up on Sunday, shook hands and crossed the T's and dotted the I's and we're off to the next subject. There's enough detail to know that Gary Patterson will be our coach at Texas Christian University as long as he wants to be our coach at Texas Christian University."
THREE THINGS YOU MAY WANT TO KNOW
1. A 22-year-old man was sentenced to jail time a year and a half after robbing Bob Stoops' home while the Oklahoma coach and his family were asleep. Stoops and his wife were asleep downstairs with their three children upstairs while two men went through the house and stole cash, credit cards and a vehicle. Frightening.
2. Jon Solomon looked at the attendance data for 2014, and on the whole fewer people attended college football games this year. Except Ohio State fans. The Buckeyes averaged 106,296, which ended Michigan's 16-year streak at No. 1 in attendance. One other notable thing: Despite a mediocre year, Texas A&M jumped Michigan to No. 2 with 105,123 in average attendance this season. That speaks to what Kevin Sumlin has going in College Station, even if 2014 was a disappointment for Aggies fans.
3. This is what kickers and punters do when they have too much time on their hands. Hat tip to South Alabama punter Corliss Waitman.
LASTLY
* Made my weekly stop yesterday on the Eric Hasseltine Show in Memphis to chat Pelini, the Heisman and all things CFB while we wait for bowls to kick off. Here's the link if interested.
* New Florida coach Jim McElwain made a significant hire on Tuesday, nabbing Mississippi State defensive coordinator Geoff Collins, who will serve in the same role for the Gators.
* Under Armour and Adidas are making pitches to steal Miami away from Nike. Meanwhile, Arizona State ditched Nike on Tuesday for Adidas with the help of Snoop Dogg.
* Big news for Mississippi State fans: You will officially be allowed to bring your cowbells to the Orange Bowl when the Bulldogs face Georgia Tech.
Have a great Wednesday, everybody.
Teddy Mitrosilis is an editor and writer for FOXSports.com. Follow him on Twitter @TMitrosilis and email him at tmitrosilis@gmail.com.
---
---