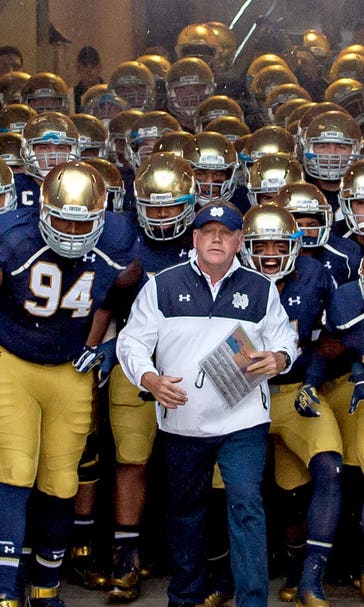 CFB AM: Irish coach explains Big Ten hatred in one epic fist pump
September 7, 2014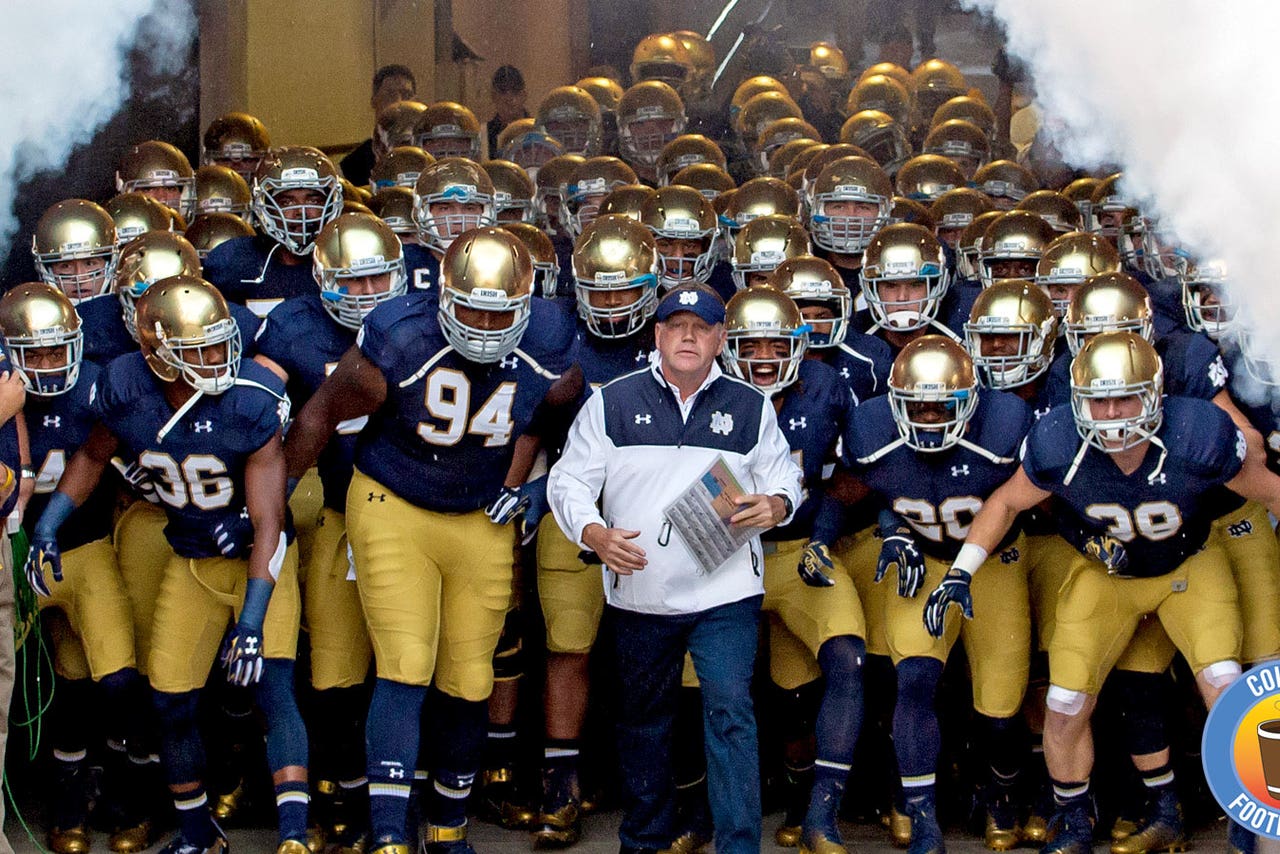 As you'll see below, Saturday wasn't a day of joy for the Big Ten.
Which, for whatever sick reason, means it was a joyous day for many fans around the country.
Maybe it's the tradition or history of success at programs like Michigan and Ohio State, but those on the fringes of the country seem to take pleasure when Midwest football takes a hit.
Michigan, in fact, might have taken the B1G's biggest hit in Week 2, getting roasted 31-0 at Notre Dame.
It was a crushing defensive performance by the Fighting Irish, which left defensive coordinator Brian VanGorder so fired up that he unleashed one hellacious fist pump you must see. At the risk of understating it, we'll modestly describe it as among the greatest in the history of mankind.
It's also the precise image that comes to mind when I think of non-Big Ten fans waking up this morning. Every emotion that anyone has ever held against Big Ten teams has been culled and packaged in this one fist pump. At least give it to VanGorder – the man got his money's worth.
THREE THINGS YOU NEED TO KNOW
1. In Week 2's best game, and the biggest non-conference game of the season, No. 3 Oregon beat No. 7 Michigan State 46-27. Marcus Mariota was 17-of-28 for 318 yards and three touchdowns, while also chipping in 42 yards on the ground. Freshman running back Royce Freeman ran for 89 yards and two TDS, further establishing himself as a force in the Oregon run game (he had two TDs in Week 1, too). Freshman wide receiver Devon Allen caught three balls for 110 yards and two TDs, showing off his track speed.
For a while, Oregon looked like it would have to scrape out a victory. Down 27-18 earlier in the third quarter and lacking their typical offensive explosiveness, the Ducks scored three touchdown in less than five-and-a-half minutes before Freeman tacked on a final TD with less than two minutes to go. The second half was brilliant football by Mariota and the Ducks, proving why they remain a national favorite to reach the College Football Playoff.
Mariota put his stamp on Michigan State and the Heisman race, writes Pat Forde. The Ducks showed they can win tough games and be playoff contenders, writes Andrew Grief. Before we move on, Ifo Ekpre-Olomu made an interception you'll want to see.
2. And now for the Big Ten's day of embarrassment and reckoning. Michigan State is the only team that comes out looking respectable, and the Spartans lost by 19 points. Connor Cook threw for 343 yards and two TDs and genuinely had Michigan State in strong position early in the second half, but he also threw two picks and couldn't match Mariota in the game's final 20 minutes (that's no sin). WR Tony Lippett had a huge day, catching 11 balls for 133 yards and a TD, and Jeremy Langford absorbed 24 carries, spitting out 86 yards and a score.
Still, it wasn't enough for the Spartans to grab a massive victory for its conference. Michigan State went under when Cook made a poor throw, writes Joe Rexrode.
But Michigan State was hardly the Big Ten's problem in Week 2. No. 8 Ohio State lost at home to Virginia Tech behind seven sacks and three forced turnovers from Bud Foster's defense. It was a brutal passing night for Buckeyes QB J.T. Barrett – 9-of-29, 219 yards and one TD with three picks (he did run for 70 yards and a TD) – and only one Ohio State WR made more than one catch (Michael Thomas: six catches, 98 yards, one TD). No, Dontre Wilson doesn't get extra credit because his lone grab happened to be a sweet one:
Michigan, of course, was skunked in South Bend, Northwestern lost to Northern Illinois (after losing to Cal in Week 1), Iowa beat Ball State by only four points and Nebraska needed Ameer Abdullah to do this in the closing seconds to beat McNeese State:
It was an awful day across the board for the Big Ten, and the national conversations as Saturday night turned into Sunday morning centered around the thought that the Big Ten is already out of playoff contention. I'm not going quite that far. If Michigan State finishes with one loss at Oregon, I believe they'll at least be in position to make the Final Four. We tend to forget how long the season is and how much craziness rests between now and early December. Yet, for Big Ten fans, Saturday was the anti-VanGorder.
3. In the second-biggest game of the day, No. 14 USC beat No. 13 Stanford on the road 13-10, an ugly yet tremendous win for Steve Sarkisian and the Trojans. Their offense didn't resemble the unit that ran up 105 plays on Fresno State in Week 1, but that's more credit to Stanford's defense and its ability to control the ball for almost 34 minutes.
The only unfortunate thing for SC: This weird Pat Haden incident will overshadow much of the win. In the third quarter, Sarkisian was called for an unsportsmanlike conduct penalty for standing on the white part of the sideline during a play (really, officials). He was heated about that and other penalties, and so someone on USC's staff sent a text message to Haden in the press box and told him to come down to the sideline to speak with the officials on Sark's behalf. So this happened:
This caused a national storm given that Haden sits on the College Football Playoff committee. Before the game had even finished, some were calling for Haden to resign from the committee altogether. Stewart Mandel asks those people to take a couple steps back from the ledge and gain a little perspective.
I align more with Mandel than the "guillotine him!" crowd. Haden shouldn't have gone down to the sidelines, and Sarkisian shouldn't have had a staffer ask him to. "My guys are out there fighting for 60 minutes," Haden said. "The least I can do is come down for a minute and fight with them."
Well, not really. On-field matters during a game should be dealt with by on-field personnel. Sark's explanation was that he was in a "competitive mode" and couldn't calmly discuss the penalties. OK, so why not have an assistant head coach or some other veteran staffer carry that responsibility in those moments?  In any case, it's not a big deal. The committee has a policy that prevents sitting athletic directors from voting for their schools. Things will be just fine.
THREE THINGS YOU SHOULD KNOW
1. For the second straight season, BYU smoked Texas. This time it happened in Austin, 41-7, with Taysom Hill rushing for three TDs. Charlie Strong said he was "embarrassed" by the game and knew before kickoff that his players weren't ready to play. Meanwhile, here's the highlight of the night, courtesy of Mr. Hill:
2. We're two games into the Leonard Fournette era at LSU, and I adore it. Hell, it's almost all speculation still at this point, but Saturday night was great. Fournette got on the board with his first college touchdown … and struck the Heisman pose. The Heisman pose! After his first career TD! Against Sam Houston State!
Some called the act embarrassing and a joke, which is hard to disagree with. But who wants to ruin the fun now?
3. It was a generally quiet Week 2 in the SEC, with most notable teams playing terrible opponents. Both Blake Sims and Jacob Coker got good work at QB for Alabama, writes Andrew Gribble, and Amari Cooper tied the Alabama record for most catches in a game with 13.
Cameron Artis-Payne had another big rushing night for Auburn, as the Tigers crushed San Jose State. Auburn has a ton of weapons, but I've been most impressed with Artis-Payne through the first two weeks. He's making the loss of a Heisman finalist running back utterly irrelevant.
The biggest SEC story of Week 2 is probably the ugliness Vanderbilt finds itself wrapped in. Things could not have started off any worse for Derek Mason, as the Commodores  lost to Ole Miss 41-3 and have been outscored 78-10 in the first two weeks of the season. Is two games too early to being wondering whether Vandy needs to look for another coach, asks Clay Travis. Vandy can't blame anything for the loss, writes Mike Organ.
One Vandy fan was so fed up with the performance that he threw his hat and shirt on the field before walking out of the game.
THREE THINGS YOU MAY WANT TO KNOW
1. The most amazing has-nothing-to-do-with-anything moment from Saturday: Two Arkansas State players stood next to each other, and their last names spelled 'CLARK GRISWOLD.' How did it take even this long for this to happen?
2. I give Central Michigan's Ron Coluzzi all the credit in the world for sticking his nose in trying to make a tackle. And he did make the tackle! But when punters try to bring down kick returners, something like this happens more often than not: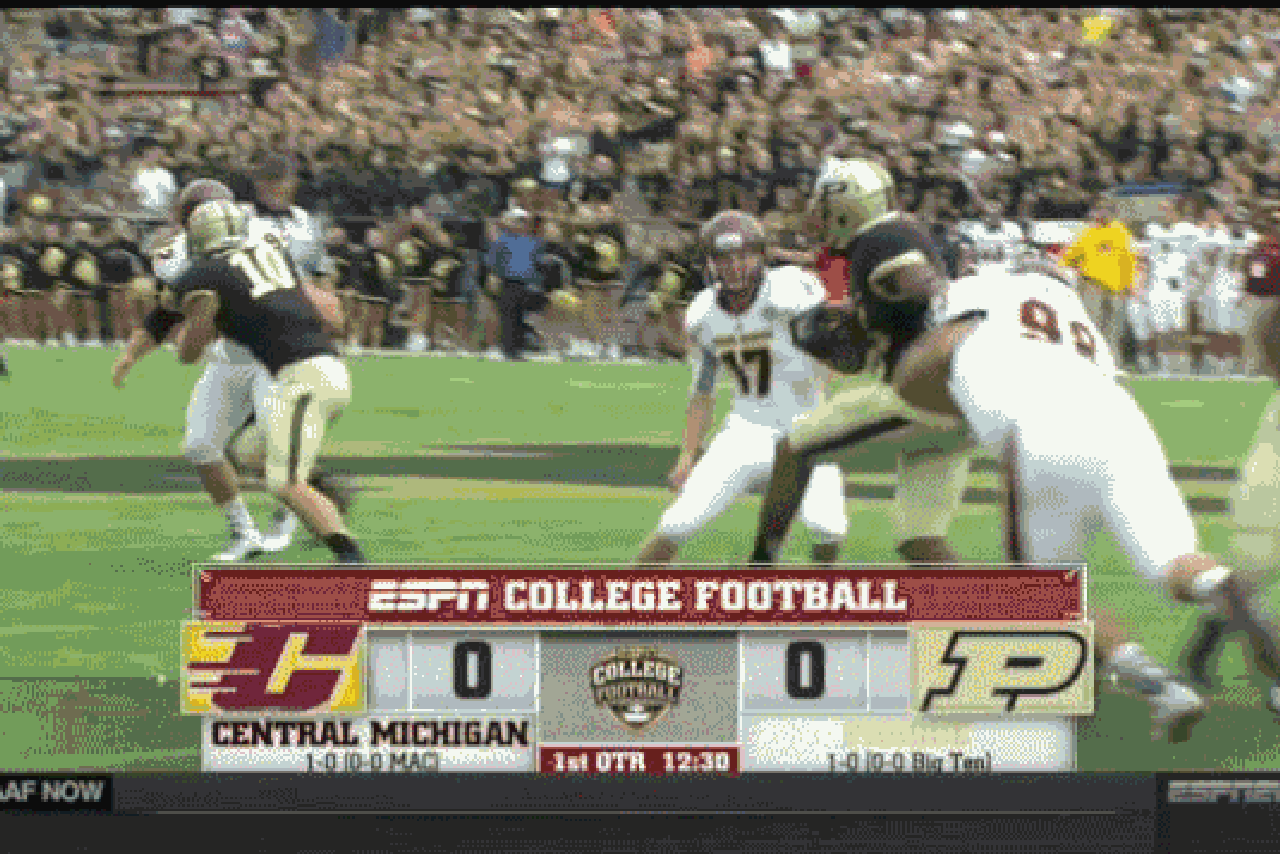 3. This is a spectacular photo, which may sound odd because it portrays a man trying to be alone in a moment of pain, but it's spectacular because it captures McNeese State coach Matt Viator in a genuine and raw moment – feeling crushed after Nebraska beat his team on the Abdullah run. We always assume these small schools schedule these games and happily get their ass kicked in exchange for a large check, but they still matter to the men in the middle of them. It's still competition.
LASTLY
I think the least we can do today is end on a positive for the Big Ten. Nebraska's Jordan Westerkamp made another spectacular catch on Saturday (although this one was called back because of a penalty, but it still counts for us). He and Abdullah are more than enough reason to watch Nebraska games. Anything that happens with Bo Pelini, good or bad, is just a bonus.
Teddy Mitrosilis is an editor and writer for FOXSports.com. Follow him on Twitter @TMitrosilis and email him at tmitrosilis@gmail.com.
---