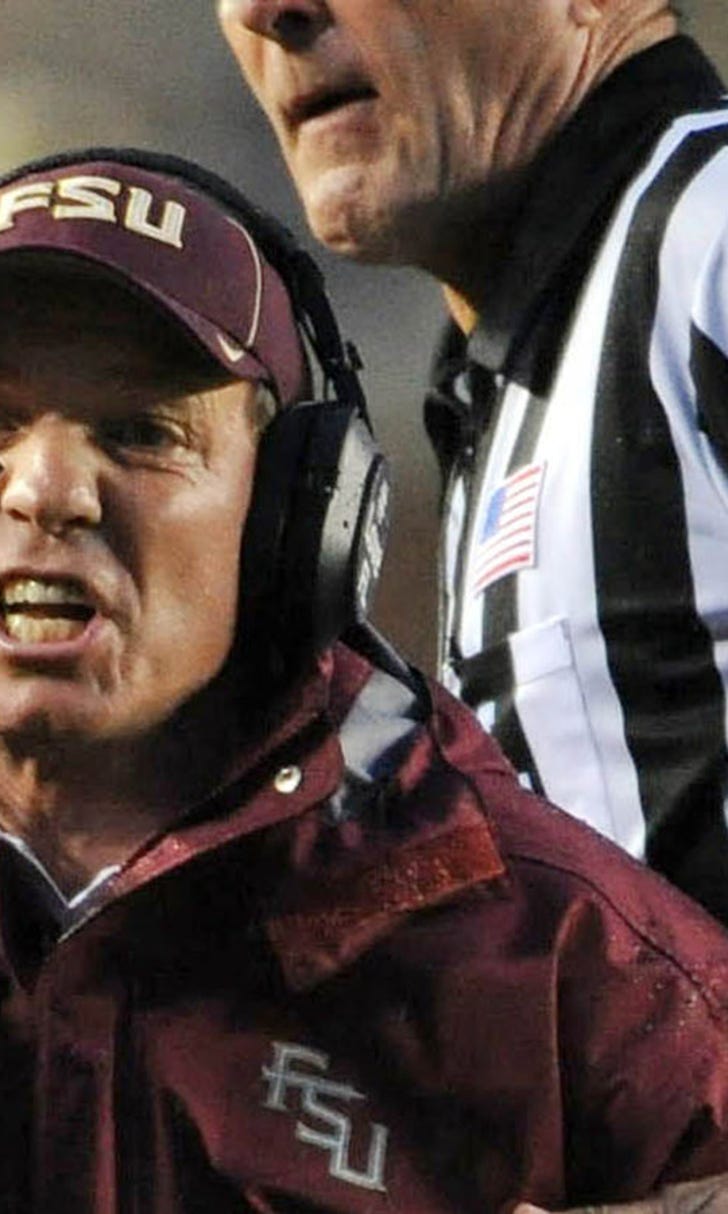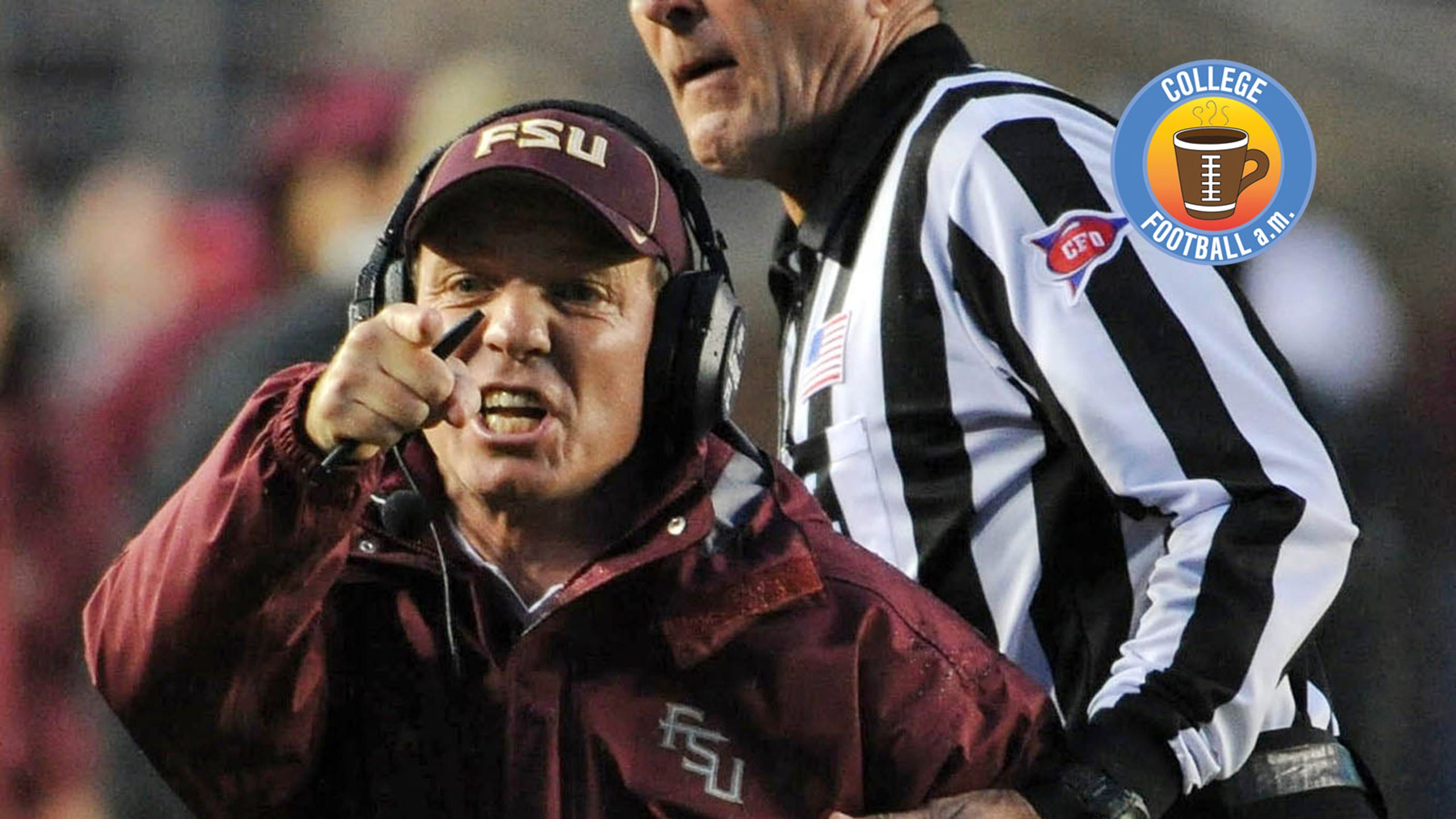 CFB AM: Every harsh FSU critic should listen closely to Jimbo Fisher
BY Teddy Mitrosilis • November 23, 2014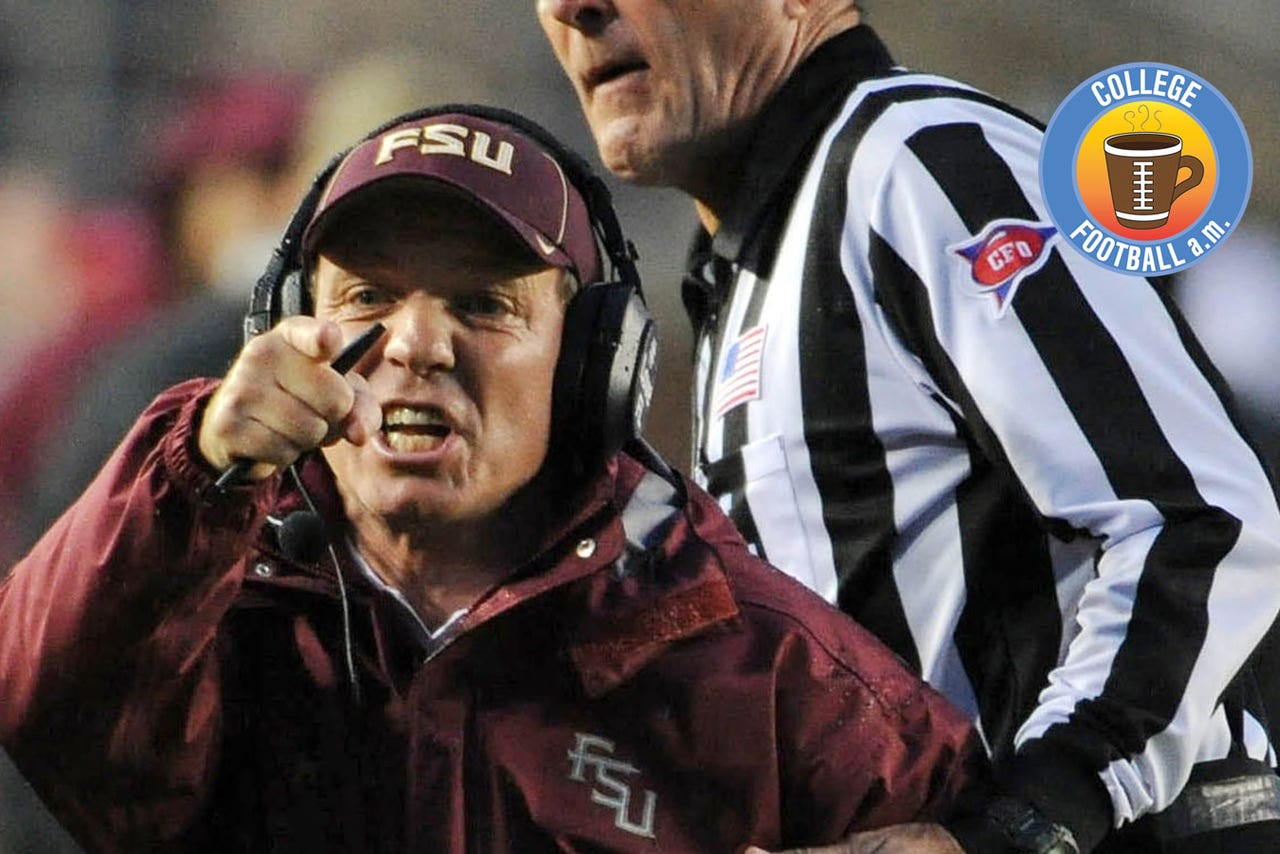 What did we expect to see from Florida State in Week 13 – a decisive win?
These are the 2014 Seminoles, not last year's national champions, so it shouldn't be any surprise No. 3 FSU grinded out a 20-17 victory at home over Boston College.
The win, of course, set off another round of criticism for Florida State and forced coach Jimbo Fisher to again defend FSU's win streak that has now reached an impressive 27 games. While some are debating "game control" and "style points" and all these things that overlook how gory this college football season has been and how hard it is to just win games, Fisher presented an argument that is tough for even the harshest critics to beat at this point.
"Let me ask you this: How about the way everybody else hasn't finished?" Fisher told ESPN.com regarding how nobody other than FSU has managed a perfect record. "Our team has never not finished. The game is 60 minutes. This team hasn't lost in over two years. Everybody says 'game control.' That's something made up.
"As a coach, you talk about one thing: Finish. Get it done. This team wins in every way, shape and form you can win. Everybody else has failed at least once, no matter what you look at, and some of those teams have lost when they were over 20-point favorites."
Jameis Winston brushed off the criticism of how FSU is winning by saying the Noles were torn down last year after wins, too, but Fisher went fully on the offensive.
"We've had the same amount of guys injured," Fisher said. "We beat Clemson without [Winston]. We played without our starting center. We played without our starting nose guard, who's a first- or second-round draft pick we lost for the year. We've had linebackers out. We had DBs out. We had receivers out.
"You name it. This team just keeps winning. At the end of the day, that's the name of the game. Nothing else matters."
He's got a point.
THREE THINGS YOU NEED TO KNOW
1. Hopefully Wisconsin's Melvin Gordon enjoyed his stay as the record holder of most rushing yards in a single FBS game, because it lasted a whole week. Gordon broke LaDainian Tomlinson's 15-year-old record by rushing for 408 yards last week against Nebraska. On Saturday, in a 44-7 win over Kansas, Oklahoma freshman Samaje Perine rushed for 427 yards and five touchdowns to top Gordon. Here's the 42-yard run that got Perine the record:
Perine's performance came on a day where the Sooners were without quarterback Trevor Knight and playing in pouring rain, making the passing game almost non-existent. Backup QB Cody Thomas went 3-of-13 for 39 yards. The rest of the damage was done by Perine, who didn't even start the game and was pulled with more than 12 minutes remaining in the fourth quarter. Perine has been a bright spot in a season mostly defined by disappointment for the Sooners, writes The Oklahoman's Jason Kersey. My guy John Hadley, a stats and research ace for FOX Sports 1, put together this quick graphic to compare Perine's day to previous single-game rushing record holders.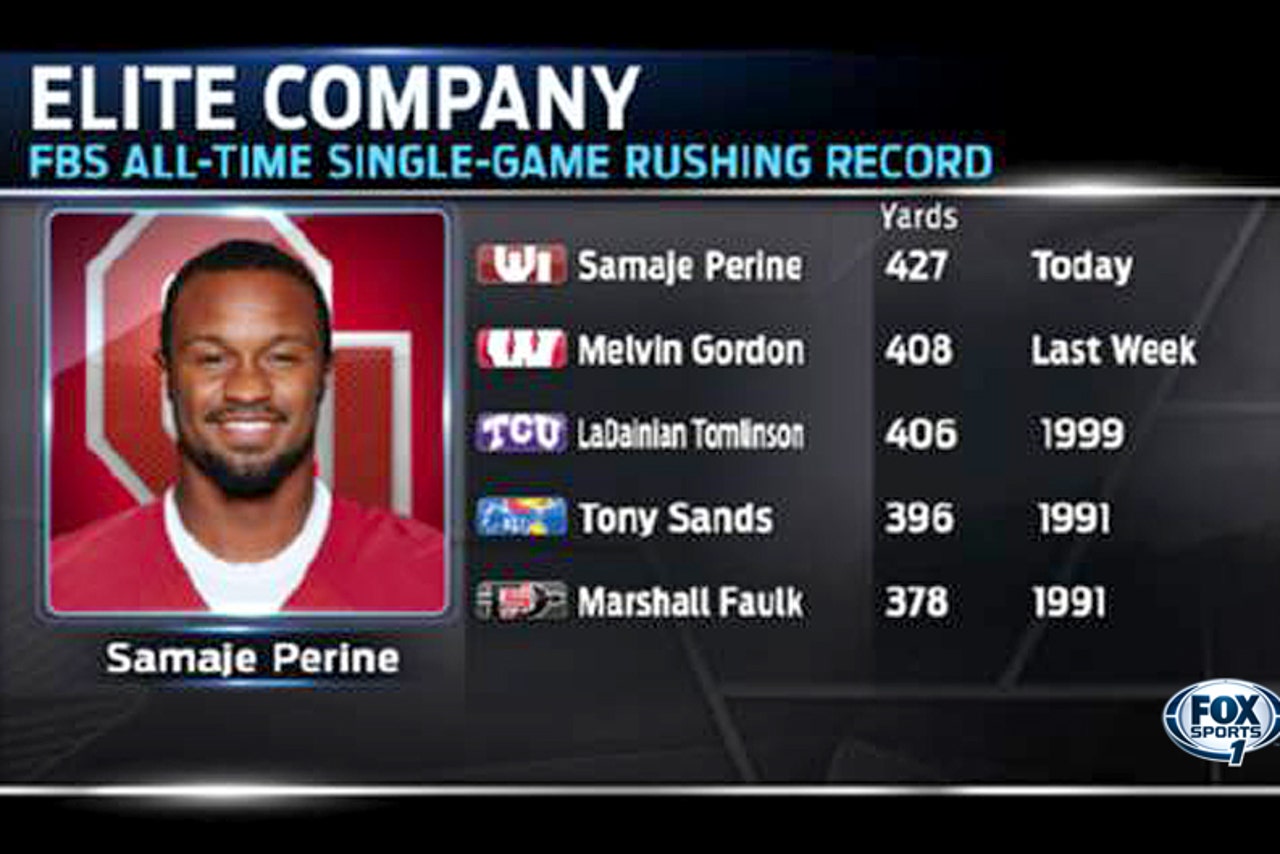 Elsewhere in the Big 12: No. 7 Baylor had no trouble at home against Oklahoma State, beating the Cowboys 49-28.
2. After Florida State had avoided an upset against Boston College, our rules expert Mike Pereira wrote a quick column about an incident that happened with Jameis Winston and an official in the third quarter. The official was trying to set the ball for play and allow the defense time to get its substitution in, while Winston was trying to get the snap off as fast as possible because the Noles had an up-tempo call in. So Winston pushed the official out of the way as he tried to get under center. Take a look:
Pereira argued that Winston should have been ejected for this, because you can't deliberately make contact with an official. This immediately blew up online and went viral, with seemingly everyone on social media reacting to Winston's push. I wouldn't have gone as far as Mike – Winston should have been flagged for touching the official, but there wasn't any maliciousness to his push, so an ejection seems a bit strong in my opinion – but it was interesting to see this story quickly evolve online. It outweighed interested in the actual game by far.
3. In the battle for Los Angeles, No. 9 UCLA routed No. 19 USC, 38-20, to earn its third straight victory over the Trojans. Brett Hundley went 22-of-31 for 426 yards and one TD (one INT) and also ran for another touchdown, while Paul Perkins grinded out 93 yards and a TD on 24 carries. More impressive was how the Bruins' D bottled up the Trojans, holding stud running back Buck Allen to only 60 yards on 14 carries and the USC offense to 276 total yards.
UCLA is now a win against Stanford away from winning the Pac-12 South and facing Oregon in the Pac-12 championship game. The Bruins were dominated by Oregon at home earlier in the year, but this team looks much different, with tougher defense and better protection around Hundley. Win that and a College Football Playoff berth isn't that far-fetched, writes Stewart Mandel in the Week 13 takeaways. More than ever, Los Angeles is a UCLA town, writes Chris Foster.
THREE THINGS YOU SHOULD KNOW
1. It was one of those sluggish Saturdays for No. 6 Ohio State at home against Indiana until Jalin Marshall completely took over the game with less than three minutes to play in the third quarter and the Buckeyes down 20-14. Marshall returned a punt 54 yards for a touchdown and then added three TD catches in the fourth quarter to propel the Buckeyes to a 42-27 victory as if it was a sure thing all along. Here's a look at one of Marshall's TD catches, a nice one-handed grab:
The victory clinched the Big Ten East for Ohio State and earned them a trip to the conference title game, where they'll face the winner of next week's Wisconsin-Minnesota matchup. Marshall responded to his critics, writes Bill Rabinowitz.
2. If you're a college football purist, it doesn't get much better than this year's version of The Game. Harvard beat Yale, 31-24, on a late touchdown pass to cap off a 10-0 season for the Crimson and earn them an Ivy League title. With 55 seconds left to play, Harvard's Andrew Fischer caught a 35-yard TD from Conner Hempel that would give the Crimson their eighth straight victory over the rival Bulldogs. Here is the TD.
Also before we go: Imagine what a "Harvard kicker" would look like.
Got that image in your head? I bet this is spot on:
3. Speaking of great photos, Virginia Tech coach Frank Beamer had the best shot of the day:
Virginia Tech would lose to Wake Forest in double overtime, 6-3. I'd say more or perhaps even link to a story about probably the worst game of the year, except I can already hear my computer saying, "Really? Why you do this to me?"
THREE THINGS YOU MAY WANT TO KNOW
1. Only gamblers, drinkers and insomniacs probably watched any of the Boise State-Wyoming game (I won't reveal which group I'm in), but if you didn't, you missed this great moment:
Yes -- the Boise Statue of Liberty! Of course, this was made famous by the Broncos' gutsy two-point conversion call in overtime to beat Oklahoma in the 2007 Fiesta Bowl, which is remembered in part for the call and in part for running back Ian Johnson scoring and then proposing to his girlfriend, a Broncos cheerleader, on TV. Boise won this game, too, crushing Wyoming, 63-14 to move to 9-2 (6-1 Mountain West).
2. No. 15 Arizona got a great win on the road at No. 17 Utah, 42-10. Freshman RB Nick Wilson ran for 218 yards and three touchdowns as the Wildcats needed to ride out the victory without QB Anu Solomon, who injured his ankle and spent the second half in a walking boot. His status is paramount for next week's game against Arizona State. The winner of that will play in the Pac-12 championship game if UCLA loses to Stanford.
Elsewhere in the Pac-12: After No. 2 Oregon crushed Colorado, 44-10, coach Mark Helfrich was asked a question about Marcus Mariota by a 12-year-old reporter. Somehow, the kid ended up explaining to Helfrich that only "Jesus, girls and Marcus Mariota" matter in life. Pretty funny moment – you can watch it here.
3. Kudos to Will Muschamp, who's had a tough go at Florida and will go out a winner in Gainesville after the Gators beat Eastern Kentucky 52-3. Florida needed a change, but I respect how Muschamp has gone about the past two seasons of constant job speculation, always forging forward and remaining consistent in his messaging that everything is about his players and improving the program. He'll land an elite DC job next year, and I hope down the road he gets another opportunity to be a head coach if he wants to do that, as I think he can still be a successful one. It's easy to forget this was his first head job of his career – most coaches don't debut at a place like Florida.
In Muschamp's final game at The Swamp, a Florida lineman wore the coach's name on his eye black. "He's just been a real good person to me," Jon Bullard, the D-lineman picture below, said after the game about Muschamp. "I respect him a lot. Actually, I love him. I just wanted to show something out of respect to him for everything's he done for me and show him I appreciate it."
Elsewhere in the SEC: Teams played a bunch of weak-ass FCS schools, and we won't get into the gory details here. Just know many aren't happy about it.
LASTLY
* According to a report, Mike Gundy is "pursuing" the Florida job. Take that for whatever you think it's worth.
* Thanks for another fun week of CFB AM – appreciate all of you who read each day. Have a great Sunday, everyone. I hope it brings you as much happiness as beating Michigan does to Randy Edsall.
Teddy Mitrosilis is an editor and writer for FOXSports.com. Follow him on Twitter @TMitrosilis and email him at tmitrosilis@gmail.com.
---