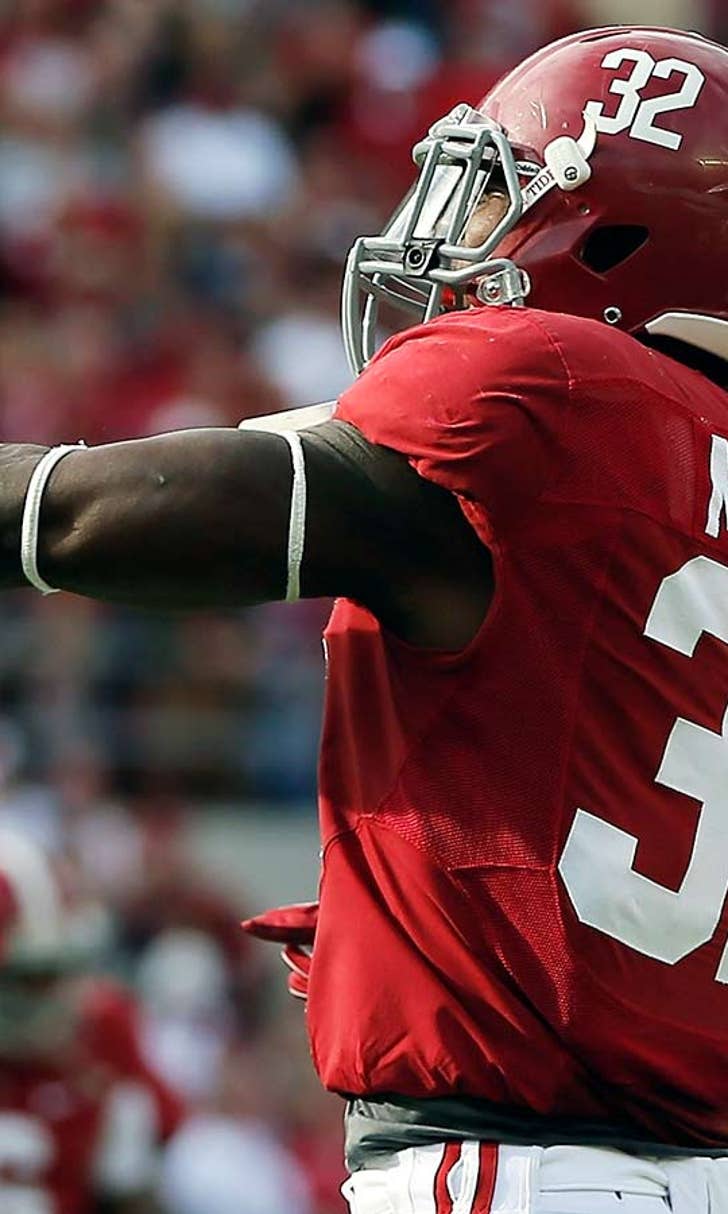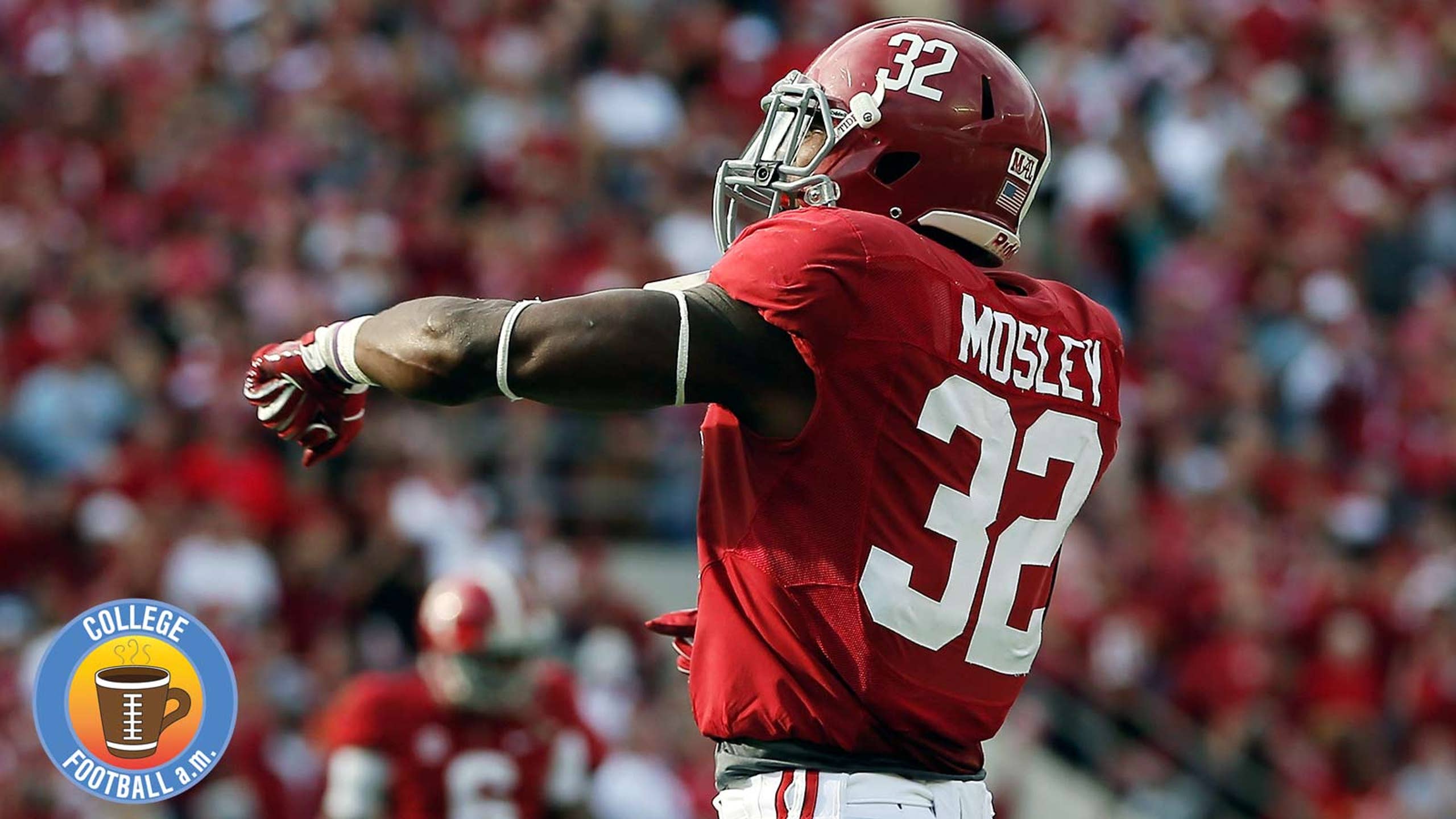 CFB AM: Alabama alum shows love for Auburn 'family' after tragic loss
BY Teddy Mitrosilis • December 15, 2014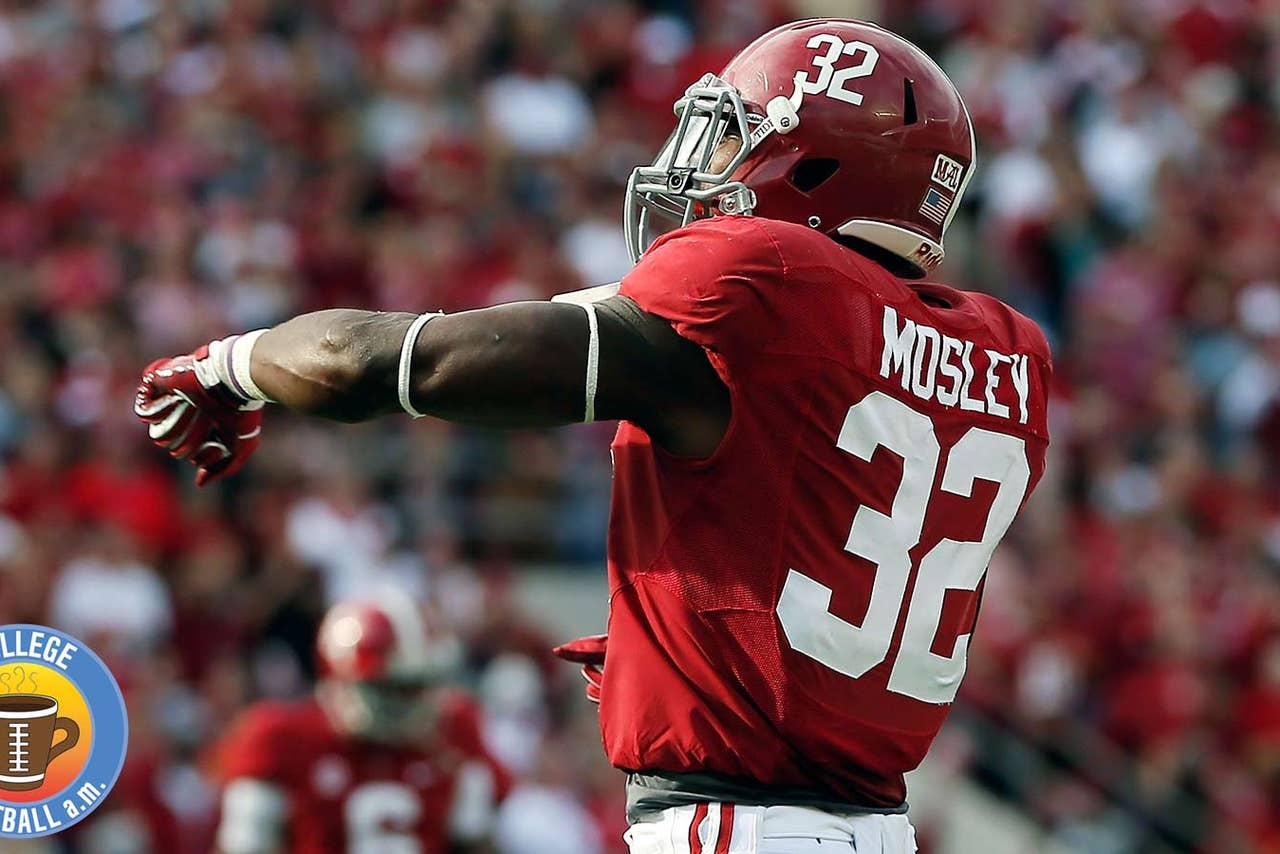 The Auburn Tigers suffered a great loss over the weekend, as freshman Jakell Mitchell was shot and killed early Sunday morning.
Mitchell, 18, was reportedly shot outside an off-campus apartment after an argument. Police arrested a suspect on murder charges Sunday afternoon.
"My thoughts and prayers are with Jakell's family and friends, who are suffering through this senseless tragedy," coach Gus Malzahn said in a statement. "I know the Auburn Family is hurting, especially our players and coaches. ... We have lost a member of our family too young, too soon."
The only positive in times like these is that we get to see true displays of compassion and empathy, sometimes even between "bitter" rivals.
Former Alabama linebacker and current Baltimore Raven C.J. Mosley provided a great example of that, as he paid tribute to the fallen Tiger on Sunday before Baltimore's game against Jacksonville.
Mosley took a marker and wrote two hashtags on his Nikes: #RIPJakell and #SECFAMILY.
We forget about the people involved in these rivalries, too often becoming overly emotional about the colors of cloth, but even the Alabama-Auburn rivalry is about deep respect for each other and family at its core.
Kudos to Mosley for his gesture and condolences to Auburn University and the Mitchell family.
THREE THINGS YOU NEED TO KNOW
1. As expected, Oregon quarterback Marcus Mariota dominated the Heisman voting on Saturday night, running away with college football's most prestigious reward. Mariota had 2,534 points while Wisconsin running back Melvin Gordon came in a distant second with 1,250. Alabama WR Amari Cooper came in third. Mariota's 90.92 percentage of possible points was the second-highest ever behind Ohio State quarterback Troy Smith, who had 91.63 percent in 2006. This is also the first Heisman winner ever from Hawaii. "In Hawaii, if one person is successful the entire state is successful," Mariota said. "It's family."
It was an incredible moment for Mariota, Oregon and Hawaii, writes Bruce Feldman. Melvin Gordon's season was spectacular, and in any other year except this one he probably would have won the Heisman, writes Jesse Temple. Amari Cooper has never forgotten how much his mother sacrificed for him, writes Michael Casagrande.
2. The one highlight of Auburn's weekend before everything changed with Mitchell's death: On Friday, the Tigers announced the hiring of Will Muschamp as their new defensive coordinator. The former Florida coach signed a three-year deal for more than $1.6 million annually, making him the highest-paid coordinator in the FBS. Muschamp will now go to work retooling an Auburn defense that ranked 73rd in yards-per-play allowed (5.6) this season.
3. Missouri defensive coordinator Dave Steckel will be the next head coach at Missouri State. Steckel did great work with the Tigers in 2014, with his unit ranking 14th in the country in yards-per-play allowed (4.76).
Meanwhile, Paul Chryst to Wisconsin is not a done deal. According to Wisconsin policy, the earliest the Badgers could officially offer their head coaching job to anyone is Dec. 17.
THREE THINGS YOU SHOULD KNOW
1. We had only one FBS game this past Saturday, as the college football world took a collective breath before bowls begin this weekend, and it was the special Army-Navy rivalry game. The Midshipmen beat the Black Knights for the 13th straight year.
2. Two more Mariota things: Oregon released a special tribute video for its QB after he won the Heisman and it's terrific. Here's the video:
And rival Oregon State showed great sportsmanship and class by congratulating Mariota in an ad:
Well done to both programs.
3. Tyreek Hill was an impact player in his first season with Oklahoma State after transferring from a junior college, helping the Cowboys beat Oklahoma in the Bedlam game with a 92-yard punt-return TD late in the fourth quarter. But Hill's run with OK State has come to an end after being arrested and charged with domestic assault. Hill allegedly punched and choked his pregnant girlfriend, after which he was dismissed from both the football and track teams at Oklahoma State. It's sad to see a young and talented person throw away an opportunity, but OK State absolutely did the right thing – there can't be any tolerance for domestic abuse.
THREE THINGS YOU MAY WANT TO KNOW
1. Just for fun, we took the top 16 teams in the playoff committee's final top 25 and put them in a mega-playoff bracket. The second round is now open for voting – it was chalk in round one.
2. How bad do Michigan fans want Jim Harbaugh to be the Wolverines' next coach? Someone has already designated a parking spot for him at the facility.
3. A five-star quarterback has decommitted from Texas Tech. Kliff Kingsbury needs to find a way to regain some of the juice he had going at Texas Tech heading into the season. After a 4-8 year, the Red Raiders won't have a bowl game to win and set the tone heading into the offseason, so making a little buzz on the recruiting trail is probably the only thing Kingsbury can do before winning games next fall. This is another small step in the wrong direction.
LASTLY
* If you missed Mariota's Heisman speech, here it is. He's a humble, impressive young man.
Have a great Monday, everybody.
Teddy Mitrosilis is an editor and writer for FOXSports.com. Follow him on Twitter @TMitrosilis and email him at tmitrosilis@gmail.com.
---