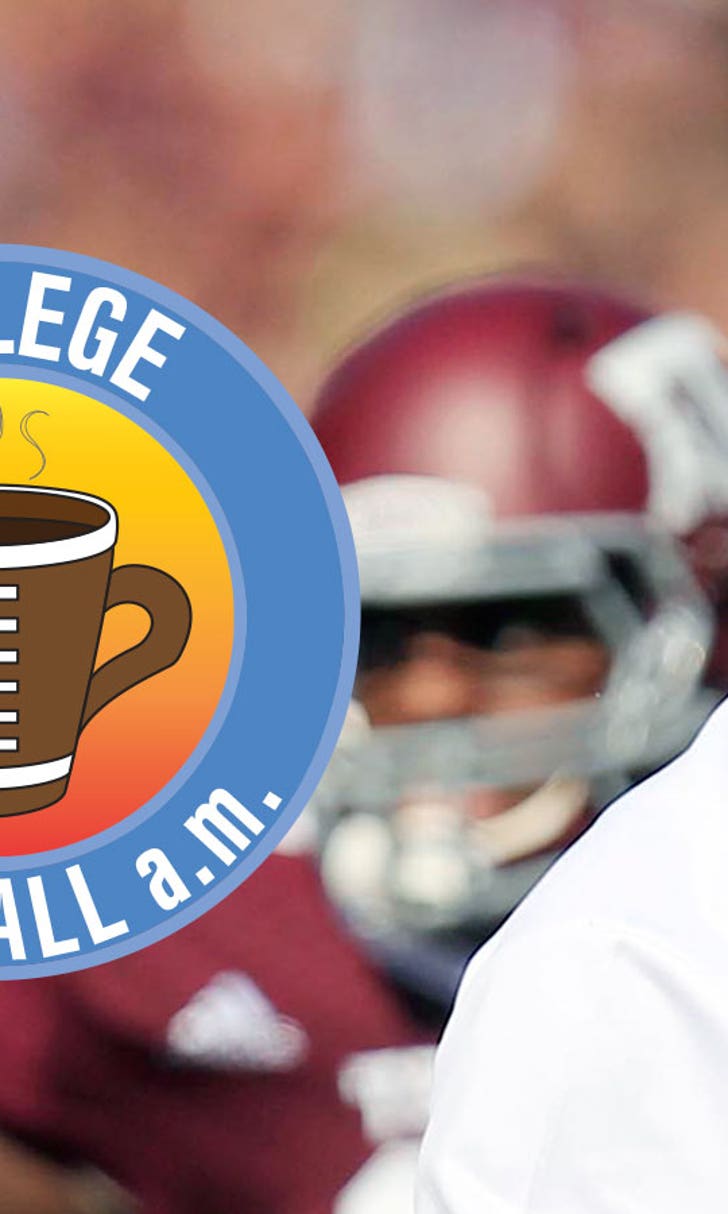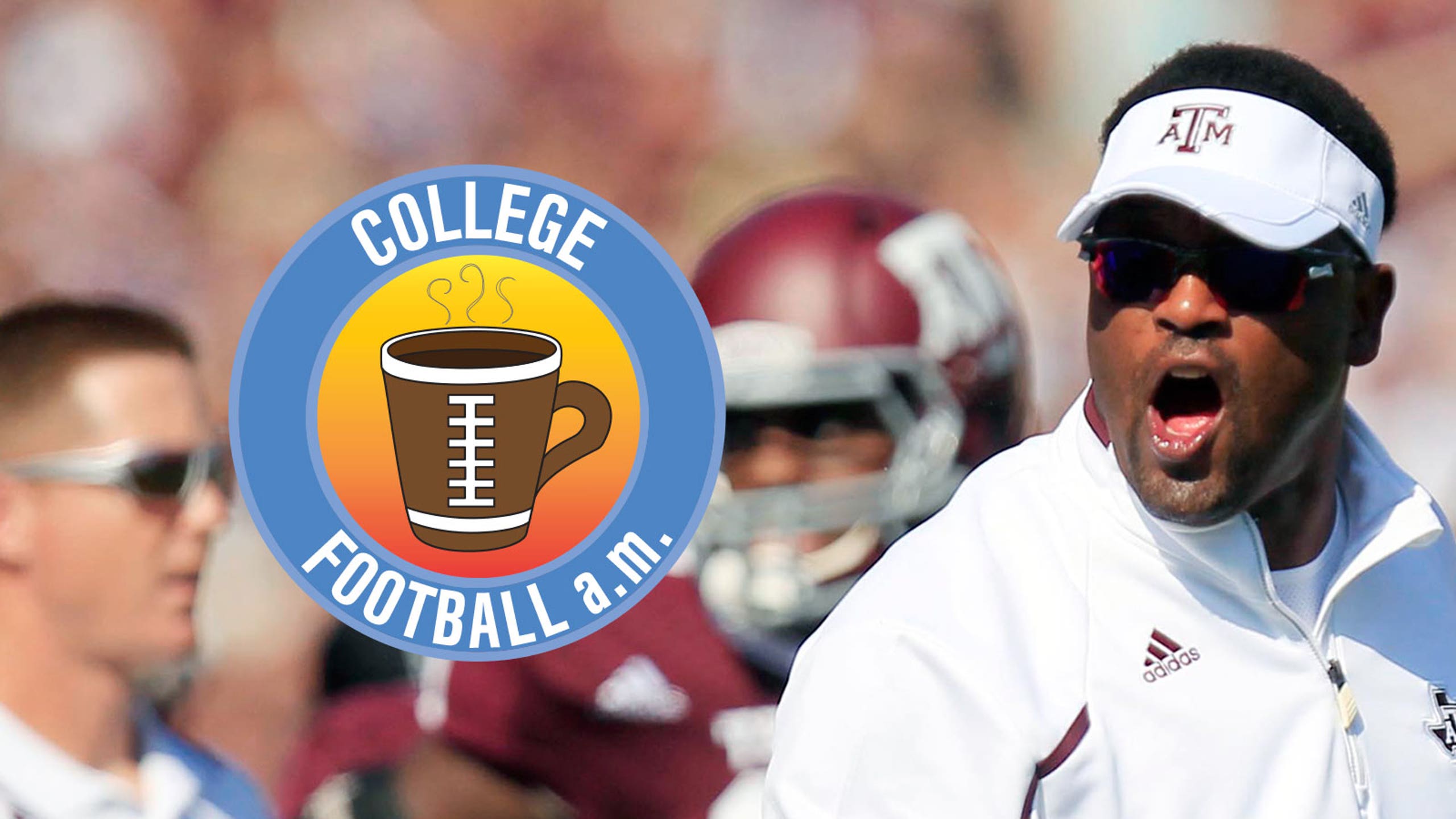 CFB AM: Aggies go crazy when Sumlin cancels practice for movies
BY Teddy Mitrosilis • August 15, 2014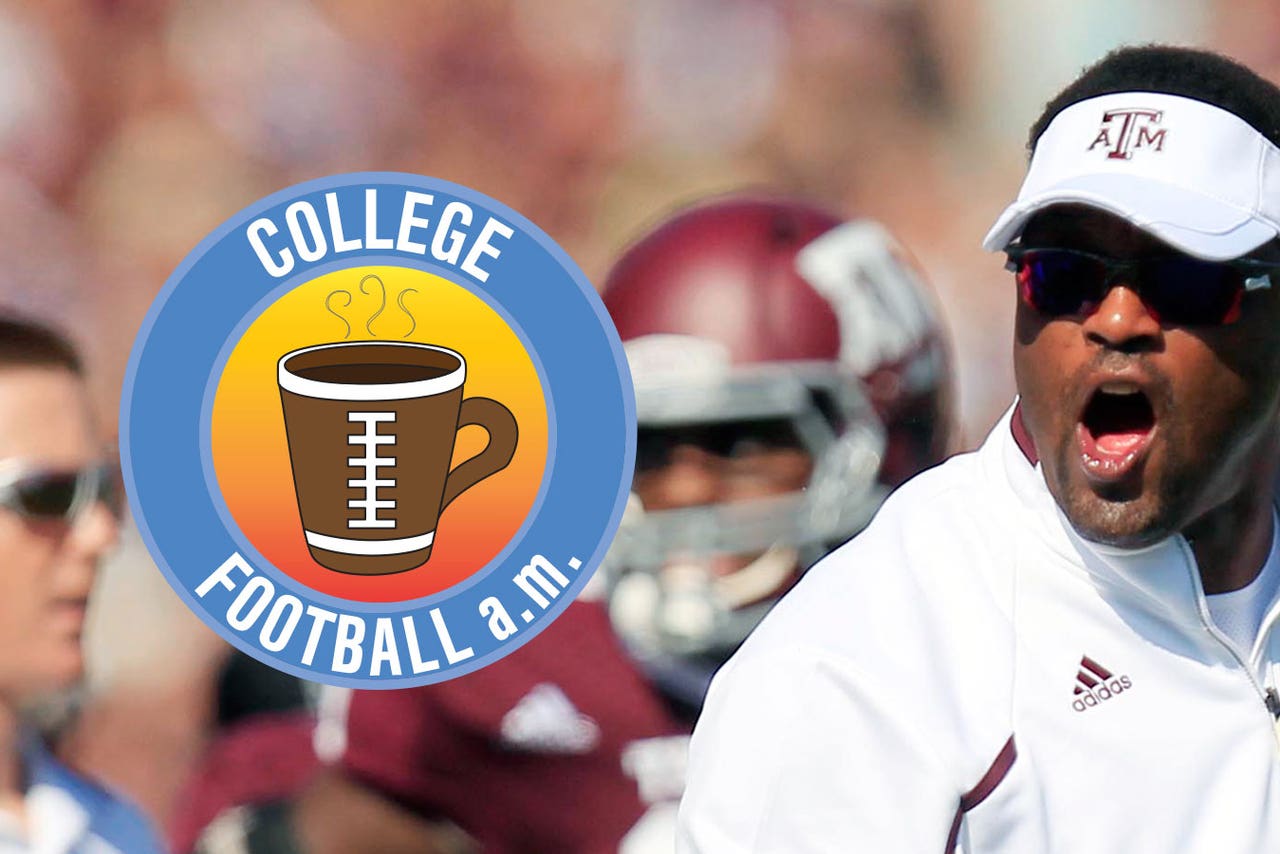 Thursday marked exactly two weeks from opening night for Texas A&M.
The Aggies will play South Carolina in the signature game on Aug. 28, and you can't blame them if they're tiring of camp and are getting antsy to get to Columbia.
We've reached the stage of fall camps where teams are closing in on practice No. 20, and a little levity is needed.
That's what Kevin Sumlin gave his team on Thursday, to their surprise.
With the team in pads preparing to get their evening practice session underway, Sumlin gathered them around and said, "So here's the deal – here's what we're gonna do. I want you guys to run as fast as you can, take a shower, get dressed, be on the bus because we're going to the movies this evening."
What followed was an entire team losing its collective mind at the realization of no practice. Here's the video – it's fantastic.
THREE THINGS YOU NEED TO KNOW
1. We released our FOX Sports preseason Top 25 on Thursday, with Florida State and Alabama predictably No. 1 and No. 2, respectively. Other than those teams, there were some major differences from the coaches poll. Take a look, tear it up, tell us we're all wrong – it's all good. Ultimately, these are just fodder while we wait for the games to begin.
2. The College Football Playoff committee held its final preseason meeting and then released its protocol for selecting teams this season. Among the factors that will be considered are conference championships, strength of schedule and head-to-head competition, which are self-explanatory. But then there is "comparative outcomes of common opponents" and "other relevant factors such as key injuries that may have affected a team's performance during the season or likely will affect its postseason performance" that remain subjective and therefore potential sources of discourse and controversy.
3. Notre Dame graduate assistant and safeties coach Kyle McCarthy is stepping away from the team for a bit to undergo chemotherapy for a form of cancer he called "very treatable." Best of luck, Kyle. Get healthy and back on the field soon.
THREE THINGS YOU SHOULD KNOW
1. The Oklahoma State QB battle is full of mystery, as head coach Mike Gundy isn't doing anything to tip his pick, writes Kyle Frederickson. Most presume the starter will be J.W. Walsh, but Daxx Garman is still in the mix.
2. Stewart Mandel dropped in on the Fighting Irish in South Bend this past week and caught up with Everett Golson, who hasn't forgotten the fact that he got crushed the last time he stepped on the field 19 months ago.
3. Bill Connelly at SB Nation previews the 2014 LSU Tigers, who he says will be young and fun as hell. We'd expect nothing less from Les' talented crew. Elsewhere in LSU land, freshman receiver Malachi Dupre is impressing teammates in fall camp, as anticipated.
THREE THINGS YOU MAY WANT TO KNOW
1. USC sophomore safety Su'a Cravens is a rising star on the Trojans' defense, and he might be unleashed in a different way this season. As Michael Lev writes, with outside linebacker Jabari Ruffin out for the season, defensive coordinator Justin Wilcox is considering turning Cravens into a hybrid linebacker/safety in the same way he used Shaq Thompson at Washington. "I like to make plays," Craves said. "The closer I am to the ball, the better chance I have of doing it."
2. The self-proclaimed Best Damn Band in the Land has the best damn band hype video I've ever seen:
Speaking of Ohio State's band, its former director asked for his job back.
3. Texas Tech locked in 2015 QB recruit Jarrett Stidham on Thursday by having him sign a financial aid agreement. This ends the recruiting chase that runs up until national signing day in February even after players have given verbal commitments. Stidham is a five-star prospect according to 247Sports and had offers from Alabama, Auburn, Baylor and a host of others.
LASTLY
* Florida State has a new leader among its linebackers in Terrance Smith, writes Natalie Pierre.
 * The Maryland offensive and defensive linemen held a punt-fielding competition at the end of practice. Hat tip to the Maryland video guy/gal who set this thing to "Ice Ice Baby."
* James Franklin offers a little insight into how he likes to structure practice weeks during the season and why he likes working on Sunday when most teams give the players that day off.
* It feels like almost every day we're showing another Ohio State video, but what do you want me to do? The Buckeyes video team has been killing it during camp putting together cool videos.
Have a great weekend, all.
Teddy Mitrosilis is an editor and writer for FOXSports.com. Follow him on Twitter @TMitrosilis and email him at tmitrosilis@gmail.com.
---