CFB AM: 4 great reasons Jim Harbaugh would take the Michigan job
BY Teddy Mitrosilis • December 19, 2014
It's been wild watching the Jim Harbaugh-Michigan story unfold this week on the Internet and social media. There's an insatiable appetite for any piece of information, whether it has even a kernel of truth or not, and the wild rumors are incredible. A number of you have reached out via email or Twitter to say essentially, "So what is actually true, and when are you media GOING TO GET IT RIGHT, DAMN IT?"
Here's why this week has been so messy: I'm still convinced nobody knows anything definitively. So we have reporters working both sides of the story, almost surely inaccurate information being floated out to gain leverage and an incredibly passionate fan base fired up and contributing its own rumors to the smoldering mill.
On Thursday, Bruce Feldman reported on FOX Sports 1 that the $48-49 million offer Michigan has supposedly made to Harbaugh is not accurate. It still makes perfect sense to me – although, like with everything else around this story, I have no idea for sure – that Harbaugh's agent, NFL rep David Dunn, leaked the reported offer to NFL insiders to set a salary floor for the bidding that will ensue among NFL teams in the coming weeks. It makes no sense for Michigan's side to want that rumor in the public.
We even have Michigan fans reportedly speaking with Harbaugh's agent, which is continuing to drive the narrative that Dunn has a lucrative Michigan offer in hand and his client is now seriously considering it. Again, that might be true, but one thing we know for sure is keeping that story alive behooves Dunn in negotiations. The level-headed Michigan fans find this as silly and entertaining as the rest of us do. The ones blaming the media for not being able to corroborate wild gossip are also the ones following the word of said fan with access to Harbaugh's agent, even though there's a thread on the popular Wolverines fan site MGoBlog asking, "Does anyone know who this person is?" So, hell, that breed of Michigan fan will believe anything.
I'm riding with my guy Feldman on this and believing that while there's definitely interest, the reported money figures have probably been overblown. It's still my opinion that Harbaugh -- given his age, leverage and where he's at in his career cycle – would be better off riding out his NFL opportunities a little while longer, but Michigan is a great place for the right person, and Harbaugh is that guy.
So why would Harbaugh take the Michigan job? Four logical reasons come to mind, and none of them have to do with money, because even if Michigan does offer near $50 million, that offer won't be unique; some NFL team will offer just as much or more.
These are four things Michigan can actually offer Harbaugh that an NFL team can't.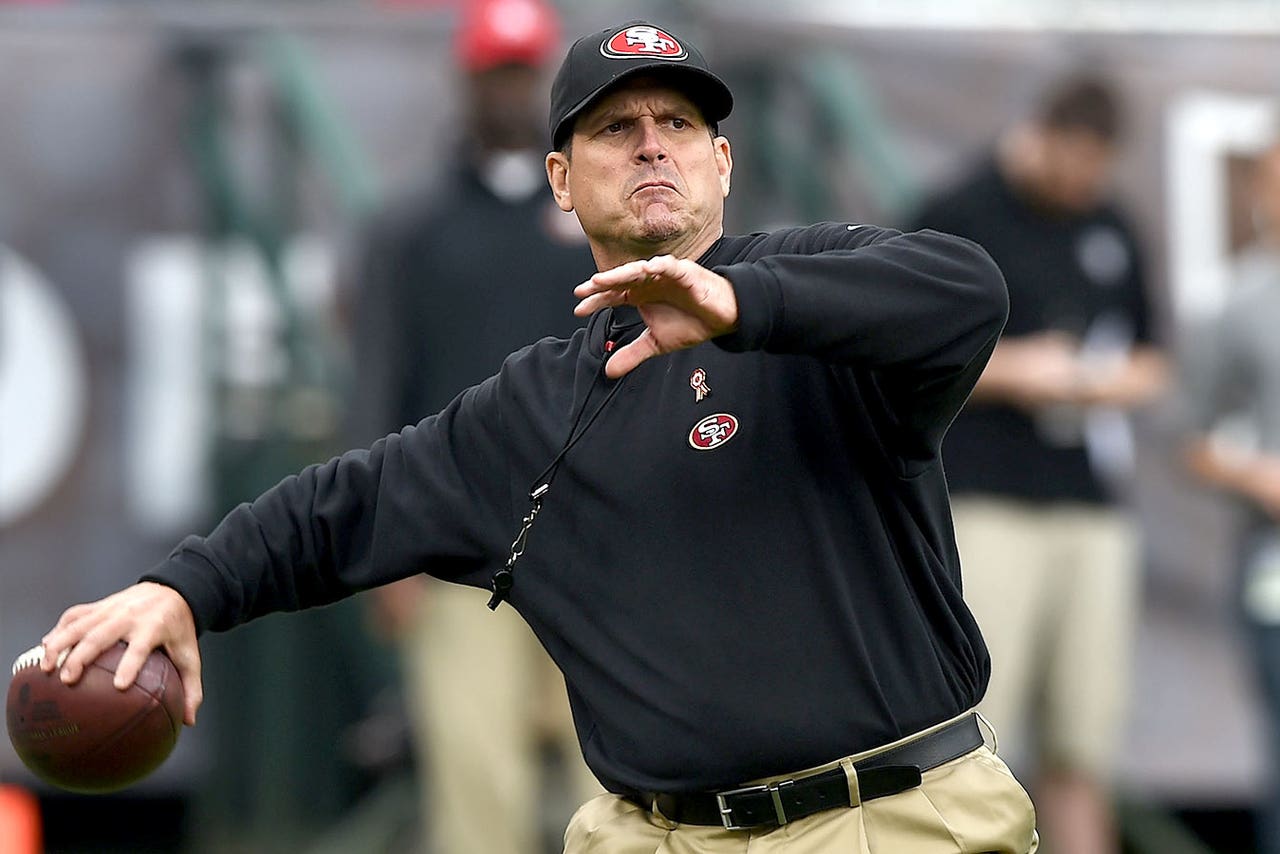 FULL FOOTBALL AUTHORITY
With an NFL team, the following people play roles in making personnel decisions: the general manager, president, football operations people and many others. It's been widely reported that Harbaugh has not gotten along well with San Francisco 49ers GM Trent Baalke and CEO Jed York, and it's also said that Harbaugh doesn't want to play GM and business executive for some NFL team -- he just wants to coach and run an organization the best way he sees fit. At Michigan, football operations are more streamlined and Harbaugh can sit at the top. There's no salary cap, there's no draft, there's no running the business of a football team. Michigan president Mark Schlissel would be out of his way -- for better or worse -- and Harbaugh could have total autocracy when it comes to football matters. This has to be appealing to him.
UNLIMITED TALENT WELL
Pretty simple: You need great players, and as many of them as possible, to build championship teams. At Michigan, the only limitation to the talent Harbaugh can accumulate is the scholarship limit, which is a non-factor. He can haul in 20 blue-chip players each year if he desires. The draft and salary-cap system in the NFL greatly restricts talent acquisition, obviously, and that's before the possibility of some organization trading a bounty of draft picks to acquire Harbaugh from the 49ers. Michigan's 2015 recruiting class is in awful shape currently with only six commitments. Harbaugh would immediately bulk that up, and although he can be weird as hell around recruits, there's little doubt he'd rake in the players at Michigan. Why wouldn't you want to play for him if you're a serious talent?
EASIER PATH TO CHAMPIONSHIPS
Nobody knows if winning a Super Bowl is the ultimate career achievement in Harbaugh's mind, but we all know he's insanely competitive and driven to be the best in his field. Michigan offers Harbaugh an easier path to winning championships and building a legacy than the NFL ever could. The Big Ten East isn't easy -- Ohio State, Michigan State and Penn State will be a grind when James Franklin gets the Nittany Lions humming -- but it's more favorable than the 16-game NFL slate, which grinds down the best of teams before even getting to the postseason. The New England Patriots have the best head coach and arguably the best QB of this generation, and they haven't won a title since 2004. It's extremely hard to win in it all in the NFL. With an eight-team playoff likely coming to college football in the future, Harbaugh would likely have Michigan in that conversation every season.
UNIVERSITY COMMUNITY AND LIFESTYLE
This is the trump card for Harbaugh, because nobody knows for sure how much the emotional pull to Michigan really matters to him. But we know that he does have love for Ann Arbor, he has children that would probably enjoy growing up in the Ann Arbor community more than some generic NFL city and while there would be media attention, there wouldn't be as much. For most of the year, he could live in a comforting college-town bubble.
If I'm Michigan, these are the things I'm presenting to Harbaugh in addition to all the money. It would be Harbaugh's ultimate football playground. It just depends if, deep down, Michigan is what he wants.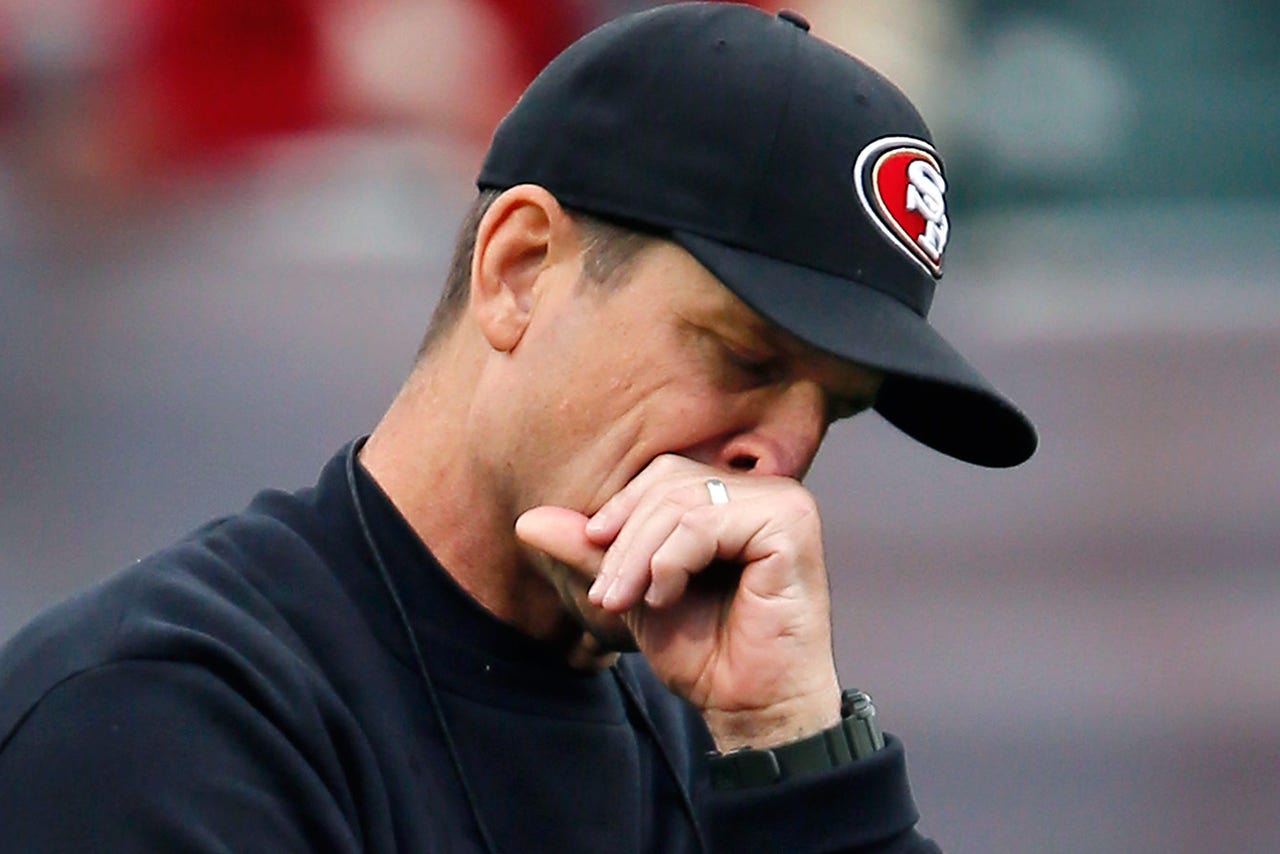 THREE THINGS YOU NEED TO KNOW
1. Florida State is reportedly finalizing a new deal with Jimbo Fisher that will put him in the top five of highest-paid coaches, which means he'll get a bump from less than $3.6 million per year to more than $5 million. That's what three ACC titles and a national championship in three years will do for you.
2. Couple other coaches getting new deals: Memphis locked up Justin Fuente to an extension, which reportedly will pay him around $1.4 million per year, although the official terms weren't disclosed. Fuente could still be on the move in the coming years, though, as he's a rising name in the business and the buyout in his new contract is reportedly $500,000. And Boston College inked Steve Addazio through the 2020 season.
3. We actually have football tonight: The Division III national championship between powerhouses Wisconsin-Whitewater and Mount Union. Sam Gardner wrote about the rivalry earlier this week and how this year is a little different, as UW-Whitewater coach Lance Leipold will depart after the game to take on his first Division I job at Buffalo. Tomorrow, bowl season gets going with the first games of our 39-game postseason buffet. Of the five tomorrow, I'm most looking forward to No. 22 Utah vs. Colorado State in the Las Vegas Bowl (3:30 p.m. ET, ABC). Here's the bowl schedule with kickoff times and TV info.
THREE THINGS YOU SHOULD KNOW
1. Here's where we are with Michigan fans and this whole Harbaugh thing: They are now frothing over Matthew McConaughey voiceovers that are aimed at luring Jim back to Ann Arbor. I do have to say: Impressive work by the fan who put this together. It's great.
2. Ole Miss coach Hugh Freeze took some flak for tweeting out that he's proud of the football team's 2.57 GPA this year. I get it, but the criticism lacks context. Nobody knows the academic level at which many of Ole Miss' players entered the school at, but many are aware of the educational issues the state of Mississippi has had. So, from Freeze's standpoint, maybe a team-wide GPA that meets the national average for non-student athletes and is better than the average student-athlete actually is an achievement and sign of progress with his group of kids. It's OK to not be so cynical about everything.
3. Wednesday was JUCO national signing day, and Bud Elliott has a good roundup of where some of the top junior college prospects are headed. The SEC loaded up with eight of the top 10 JUCO recruits.
THREE THINGS YOU MAY WANT TO KNOW
1. How are Dabo Swinney and Clemson trying to impress recruits this time of year? By promoting their apparent allegiance with Santa and having St. Nick write letters to some of their targets.
2. How do you fill a 24-hour cable network on a holiday when nobody will be watching? Well . . .
3. Wisconsin has a Paul Chryst website for its new head coach. This is really well done and impressive work by the marketing/digital media folks in Madison.
LASTLY
* Kyle Tucker has an interesting piece on the rise of new Kentucky offensive coordinator Shannon Dawson.
* Here's Rustin Dodd on the molding and upbringing of new Kansas coach David Beaty. Really enjoyed this.
* Want to know what a 270-pound man doing a 55-inch box jump looks like? I give you Arkansas' Trey Flowers.
Have a great Friday, everybody, and enjoy your weekend.
Teddy Mitrosilis is an editor and writer for FOXSports.com. Follow him on Twitter @TMitrosilis and email him at tmitrosilis@gmail.com.
---