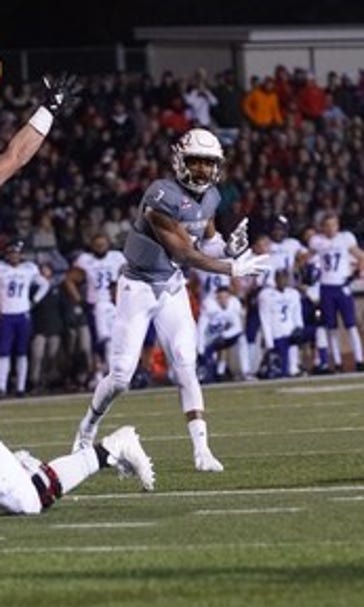 Cantwell, defense power Weber State into FCS quarters (Dec 02, 2017)
December 3, 2017

(STATS) - Weber State's defense is playing so well that three turnovers by the Wildcats' offense didn't even slow them down in the FCS playoffs Saturday night.
The Wildcats have the best defense in the Big Sky and fellow co-champ Southern Utah didn't solve it, allowing the visitors to pull away from a halftime tie to a 30-13 second-round victory before 11,811 at Eccles Coliseum.
The "prize" for Weber State (11-2) is a cross-country trip to No. 1 seed and reigning FCS champ James Madison (12-0) for its third all-time quarterfinal appearance on Friday (7 p.m. ET kickoff).
But coach Jay Hill's Wildcats, who've set a school record for wins a season, will arrive as the Big Sky leader in scoring defense, rushing defense and total defense, among other statistics. Southern Utah (9-3) managed only 11 first downs and 219 yards in the 25th all-time meeting between the two Beehive State programs - the first in the playoffs.
"Weber State came out and played a great game and beat us thoroughly on offense, defense and special teams after that first quarter and that's one thing we were worried about," SUU coach Demario Warren said. "We worried about two things in the game, we worried about if we could start fast and stay sharp after the bye and the second part was if we could keep the stamina and the urgency up if we did get off to a good start."
Weber senior quarterback Stefan Cantwell missed much of Weber's 32-16 loss to Southern Utah on Oct. 14 because he went under concussion protocol. But he guided Saturday's win with 404 yards of total offense and three total touchdowns. He passed for 299 yards and rushed for 105.
Southern Utah only managed a field goal off Weber State's turnovers. The visiting Wildcats overcame a 10-0 deficit after one quarter, and the game was tied 13-13 before they took control in the third quarter. They scored touchdowns on their first two possession - Cantwell had a 5-yard run up the middle to give them the lead and he found tight end Andrew Vollert for a 10-yard touchdown pass.
In the fourth quarter, Auston Tesch partially blocked a punt in Southern Utah territory, which led to Trey Tuttle's third field goal and a 30-13 advantage with 8:16 to play.
Drew Batchelor caught Cantwell's first touchdown pass - a 20-yarder in the second quarter.
---
---