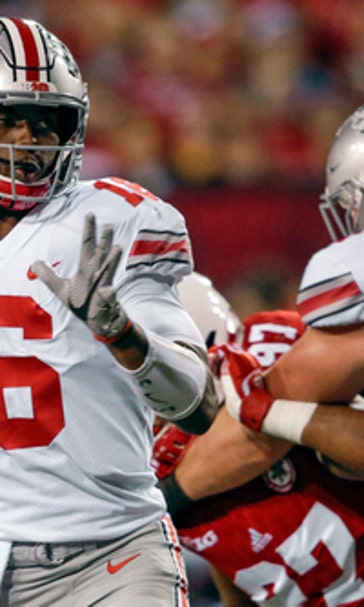 Buckeyes' progress pleases Meyer as Penn State game looms
October 19, 2017

COLUMBUS, Ohio (AP) A month ago some Ohio State faithful urged the benching of quarterback J.T. Barrett because of the anemic passing game. Now he's being talked about as a potential Heisman Trophy candidate.
It's been all good lately for the fifth-year senior, statistically the best quarterback to ever play at Ohio State.
He's piled up passing yards and touchdowns in five straight blowouts since the Buckeyes lost to Oklahoma in Week 2. Despite beating badly out-manned opponents in those contests, coach Urban Meyer said Barrett and the rest of the offense have made immense strides since stumbling against Oklahoma.
In fact, it looks to some a little like 2014, when Barrett - then a freshman - helped Ohio State rebound from an early loss to win the national championship.
Whether they have improved enough to beat top teams remains to be seen. The picture will become clearer when the No. 6 Buckeyes, following a bye week, host No. 2 Penn State on Oct. 28.
''I think J.T. Barrett and his chemistry and the timing with receivers right now is as good as it's been,'' Meyer said. ''We're very realistic about what's coming down the street here, but there's been a lot of positives. I think any time you see execution in the passing game like it's been, there's a lot of good things going on.''
The Buckeyes were rolling along at 6-0 last season when they were upset by Penn State at Happy Valley 24-21. Meyer said this year's team is in a better place to play strong down the stretch against good teams. Better chemistry, fewer mistakes.
''If you look at the last six years, there's been steady improvement from game one through game five (or) six,'' he said. ''And the key to the championship year in '14 and a couple of good years we've had is that when you get the big games, the offense continues to perform. Last year, that did not happen.
''However, I do feel it's much smoother,'' he said. ''I feel the communication, the play-calling is excellent right now and the development of players. We'll see if we're having this conversation in a few weeks, and if we are, that means we're a legitimate top offense.''
Offensive coordinator Kevin Wilson said he thinks the Buckeyes (6-1, 4-0 Big Ten) have played better because they started practicing better as the season wore on.
''I think we've done a much better job of just going through the week, of just building momentum and getting things practiced,'' Wilson said. ''Earlier in the year we didn't come into the game with momentum.''
Barrett said the improvement was just a matter of everyone getting experience working together in game situations and ironing out early season kinks. It's difficult to start strong and then sustain it, he said.
''Everything doesn't click in the first weeks of college ball,'' he said.
Barrett said nothing much has changed since the rough days earlier in the season, not the process, his confidence or his demeanor. His teammates say the same about him. There has been no great transformation.
''I'm the same person that people said they wanted to bench,'' he said. ''And I'm the same person now who's playing well. Same guy.''
The bye week comes at an ideal time, just before the most grueling part of the schedule. After Penn State, there's a four-game string to end the regular season that includes hosting No. 18 Michigan State and playing at No. 19 Michigan. If the Buckeyes win the Big Ten East, they're likely to face No. 5 Wisconsin in the conference championship game.
Before thinking about Ohio State, Penn State has to get past Michigan on Saturday.
''We've got a nice little stretch going after this bye week,'' Barrett said. ''With that, (we have to) just make sure we keep the momentum going. I think we've got a good little rhythm on both sides of the ball.''
While Meyer is spending part of the bye week on the recruiting trail, players will rest and try to get healthy. Offensive tackle Jamarco Jones, defensive end Jaylyn Holmes and running back Mike Weber were dinged up last week against Nebraska but are expected to be OK.
''They'll all be ready to go next week,'' Meyer said.
---
More AP college football at http://collegefootball.ap.org and https://twitter.com/AP-Top25
---
Follow Mitch Stacy at https://twitter.com/mitchstacy
---
---