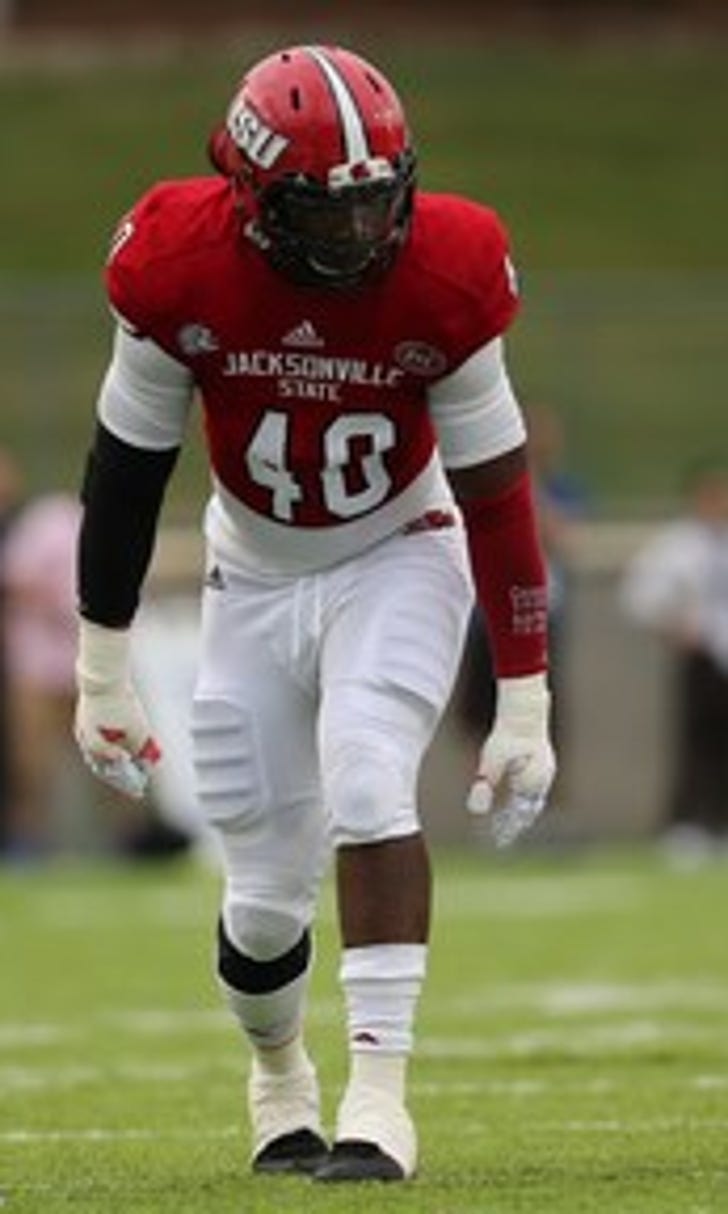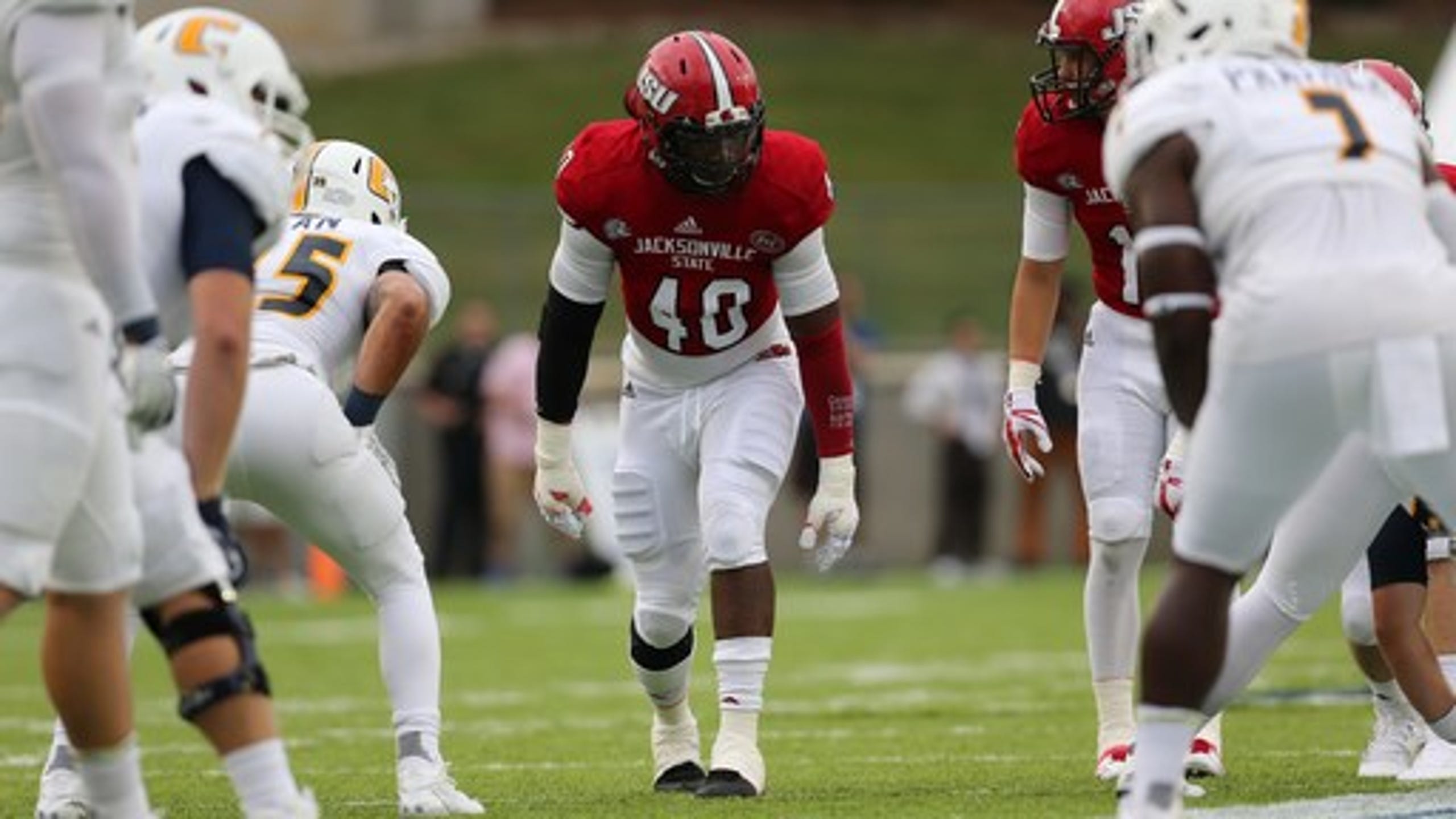 Buchanan Award winner Jackson goes after the big catch
BY AP • January 17, 2018
(STATS) - Darius Jackson's father wasn't a fan of his son's fishing habits when he was young.
Darius often threw his line out, reeled it in and tossed it out again. He'd even take the worm off his line and throw it into the water instead of keeping it as bait.
Years later, the lack of patience remains with Jackson, although the big catches haven't gotten away. In a hurry to get to quarterbacks, the former Jacksonville State standout was one of the leading pass rushers in the FCS in recent years.
Recently named the national defensive player of the year with the 2017 STATS FCS Buck Buchanan Award, Jackson is going fishing at the next level. He's taking a big step this week at the NFLPA Collegiate Bowl, where scouts flood practices leading into Saturday's seventh annual all-star game at the Rose Bowl (4 p.m. ET, FS1).
"It's just another journey, another stepping-stone that I've got to cross," said the 6-foot-3, 237-pound defensive end, whose size projects to outside linebacker in the NFL. "Me being who I am at Jacksonville State, it doesn't really matter that I'm going to a bigger pond. I just have to knock the bigger fish that I see."
The two-time Ohio Valley Conference defensive player of the year didn't lose a conference game in four championship seasons, setting the school's all-time records for sacks (27 1/2), tackles for loss (60 1/2) and yards from tackles for loss (277). He pressured quarterbacks with 23 hurries as a senior.
Jackson patterns himself after Denver Broncos All-Pro Von Miller, hoping his versatility shines beyond being a speed rusher. He displays quickness and body control while often slipping through holes and past offensive linemen.
"I feel like I bring energy to my team, even if I'm not making plays out there, even if we're in the weight room, I'm still going to bring energy and momentum, I'm still keeping my team up, letting them know we can win this game," Jackson said. "I will just bring a vibe that nobody else can bring to the team. But I also bring a motor. People see it on the film. I just like to go out there and have fun with what I do. I love playing football and it just comes natural."
Rick Serritella of NFL Draft Bible broke down Jackson's playing style.
"An undersized, thick-framed player who possesses an explosive first step and is in the backfield so frequently, he ought to be paying rent," Serritella wrote. "Jackson utilizes his quickness and strong hand jab to work around opposing tackles. He demonstrates the ability to handle the chip blocks and his hand combat continues to improve. Jackson is used to starting from a two-point stance and does drop back in coverage on occasion, so if he is asked to convert to outside linebacker at the next level, it won't be foreign to him."
Jackson is part of a National team led by former Super Bowl-winning coach Mike Martz. Joining him on the roster from the FCS are Bucknell defensive tackle Abdullah Anderson, Chattanooga inside linebacker Tae Davis, Maine offensive tackle Jamil Demby, South Carolina State offensive guard Justin Evans, Stephen F. Austin defensive end John Franklin-Myers, Duquesne offensive guard Ben Huss, Western Carolina running back Detrez Newsome, Howard running back Anthony Philyaw and Holy Cross quarterback Peter Pujals.
The American Team, coached by Hall-of-Famer Darrell Green, includes one of Jackson's former Jacksonville State teammates, offensive guard Justin Lea, as well as Tennessee Tech wide receiver Dontez Byrd, Grambling State running back Martez Carter, Eastern Washington punter Jordan Dascalo, Murray State wide receiver Jordon Gandy, Richmond tight end Garrett Hudson, Tennessee State defensive end Ebenezer Ogundeko, San Diego defensive end/outside linebacker Jonathan Petersen, Villanova outside linebacker Ed Shockley, Southeastern Louisiana outside linebacker Sione Teuhema, Southern defensive end Aaron Tiller and Incarnate Word punter Joe Zema.
"NFLPA Game, I'm definitely going to go out there and ball and show I can play with the best of the best," said Jackson, who's been training at Bommarito Performance Systems in Davie, Florida.
"I'm going to put everything I got on the line because I know everybody's going to be watching (and) saying I'm from a small school. It really doesn't matter what school you come from, it's all about how you play when you get out there on the field, so I'm going to do what I can."
---
---