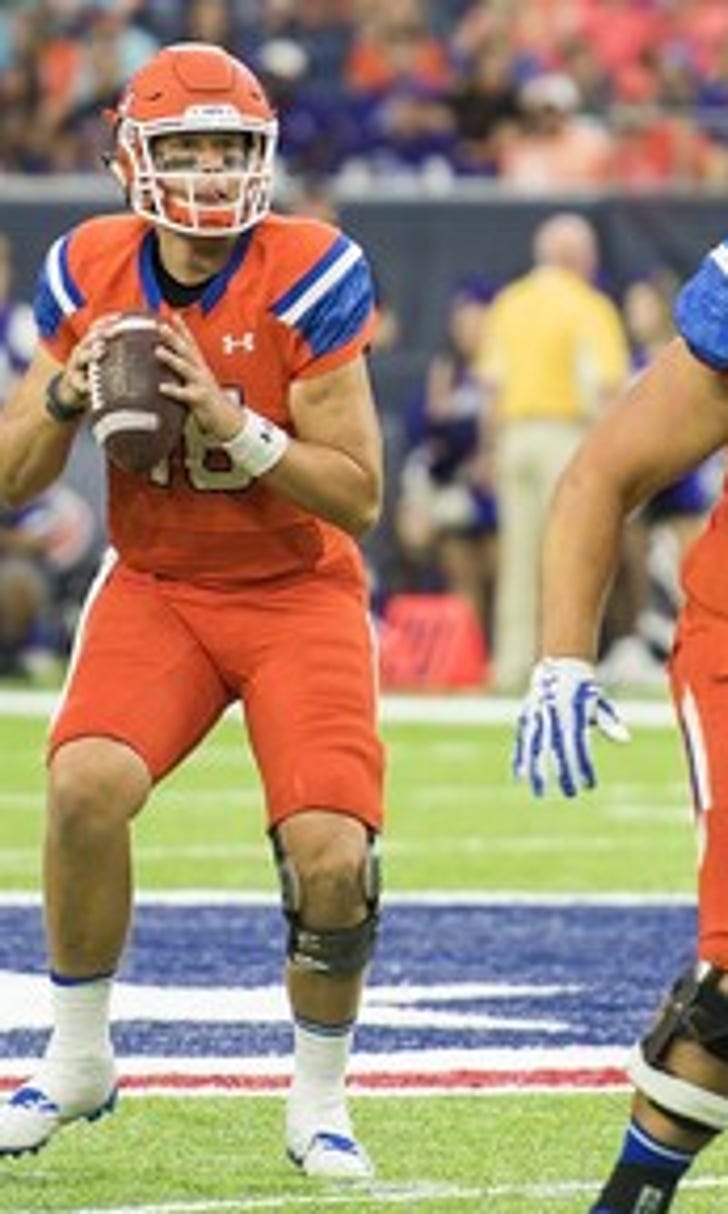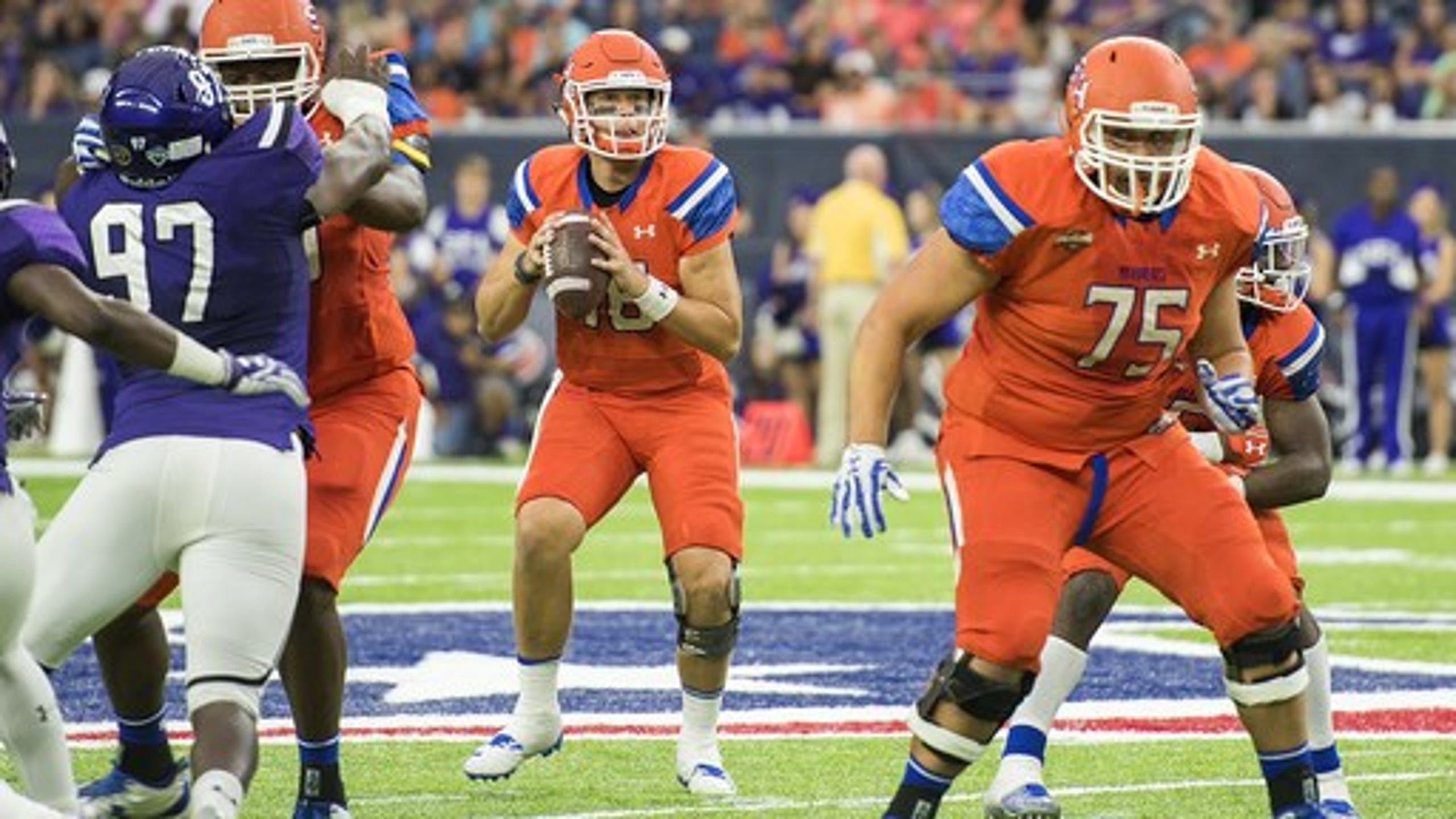 Briscoe headlines FCS national players of the week
BY foxsports • October 3, 2016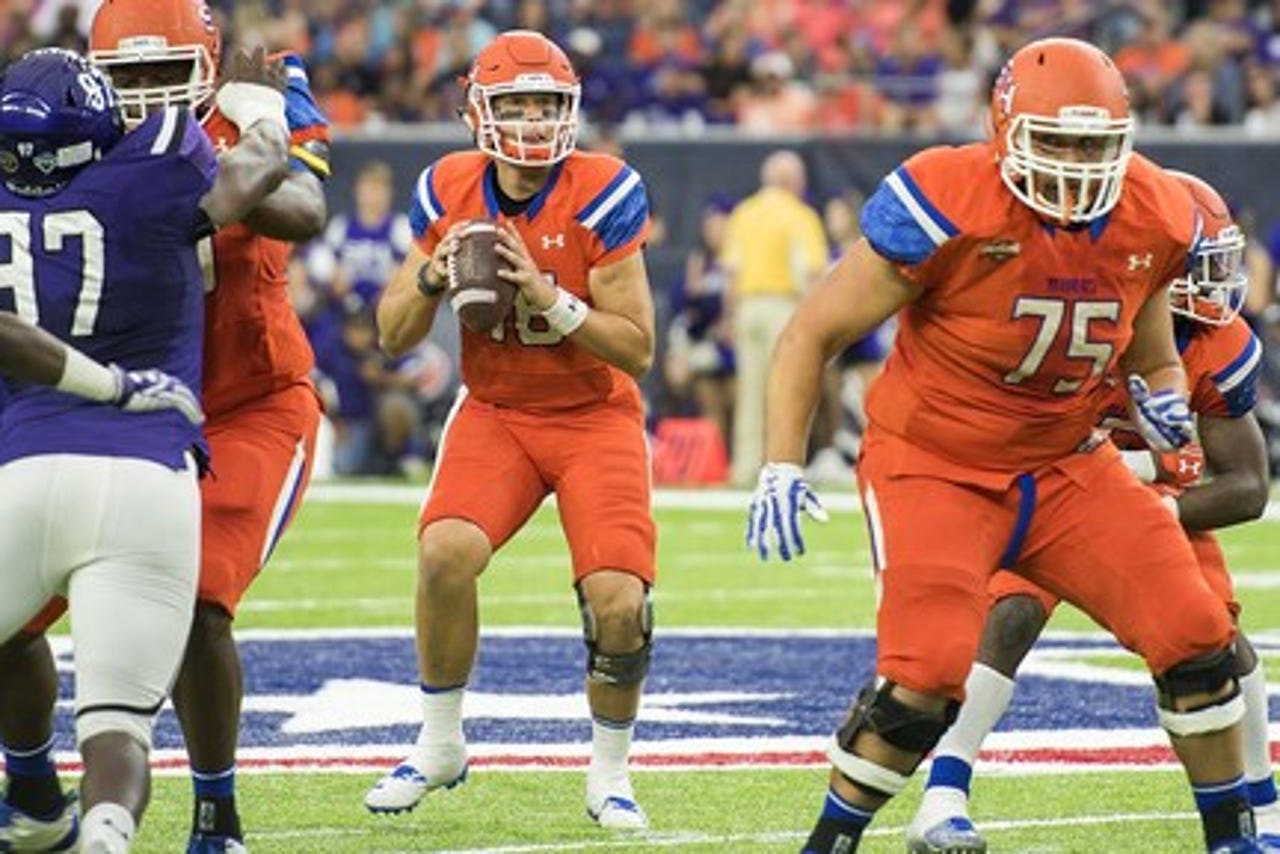 (STATS) - That conference play has moved into high gear appeared to motivate a lot of offensive players in the FCS this past weekend.
Eye-popping numbers were the norm, and Sam Houston State quarterback Jeremiah Briscoe was the brightest standout, enjoying a career day in one of the biggest games.
Briscoe, Missouri State's Dylan Cole, Tennessee State's Lane Clark and Maine's Josh Mack have been named the STATS FCS National Players of the Week for games played Sept. 29-Oct. 1:
---=
OFFENSIVE PLAYER OF THE WEEK=
Jeremiah Briscoe, Sam Houston State, QB, R-Jr., 6-3, 220, Houston
Playing in his hometown before the largest crowd (27,411) in the 91-year history of the "Battle of the Piney Woods," Briscoe dominated Stephen F. Austin with a career-high 438 passing yards and a program-record seven touchdown passes in No. 2 Sam Houston's 63-28 victory. He completed 25 of 33 attempts in only three quarters of action. The Bearkats' 63 points were the most scored in the rivalry between the Southland Conference programs. Briscoe's 16 touchdown passes (against only two interceptions) rank second in the FCS.
Honorable Mention: Dalton Banks, QB, Cornell; Wayne Capers Jr., WR, Duquesne; Tarik Cohen, RB, North Carolina A&T; Dallas Goedert, TE, South Dakota State; Gage Gubrud, QB, Eastern Washington; Devlin Hodges, QB, Samford; KD Humphries, QB, Murray State; Cooper Kupp, WR, Eastern Washington; John Maddaluna III, WR, Colgate; Brad Mayes, QB, Lehigh; Keegan Moore, WR, Stetson; Bryan Schor, QB, James Madison
---=
DEFENSIVE PLAYER OF THE WEEK=
Dylan Cole, Missouri State, LB, R-Sr., 6-1, 240, Rogersville, Missouri
As Missouri State beat No. 24 Indiana State 45-24 on the road for its first win over a ranked opponent since 2013, Cole sparked a second-half shutout. Cole finished with 13 tackles and collected two of the Bears' three second-half takeaways - an interception and a fumble recovery. The STATS FCS Preseason All-American also moved into the Bears' top 10 for career tackles as they earned their first Missouri Valley Conference win since October 2014.
Honorable Mention: Marshaun Cameron, CB, Northern Colorado; Joe Crochet, DL, The Citadel; Frederick Henry-Ajudu DE North Carolina Central; Lorenzo Jerome, CB, Saint Francis; Brendan Langley, CB, Lamar; Chad Meredith, OLB, Southeast Missouri State; Juwan Wells, DE, Liberty
---=
SPECIAL TEAMS PLAYER OF THE WEEK=
Lane Clark, Tennessee State, PK, Jr., 5-11, 170, Hays, Kansas
Clark so enjoyed kicking the longest field goal in Tennessee State history during the second quarter against UT Martin that he did it again in the fourth quarter of the Tigers' 34-30 victory. He started with a 54-yarder and then converted from 57 for the longest field goal in the Ohio Valley Conference in 15 years and the longest on any level of NCAA football this season. He also kicked four PATs and had a pair of touchbacks on kickoffs for the Tigers (4-0), one of eight unbeaten teams in the FCS.
Honorable Mention: Chris Fraser, P, Cornell; Bailey Gessinger, R/RS, Valparaiso; Oliver Graybar, P, Rhode Island; Eric Medina, PK, Texas Southern; Henrique Ribeiro, PK/P, Chattanooga; Dewayne Smith, KR, Central Arkansas; Matt White, PK/P, Monmouth
---=
FRESHMAN PLAYER OF THE WEEK=
Josh Mack, Maine, RB, Fr., 6-1, 190, Rochester, New York
First-year coach Joe Harasymiak has a veteran team, but a young talent is making his mark. Mack rushed for a career-high 151 yards and three touchdowns as Maine rallied past Bryant for a 35-31 win - the first for Division I's youngest head coach (Harasymiak is 30). The CAA Football squad overcame a 31-14 deficit in the game's final 18 minutes. Mack, who carried the ball 22 times, scored on a 9-yard run with 10:36 left in the fourth quarter to provide Maine with its first lead at 35-31. He also scored on 2- and 25-yard runs, and had one 11-yard reception.
Honorable Mention: Stephen Calvert, QB, Liberty; A.J. Hines, RB, Duquesne; Stockton McGuire, QB, Davidson; Christian Rozeboom, LB, South Dakota State; Desmond White, RB, Incarnate Word
---